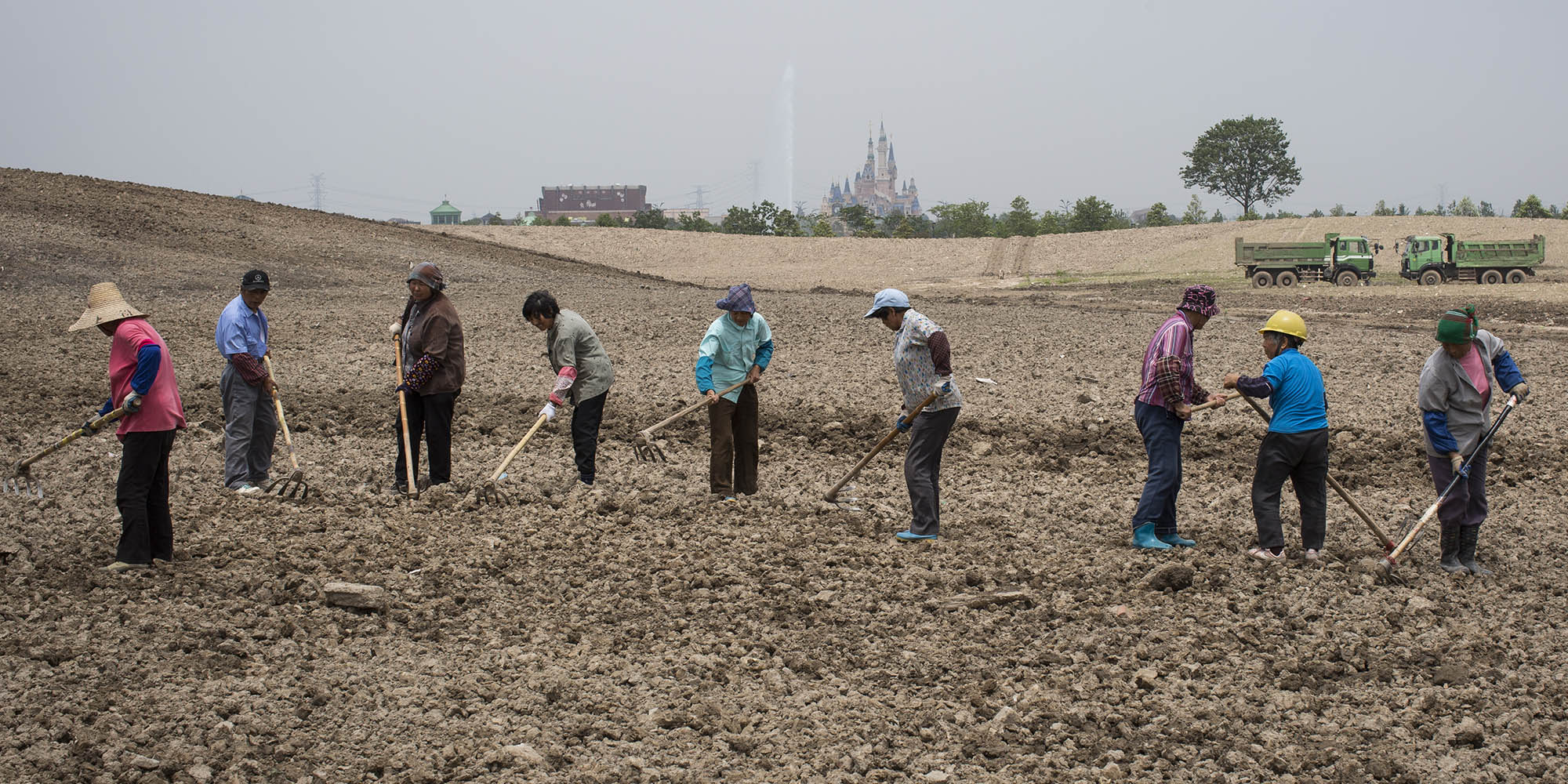 FEATURES
Shanghai Disney: The Land of Left-Behind Dreams
China's newest fantasy kingdom is built on the backs of disillusioned migrant workers.
When the Shanghai Disney Resort officially opens on June 16, migrant construction worker Xie Jun won't be there to show off the Fantasyland attraction he helped build to his toddler.
By then, the 29-year-old native of Anhui province will probably have moved on to a new job at the next construction site. He will still be far away from his wife, Liu Ying, and his 18-month-old left-behind son, Guo Guo.
But in Xie's eyes, he will be a step closer to providing his family with a better future.
The couple abandoned the dreams of their youth long ago — his to teach, hers to be a writer — to play bit parts in the creation of the illusion factory that is Shanghai Disneyland.
Xie is one of an estimated 277 million migrant workers in China last year, leaving behind around 61 million children, mostly in the countryside. Many migrant workers choose to live away from their families because China's household registration system, or hukou, makes it difficult for them and their family members to get full access to social services in their adopted cities. Construction workers like Xie, who move regularly from site to site, are particularly unstable.
Xie is tall and handsome, but his tough, calloused hands seem as if they should belong to a much older man. Still, his black-framed glasses give him the air of an academic rather than a construction worker.
"I had a lot of dreams when I was young," Xie says. "I wanted to be a teacher so I would be able to go live in a big city. But people change when they grow up. Life forces us to change. We have no choice."
"Reality is cruel, and it's not as beautiful as the fairy tales of Disneyland," Xie adds.
In a remote corner of Anhui province, not far from the majestic Yellow Mountains, Xie's wife Liu tells a similar story of missed opportunities.
The twenty-six-year old, who likes to wear brightly colored sports gear around the house, says that when she was younger, she didn't envisage becoming a left-behind wife, eking a living from harvesting tea and taking care of her baby while her husband worked in construction in Shanghai.
Instead, Liu had wanted to be a writer ever since her primary school teacher commended her composition skills. But after she came down with a serious illness, she had to drop out of school for an extended period. By the time she was ready to resume her studies, her classmates had advanced so far that it was impossible for her to ever catch up.
Back in his village, Xie's family once grew tea, but their fields have been all but abandoned ever since Xie and his parents left for the coastal cities in search of a better livelihood.
Liu, who picks tea for her family, believes that a man like Xie, still young and healthy, is better off working at a place like Shanghai Disney than scraping by on a farm. "I hope he can earn more money and make a good living for us," she says.
But Xie says working as a builder on the first-ever Disneyland in mainland China has been arduous.
"The physical labor is endless. I feel like a machine, just going and going," Xie says.
Disney told Sixth Tone it was among the first multinational corporations in China to introduce a comprehensive program focused on construction workers' labor conditions and rights — a program that includes stringent health and safety conditions. Disney also requires companies it contracts to comply with local labor laws.
While at Disney, Xie was employed by Shanghai Construction No. 4 Group Co. Ltd., one of many outsourcing companies hired for the project. He is one of more than 30,000 people that construction workers estimated have toiled to complete Shanghai Disneyland since construction began in the spring of 2011. The resort is a joint venture with Chinese partner Shanghai Shendi (Group) Co. holding 57 percent, and Disney the remaining 43 percent.
For his contribution to the theme park, Xie received an extra bonus in the form of three complimentary tickets for him and his family. But with the total cost of travel, accommodation, and meals, a family excursion to Shanghai Disney was still prohibitively expensive, so the couple decided against it. Xie used one of the tickets for himself and discarded the others, preferring to channel the "savings" into his own "castle" back home in Anhui province — he had promised his wife he would buy tatami-like mats that cost around 3,700 yuan ($560).
Disney's theme parks are one of the company's largest and most profitable divisions, generating $16.2 billion in revenue last year — nearly a third of overall revenue.
Shanghai Disneyland will become the second-largest among Disney's six theme parks worldwide — in Asia there are also Disney parks in Tokyo and Hong Kong. The new Shanghai resort covers almost 1,000 acres and cost about $5.5 billion to build. Last year, 16.6 million people visited Tokyo Disneyland, according to industry non-profit Themed Entertainment Association, while 6.8 million visited Hong Kong Disneyland.
Between April 26 and early June, a reported 960,000 people visited the park as part of its soft opening.
Xie began work on the site in early 2015, around one month after his only son was born.
When construction was at its peak, Xie often found himself toiling for as many as 84 hours per week. For much of this time, he was on the team that built the Enchanted Storybook Castle, part of the Fantasyland attraction, designed to bring iconic Disney stories such as "Frozen" to life.
In exchange, Xie says, he got good medical and other on-the-job-related insurance, and the money was decent: around 80,000 yuan per year, roughly half of which he managed to send back home. "Shanghai is too expensive," Xie says.
A relative introduced Xie to Liu at the end of 2013. A wedding followed, and the couple left to find work in Shanghai: Xie on building sites, Liu in textile factories.
Later, Liu returned to her village and gave birth to Guo Guo. With his arrival, Liu's earlier fantasies were replaced with more grounded aspirations. Now, she hopes to open a small shop with her husband one day and sell milk tea or ice cream, with their profits going toward Guo Guo's education. Liu hopes he will be able to attend a top kindergarten, or even a school in the city.
Liu's family home is in the village of Yang, not far from Wushi Town, a small, bustling market town in the southern part of Anhui province. Liu, whose grandfather fought the Americans in the Korean War, lives with Guo Guo and her extended family in a simple wooden structure surrounded by hills and mountains. Tucked high in the rafters of the house is a swallow's nest, considered an auspicious sign in China.
This is tea-picking country, and the fragrant leaves are an important source of income for Liu's family, whose two-acre mini-tea plantation starts just outside the front door. At home, Liu pitches in with the planting, picking, and processing of green tea, including the storied Huangshan maofeng and Taiping houkui varieties for which this part of Anhui is famous.
At the local market a pound of tea typically fetches around 100 yuan. On a good day, Liu and her relatives can pick enough tea leaves to yield up to five pounds after processing.
On March 28 — the first day tickets were available — the resort's page on Alibaba's online travel service Alitrip.com sold more than 20,000 tickets, and the resort's own website received over 5 million page views during just the first half hour.
Ticket prices range from 370 to 499 yuan. While that's less expensive than the 690-yuan equivalent for tickets to Disneyland's original theme park near Los Angeles, it is still relatively expensive for Chinese families. Even in the affluent city of Shanghai, a ticket costs nearly one-tenth of the average monthly income of 5,500 yuan.
This admission-to-income ratio is even higher for most other Chinese cities, where incomes are generally lower.
Still, if visitor projections for Shanghai Disneyland pan out, revenues from the new resort could boost the company's global theme park division revenues by more than a third.
Behind such income flows is an army of migrant workers like Xie. They have come from all parts of China, from as far away as northeastern Liaoning province near Russia, to mountainous Yunnan province on China's southern border with Myanmar.
"Construction workers are the most unstable category of migrant workers, and their job is more physically demanding compared to others," said Lu Huilin, an associate professor at the sociology department of Peking University.
Daily wages for a construction worker typically range between 100 and 300 yuan. While these wages are better than what workers in many other industries can expect to receive, annual income can vary widely depending on the actual number of days worked each year.
Construction workers are also more likely to be victims of late or unpaid wages compared to other migrant workers in China. According to the latest government report on migrant workers in 2015, some 2 percent of construction workers were owed back wages from employers — twice the average rate for all migrant workers in China.
In order to offer greater security to Guo Guo in the future, sacrifices have to be made now.
"Since he was born, I have seen my child fewer than five times," Xie says. "When he was a year old, I saw him at home. He was so affectionate toward me, cuddling up against my chest."
But Xie's visits are usually short and never leisurely. "He is always in a rush when he comes back," says Liu.
The couple have discussed living as a family in Shanghai, but they quickly dismissed that idea.
"I want to take my child to Shanghai, but I'm afraid that the metropolis will be too chaotic," Liu says. "I feel worried about that. I think it's safer at home."
Besides, Xie will come back in "four to five years," she adds.
In the meantime, Liu communicates with her husband mainly through video calls on messaging app WeChat roughly twice a week, only visiting him in Shanghai on very rare occasions.
Liu says she's too busy taking care of Guo Guo every day to think too much about her relationship with her husband.
For Xie, the separation is hard. "Every evening after I finish work, I always miss my family," he says. "I feel I owe them."
"I want to offer my son a happy life, so he can study hard and do well," Xie says. "When Guo Guo grows up, I hope he can find a good job, a decent job."
"I hope he won't end up doing what I do. It's too hard."
This article has been updated to reflect the ownership structure of Shanghai Disney Resort.
Additional reporting by Cai Yiwen.
(Header image: Workers from Shanghai Disneyland are seen raking the land in front of the theme park's castle, May 14, 2016. Yang Shenlai/Sixth Tone)