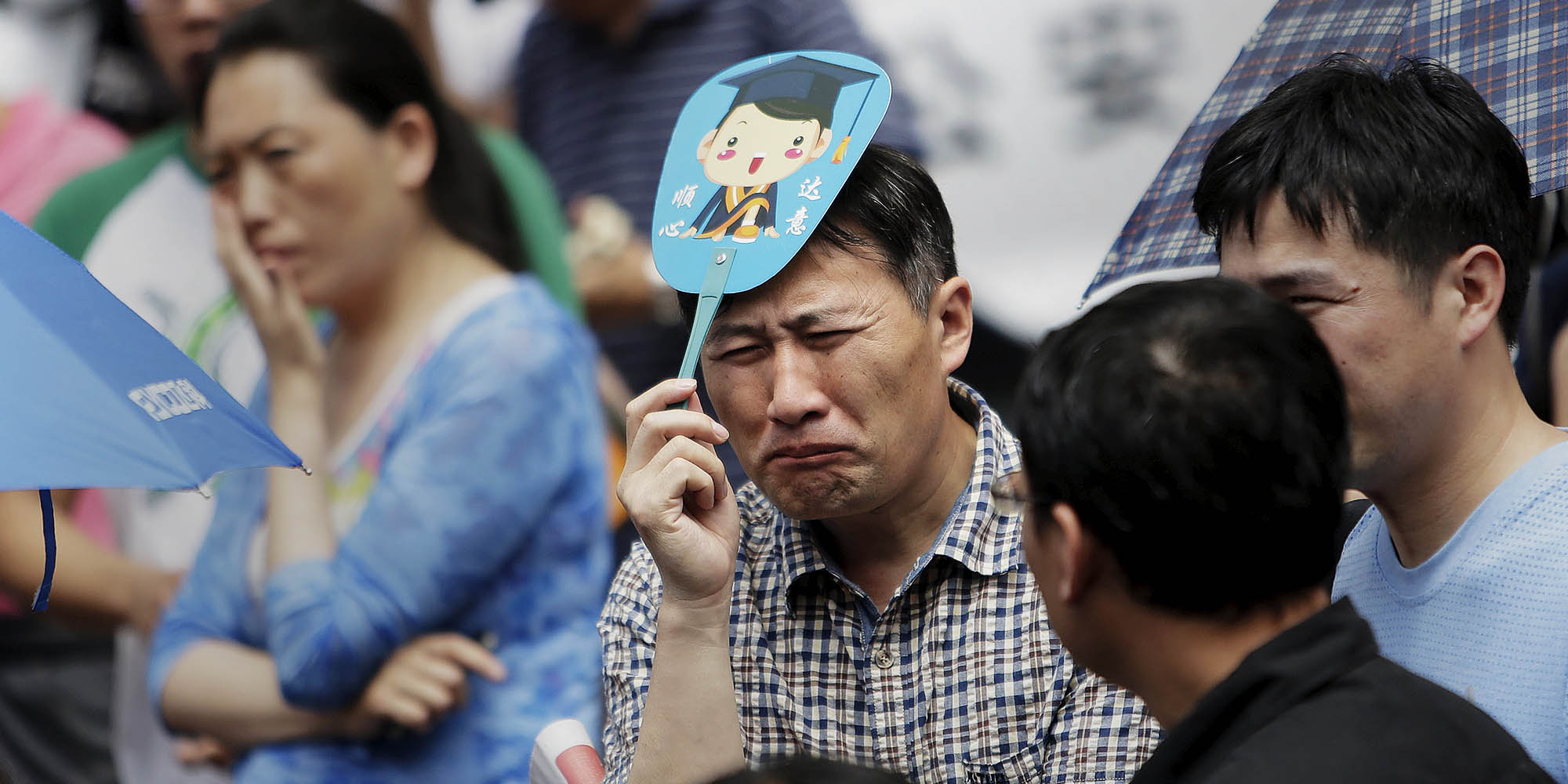 FEATURES
For Chinese Parents, College Exam System Fails the Test
As dreaded 'gaokao' begins, college admission quotas have parents up in arms.
Tuesday — the first day of China's gaokao, or college entrance examination — will mark a make-or-break point in the academic and professional careers of more than 9 million students.
The two days of rigorous tests are a highly charged period, and this year is no exception. For many students, gaokao results will determine whether they can secure a place at a good university, something that is still seen by parents and educators as the major factor influencing students' success in an increasingly competitive job market.
Tensions were running high following a plan announced in April by China's Ministry of Education, together with the National Development and Reform Commission, that proposed a change in the quota system designed to give students from disadvantaged provinces of China a better shot at securing a place at university.
Such provinces are typically — though not always — located in the western parts of China and are considered disadvantaged because of their less developed educational infrastructure, at least compared with China's wealthier coastal provinces.
The government has been known to tweak the quota system from time to time, but this latest attempt was met with stiff resistance from parents worried that helping other children from other provinces will harm the chances of their own offspring being admitted to prestigious universities.
The April announcement identified 12 provinces that were described as "having more resources in tertiary education and less pressure on university admission," and thus able to shoulder more burden and help out provinces with fewer advantages.
Meanwhile, 10 provinces, including Henan, Jiangxi, and Shanxi, stand to benefit from the new rules, which would give their students a higher chance of getting accepted.
In Jiangsu, one of the 12 advantaged provinces, for example, the number of university candidates has fallen to 32,500 — a new low this year — while the university acceptance rate reached 91 percent last year.
In comparison, the university acceptance rate of Jiangxi, one of the 10 disadvantaged provinces, was just under 79 percent.
Henan province, which is expected to benefit under the new system, will receive an additional 16,800 college spots from other provinces. But the number of test-takers in the province has increased by 45,000 this year. Last year, the province had 772,000 candidates — the highest in all of China.
"If you visit a classroom for high school seniors, it's like a prison," said Lu Weixia, a senior student's mother in Henan, referring to the high-pressure environment her child faces every day. Faced with such stress, her son fell ill but chose to go in for an exam rather than to the hospital, even trying to hide his sickness from his parents.
"It's good that Henan can benefit from the new policy, but I have not felt much of an effect on my son, as it is not quite clear which universities are increasing their quotas for Henan," Lu said. Her son is aiming high: Peking University.
Besides the quota system, parents in some of the more developed parts of the country complain bitterly that their children too are at a disadvantage if they want to study in cities such as Beijing and Shanghai.
In Hebei, a heavily industrialized province that neighbors Beijing, many students want to apply to universities in the capital, but the examination scores required for admission for Hebei students are often much higher than those required for Beijing students.
Last year, Yansha University, a top institution in Hebei province, required a gaokao score 582 points. A comparable university in Beijing required students from Hebei to score 631, while a top nationally ranked university's standard was even higher, at 663.
"Inequality has existed for a long time, but what can we do about it?" said a junior year student in Shijiazhuang No. 1 High School who refused to give her name. "All we can do is to study hard and achieve the best we can."
In short, it means that students' chances of landing a place at a top university are affected by a host of factors, which range from the availability of good schools to demographic factors such as the size of the college-going population — factors that have little to do with a student's academic abilities.
In addition, the quota system has also been criticized by education experts and economists, who say that it does little to address fundamental inequalities in the short run and could serve to make matters worse in the long run.
The system has also given rise to "gaokao migrants" — people who change their household registration from one province to another in order to take advantage of lower admission scores required of in-province applicants. In addition, some people create fake hukou — an illegal act. According to an analysis of legal documents by Sixth Tone's sister publication The Paper, around one-third of cheating incidents from 2012 to 2015 involved gaokao migrants.
A series of protests that broke out last month served as a reminder of the education disparity between different provinces.
From the middle of May, thousands of parents in 13 cities in the eastern Chinese province of Jiangsu gathered to protest the new policy. Demonstrators surrounded government buildings in the provincial capital of Nanjing, shouting slogans such as "Equality for education."
Soon parents in the central Chinese province of Hubei took to the streets to oppose the latest round of modifications to the quota system. They were later joined by parents in northeastern Heilongjiang and northern Hebei.
"There are too few good universities and too much pressure on our children," said Zhang Yuncai, a mother of a high school sophomore in Shijiazhuang, the provincial capital of Hebei.
Protestors were concerned that new rules would make it even harder for their children to get spots in their home province's universities. At the same time, they were also aggrieved by what they considered to be the privileged positions of Beijing and Shanghai, whose students can gain admission to good universities with lower scores.
"Even if they were to reduce the quotas for students coming from Hebei, it would still be a small issue compared to the huge gap of education resources in this region and to the inequality of college recruitment in general," Zhang said.
The protestors see themselves as stuck in the middle: Their provinces are being called upon to increase the number of spots for out-of-province students, but at the same time their children don't necessarily benefit from the proposed changes when they apply to colleges in Beijing and Shanghai.
Many students in China start to prepare for the gaokao during their first year of high school, and they suffer from all the intensive training. The system even creates new industries like "gaokao nannies" that oversee students' studying and "test-prep factories" like Maotanchang High School in Liuan City, Anhui province that train students for the exam with military rigor.
That's not to say that children in China's larger cities have it easy.
Xu Youwei, a parent of a high school student, said: "In Shanghai, the intense competition in education starts in kindergarten. From the first day their child enters kindergarten, parents will have already thought about which university they'll go to. They want the best in every stage of education, building up to the end goal: a good university for their children."
Although the new policy aims to help the disadvantaged provinces, some doubt whether it is a measure that can solve the problem.
Wu Xiaogang, a sociology professor at Hong Kong University of Science and Technology, told Sixth Tone that while the new policy offers greater opportunity for students in western regions, it doesn't mean that it will help every deserving student. Instead, he said, any additional college spots would probably go to middle-class urban students rather than to those from the countryside.
"Many rural people do not even think about the gaokao," Wu added, "and many opt to find a job or apply for junior college after they graduate from high school."
Getting into a top high school is the critical step to getting into a good university, Wu said. His research shows that 80 percent of students at top-tier universities in Beijing graduated from a small pool of leading high schools.
"Family background significantly affects one's access to a high-quality tertiary education," Wu said.
Liu Dawei, an associate professor of the School of Public Administration at East China Normal University, said few students who leave disadvantaged provinces for college return to their hometowns after graduation. "Under-developed regions are losing talent," Liu said. "Though the policy is good for students in poor regions, I do not think it is an effective way to improve development in the western region."
HKUST's Wu said that instead of quotas, expanding existing universities and building new ones would be a more effective solution.
But to fundamentally solve the problem of regional education inequality, Wu believes that supporting primary education is more important than supporting tertiary education.
"The divisions in students' education levels appear long before college," he said.
(Header image: A father waits outside the Chen Jinglun High School during the college entrance exam in Beijing, June 7, 2015. Jason Lee/Reuters/VCG)