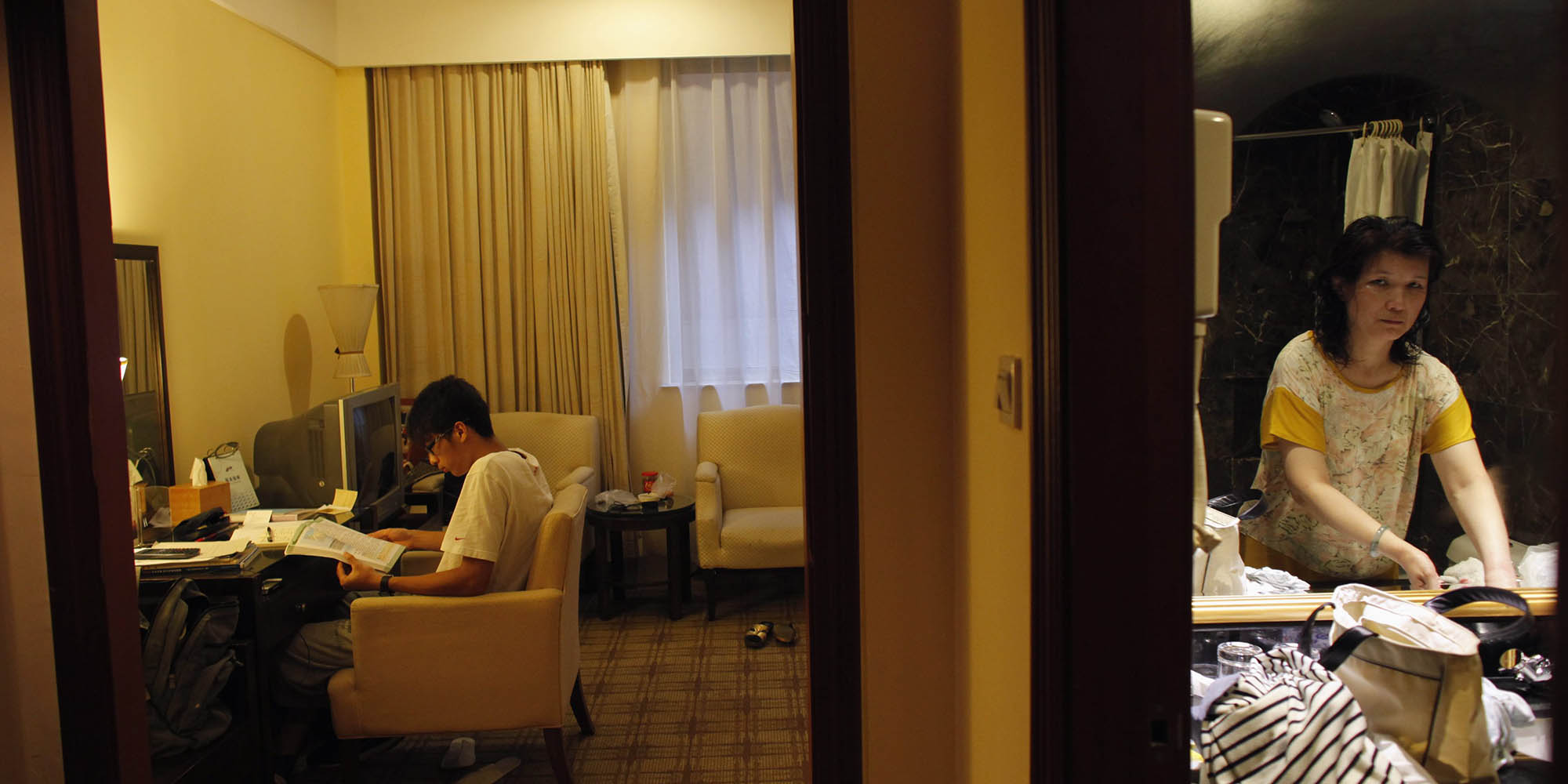 NEWS
Gaokao Nannies Cash in on Exam Stress
In the weeks leading up to the national college entrance exam, many parents turn to student caretakers for help.
Senior middle schoolers preparing for the national college entrance exam — the gaokao — spend hours and hours bent over their books. But apart from that, they're living lives of luxury.
An array of services has sprung up surrounding the notoriously important exam to make sure students focus only on their exams, from specialized hotel room packages to professional gaokao nannies.
Most nannies are highly educated students or recent graduates who live in during all-day cram sessions so they are always available if their client needs advice, tutoring, or just a snack.
Shanghai-based Chaopeng Domestic Services, one of many agencies playing matchmaker between nannies and nerve-racked parents, gave Sixth Tone an example of the type of nannies they have on file.
One of those on Chaopeng's files is a young lecturer at a medical university who charges an hourly rate of 300 yuan (more than $45) for his services as a gaokao nanny.
"With his degree and experience, he can set a good example for our clients," a customer service agent at Chaopeng said, adding that the small difference in age is also an advantage. "He speaks like a student so he can easily bond with clients and help to relieve their stress."
Another agency, Saima Domestic Services, also based in Shanghai, told Sixth Tone that they have many such highly educated exam-prep nannies in their database. They do not come without drawbacks, however.
"Because they are highly educated and mainly offer companionship, they are weak in terms of cooking and cleaning," a customer service agent said. "There has been an increasing demand from parents in recent years, so we have been increasing the amount of nannies we have," she added.
Hotels have also jumped into the market for gaokao services. Gaokao test centers are usually far away from students' schools, and many parents prefer to pay for a hotel room close by to save on travel time — time that can be better spent studying for the exam, which is spread over several days.
Hotel room prices near test centers have soared, and many hotels have reacted with special gaokao room offers where students can rest and prepare for tests.
On Friday, four days before the gaokao kicks off, the Sheraton Hotel near Shanghai's No. 7 High School test center in the northeastern suburbs of Shanghai has its "Luxury Top Scorer Package" fully booked.
"The room offers convenience and psychological comfort," the hotel's customer service representative told Sixth Tone, before admitting that the package is little more than a late room-return policy and a free upgrade to a luxury suite.
For those students not booked into a nearby hotel, taxi companies have special gaokao taxis lined up to bring them to the test center on the day of the exams. Dazhong Taxi in Shanghai saw its 1,000 gaokao taxis booked out within just six hours after making them available for online booking.
"We have been providing this service for many years," a Dazhong representative told Sixth Tone. At no extra cost, passengers can expect to enjoy routes planned beforehand to ensure punctuality, and a "handpicked driver" — either a model driver or even a party member.
Online, not everyone saw the benefit of such services.
Beneath an article about the gaokao industry, one commenter recalled his much less luxurious gaokao experience: "Back in the summer of 1986, I cycled myself to the test center with only a small backpack borrowed from my father."
Another user doubted that these services would have a positive influence: "If we spoil these kids and they make it to universities, there is still no point if they do not know basic life skills."
(Header image: A student, watched over by his mother, studies for the national college entrance exam in a hotel room near Shanghai No. 1 High School, June 6, 2012. Carlos Barria/Reuters)