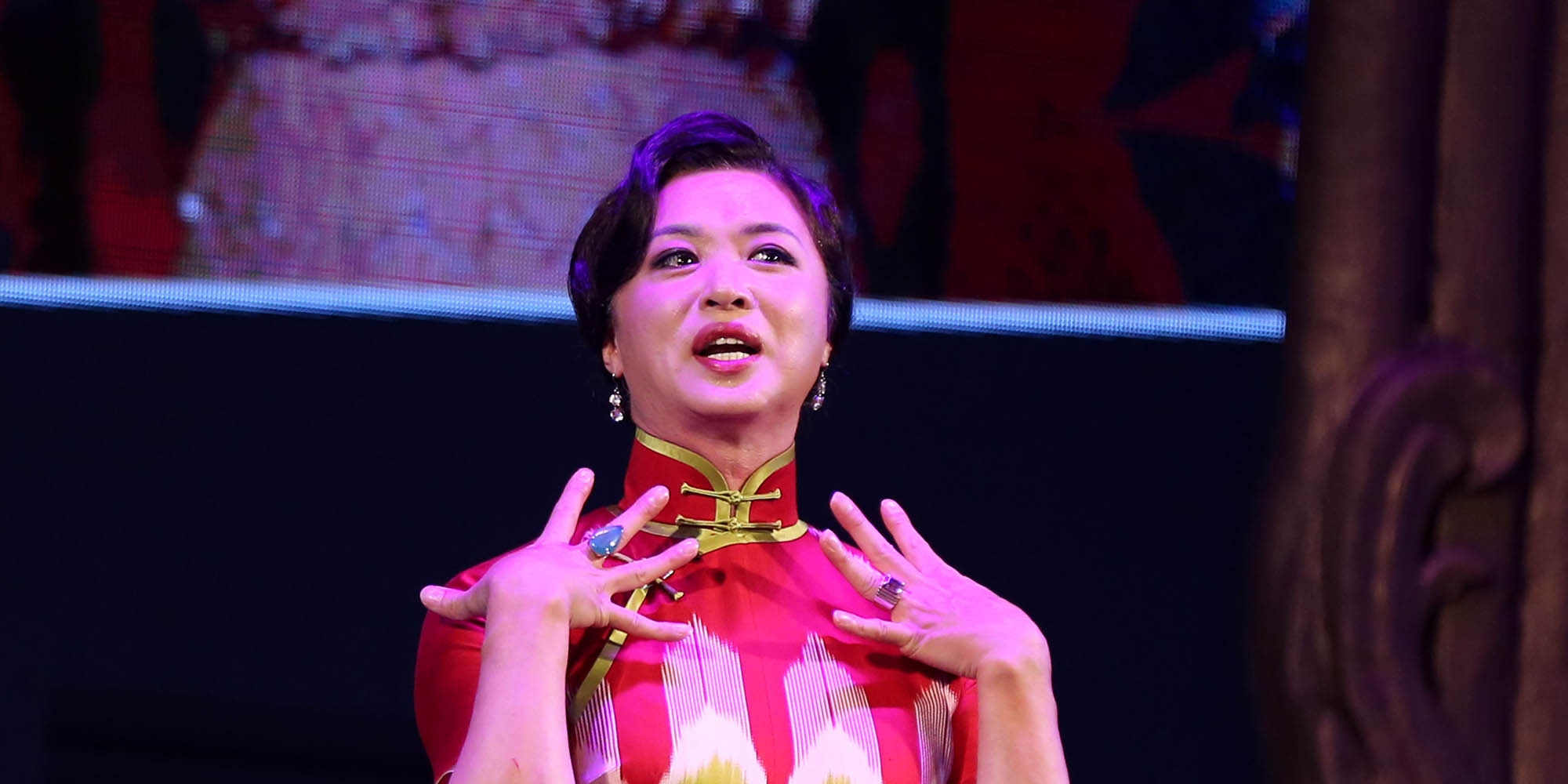 FEATURES
Q&A With Jin Xing on Drama, Dance, Freedom
Reluctant trans icon explains how she draws strength and courage from screen and stage.
Jin Xing, one of China's most popular TV hosts, dancers, and actresses, is returning to one of her earlier roles: that of a female dog in an upcoming stage production.
The play is "Sylvia," written by American playwright A. R. Gurney and first staged in 1995, with Sarah Jessica Parker in the eponymous canine role. The comedy tells the story of a dog adopted by a middle-aged couple, and the drama that ensues following her deepening relationship with her male owner.
Fourteen years have passed since Jin, now 48, first played the role in a Shanghai production led by Chinese director Hu Xuehua. Since then, she has risen to fame as one of China's most widely recognized faces, whose weekly TV talk show "The Jin Xing Show" is the most-viewed television program across all of China's satellite stations, according to the show's producer, Sun Ruiqing.
Throughout her career — as a dancer, actress, or talk show host — Jin's identity as a transgender woman has been a blessing and a curse. Initially it gained her attention as a lesser-known avant-garde dancer, but she has since struggled to shed the label.
Sixth Tone met Jin at the Shanghai studio where rehearsals for "Sylvia" are taking place and spoke to her about the experience of playing a dog, her impressions of the current state of dance in China, and her efforts to rid herself of the "trans" label.
[node:field_video_collection]
Sixth Tone: In "Sylvia" your character is, bluntly speaking, a bitch. Is there something that draws you to the role of a female dog?
Jin Xing: Some people do find the idea of playing a dog quite humiliating. But as long as it's a good play, forget the dog — I'd be perfectly happy playing a piece of dog shit.
Then again, I do feel the part is made for me. You need to understand that as a character, Sylvia is not only a dog, but also a mistress. This requires the actress to have both outstanding physical ability and a seductive feminine sex appeal. On top of that, the play is a comedy, requiring the actress to be comically gifted. Who could be better suited for such a role than me, Jin Xing?
Sixth Tone: The show will go on a national tour starting in June, and it will be paired with one of your dance pieces. Was the tour format of play-plus-dance your decision?
Jin Xing: Yes. I call it a two-in-one show. I actually first tested out this format last year when I paired a stage version of one of my talk shows with one of my dance pieces. Now that the TV version of the talk show has matured, there's no longer any need to do a stage version, so I switched to "Sylvia." In truth, whether I choose a talk show or a play, it's bait to lure the audience into watching my dance.
Each time I do a dance performance I always compliment the audience. I tell them, What a great crowd you are! I applaud your good taste!
Sixth Tone: In other words, you are using the more familiar formats of plays and talk shows as a means to promote your dance.
Jin Xing: Exactly. It's a case of playing the long game. I'm using my popularity to give more people exposure to dance. What does Jin Xing stand for? She stands for dance!
Some fans say to me, On TV I only see you talking and not dancing. I tell them, That's because you're lazy! If you want to watch me dance, then come to the theater and watch me dance. You're kidding yourself if you think I'd come dance on your doorstep. An artist should be someone you pursue. If you want to watch me talk, watch the TV. If you want to watch me dance, move your ass and get yourself down to the theater.
[node:field_quote]
Sixth Tone: With you having become such a hit in the last couple of years, has your dance troupe begun to make a profit?
Jin Xing: There still isn't a strong market for it. But yes, we have started to make a profit, and I don't need to subsidize the troupe with my own money anymore. Last year on tour, we gave 26 performances and earned 60,000 yuan. A paltry sum, but, as of last year the dance troupe can now support itself off ticket prices and no longer needs to rely on corporate sponsorship or government subsidies and so on.
Thanks to this I can now compete with other national-level troupes. For instance, the National Ballet of China and the China National Opera House — Jin Xing dares to take them on. Who dares to rely solely on their art, making ends meet via the ticket office without accepting a penny in government subsidies? Jin Xing dares — does anybody else?
Sixth Tone: Your success has drawn the envy of many dancers in China.
Jin Xing: I know, and I can understand them. It is difficult to be a dancer in China today. But as I have always said to them, there is only one Jin Xing, and Jin Xing's success cannot be replicated. In the world of art, replication is an unnecessary and extremely dull affair. If you must copy me, copy my spirit of perseverance and never giving in. Copy my bravery. People's capacity for bravery is not limited by the generation they are from.
Sixth Tone: Though you are a professional dancer, you have been more widely known over the last couple of years as a television host. As a TV show genre, the talk show is not as popular in China as it is in other places around the world. What's the secret of your success?
Jin Xing: It's difficult to say. When I do a talk show, it is Jin Xing chatting with people and sharing her attitudes and feelings. A talk show is not a stand-up routine or any other kind of comic performance. You must be able to articulate your views and your ideas.
But as you know, there is very limited space for discussion on Chinese talk shows. You can't comment on current affairs, for example. Sometimes I envy my American counterparts who can talk about everything: society, the system, government, sex. Fortunately, China is a big country with a large population and plenty going on, so there is still a lot to discuss. That's why I've been able to do it for the past year or so.
Sixth Tone: Dancing and hosting a talk show are poles apart in terms of presentation. How do you strike a balance between them?
Jin Xing: Currently, I spend an equal amount of time on both. Before, I would dedicate 80 percent of my time to dance, but now I dedicate 60 percent of my time to my family. I'm a big fan of normal life. I love spending time with my children and husband, enjoying my lovely little life.
That still leaves 40 percent: 20 percent for my talk show and 20 percent for dance. The talk show takes a lot of effort because it's a vehicle for my ideas. On my talk show, I share Jin Xing's views and feelings on public affairs as a Chinese person. Dancing is different. With dancing you have freedom; there is nothing dogmatic about it. I convey a certain feeling, and the audience understands what is conveyed in different ways from different perspectives. That is what freedom is.
Sixth Tone: So would you say dancing is your greater passion?
Jin Xing: Of course. Modern dance is like my own private mental sanctuary. It makes me feel like there's a power that exists somewhere between heaven and earth that people can access. It's not something you are born with, but rather something you accumulate gradually. I don't hold any specific religious beliefs, but I do respect all forms of religion. All people need to find something to support themselves spiritually.
The stage is my temple. Every day, Jin Xing draws her strength and emotion from the stage.
Sixth Tone: Among your many admirers are a large number of elderly fans. Many of China's elderly population are not particularly accepting of the LGBT community, and yet you are a transgender woman and they adore you. Why do you think this is?
Jin Xing: Whether you use the word "transgender" or the phrase "from a male world to a female world," it's just a process that happened in my life. The label is there, but it is by no means the most important thing.
Before people see me on television, that label sticks out like a sore thumb. It grabs their attention. But people find that the label loses all significance when I walk out in front of them and they see my charm, my character, and my attitude. The label is no longer so important.
When people accept me, they realize that I am someone who has experienced a lot. This is crucial. Kids know it too. Perhaps they think this lady's voice is a bit gruff like a man's voice, or perhaps they know that this lady used to be a man. But none of these things matter to children. Ultimately, they just like talking to this lady, they like listening to her.
(Header image: Jin Xing appears on a television talk show in her hometown of Shenyang, Liaoning province, Sept. 25, 2015. Shen Yang/VCG)