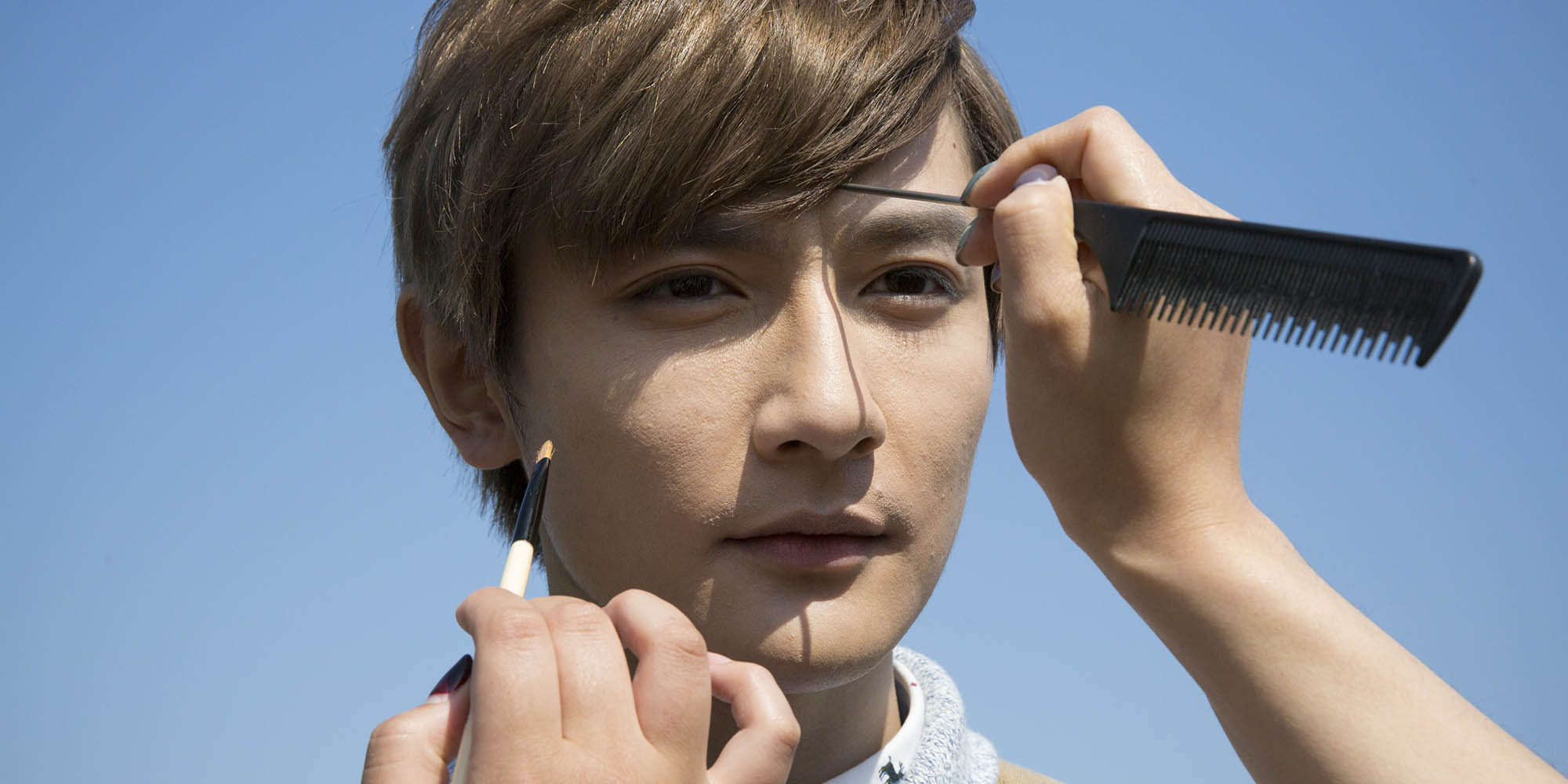 FEATURES
Gay Films for Straight Girls
'A Round Trip to Love' offers one-way view of LGBT community, critics say.
Yu Lisha loves gay films, but she has very specific requirements. "The two guys must be handsome," she says. "I can't bear it if they're ugly."
The 30-something-year-old from Hangzhou, in China's eastern Zhejiang province, is a self-confessed funu, a word in Chinese that literally means "rotten woman" but is used to refer to women who have a penchant for stories about romance between gay men. Like Yu, most funu hold the protagonists to very high aesthetic standards.
Yu is also the press secretary for production company Dimension Films — not to be confused with the American company of the same name — that is in the middle of making a feature-length gay romance for online broadcast later this year. The film, "A Round Trip to Love," will join a growing list of gay-themed films and series that enjoy online audiences in the tens of millions.
TV industry guidelines leaked earlier this year classified homosexual content and themes alongside incest and rape as "abnormal sexual behavior," and thus unsuitable for broadcast on television or online.
Yet despite perceptions that scrutiny over LGBT voices in popular media is increasing, films and series that revolve around the romances of gay or lesbian characters continue to prosper. Many trace the origins of the ever-growing genre to "Like Love," a low-budget online film released in late 2014 that depicted the blossoming romance between two male university students. The slew of gay-themed online films and series that followed has included lesbian feature-length movies, gay high school dramas, and even an upcoming LGBT matchmaking show.
Dimension Films wants to rise above the wave. The production company has poured around 4 million yuan (over $600,000) into making "A Round Trip to Love," according to Yu — hardly a Hollywood budget, but still a league above its competition. "Girls' Love," a feature-length lesbian film released earlier this year that enjoyed an online audience of over 30 million, cost just 300,000 yuan to produce.
Jiang Yi, CEO of Dimension Films, says the film's high cost reflects a dedication to perfection. "Luxury villas, helicopters, and cruise boats — it has it all," the 33-year-old tells Sixth Tone over a coffee in the city of Wuxi, in China's eastern Jiangsu province, where "A Round Trip to Love" is being filmed. His eyes are tired and his voice hoarse after a late night celebrating the wrapping up of filming. Nonetheless, his enthusiasm about the project is palpable.
More than to show off the company's deep pockets, Jiang hopes the film will redress stereotypes and negative representations of gay characters in other works. "I think the gay and lesbian community needs to be protected," says Jiang, who describes himself as "straight, extremely straight."
Yet "A Round Trip to Love" belongs to a genre that's often criticized for stereotyping. The genre is called danmei — literally "indulging in beauty" — and has its roots in Japanese pop culture, where it has taken form most prominently in comics and anime.
Among those who view the genre with skeptical eyes is Zhou Weihan, a young gay man who volunteers at an LGBT advocacy organization in Shanghai. He believes that while the genre is grounded in same-sex romance, it is not concerned in the slightest with painting a true picture of China's LGBT community.
"Danmei stories are what happens when 'rotten women' let their imaginations run wild," the 26-year-old tells Sixth Tone. The end result, he says, is a pervasive misunderstanding among danmei fans that all gay couples are formed of a masculine half and a feminine half, or "one strong, one weak," in Zhou's words. "They don't consider the possibility that you could have two people with the same personalities."
Indeed, Dimension Films' press secretary Yu has a habit of referring to the film's two protagonists according to their presumed roles in the bedroom — "giver" and "receiver" — rather than using their names. Director Qin Zhen doesn't deny that the film plays up to the imagination of young girls. Everything that a girl could want, 28-year-old Qin says, this movie provides.
In Qin's mind, the focus needn't be on the fact that both protagonists are male. "The right way to see them is just as a pair of lovers," she says.
However, some LGBT activists say that the genre's tendency to downplay the "gay element" means it won't help to further the gay cause. So believes Duan Rongfeng, a marketing professional and head of the Shanghai branch of PFLAG, a support network for parents and friends of lesbian and gay people. He and his husband were flown out to Los Angeles in 2015 to take part in a group wedding of seven same-sex couples, an event sponsored by Internet giant Alibaba.
Duan believes the danmei genre doesn't address enough of the issues faced by gay men in China. "You could switch the male lead with a woman and not need to change a single thing," he says. "They ignore issues that exist all over the place: societal pressure, rights, marriage, and bringing up children," he says, before breaking into a guilty smile and admitting that he still finds such films and series quite engrossing.
An easy fix, thinks Duan, would be to encourage more sexual minorities to take part in the production process. According to Yu, there are no gays and lesbians involved in the film, including the cast. Yet even asking an LGBT individual to simply offer their reactions to the script would go a long way, Duan says.
CEO Jiang disagrees. "You should treat the couple as a 'normal' couple and film them accordingly," he says. "All you need to do is put yourself in their shoes." The fact that it's not a film that touches on specialist knowledge means, he believes, that inviting "consultants" would be unnecessary. "I don't believe that [sexual minorities] are different to us," he says. "Doesn't everyone experience love?"
[node:field_quote]
Cai Zhiguo, a gay man who works as a technician at a Shanghai-based paint manufacturer, finds it encouraging to see that sexual minorities are not being treated as alien entities, intrinsically different to heterosexuals. Nevertheless, he agrees with Duan that a lack of sexual minority participants in the production process has led to severe stereotyping.
"You have to understand a community before you make movies about it," the 34-year-old says. Cai is an avid collector of gay films and TV series, and estimates that he has amassed over 1,800 foreign and Chinese titles since 2002. For the sake of comprehensiveness, "A Round Trip to Love" will make it into his database, but he doubts he'll get round to watching it because of its cliched depictions. "The gap between this kind of movie and my life is just so wide," he says.
Yet for all the shortcomings of danmei, some are grateful to the genre for shining an ever-increasing mainstream spotlight on the gay community. "The biggest problem facing our community in China is that our visibility is low," says Duan. For him, whatever it takes to increase that visibility is worth supporting.
He draws a comparison to the often vitriolic comments that Internet users in China leave under news pieces that relate to sexual minorities. "Lots of people care about the nature of the comments, but I care about the number," he says. "I'm just happy that people are talking about gays and lesbians."
Yet if "A Round Trip to Love" is to stimulate further discussion in China about the gay community as Duan hopes, then it must first win the approval of the country's censors.
Huang Jingxiang, the actor who plays one half of the leading couple, prefers not to dwell on the prospect that the movie could run into difficulties. "Yes there is a risk with this kind of film," he tells Sixth Tone from a film set where he is shooting the final scene, "but I just want to focus on producing the work."'
Others involved in the film's production seem to have thought more proactively about the need for state approval. "A Round Trip to Love" is based on a series of novels by famed danmei author Lan Lin — according to the film's scriptwriter Zhang Jinyu much of the book's content was dropped in order to make the film "more palatable to the aesthetic standards of the masses."
Among other things, that meant removing sexually explicit scenes, references to rape, incest, and tongqi — straight women who unknowingly marry gay men. "The government has no explicit rules stipulating what is and is not OK," says Zhang, "so we just avoid the things that we can avoid."
Gay film enthusiast Cai views the restrictions pragmatically. "I can accept that there will be limits on this content, for instance regarding intimate scenes," he says. "But at the very least one must recognize the existence of the [gay] community."
For him, more films and series that explore gay themes — no matter how good or bad they are — would be a sign of wider progress for China's sexual minorities.
"I don't expect to see the legalization of same-sex marriage in China while I am alive," he says. "I just want to see a little progress, a little hope."
Additional reporting by Li You.
(Header image: Huang Jingxiang, one of two male leads in 'A Round Trip to Love,' has makeup applied before shooting, Wuxi, Jiangsu province, April 18, 2016. Zhou Pinglang/Sixth Tone)