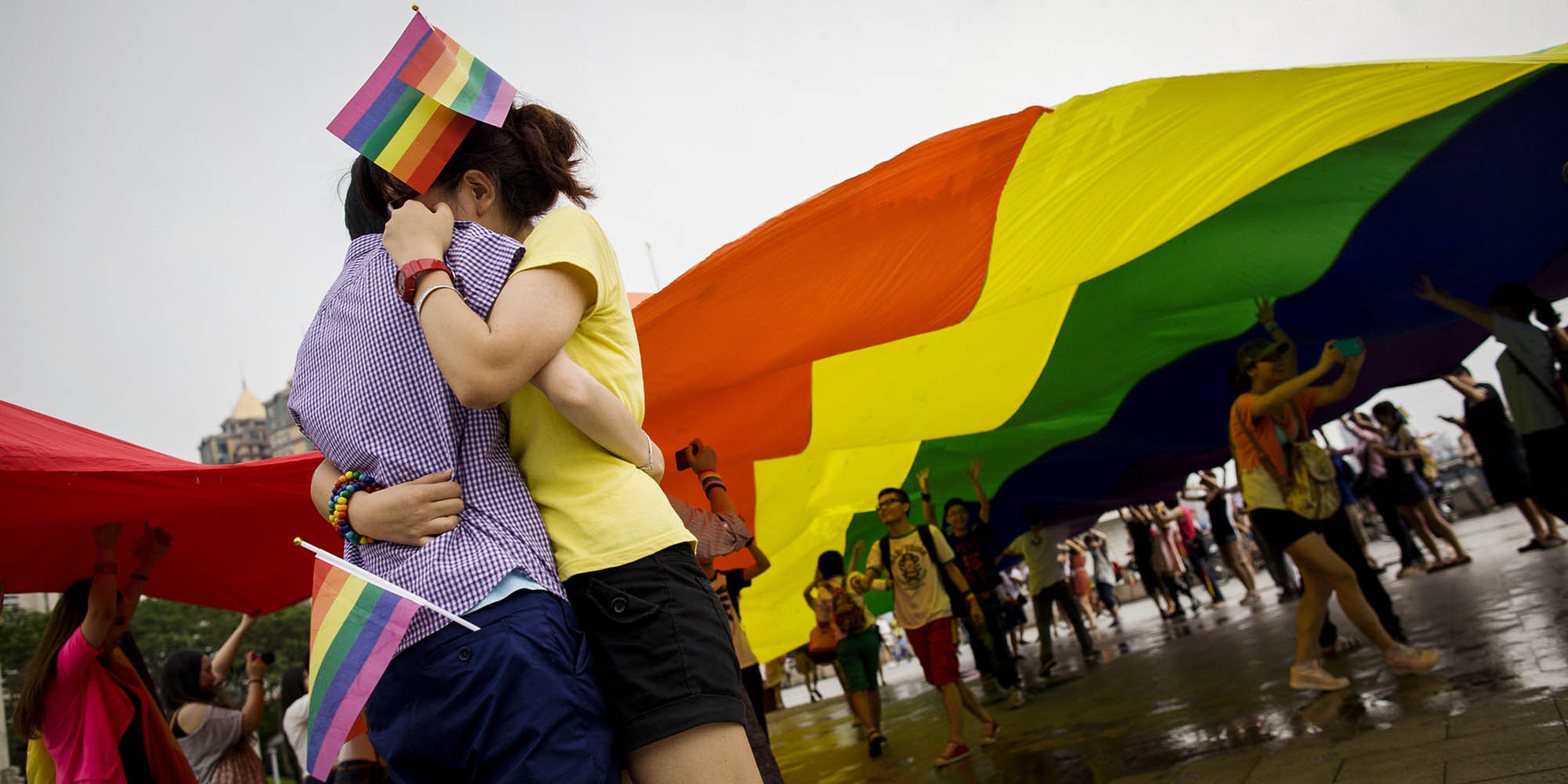 FEATURES
LGBT Mental Health: Closet Prejudice Remains
Latent homophobia lingers, 15 years after China declassified homosexuality as mental illness.
In retrospect, Peng Huijie thinks he has always been more attracted to men than women.
"Maybe it's in my bones," the 61-year-old says. "But there wasn't that environment then. No one told me."
His teenage years were tangled in the turmoil of the Cultural Revolution, leaving him more preoccupied with survival than with questions of sexuality. It wasn't until he was 50, when he heard there was a place for men to meet, that he came to accept his sexual orientation.
Peng didn't delay in diving into the gay community. "In the morning I didn't know," he says. "And by the afternoon, I was here."
Peng is speaking to Sixth Tone from his perch on a stone bench in Dongdan Park, a stone's throw east of Tiananmen Square in Beijing. The park has been a popular cruising spot for gay men for many years now, and Peng is one of several stalwart volunteers who visit daily to dispense condoms, lube, and HIV test kits.
Policy changes in China over the last two decades have made it possible for Peng to do this work openly. Until 1997, homosexuality was grounds for prosecution in China under the ambiguous crime of "hooliganism." Four years later, in 2001, homosexuality was "depathologized" — removed from the nation's classification of mental disorders. Both changes are key milestones in the push for LGBT acceptance and visibility. But progress is uneven, as the perception lingers — among both the public and health professionals — that homosexuality is not normal.
In describing the Chinese government's position on homosexuality, many use the idiom "no support, no opposition, no promotion." In China, there are no laws that protect against discrimination on the basis of sexual orientation or gender identity, while NGOs lobbying for LGBT rights have little opportunity to meet with government departments except on issues of HIV prevention.
Gay themes rarely appear in mainstream film and television, and leaked industry guidelines for television dramas reveal that homosexuality is grouped with incest and other sexual abominations as "abnormal sexual behavior." Police have detained and questioned LGBT advocates, and screenings at the Beijing Queer Film Festival have been shut down by police in the past.
Though officially homosexuality is no longer considered an illness, some still see it as a sort of contagion — either a rival ideology that threatens to challenge political stability, or a lifestyle that can win converts through advertising. But in China, many argue that it's more common to see attempts to convert gays and lesbians to heterosexuality. Xin Ying, director of the Beijing LGBT Center, says that many clinics around the country continue to offer "conversion therapy," ranging from counseling to physical treatments, aimed at turning gays and lesbians straight.
Beijing LGBT Center, an NGO founded in 2008, has been working to expose and confront the practice. In 2014, the center helped prepare research and evidence for a gay man, Yang Teng, who sued a clinic in the southwestern city of Chongqing where he'd undergone electroshock therapy and hypnosis aimed at "curing" his homosexuality. The lawsuit also implicated search engine Baidu for advertising the therapy.
Finally, in a landmark decision at Beijing's Haidian District Court in December 2014, the judge ruled that the clinic was wrong to provide treatment, given that homosexuality is not an illness. The clinic was also ordered to apologize and pay compensation of 3,500 yuan ($536). Baidu wasn't mentioned in the ruling, but the company agreed to remove listings for conversion therapy.
Despite the verdict, clinics continue to offer electroshock therapy, as undercover activists proved in a 2015 documentary by Britain's Channel 4. It's a lucrative market, with treatment costing up to 40,000 yuan. The practice is difficult to eliminate, as regulation of unlicensed providers and unscientific treatments in China is a problem that extends beyond conversion therapy, recently brought into focus with the recent scandal involving unorthodox cancer treatment at a military hospital.
[node:field_quote]
Xin thinks that the decision to declassify homosexuality as a mental disorder had limited impact because it drew little attention at the time. "Most people wouldn't know of the change at all," she says. "If the media reports on anything related to homosexuality, there will always be comments from people saying that it's an illness, that it's abnormal."
Some of the responses to a May 19 article about a lesbian student's campaign against university textbook descriptions of homosexuality as a "disorder" would support Xin's claim. "Homosexuality violates the laws of nature, we shouldn't brazenly support and encourage it," wrote one user. "How many ignorant children will be twisted by these mistaken ideas about sex?"
Xin's center believes such attitudes are prevalent among mental health professionals as well as the public. A survey they conducted last year of 996 psychiatrists and psychological counselors across China found that over a third thought homosexuality was a mental disease. Xin, who is pansexual herself, has heard similar viewpoints very close to home. "In my mother's eyes, homosexuality is nothing but a sickness," she says.
Liu Huaqing is the director of psychotherapy at Beijing Huilongguan Hospital, and he was at the center of the profession's decision to declassify homosexuality as a mental disorder in 2001. The journey began more than 20 years ago in 1995, when Liu was 30 years old.
As a relatively junior doctor, Liu felt honored to take on a research project into homosexuality that had been commissioned by the Ministry of Health. But as a heterosexual man, he was nervous about the work. "I felt a little pressure," he recalls. "We'd go into the gay bars, and they'd ask if I was gay." But he persisted with the research for five years, and in 2001 homosexuality was removed from the third edition of the Chinese Classification of Mental Disorders (CCMD-3), a state-backed diagnostic guide published by the Chinese Society of Psychiatry.
But the third — and current — version of the CCMD retains a controversial reference to "sexual orientation disorder." It's defined as a disorder where the sexual orientation itself is not necessarily abnormal, but where the individual wishes it were different and may seek to change it, due to associated depression, anxiety or anguish. The diagnosis specifically mentions homosexuality and bisexuality. Liu says it's useful for treating individuals who experience significant anxiety over a sexual orientation they can't accept. "For example," he says, "they don't want to be gay, so they seek therapy themselves, wanting to change and being willing to undergo treatment."
But LGBT advocates want the diagnosis removed, arguing that it has been used as a justification for conversion therapy. Liu himself acknowledges that more often than not, LGBT clients are brought to treatment by their parents. Beijing LGBT Center's 2014 report on the mental health of LGBT people in China found that, even for individuals who willingly seek to change their orientation, the main motivation was "gaining acceptance from parents and relatives" or "conforming to society."
Beijing LGBT Center's Xin says in some cases, families even force LGBT people into psychiatric hospitals against their will. In September 2012, just after Xin became the center's director, she heard of an 18-year-old lesbian from Changchun in northeast China whose parents had beaten her and her partner, separated them, and institutionalized her. "There wasn't much we could do," she recalls. "There wasn't any legislation against family violence then, there was nothing." The recently established national domestic violence law's definition of psychological abuse does not refer specifically to homophobia.
The woman ended up spending a week in the psychiatric ward, before running away with her girlfriend. She eventually reconciled with her parents, but the fact that Beijing LGBT Center had no legal avenue to protect the couple spurred Xin to make mental health one of the center's priorities.
The center has now launched a project called "Uncover Map," which serves as an online map and directory of LGBT-friendly counselors, along with a blacklist of clinics that offer conversion therapy. PFLAG China, a nationwide network of parents and friends of LGBT individuals, is a partner of the project, and their members will visit doctors and therapists to investigate their attitudes. Providers that advocate conversion therapy will only be added to the blacklist if they can't be dissuaded.
The center also provides sexual and gender diversity awareness training for health professionals and is working with psychologists like Liu Huaqing to develop standards for LGBT health care. Currently, there are no professional standards for dealing with sexual orientation, and, while a psychologist's approval is required for undertaking transition surgeries, there are no treatment guidelines for psychiatric assessment of transgender clients.
Many issues result more from the overall lack of regulation and professionalism in China's health system rather than outright homophobia. Mental health is a nascent field with a shortage of services: For a country with almost five times the population of the U.S, China has less than half the number of psychiatrists.
Psychoanalyst Yang Chunqiang attributes the slow progress of declassification of homosexuality to the "twists and turns" of China's recent history rather than cultural tradition. "In Europe, homosexuality conflicted with Christian doctrine and was punished as a sin, while historically China has had a quite tolerant attitude," he says. Same-sex relationships were seen as an acceptable pleasure, though heterosexual marriage was also expected. "But after the spread of Western medical science, from the time the Republic began [in 1912], there was an increasingly pathological view." Yang says that the progress of science and culture stalled during the Cultural Revolution, so China is only just catching up.
In China, as in much of the world, even health professionals who can accept diverse sexualities and gender identities still often harbor the assumption that heterosexuality is more natural. Li Bohong, a playwright and LGBT advocate known more commonly by the name Dada, says a double standard applies, where sexual and gender minorities are only accepted if they're healthy, well-adjusted and successful. She tells Sixth Tone that when LGBT children come out, often well-meaning parents will respond, "As long as you're happy, that's okay." But what if you're not happy?
Li explains that LGBT people experience the same struggles with mental illness as everyone else. But parents often see sexual orientation or gender identity as the root of any psychological issues, suggesting that pathologization still lingers. "No one would ever say to an unhappy heterosexual, 'Oh, you're having a rough time, maybe you should try being gay,'" she says.
Back in Dongdan Park, Peng takes a more pragmatic approach, believing that compromise is an inevitable part of being LGBT in China. He is still married to his wife, though he has been with his 29-year-old boyfriend for 10 years. His wife and daughter know, and he says it doesn't matter because he's always been a good husband and a good father. "It's important to shoulder your responsibilities to family and society," he says. This belief led him to persuade his boyfriend to marry and have a child. "His family is good to me," Peng says. "I know them, they know me. In my opinion, this is the proper way to do things."
But Peng recognizes that experiences and desires vary even within the gay community. He says that men from educated, urban families might find acceptance more easily, even within their own nuclear families, the way he has. But for those in rural areas, he believes, a sudden announcement is rash and risky.
In such situations, he suggested it was best to find a middle way. "As long as you can 'shoulder your duties,' as we say, then it's okay," he says, referring euphemistically to the act of sex with a woman. As in generations past, having a gay lover alongside a conventional family life is one way to balance individual desire and social obligation. "Many of us can accept it, a lot of us older men."
While he acknowledges the need for compromise, Peng nevertheless believes that he has always had a preference for men, even though he didn't act on it until later in life. Often LGBT advocates push for rights and recognition on the premise that sexuality is innate and unchangeable. In a discussion on depathologization for dating app Blued, one gay man commented that environmental factors could never change a person's sexual orientation. He posed the question: "We homosexuals were all born into a heterosexual environment, educated in heterosexual thought, and watching heterosexual television — so why aren't we heterosexual?"
But other Chinese LGBT voices say orientation has transformed over the course of their lives. Commenting on an article about sexual fluidity on women's sexuality app Yummy, one user says, "I think once you label yourself, it's like tying yourself to a yoke, saying you have to live according to this identity. I want to be free to follow my heart's desires." The rejection of the "born this way" narrative indicates the increasing acceptance of LGBT rights in China, where previously respect for homosexuality relied on the argument that it couldn't be helped.
An unexpected voice of support for this perspective came in March with an article by the China Youth Daily, the official newspaper of the Communist Youth League of China. The piece was based on the words of an anonymous net user who said on Zhihu, China's answer to Quora, that the argument between nature and nurture was irrelevant, even harmful, to the experiences of LGBT individuals. "Some day we'll look back and realize that all the debate on whether homosexuality is acquired or innate supposes that it's abnormal, mistaken, or harmful," they said. Once homosexuality is completely accepted by society, "no one will wonder about its cause."
Additional reporting by Wang Lianzhang.
(Header image: Two lesbian women hug with each other during an LGBT concert at Sun-Yat Sen University in Guangzhou, Guangdong province, May 19, 2013. Liang Yingfei/IC)