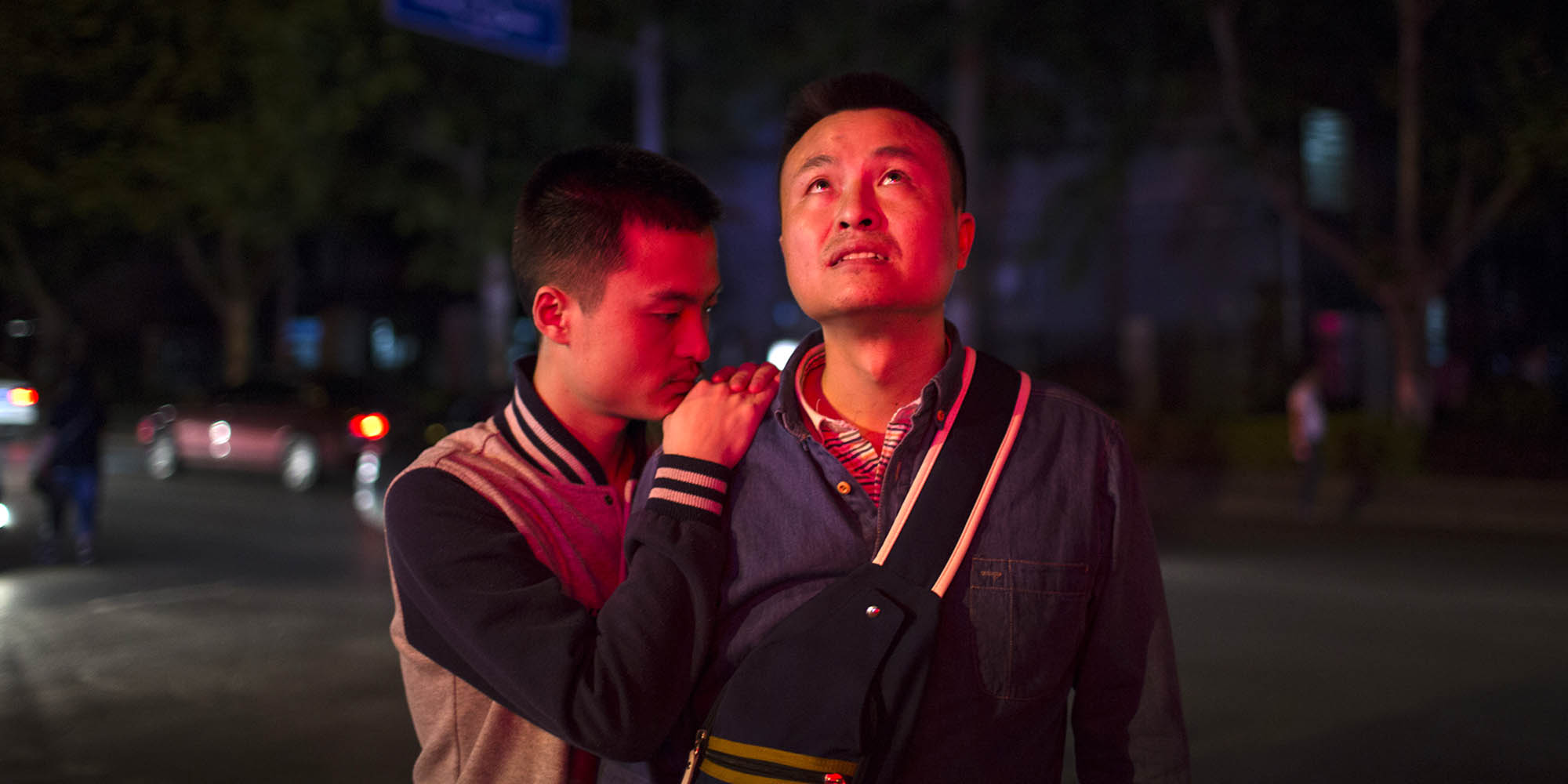 FEATURES
Gay Mahjong Players Think Marriage Is a Straight Game
In Changsha, one Chinese gay couple's happy day sparks antipathy and debate.
On Sunday afternoon in a gay mahjong parlor tucked away in a small alley in Changsha, the capital of central China's Hunan province, there is no talk of an upcoming wedding between two men.
Against the clacking sounds of shuffling mahjong tiles, the men sip green tea from glass beer mugs. The floor is covered with spat-out sunflower seed shells, and the smoke of a local, particularly potent cigarette brand hangs in the air.
This gathering of around 30 men — there's only one female player — is more concerned with winning at mahjong than any battle for gay rights. "I just mind my own business and live my own life," Liu Hejun, a 35-year-old gay man with a moustache and glasses, told Sixth Tone without taking his eyes off the game.
On Tuesday afternoon, Changsha residents Sun Wenlin, 26, and Hu Mingliang, 36, will get married in front of an expected crowd of more than 100 people, including journalists, supporters, and a small number of family and friends. The date — May 17 — marks 26 years since the removal of homosexuality from the WHO's International Classification of Diseases, and is now known throughout the world as "International Day Against Homophobia, Transphobia and Biphobia."
Fifteen years ago, China followed suit, removing homosexuality from its official list of mental disorders. Yet despite that milestone, China's marriage law still does not recognize same-sex marriage, so no official marriage certificate will be issued at Tuesday's wedding, nor can Sun and Hu expect to enjoy any of the same rights as their heterosexual counterparts, such as the right to adopt children.
The fact that the wedding will not bring about any change in their legal status has not stopped Sun and Hu from attracting huge media interest and public support. The couple have risen to prominence since they took the country to court after their application to marry was turned down by their local marriage registry in December 2015. The case in April was the first time that a Chinese court had accepted a same-sex marriage lawsuit.
The case was rejected, but Sun and Hu have since become a beacon of hope for many in China's LGBT community.
"It was brave of Sun to stand out and fight for our rights," said Wei Jiewu, a 24-year-old gay security guard in Changhsa, a city of more than 7 million people. "He let society know that gay people, too, have the desire to get married."
The couple are yet to hear the results of an appeal against the ruling they filed on May 5.
Support for the couple's activism is far from unanimous, however. Most men at the mahjong parlor, for instance, say they are not interested in the battle for gay marriage. Instead, some of them criticize the couple for drawing unwanted attention to sexual orientation in China. For many — especially older men — this is a topic best kept under wraps, simply because that's the way it's always been for them.
Then there are those who say that Sun and Hu are taking advantage of their newfound fame and using it to make money.
The debate over the wedding underscores the current fragmented state of China's LGBT community, which is splintered along geographic and demographic lines. In the bigger, more developed coastal cities such as Beijing, Shanghai, and Guangzhou, vibrant gay scenes offer a breadth of options for predominantly young members of the LGBT community to socialize or, in some cases, form interest groups to promote specific goals, such as workplace equality. A more pronounced foreign influence in such cities means that LGBT individuals have immediate access to issues surrounding LGBT people around the world.
By contrast, gay life in China's heartland is relatively stunted, not only due to a lack of strong networks that promote social interaction and communication, but also because it is in places like Changsha that Chinese society's traditional values have the strongest hold. Chief among these values is the importance attached to marriage, generally seen as a union exclusively between a man and a woman that has the aim of procreation at its heart.
[node:field_quote]
A 2015 survey by market research company YouGov found that 48 percent of urban Chinese said homosexuality should be accepted by society. Of the 4,000 respondents, 39 percent were in favor of legalizing same-sex marriage. A 2013 report by U.S. think-tank Pew Research Center on urban and rural Chinese showed a less supportive picture: Only 21 percent of 3,226 respondents believed that homosexuality should be accepted by society.
Social stigma has caused many men — particularly those living inland — to keep quiet about their sexuality. Many enter into either unions of convenience with lesbians, or marriages with straight women who are typically unaware of their husbands' secret lives.
The mahjong parlor's owner, a tall 54-year-old man who was only willing to give his surname, Wang, said he opened the parlor earlier this year because he wanted to create a space for gays in Changsha to gather together. He said up to 60 people play mahjong at his establishment on Saturdays and Sundays, and up to 40 on weekdays.
Wang married young and has two grown children. He and his wife remain married, but since 2012 they have been living separately. He does not plan to tell his wife about his sexuality, nor does he intend to apply for a divorce.
Now Wang has a 19-year-old boyfriend who assists him with running the parlor.
Nevertheless, Wang maintains that human beings have a responsibility to reproduce, and is skeptical about the benefits Sun and Hu's marriage will bring. "What difference would it make if gay marriage was legal in China?" Wang asked. "Two gay men can't have children anyway."
Wedding Plans
On Sunday evening, Sun and Hu sit on a lilac-colored sofa in their compact apartment in Furong District, which lies in the east of Changsha. Other than a large rainbow flag hanging behind their heads, the apartment's walls are sparsely decorated.
There is a little talk of the wedding. Both men plan to wear suits and purple bow ties. "Purple means gay," Sun offered by way of explanation. For now, no banquet is planned, but the "gold" medallions made from chocolate that guests will be able to hang around their necks like medals suggest that the couple is keen to communicate the Olympian effort their journey has required.
Music selections have been made: a blend of the traditional — "The Wedding March" — with something less usual — the theme music from the Japanese war movie "Merry Christmas Mr. Lawrence," by composer Ryuichi Sakamoto. "Because I like Japanese things," Sun explained.
There have also been headaches. The couple had to make a last-minute change for the location of the wedding because the owner of the original venue objected after finding out it was a gay couple getting married. Police presence at the ceremony is a real possibility, the couple said, but they point to a successful gay rights advocacy talk that they attended recently as an indication that events centered around gay themes can be tolerated by the authorities. That event, held in early May in Guangzhou, in the southern Chinese province of Guangdong, was organized by the so-called Rainbow Lawyers group and was attended by more than 100 people.
Sun, the younger of the two, does most of the talking for the couple, who originally met online. Hu, on the other hand, sits quietly next to his partner, getting up only once to fetch a pair of socks for Sun, who contracted a cold following a sudden temperature drop in Changsha.
Sun's cold hasn't stopped him from accepting the unending interview requests from reporters and video crews, whom he welcomes in his grey sweats and plastic blue sandals.
The soft-spoken Sun considers intently the criticisms laid at his feet by some of Changsha's gay community, pausing from time to time to pop another betel nut — Changsha's answer to chewing tobacco — in his mouth.
Sun said he can understand the criticisms levelled against them by men like those in the mahjong parlor, but he believes that most gays only care about enjoying life. "They are not educated enough to know what weapons they have to protect their own rights," he said.
Sun also said he didn't care whether people thought him too high-profile. "I'm low-key most of the time, but I choose to be high-profile regarding the legal marriage issue," he said. "It needs me to be high-profile. I want to do something meaningful for gay people."
"My right to get married is being impaired right now," Sun said. "And that's why I need to stand up and fight for it."
The couple's fight will not stop on Tuesday at their ceremony, which will not be China's first same-sex wedding. Sun and Hu plan to organize 100 weddings for gay couples around China. That, Sun said, would let the whole world see that gay men exist in China, and that there is a very real desire among them to get married.
During the interview, Sun also responded to views expressed by others, such as Changsha-based LGBT activist known by the pseudonym Xiang Xiaohan, who question the relevance of gay marriage to most Chinese gay people.
Twenty-two-year-old Xiang, who was detained three years ago for 12 days after organizing a gay pride parade in the city without the necessary permissions, said he supports the marriage of Sun and Hu. But he told Sixth Tone Saturday he believes there are more pressing topics that deserve attention, citing health issues and how to handle parents' objections to sexual orientation as examples.
Popular Support
Despite the reservations of some, Tuesday's marriage and the actions of Sun and Hu have gained wide support from many of the younger gay people who live and work in Changsha.
"The lawsuit will stimulate the legalization of gay marriage in China," said Hu Jiawei, 18, a freshman biology student and no relation to Hu Mingliang. For him, the benefits of legalizing gay marriage would extend beyond the circle of gay men, referring to the straight women who are often caught up in marriages with men who do not divulge their sexuality beforehand. "I want to save women by not marrying them," Hu said.
On Saturday night at Bear Bar, a small gay bar that hosts short song and dance performances, most of the customers, all in their late teens or early twenties, weren't aware of the details of the wedding, but were nonetheless enthusiastic, saying they would like to attend if they could.
Among the Bear Bar minority who opposed the event was a student who gave only his surname, Lu. The 22-year-old, who studies abroad in Singapore, said he was against the wedding because China is not yet ready for gay marriage, which he said would have profound effects on society. "People won't be able to understand it, and it will send a confusing message," he said.
When he is not running a sex shop for gay men, Liu Hao, 23, likes to volunteer with China's Parents, Families and Friends of Lesbians and Gays (PFLAG), an organization that seeks to promote understanding and acceptance among the family and friends of lesbian and gay people.
Liu got up at dawn on the day of Sun and Hu's court case on April 13. "I got there three hours before the hearing because I wanted to witness the history of gay people fighting for marriage rights in China," he said.
As to how long that fight will take, most people are in agreement that it is not right around the corner. Many of the gay men in Changsha who spoke to Sixth Tone believed it would take at least two decades for real change to come.
For many like Changsha resident, Qin Hao, 25, change will only come when the current body of government officials — seen as conservative and out of touch — gives way to younger civil servants who better understand the needs of China's younger generation.
Over dinner at a Nepalese restaurant overlooking Changsha's Xiangjiang River, Qin attributed much of the negative reaction to the issue of gay marriage — from both gay and straight people — to the country's education system, where the needs of the group, he said, are emphasized over those of individuals.
He said he felt sorry for the gay men — particularly older men — who preferred their closeted status to coming out and pursuing equality. "In their minds it's OK to live the way they do," he said. "But they'll regret it. Before they die, they'll realize they could have done better. It's just that no one ever told them how to build a better life."
Convincing such people and the broader Chinese society about equal rights for gays will be "a long struggle," said Qin. "But without people like Sun and Hu, it could take even longer," he said.
Additional reporting by Shi Yi.
(Header image: Sun Wenlin (left) leans on his boyfriend Hu Mingliang after their wedding rehearsal in Changsha, Hunan province, May 16, 2016. Wu Yue/Sixth Tone)