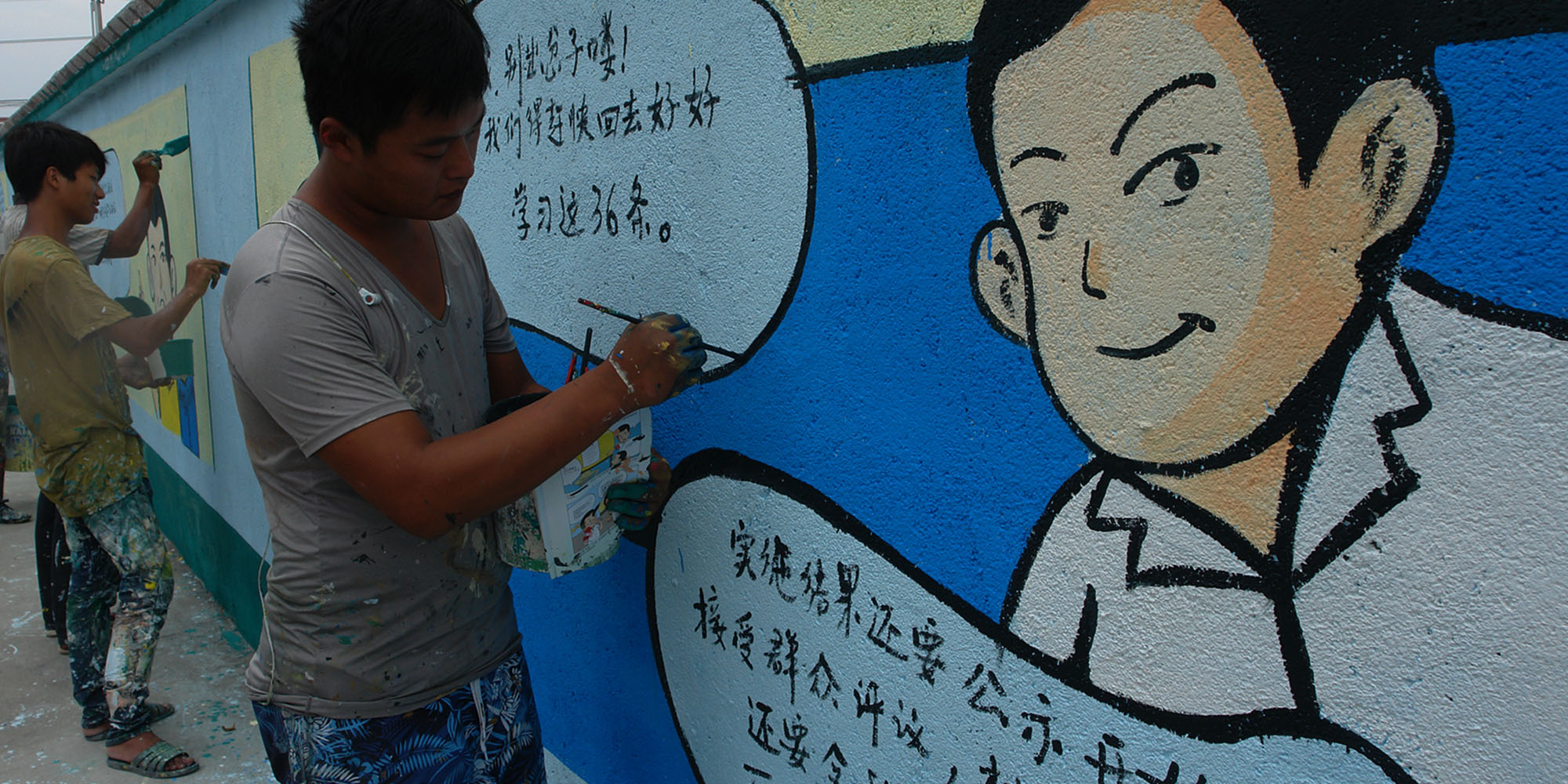 NEWS
Guidelines Bring Clarity, Accountability to Chinese County
Early indications suggest compendium of 36 rules is bringing better governance to one corner of Zhejiang province.
A county in Zhejiang province is experimenting with a new handbook of rules aimed at explaining if not cutting red tape.
While the collection of guidelines — dubbed the "36 rules" — has already helped residents of Ninghai to tackle thorny issues such as how to relocate a cemetery in order to make way for redevelopment, it's still too early to say for sure that the guidelines can form the basis of effective governance at the grassroots level.
The 36 rules have been compiled in a small handbook by Li Guijun, head of Ninghai's discipline inspection commission, and his colleagues.
None of the rules are new. But the Ninghai officials delved into government documents and papers on village affairs from years past, getting rid of all the unnecessary bureaucratic language and replacing it with easy-to-understand flow charts.
Such an endeavor has helped people like Ye Xianlin, a 61-year-old resident of Xujiashan, a village in Ninghai County, to figure out how to handle a proposed removal of a local cemetery and its 1,000 graves so as to make way for new tourism-related infrastructure. Some of Ye's ancestors are buried in the graveyard.
Due to an abundance of privately run light industry companies, Ninghai is one of China's most developed counties in terms of GDP. Many of Ninghai's villages are being developed as tourist destinations. One of the main challenges is the relocation of graves to make way for tourism facilities — a delicate matter, as Chinese tradition holds that disturbing the graves of one's ancestors will bring misfortune.
Widely known for its ancient houses built with grey and yellow stones, Xujiashan Village absorbed a total of 160 million yuan (more than $24.5 million) of investment for 17 development projects in 2015. According to Ye Quanjiang, party secretary of the village since 2005, the local government expects to invest in three new major projects in 2016, including a 40-hectare campsite for recreational vehicles.
Previously, large-scale construction projects like this would have been a likely hotbed of graft. However, the 36 rules outline how villagers can keep the local government in check during such an undertaking.
A barometer for the state of relationships between citizens and government officials is the number of petitions residents file. In Ninghai, that number has decreased since the rules were put together — although the degree by which they declined is not immediately clear.
Still, some experts hold the development of the rules as a good first step toward better governance.
For example, the rules clarify the steps that need to be taken when a village in Ninghai plans to spend its allocated funds. Most importantly, they stipulate that all blueprints must be vetted by local party members and village delegates.
Officials who violate the rules are also subject to penalties such as fines, suspensions, or forced resignations.
In Xujiashan Village, one of the first tests of the 36 rules came when more than 300 graves had to be moved in 2014. To start, party delegates and village residents were summoned for a meeting to decide which graves would be moved. The result was made public in the village, and the village officials started to visit the families involved in the grave relocation to persuade them to agree.
But it wasn't always easy to convince the villagers. "We made clear to the villagers that there were subsidies for the relocated graves," said Ye Quanjiang. "In addition, we told them that the moves were necessary for the development of the village, which would benefit all of them and their offspring."
Finally, all the targeted graves were moved to other cemeteries in the village, without any petitions being filed with the county, according to the local discipline watchdog.
As the Chinese government is pushing ahead with its anti-graft campaign to catch "tigers," or corrupt high-ranking officials, and swat "flies," their lower-ranking counterparts, the discipline watchdog in Ninghai is making full use of the 36 rules to prevent and eradicate corruption in all of the county's villages.
From time to time, grassroots corruption cases — usually bribery or embezzlement — involving astronomical sums of money make headlines. In July 2015, the Central Commission of Discipline Inspection, China's top discipline watchdog, disclosed that a village official from Gangnan Village in southern China's Guangdong province had been accused of misusing 40 million yuan in public funds.
From 2010 to 2013, a total of 102 corruption-related cases involved village officials, accounting for about 60 percent of all the cases reported in Ninghai, according to the county's discipline watchdog. The rampant corruption also resulted in a large number of petitions from the county's villages.
During the early stages of enforcement of the 36 rules, some village officials received punishments for disobeying the procedures stipulated in the rules, according to the discipline watchdog in Ninghai.
In March 2014, Wang Jiaquan, the party secretary of Shangwuji Village, decided to circumvent the rules to award a contract for a cement project valued at 59,500 yuan to a resident from the village. Wang said he did this because he needed to act quickly, as the project was urgently needed in the village.
According to the 36 rules, any village project with a cost exceeding 50,000 yuan should be open to bidders, and the bidding should be held at Chalu, the town with jurisdiction over the village.
The town discipline watchdog was tipped off about Wang's violation of the rules. After an internal probe, three village officials were criticized and given low scores on their integrity performance reviews.
"Bearing the public interests in mind is not enough when working for the villagers," Wang wrote in a self-criticism. "If only I had studied the rules more thoroughly."
Bao Ruigen, party secretary of Huchen Village in Ninghai County since 1995, found that village officials are far less likely to be suspected of taking bribes from contractors now. The local officials used to decide on village affairs behind closed doors, and this lack of transparency inherently allowed for the possibility of corruption.
Since 2013, more than 10 million yuan has been invested to raze and rebuild 14,000 square meters of houses that had fallen into disrepair. Almost all of the funds were appropriated by the county government, in the form of subsidies specifically earmarked for the projects.
"In accordance with the 36 rules, we summoned 50 to 60 party and village delegates every month to make decisions on the projects," Bao said. Each expenditure — even of as little as a few hundred yuan — should be accompanied by a receipt or bank record, he added. As a result, the villagers now have access to all the details of the projects in the village.
In Ninghai the 36 rules are still in the early stages of becoming an established system, said Li Renqing, a researcher of rural studies with the Chinese Academy of Social Sciences. A specific law is needed to fundamentally guarantee that the stability and sustainability of the 36 rules' development will not be undermined by human factors, he added. In addition, a sense of participation in local governance on the part of the villagers should be a focal point.
Outside of Ninghai, similar rules have been implemented in other villages. In Yancheng District of central China's Henan province, the local discipline inspection commission recorded a set of 27 rules to ensure integrity of village officials.
The case of Ninghai could be adjusted to suit specific situations in other areas in China, Li said. He believes the 36 rules are a valuable and meaningful example for the whole country.
(Header image: Workers paint propaganda murals about the '36 rules' on a wall in Ninghai, Zhejiang province, Sept. 25, 2014. Courtesy of Ninghai County Disciplinary Commission)