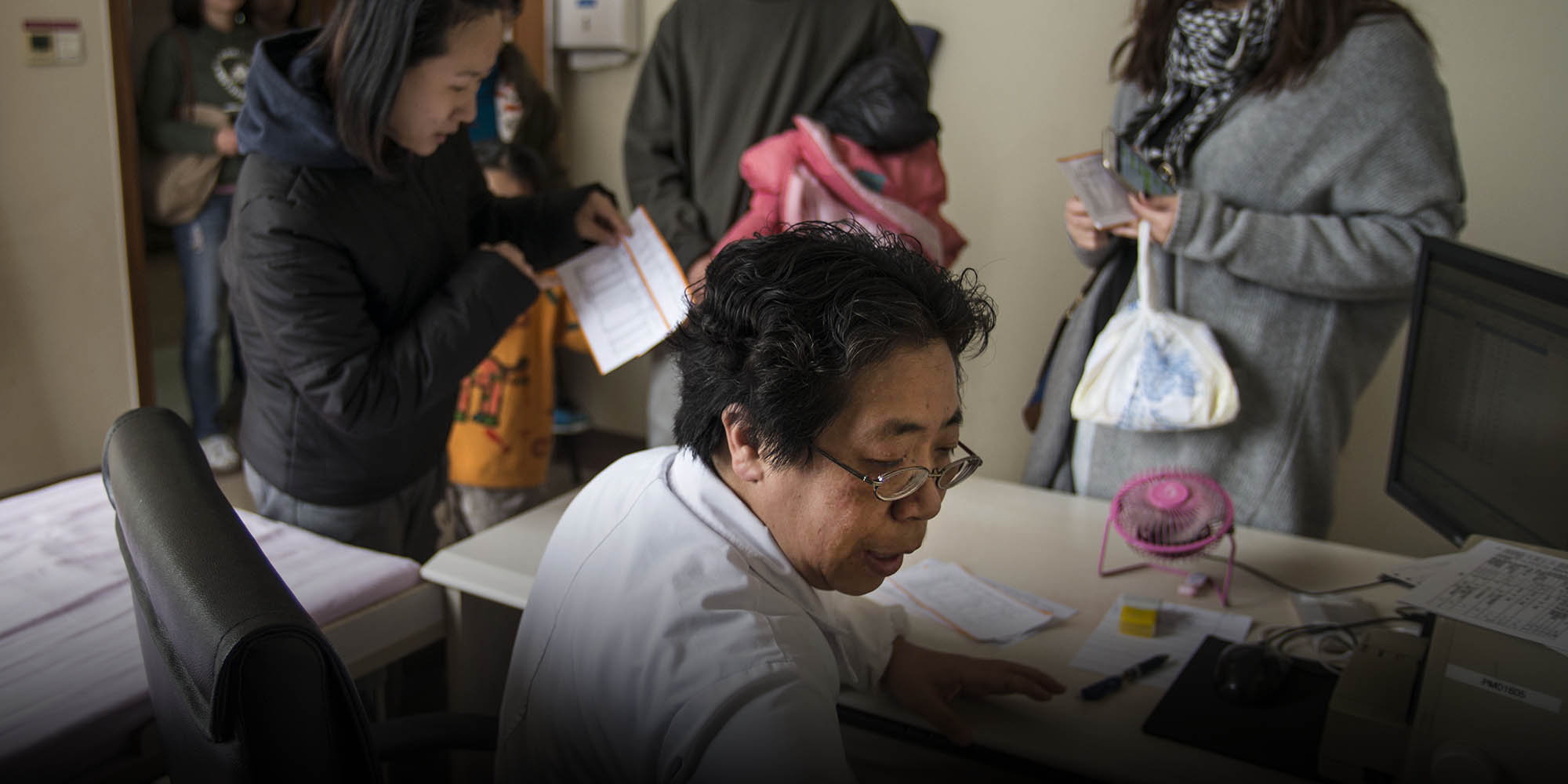 FEATURES
China's Pediatricians Left Holding the Baby
Exhausted, poorly paid, and facing intimidation from parents, children's doctors want change.
In Dr. Yu Huiju's office at Xin Hua Hospital, there are no chairs for her patients. It's a trick that she picked up from other doctors working in one of Shanghai's biggest pediatrics departments, she told Sixth Tone.
"People come with so many questions that if I give them a chair, they keep raising one question after another," she said. "But I can't afford the time."
In one morning, Yu will typically see around 36 patients, without allowing herself so much as a sip of water or a trip to the bathroom. This kind of heavy workload is very common for doctors in China.
While in the U.S. there are fewer than 700 children for each doctor, in China there's one pediatrician for every 2,300 children, and the ratio is growing worse.
Between 2010 and 2015, the number of pediatricians in China dropped from 105,000 to 100,000, and earlier this year the central government estimated that 200,000 more doctors are needed to solve the current staffing shortage. With an expected baby boom on the way as a result of the recent implementation of the two-child policy, China's child-doctor shortage could become even more pronounced.
Except for a small pink fan, a mobile phone wrapped up in a plastic bag, and an official seal, there's nothing else on Yu's table. Even though the spring weather is relatively cool, she keeps the small fan running throughout the day to help her stay alert.
"We have to rely heavily on our observation and experience to diagnose a child patient," she said. "Any detail we miss might lead to big mistakes."
Without further research being done, it's hard to know exactly what effect the lack of specialized doctors is having on the health of the nation's children.
Superficially, the signs are not promising. In recent years, hospitals have been forced to close pediatric wards and suspend emergency services due to a lack of available staff.
Talking to parents, Sixth Tone reporters found that families regularly deal with health problems at home rather than face the battle to see a doctor.
In December 2015, the Xin Hua pediatrics department kept patients needing emergency treatment waiting for more than six hours. Similarly long waiting times have also been recorded at other children's hospitals in Shanghai.
Li Wen, 33, told Sixth Tone that she took her 5-year-old son to a pediatrician for the first time last month after he had suffered from urinary tract infections all his life.
"The big crowds in hospitals make me worry about cross infection," she said. "And there are lines everywhere, from trying to get an appointment ticket, to seeing a doctor, to paying the bills, to getting the medicine. I try my best to avoid visiting a hospital."
Instead, Li has been using therapeutic massage and non-prescription drugs to treat her son's symptoms, with medical knowledge she gained from hospital-run workshops, WeChat groups, and doctor friends. She also follows the updates of leading pediatricians on WeChat and Weibo.
Zhu Ying, another mother from Shanghai, told Sixth Tone that she had recently joined online forums to discuss health issues concerning her children. "So far, the knowledge has helped me effectively," she said. "I don't blindly visit a hospital if my child runs a fever. Given the situation in the pediatrics department, I'm afraid sometimes it could have a negative impact on my sick child."
This trend of "self-care" worries Dr. Li Xin, who treats children at Jiahui Clinic, a private health care facility in Shanghai.
Urban Chinese parents are getting more access to medical knowledge than ever before, Li said, but it's crucial that they also have access to professionals who can guide them and help them filter out false information. "Children's symptoms can develop rapidly, so we recommend parents pay close attention and not delay necessary hospital treatment," she said.
Yet given the predicted baby boom following the implementation of a two-child policy, self-care seems likely to become more common among parents, as pediatric departments become increasingly stretched.
In April, the State Council announced that 5,000 more pediatricians should be trained this year, while earlier in February, the health ministry revealed that it aims to increase the number of pediatricians in China to 140,400 by 2020, to ensure one doctor for every 1,600 children.
"Hopefully after another two years, we will see some changes brought about by the reform," said Yu. "But until then, we have to work extra shifts to guarantee a comparatively decent income."
You don't need to spend long with a pediatrician in a state-run hospital to understand why there are so many vacancies.
On the morning that Sixth Tone reporters met with Yu, she looked exhausted. Despite the fact that it was a public holiday, she had been working extra shifts. Yu said she does this to supplement her salary.
"Without the income from working overtime, we would definitely be the lowest-paid doctors in this entire hospital," Yu said, referring to pediatricians.
When working extra shifts, Yu receives 50 percent of the fees paid by patients for an appointment, while on regular weekday shifts she's only entitled to 30 percent. If she sees 36 patients in a morning, Yu can expect to pocket a little more than 1,000 yuan (around $150) from her consultations.
A survey of doctors' salaries conducted in Guangzhou in 2014 revealed that pediatricians were paid just over $20,000 per year on average — or a third less than general physicians.
In 1992, hospitals directly linked revenues of individual departments to salary levels for the first time, a policy reform that inadvertently reduced incomes for pediatricians. "Before this reform, all doctors in a hospital earned comparable incomes," Yu said.
At this year's annual conference of the country's top policymakers and advisers in Beijing, it was proposed that the incomes for pediatricians should be hiked to improve recruitment levels.
Yu noted that her own hospital is putting more money into the pediatrics department, but that it is using patient fees to fund the investment.
"So essentially, it's patients who have to pay to push up our incomes," she said.
The high costs of health care, coupled with a lack of resources, have caused relations between patients and doctors to sour in recent years.
Yu's current WeChat avatar is a black ribbon, which is a tribute to the doctor from Guangdong province who was murdered by a former patient earlier this month.
"Pediatrics could not be a riskier department to work in," said Yu, who has 27 years of experience of working in hospitals. "Children cannot properly express their symptoms or feelings, so the condition of a child patient can deteriorate rapidly. The pediatrician faces mounting pressure from their patients' parents or grandparents."
"I tend to treat patients with smiles," she added. "Honestly, that can save me from a lot of potential troubles."
Yu majored in pediatrics and graduated in 1989, but she said that today very few of her former classmates are still working in the profession. "They thrive in different businesses. Few are willing to stay on in such a hard job."
Dr. Li Xia worked as a pediatrician at Shanghai General Hospital for 15 years. She said that even recalling the experience of working there makes her feel afraid.
"I love the profession because I like children, and I still don't regret my choice to become a pediatrician," she told Sixth Tone. "But when I had to work 16 hours in a row and see nearly 170 patients in a day, I almost went crazy."
Li quit the public hospital in 2013 and took a few months off to rest before finding another position. "I felt depressed," she said. "I had to quit because my life was completely messed up by the job."
Just before she left the public hospital, Li experienced a tragedy: A 3-year-old boy died the day she took him into her care.
"The boy was running a fever in the morning," Li said. "That afternoon he passed away from heart failure caused by fulminant myocarditis, or an inflammation of the cardiac muscle. I was lucky that his parents were both quite rational. They understood the survival rate of the condition is extremely low. But most parents wouldn't have stayed that calm."
"Parents think that if they make a big fuss, they will get compensation," Li said. "And I think this is because many parents lack basic medical knowledge."
At the end of a long day at work, Yu admits to feeling exhausted. Although her apartment is just a 15-minute walk from the hospital, she lies down in the small locker room before heading home to gather strength for her journey.
Yu told Sixth Tone that she has her own health problems: She takes medication for heart disease and high blood pressure.
"Doctors are constantly exposed to various viruses and bacteria, and we suffer from chronic fatigue," she said. "Inevitably, our immune systems become weaker. Most of our pediatricians have health problems."
A new building for the pediatrics department of Xin Hua Hospital is currently under construction. Yu has eight years to go before she can retire, and she hopes that when the building is completed — probably in another two or three years — the general situation for pediatricians will have improved.
(Header image: Dr. Yu Huiju turns around at her desk as patients and parents wait in her office at Xin Hua Hospital in Shanghai, April 4, 2016. Wu Yue/Sixth Tone)