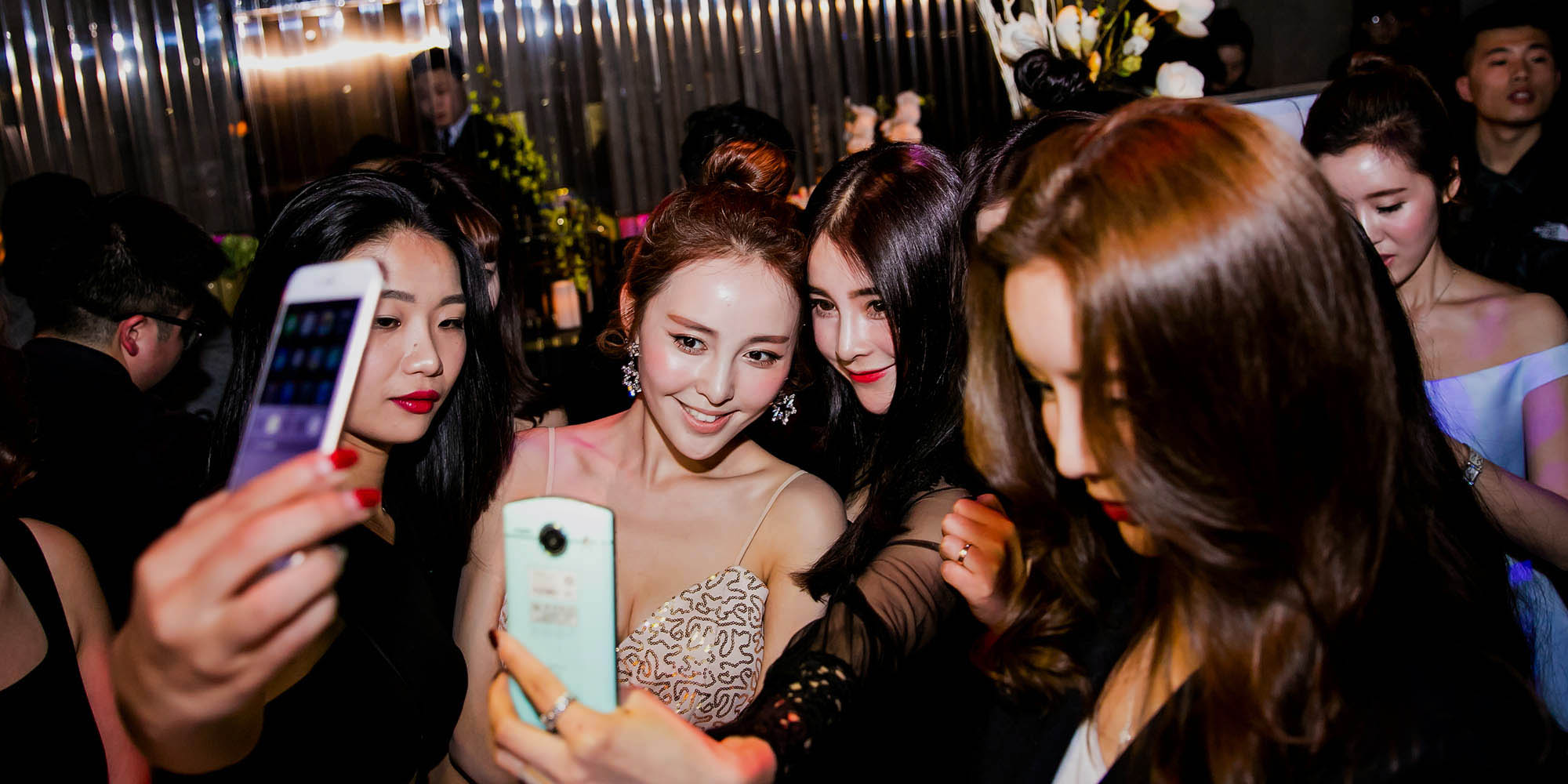 FEATURES
China's Web Celebs Peddle Fame for Fortune
Meet the online fashion celebrities capitalizing on their followers and changing industries along the way.
March 16 was a big day for Zhang Shuang. The 20-year-old e-commerce student stayed up until midnight so she could be the first person to congratulate her idol, Yu Xiaoxiao, on her 26th birthday.
Zhang had spent a week preparing a nearly 2,000-word blog post and a three-minute video, in which she waxed lyrical about her admiration for Yu. Zhang reads everything Yu posts online and sends Yu daily messages wishing her "good morning" and "good night." She even reminds Yu to take good care of herself and eat well.
Zhang's devotion may appear deeply emotional, but for Yu, Zhang's loyalty — and that of her more than 800,000 other fans — has quantifiable, commercial value. Yu is cultivating a following on social media in order to draw traffic to her clothing line sold online. As such, she has been thrust into a new kind of stardom: Internet celebrities, or, as they are known in Chinese, wanghong.
Wanghong — literally "Web reds" — wear Chanel, carry Hermes Birkin bags, and walk in Christian Louboutin high heels, travelling the world to ever more exotic locations to take the best selfies. But many wanghong like Yu use social media to do more than just show off their lunch menus and designer clothes — they harness it to sell their own products, posing in every which way in clothing with their own label. Selling through online stores on Alibaba's Taobao marketplace, China's biggest e-commerce website, these businesspeople — almost exclusively female — have turned the wanghong phenomenon into a veritable industry.
The emergence of this new type of idol comes at a time when China is looking to consumption, including e-commerce, to become a greater force in driving the country's economic development. Wanghong also reflect a subtle shift away from Western concepts of beauty and celebrity to one that is closer attuned to Chinese tastes. The rise of this innovative new business model is having a ripple effect across a wide range of industries and sectors, and providing greater choice to a new generation of consumers in search of fresh identities.
Most of all, the wanghong way has proven profitable. Last Nov. 11 — China's answer to Black Friday, but on an even larger scale — wanghong stores topped Taobao's charts for female fashion. The best-selling one, "Jupe Vendue," had revenues of 60 million yuan (around $9.2 million).
The rule of thumb in the wanghong economy is simple: More followers equals more money. On Taobao, there are hundreds of stores like Yu's, and there are millions of customers like Zhang ready to spend on their idols' newest lipstick, pair of shoes, or summer dress.
Entertainment industry commentator Luo Beibei estimated the 2015 yearly revenue of Zhu Chenhui, one of China's most popular wanghong, with 1.6 million followers, to be more than 200 million yuan. After subtracting all costs, top-echelon wanghong can expect a yearly income in the tens of millions of yuan, Ding Chenling, an angel investor who specializes in wanghong, told Sixth Tone.
The profitability of the business model is luring many young women away from the traditional fashion industry. Before opening her "Bequeenstory" Taobao store in 2014, Yu was modelling for the clothing lines of other e-commerce outlets. She still continues to be, in her own words, the "hottest and most expensive model in Hangzhou," the capital of China's eastern Zhejiang province and the center of the country's e-commerce industry.
But when a typical day of modelling means posing in up to 300 pieces of clothing, Yu has decided that the job is too exhausting to do full time. "I thought it was impossible to be a model forever," she said, speaking of her decision to open her own store and continue modelling only when she has the time. Her decision seems to have paid off: Last year her store garnered 30 million yuan in sales.
Teng Yujia, 24, arrived at the same conclusion. In early 2015 she said goodbye to modelling for other companies and made the career switch to selling her own goods through Taobao. Teng told Sixth Tone she was inspired to do so after she posted a selfie at a movie theater on Weibo. Not a single person commented about the movie. Instead, net users only seemed to be interested in the brands of her lipstick, colored contact lenses, clothing, and handbag. Teng saw a business opportunity and promptly opened her own store, "SHOCK AMIU," featuring its own clothing line.
A year later, Teng has almost 2.3 million fans, and individual items of clothing sell by the thousands — a simple black dress has been sold nearly 10,000 times.
Behind the impressive stats is a well-oiled commercial operation. "A piece of clothing won't necessarily sell well because of how it looks, but because I want it to sell well," Teng said. If she wants something to fly off the digital rack, all she has to do is tell her followers. Some are so devout, Teng said, that they even complain, "I love you so much, why can't I just send you money?"
Indeed, interaction with fans is the core consideration of every wanghong operation. Everything posted to social media is carefully crafted to make sure the content is attractive enough to be commented on and shared. "As long as you brand yourself well, you can sell anything," Teng said.
The secret to a strong brand is personality, believes Zheng Yi, CEO of Esee, one of China's most famous modelling agencies, and one which has a growing number of wanghong among its client base. Real popularity does not come from looking good, but from being interesting. Zheng believes that a model with a distinctive personality is in a much better position to gather momentum online, and that there won't be much of a future for models who don't have an army of followers in cyberspace.
Teng's approach has been to cut down the distance between herself and fans whenever possible. She wants to sell a lifestyle as well as just clothes, so she shares every aspect of her life on social media. That means a barrage of videos ranging from tutorials on how to use make-up to create contoured abs, to stories about her eyelid surgery in Japan, to the details of a fight she had with her husband. Teng's fans can't get enough: Her videos regularly receive thousands of comments and likes.
Yu, on the other hand, believes that some distance between herself and her fans is a good thing. "In real life, I like to joke around, not at all like a female idol," she said. When she used to post photos and content reflecting these traits, however, her fans would react negatively, believing that she was pretending to be funny to imitate other wanghong. As a result, she now tries to present herself as something of a motivational speaker. In one recent video, she gives tips on how to be a good communicator.
A strong personality might top Zheng's list of traits necessary to be a successful wanghong, but he has also observed a shift in aesthetic standards for those who flaunt themselves online. With an eye on the international stage, top-level models in China have traditionally tried to adhere to Western standards of beauty, which don't resonate with many Chinese people. Wanghong, on the other hand, cater to a strictly domestic audience, selling everyday clothes to everyday customers, resulting in aesthetic standards that hit closer to home.
Zheng believes that the average height in the modelling world is decreasing as wanghong strive to appeal to the masses, and expects that models above 1.75 meters will soon be considered too tall. Yu comes in at a "modest" 1.6 meters tall — her considerable success as both a model and a designer suggests that body height is no longer the be-all and end-all for models hoping to make it big.
[node:field_quote]
Zheng is not alone in his focus on the emergence of this new industry paradigm. In Hangzhou, a raft of incubator companies have emerged that train young girls in the ways of the wanghong and also offer management of budding models' supply chains and social media accounts. Drawing a comparison with the amount of time it takes self-made wanghong to establish a substantial following, Yu said, "The benefit of incubator companies is that they can shorten the three- to five-year maturation period of the wanghong life cycle — they can just fit you into a mold."
Teng has given in. After the shopping bonanza of Nov. 11 last year, she realized she couldn't beat the sheer volume of competition coming out of such wanghong factories, and she decided to sign with an incubator company. "I can share the profits with them — for me, it's just money," she said. "But what they pay back to me is my future." At the beginning of 2016 Teng signed a contract with a young Hangzhou-based incubator company called Guangcan, which promised her no less than 30 people to assist her with running her social media accounts, interacting with customers, designing clothes, and managing her supply chain — all work she had previously taken on herself.
Teng is the "flagship" wanghong of Guangcan — the vast majority of the company's clients are budding models with little or no previous online presence. A spokesperson for the incubator told Sixth Tone that the company has plans to "produce" at least 50 wanghong in the year 2016.
New signings can expect a wrap-around service. Media teams assigned to each model will draft posts and video scripts according to trending subjects, shaping the style according to the carefully crafted online persona of the particular individual. The result is a rising number of wanghong with — at least on the surface — different personalities and different ways of engaging with fans.
With so many wanghong to choose from, though, fans are becoming pickier. "I used to share whatever I wanted," Teng said. "Even if I just cut my bangs, everyone loved it. Now if I do the same thing, people say I'm stupid."
Teng is nonetheless optimistic that she has what it takes to stand out from the crowd. "Today, people's impressions of wanghong is that they are pretty girls without any brains, who gossip and have plastic surgery," she said. "We should take advantage of that, and jump out in front to tell them, 'I'm a business woman.'"
(Header image: Yu Xiaoxiao (second from left) poses for a selfie with friends at her birthday party, March 18, 2016. From Yu's Weibo account.)