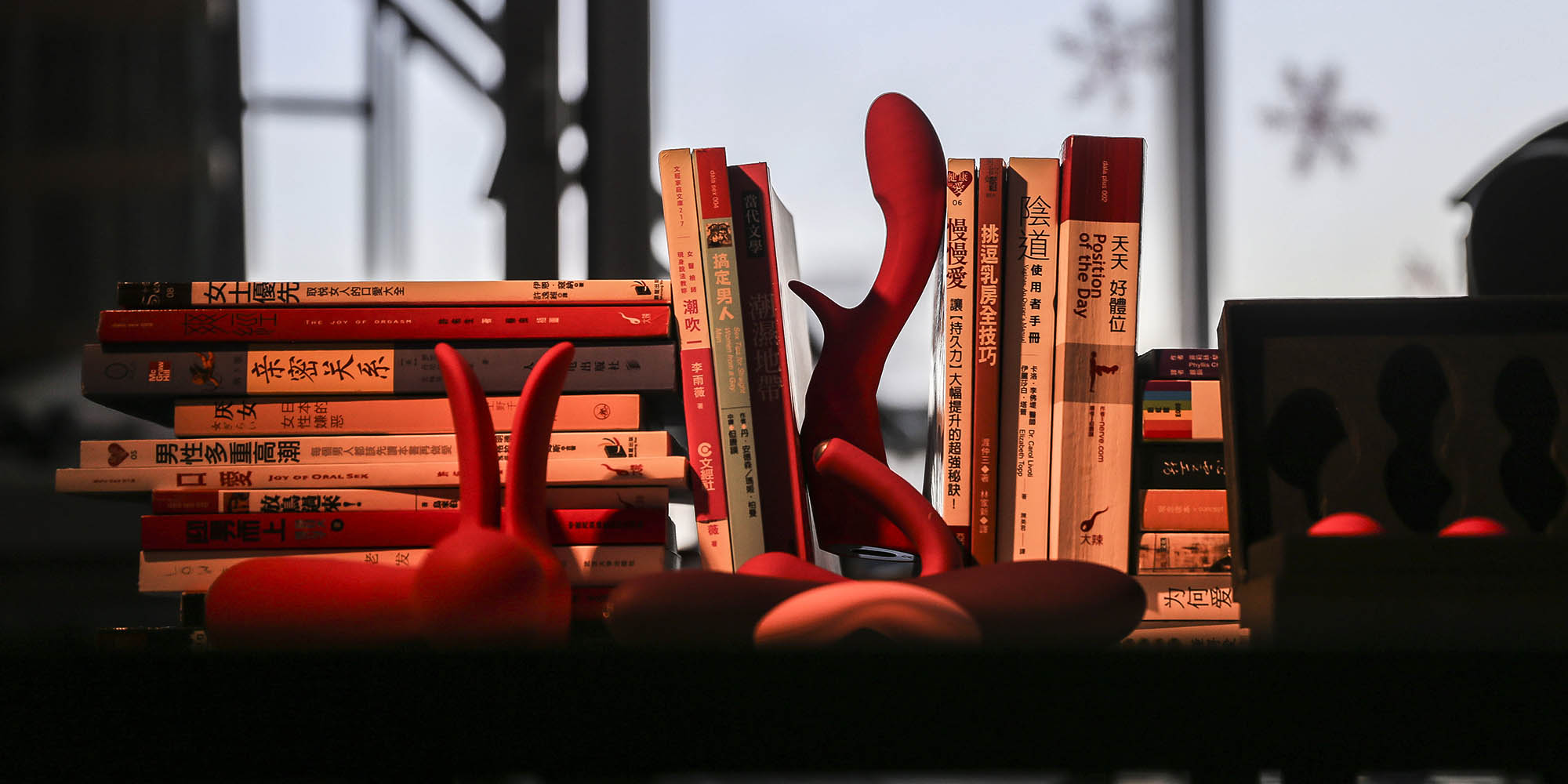 FEATURES
Women Take Sex Ed Into Their Own Hands and Phones
As many Chinese avoid discussing female sexuality, a new online community embraces the possibilities of pleasure.
By day, Qing Yue is a radiologist at a children's hospital in Beijing. And even when she starts talking about anal beads and spanking, she has the calm, frank, and unhurried manner that you'd expect from a doctor. Behind her clinical demeanor, however, it's obvious that she has a real passion for women's sexuality. That's why she's the chief sex toy reviewer for Yummy, a Chinese app that gives women a platform to discuss all things erotic and intimate.
Topics on the app, which launched at the end of 2015, range from one-night stands and BDSM to sexual orientation and open relationships. There are feature articles, product reviews, a new hot topic each day, and live Q&A sessions with sexperts for users to raise their sticky questions. The app is breaking new ground in a climate where explicit discussions of sexuality are banned from mainstream media and schools gloss over sexual education.
Qing, now 32, recalls that her own sexual education was limited to teachers showing students how to use menstrual pads. There was nothing about sexual health, let alone desire or pleasure. But Qing took matters into her own hands and was devouring sexological studies like The Hite Report on Female Sexuality by the time she was 18. Though first published in 1976, Shere Hite's research is still radical today for asking why sex was so often reduced to penetration when, in solo activities, most women reached orgasm via external stimulation.
Such ideas resonated with Qing, who spent many uncomfortable nights lying beside her boyfriend after intercourse, dissatisfied and wondering if she could surreptitiously rub one out without him noticing. She knew how to get off on her own. "I had my first clitoral orgasm when I was 10," she tells Sixth Tone. But she didn't think to talk with him. "I only thought of one way out," she says. "I should find a woman instead." It was in Beijing's small but vibrant lesbian community in 2011 that she met Zhao Jing, then the editor of lesbian magazine Les+, and later the founder of Yummy.
Zhao started Les+ in 2005 when she graduated from college in Beijing, but by 2012, she was disheartened with how little influence an underground lesbian magazine seemed to have on the sexual and social repression she saw around her. Homophobia was only one part of the equation. Behind the censorship of LGBT media was a broader reticence to speak openly about sexuality. Everyone felt the pressure to get married, have children, and set aside their unruly private longings to meet social expectations.
Women in particular bore the brunt of the shame and silence around sex: Sex was supposed to be for reproduction, or in the service of men's pleasure. "Chinese women are taught from an early age that they shouldn't have sexual desires," Zhao tells Sixth Tone. "When they grow old enough to have their own fantasies, they'll often feel guilty."
It's a view echoed by many. Sociologist and sexologist Li Yinhe believes that the general suppression of sexual topics is compounded for women. "Traditional culture has a double standard, where men can enjoy sex but women will be seen as promiscuous if they express sexual desire," she tells Sixth Tone. "There's inadequate sexual education for everyone, but more shame for women."
Yummy set out to change the game. Zhao wanted to build a community that celebrated both women's autonomy and anatomy. She was inspired by what she saw in New York while studying design there from 2012 to 2014, and so she discussed her ideas with Qing, who has never left China. The two of them started off by using China's most popular messaging app WeChat — they created a public profile for posting articles and a personal account where people could ask questions.
[node:field_quote]
Qing Yue — actually the pen name she uses as a sex toy reviewer — wrote and published the first article in December 2014, a review of a sleek, chrome multipurpose pendant designed by Chinese-American Ti Chang that could be used as a vibrator or worn as a necklace. Other early articles discussed masturbation, and the differences between lesbian and heterosexual sex.
Then after more than a year in development, the Yummy app went live on Dec. 31, 2015. With a slick interface and a clean design of charcoals and pinks, the app looks more like a glossy lifestyle magazine than a platform for unbridled discussion about taboo topics. In five months, the app has been downloaded over 120,000 times and now has 36,000 registered users, mostly aged between 20 and 38, according to Yummy's operations manager, Li Zhihui. The users are 75 percent heterosexual, 15 percent lesbian, and 10 percent bisexual or "anything goes."
Anyone can read the content either through the app or Yummy's various social media channels, but only women can write posts, leave comments, and participate in live Q&A sessions. To unlock posting privileges, women have to submit a photo of themselves and ID card. Zhao tells Sixth Tone that the community welcomes transgender women, regardless of legal gender — she just wants to create an atmosphere where women can be free and frank without worrying about being harassed or judged by men.
A live discussion about sexual consent on April 28 shows the community in action. "In my earlier experiences, intercourse finished when the man ejaculated," writes user "betrue." But her subsequent boyfriends were more attentive, and it would often be she who would climax first. "Through the whole process they would ask how I was feeling, and as soon as I said I felt tired or in pain they would stop," she writes. "I felt respected, that I had sexual equality."
Chatting with Sixth Tone the next day, "betrue" — a 27-year-old woman who asked to be referred to only by her English name June to protect her privacy — says Yummy produces great content, but she feels there aren't enough users actively contributing to discussions. Nevertheless, June has recommended the community to her friends. She says Yummy is more progressive and diverse than other communities she's participated in, like sexual health app Zhi Xing: "My feeling is that Zhi Xing's users are probably the most mainstream straight men and women."
Feminism is core to the Yummy philosophy. The Yummy team aims to shift the discourse around sex, from conservative values that shame young women for being unchaste, to feminist values of consent and openness. It's worth noting that most of the women behind the project are queer: Their desires rupture the conventional understanding of what constitutes sex or chastity.
For Qing, who has now come to identify as bisexual and is in an open relationship with a woman, sex is a whole spectrum of possible activities. "Sex has become decentralized," she says. "A penis in a vagina is just one option." She speaks candidly of her own explorations: "After touching my clitoris since I was young, I had my first G-spot orgasm when I was 20, and that was amazing. And now I think anal is pretty good too." She has never accepted the traditional morality around sex that says a good girl is a virgin until marriage, and then a dutiful wife and mother.
Instead she believes in the principles of pleasure, safety, and consent. Within those parameters, there's a dazzling world of flavor. "Often people see BDSM as an unusual fetish, but that varies too, from light play that's quite common, like hair pulling or spanking, to something heavier like being tied up and whipped, or golden showers," she says. "You can try different things depending on your mood and playmates."
Open and explicit discussion about sex is certainly a thread throughout Yummy, but users are also interested in expanding conversation to issues concerning the experiences of women beyond the bedroom. People talk about recent news events that touch on sex and gender, like skincare brand SK-II's controversial "Leftover Women" ad, and a case of bridesmaid hazing at a celebrity wedding.
For the moment, Yummy is focused on women's sexuality. To Zhao, sex is an entry point for women to rethink their self-worth more widely. "Don't believe that your only value is in your husband and children," she says. "Live through yourself, succeed in your work, pay attention to your quality of life, and express your own thoughts in your relationships."
But in the future, Zhao hopes to open the community to everyone. "Gender is only one part of us," she says. "And you can't resolve sexism by having women advance but men still living in the Stone Age. That doesn't help anyone." She also thinks it's impossible to look at issues in isolation. One of the things she learned in the U.S. was that LGBT activism built on the progress made by the black civil rights and women's liberation movements. "You can't only care about what's happening to your group and ignore other questions of human rights," she says.
Additional reporting by Wang Lianzhang.
(Header image: Female sex toys on a desk at the Yummy offices in Beijing, March 24, 2016. Li Kun/Sixth Tone)