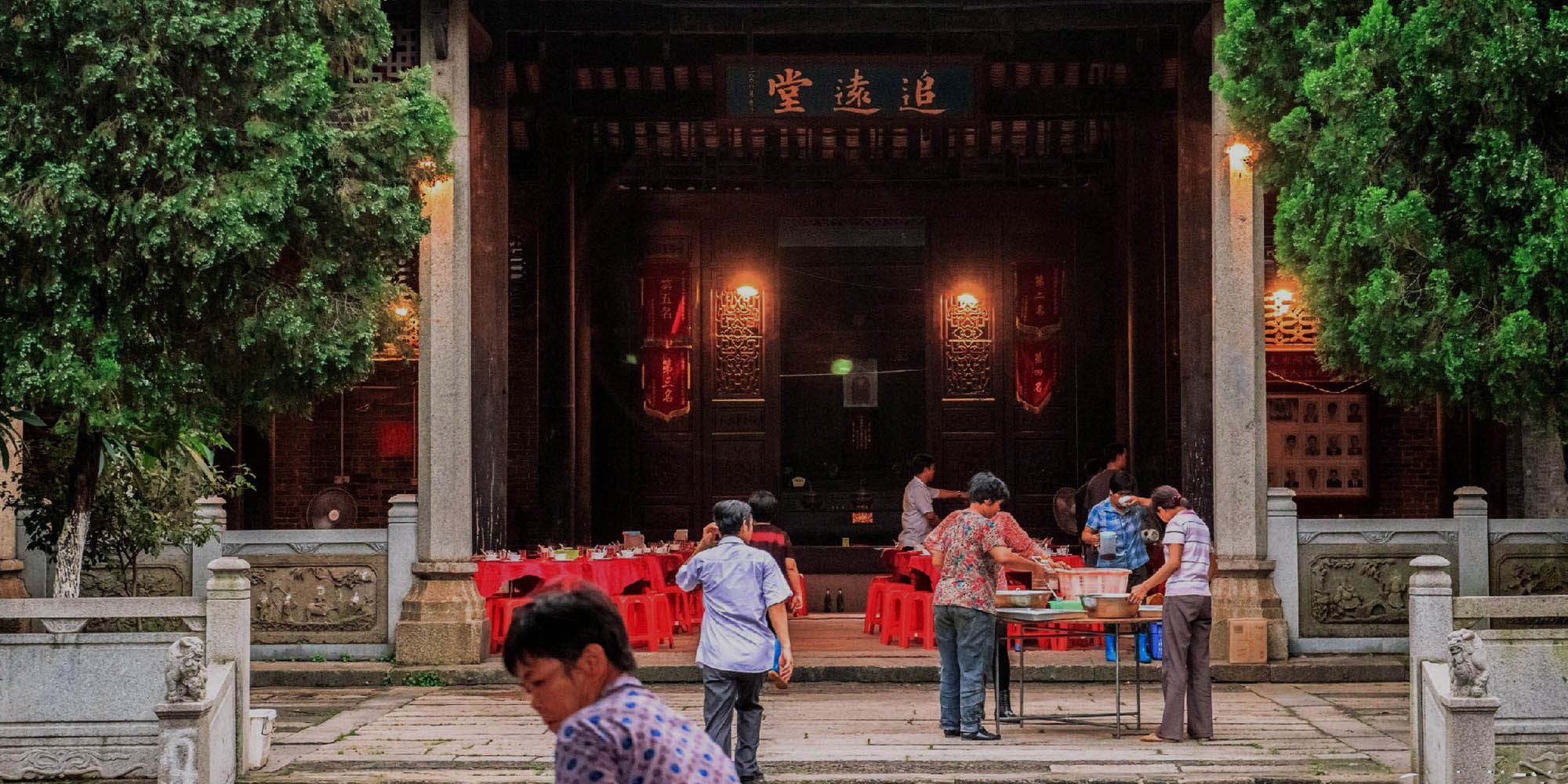 FEATURES
Dying Village Gets the Hipster Treatment
Fengjian Village in the south of China is looking to modern culture to win back its migrating population, but some aren't buying it.
Graffiti exhibits, fixed-gear bike performances, and a steady stream of lattes. No, this isn't the Lower East Side, but a 730-year-old village in China's deep rural south that is seeking to reignite its sense of community as city-bound migration drains it of residents.
For the past three years, a variety of social service organizations, culture and arts groups, and individual enthusiasts have been attempting to breathe life into Fengjian, a village of just over 6,000 residents that lies 60 kilometers from Guangzhou, capital of southern Guangdong province and China's third most populous city.
In Fengjian, navigable streams snake between ancient homes and under stone bridges in a way that is almost Venetian. Yet despite postcard scenery, the tourism industry has not done enough to hold on to Fengjian's working-age population, leaving behind a community polarized between the elderly and the young — a phenomenon that is plaguing rural communities across the country.
"We wanted to revitalize traditional culture and rejuvenate this old village through creative cultural events," said Li Wei, coordinator of Fish, a cultural group based in Fengjian's city of jurisdiction, Shunde. In 2013, with the encouragement of Shunde's local government, Fish initiated the Fengjian Market project in 2013, building on the village's existing farmers market.
[node:field_quote]
Daily necessities and agricultural produce gave way to art products sold by young people from nearby cities, live music from independent bands, contemporary art exhibits, and modern dance performances. For many residents in Fengjian, particularly the older generation, it was the first time they had encountered such activities.
"There were a lot of interesting shows performed by young people, like fixed-gear bike performances and modern dance," recalls young mother Li Jieliu, who visited the 2013 Fengjian Market with her 8-year-old daughter. "These cultural events are fun for kids and can broaden their horizons." As well as young local families like Li's, the market also attracted visitors from nearby villages and towns.
The Fengjian Market is no longer running, but it has spawned a number of similar movements by teams of young artists, social work groups, even NGOs. Graffiti artist Wu Jiawen, 26, is part of a group from Guangzhou who has visited the village and displayed work there. "Even elder villagers in their 80s or 90s showed interest in our graffiti," she said, referring to a mural she had painted — legally — on the outside walls of a residential building. "They asked us questions about our work, and we learned stories and history about the village from them."
Growing interest from visitors has spurred the Fengjian authorities to invest money into improving the village's facilities. Since plans for the renovation of the village began in 2009, local authorities have invested over 119 million yuan in infrastructure projects, including the restoration of historic bridges and an overhaul of the water supply system. Two main ancestral halls, traditionally used for commemorative rituals and village meetings, are now home to a museum and an art gallery.
Such moves suggest that Fengjian is heeding calls by central government for rural communities to turn to recreation and tourism to solve the issue of dwindling local populations. In 2016's "No. 1 Central Document," an annual report on developments in key policy published by the Central Committee of the Communist Party of China and the State Council, the government emphasizes the importance of preserving historic settlements and building "beautiful and livable villages."
Fengjian's focus on culture and arts above pure tourism echoes the widely reported transformation of Wuzhen, a town of around 60,000 people in the eastern province of Zhejiang. Following years of infrastructural renovation that began in 1999, Wuzhen is now home to a rich artistic community and even hosts a number of high-profile events, including a contemporary art festival, a drama festival, and the World Internet Conference. The latter may be derided by some observers — netizens have referred to it as the Local Area Network Conference — but the choice of Wuzhen as its location reflects the degree of interest that the town has garnered since its rebirth.
Despite some opposition to Wuzhen's renovation — some residents carried out protests against their relocation to make way for new buildings — the transformation is largely considered a success story. Fengjian's attempt to follow the "Wuzhen model," as it has come to be known, has had some quantifiable successes. Between 2012 and 2015, the residential population grew from 5,200 to 6,200.
However, there are signs that Fengjian's recent surge in cultural activity, along with the accompanying arrival of high-end establishments like artisan cafes, is doing a far better job of engaging with visitors than it is with locals.
Most stalls and shops have a dichotomous existence: While they teem with people on weekends and public holidays, when visitors and their cars descend in droves upon the village, they are empty the vast majority of the time. This is hardly surprising. In one artisan tea shop, a 50-gram bag of tea will set you back upwards of 200 yuan — around one-tenth of the average resident's monthly income.
This is a phenomenon that has prompted some of the experts and organizations involved in Fengjian's reconstruction to increase efforts to give the village's local residents a more central role in the process.
"It is important to clarify to whom the culture belongs," said Zhang Huipeng, a scholar from the China Rural Research Center, an institute based at Sun Yat-sen University in Guangzhou. In collaboration with the Xingyu Social Services Center (XSSC), an organization based in nearby Shunde, Zhang's institute has embarked on efforts to stimulate interest in traditional culture native to the village.
Pan Peimin, an XSSC social worker stationed in Fengjian, believes, like Zhang, that campaigns to breathe life into China's suffocating villages must draw on the notion of the villagers' shared memories. "What makes this village attractive is not just its beautiful rural scenery, but also its unique arts and culture, like bamboo weaving and dragon boat songs," Pan told Sixth Tone.
The approach has not proven particularly successful, however. In partnership with the China Rural Research Center, the XSSC has held lectures on local traditions and has tried to persuade locals to open up shops selling craft items. Locals, however, showed little interest, skeptical that traditional crafts like bamboo weaving could realistically bring in enough revenue to support living costs.
"They had reasons to be concerned," Zhang conceded. "It can be very difficult to make money from handcrafts unless you make high-end products," he said. Such high-end products would not include traditional crafts like bamboo weaving. "Without financial support from the government or from large companies, individuals in this village just do not have the money to support high-end production."
Despite the fact that lectures fell on deaf ears, XSSC's Pan is adamant that it is possible to engage with villagers about improving Fengjian. She wants to start a village forum in which local residents can voice their concerns and suggestions regarding the development of Fengjian. According to Pan, nearby Huanglian Village has already held two successful village forums, where residents' problems and advice were reported to and taken up by the village committee.
Fengjian resident Liang Guohong is doubtful that local authorities care much about the opinions of villagers. A park warden in his 50s, Liang is enthusiastic about village renovation, but he believes that ultimately villagers have little say. "The government tells us what to do and we do it," he said. "That's the way it is."
But Liu Zhangcheng, an archivist who has lived in Fengjian for more than 60 years, is more optimistic about the benefits recent changes have brought residents. "All these efforts help local residents learn about our village," he said. "This project will take time, but its ripples will be felt for generations to come."
(Header image: An ancestral hall in Fengjian Village, Shunde, Guangdong province. From Fengjian's official Weibo account.)