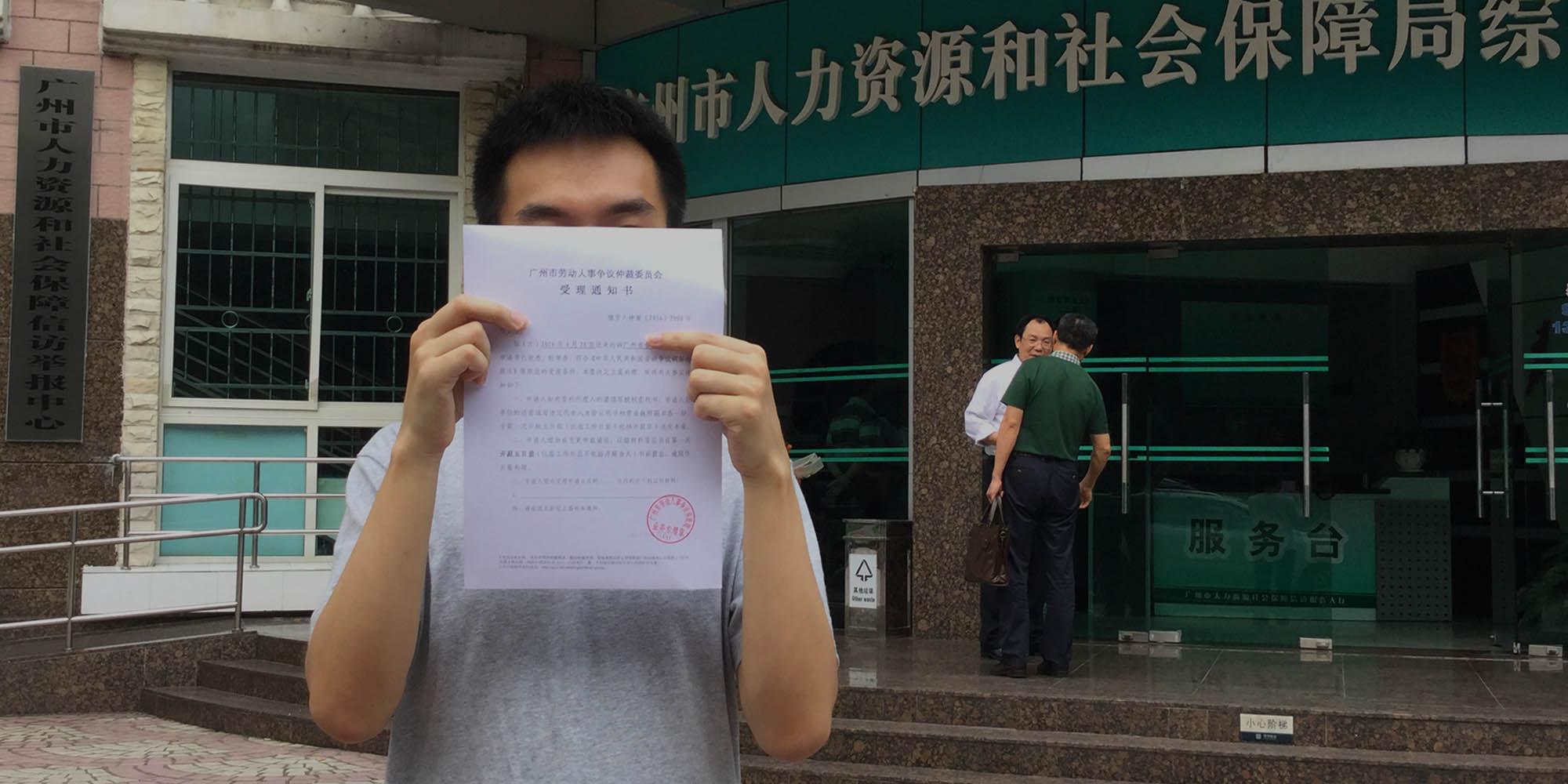 NEWS
HIV-Positive Man Suspended by Employer Files for Labor Arbitration
Lawyer says company used outdated rules, believes the case constitutes workplace discrimination.
An HIV-positive man who was suspended by his employer last December filed for labor arbitration on Thursday. His case was accepted by the Guangzhou Labor Dispute Arbitration Court the same day.
The man, a 27-year-old who asked to be identified by the nickname Ming, and who identifies as gay, worked for a quasi-governmental organization in Guangzhou, the capital of southern Guangdong province.
Ming did not disclose to Sixth Tone the name of the company he worked for because he wants to remain anonymous. He hopes that the arbitration will result in his return to work, and does not want his colleagues to know he is HIV positive.
Ming began working for his employer in 2012, and last year he was invited to participate in a civil servant recruitment examination organized by his company. Ming passed the written exam and interview, but failed the physical examination in October.
At the time Ming felt "hopeless and terrified," he told Sixth Tone. Two months later, his employer required him to take indefinite leave. Ming said his employer justified its decision by pointing to the country's Measures for the Law on Prevention and Control of Infectious Diseases, adopted in 1991, which state that AIDS patients and HIV carriers need to be treated in isolation.
Ming fears this means his contract, due to expire in August, will not be renewed, and that he will never be able to find work with state-owned companies again.
Ming's lawyer, Qiu Hengyu, told Sixth Tone that he believes the case constitutes employment discrimination. He said the 1991 measures the company referred to are no longer in effect — a revised law on infectious diseases adopted in 2004 no longer stipulates that AIDS patients or HIV carriers need to be isolated. Also, according to the Regulation on the Prevention and Treatment of HIV/AIDS, adopted in 2006, no entity or individual may discriminate against people infected with HIV/AIDS. The 2008 Employment Promotion Law states that an employer shall not refuse to recruit any person with the reason that they are a carrier of an infectious disease.
According to the National Center for AIDS/STD Control and Prevention, there were 575,000 HIV/AIDS patients in China at the end of October 2015. The center noted a clear rise in HIV transmissions among male homosexuals.
Ming decided to take up his case with the arbitration court after talking to Ye Chengjiang, director of the Guangzhou-based Zhitong Center, an NGO specializing in AIDS education. Ye told Sixth Tone he has talked to over 500 HIV carriers who suffered discrimination in the workplace, but that none of them had so far chosen to fight for their rights.
"I have to do something to protect our rights," Ming said. "I want the country to witness the problems and discrimination we face."
Qiu said discrimination of HIV carriers is common in China. He decided to take on Ming's case because, he said, "It is rare to see an HIV carrier fight for his own rights."
Peng Yanhui, who runs the Guangzhou-based gay rights group LGBT Rights Advocacy, told Sixth Tone he thinks implementing laws that protect the basic rights of AIDS-infected patients is of utmost importance. "The ignorance of the laws is a reflection of the misunderstanding and fear of HIV/AIDS in society, and this should be changed urgently," he said.
In 2014 two HIV-positive passengers sued China's Spring Airlines for not allowing them to board a flight. They were compensated with 87,000 yuan (about $13,400). In 2012, an HIV-positive man received 45,000 yuan in compensation after being denied a teaching job.
Ye believes that Ming's case will help the push for proper implementation of existing laws that protect the rights of HIV/AIDS patients. "It will be a valuable lesson for society," he said.
Additional reporting by Li You.
(Header image: Ming stands outside the Guangzhou Labor Dispute Arbitration Court, Guangzhou, Guangdong province, April 28, 2016. Qiu Hengyu for Sixth Tone)