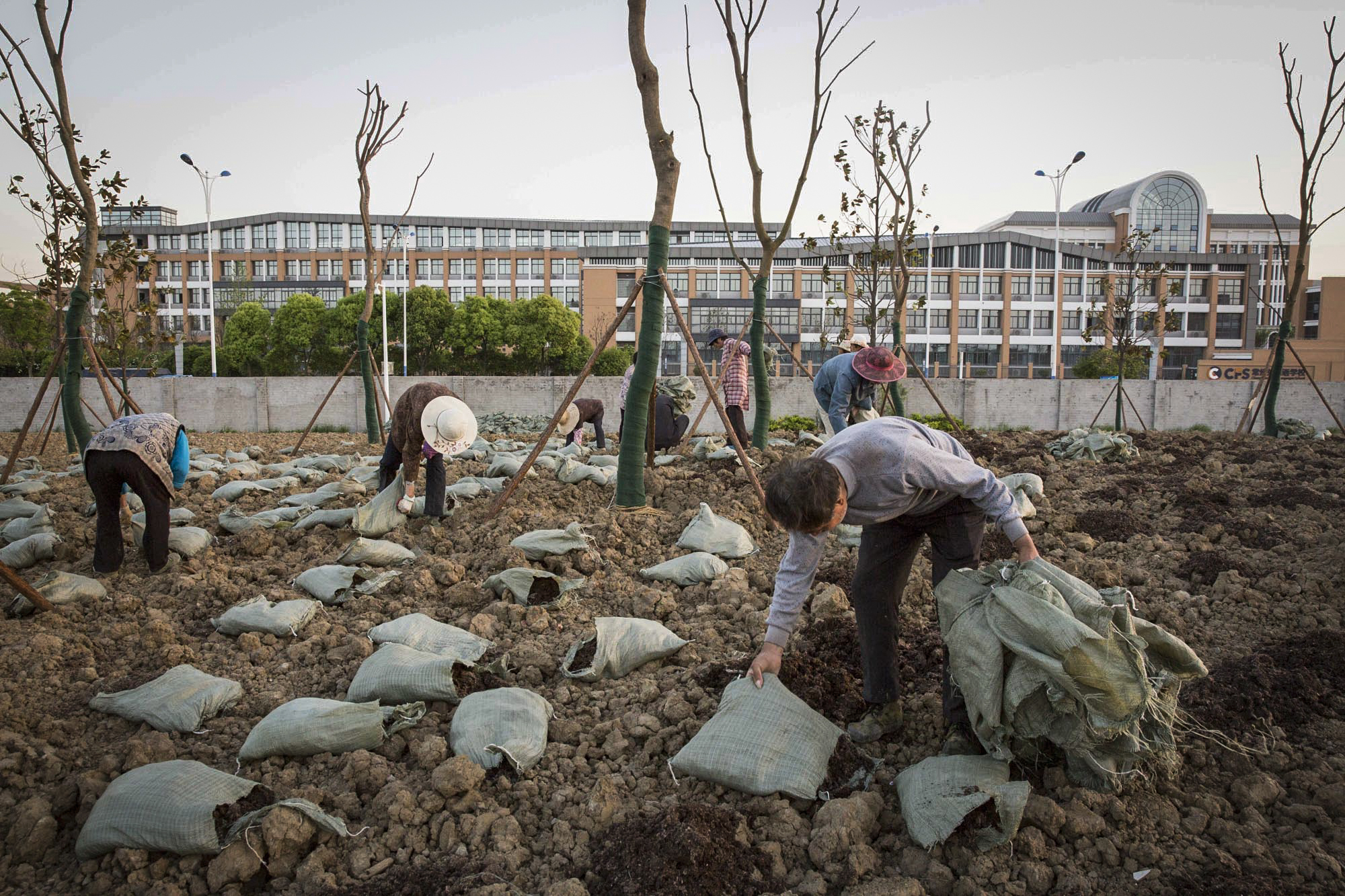 NEWS
Chinese NGOs Sue Chemical Companies Over Contaminated School
Two China-based environmental groups lodge lawsuits against three companies linked to ill teenagers.
Two Chinese environmental groups filed a lawsuit Friday morning against three chemical companies for dumping untreated solid waste linked to illnesses among hundreds of teenagers.
The Beijing-based nongovernmental organizations, Friends of Nature (FON) and China Biodiversity Conservation and Green Development Foundation (CBCGDF), submitted their cases to the Changzhou Intermediate People's Court, in Changzhou, Jiangsu province.
Ge Feng, the director of legal and policy affairs at FON, said the legal action is being taken in order to defend the public interest.
Some parents of students at the prestigious Changzhou Foreign Languages School (CFLS) said their children developed a range of illnesses, including eczema, bronchitis, and even leukemia. They blame such developments on three chemical companies that used to occupy a site adjacent to the recently opened CFLS campus. All three have since moved to other locations.
The lawsuit named Jiangsu Changlong Chemicals Co. Ltd., Jiangsu Huada Chemical Group Co. Ltd., and Changzhou Chang-Yu Chemical Co. Ltd. as defendants.
The latter ceased business operations in 2005, according to Ma Yandong, the corporate representative for Changzhou ChunGang Chemical Co. Ltd., a related company that integrated the former Chang-Yu into its business. In recent years, the company had switched its business focus from chemical production to trading, he added.
Huang Ying, a representative of the planning department at Huada, said all the company's waste is handled in ways that conform with laws and regulations. "We moved away almost 10 years ago," he said, referring to his company's relocation from the southern part of Xinbei District to the northern part. "How could anyone blame us?"
Changlong could not be reached for comment as of Friday afternoon.
The two environmental groups asked the companies to take steps to stop polluting areas of the environment surrounding their premises, to make an official, public apology in the media, and to pay legal fees resulting from the lawsuit.
A statement issued on Monday by the local government in Changzhou said there had been a number of problems regarding soil restoration at the site, and also mentioned several other shortcomings in how the case was handled.
The central and local governments only launched a joint investigation after the state broadcaster, China Central Television, reported on the CFLS students' medical problems on April 17.
Parents, however, had been complaining about the illnesses for many months before the broadcast.
FON and CBCGDF have together filed more than 30 environmental lawsuits since 2005. Most of these were accepted by Chinese courts.
China's new environmental protection law allowing non-profit groups to sue polluters on behalf of victims went into effect in January 2015. Before that, many environmental lawsuits were rejected because the courts didn't regard them as viable subjects for lawsuits.
Changlong was involved in another lawsuit filed by FON in 2014. A unit of the company was sued for dumping tons of acid waste into rivers and asked to restore damage to the environment. FON won the case, and the company had to pay more than 80 million yuan ($12.4 million) in fines, in addition to taking steps to repair damage Changlong caused. That was among the biggest environmental lawsuits to date in China.
According to Chinese law, the court will decide if it will hear the case within seven working days.
Ge Feng from FON told Sixth Tone it is also considering suing other organizations linked to the CFLS incident, such as the company responsible for carrying out detoxification and restoration of contaminated soil on the sites of the former chemical companies.
With contributions from Peng Wei and Cai Yiwen.
(Header image: Workers fertilize soil and plant trees at the former site of Jiangsu Changlong Chemicals Co. Ltd., Jiangsu Huada Chemical Group Co. Ltd., and Changzhou Chang-Yu Chemical Co. Ltd., in Changzhou, Jiangsu province, April 19, 2016. Zhou Pinglang/Sixth Tone)