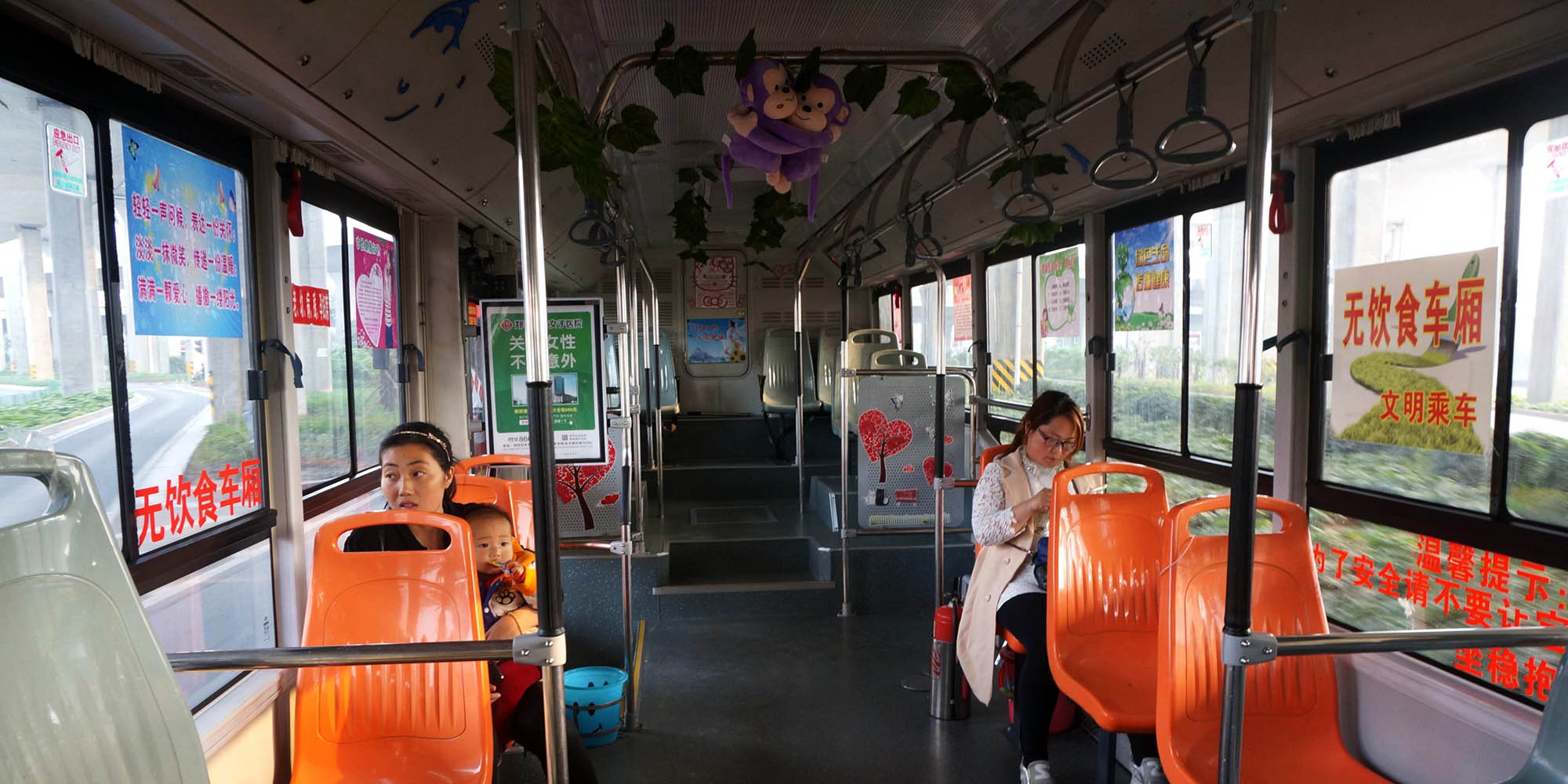 NEWS
Finally a Bus for Us, Chinese Women Say
But critics say gender-specific transportation is not a solution to harassment.
Men are forbidden on bus Route 906.
At least, they are on buses with large signs at their entrances that say in prominent yellow letters: "Women Only Bus."
Beginning last Tuesday, women in Zhengzhou, the provincial capital of the central Chinese province of Henan, have been able to use this special service.
According to its operators, the service was started to address several issues, including the need to create a more comfortable commuting experience for women, to provide a safer space to counter sexual harassment, and to facilitate breastfeeding.
Photographs posted online show the interior of the bus is decorated with random items that appear to be aimed at cuteness: a plush purple monkey toy hangs from the ceiling, fake ivy wraps around safety handles, and posters of hearts adorn the windows. A couple of plush teddy bears — one white, the other black — hang up front, next to the driver's seat.
There's also a cordoned-off breastfeeding booth, recently added to buses on the route.
The service, operated by a unit of the Third Bus Company of Zhengzhou, runs twice a day, at 7:30 a.m. and 4:30 p.m., and runs north to south in the city of around 9 million people.
Kong Chaoping, a representative of the bus company, said Route 906 in particular was a source of complaints from passengers, mainly because buses tend to get especially crowded during rush hour.
With the arrival of summer, incidents of sexual harassment increase, Kong told Sixth Tone. "As the weather gets hotter, women wear less clothes," she said.
In addition, with the arrival of the two-child policy there will be more pregnant women, who now can avoid being pushed around on a crowded bus, Kong added.
"A women-only bus will let females feel safe and relaxed," she said. "There will be fewer worries, and there will be no one watching you."
The move comes at a time when awareness in China of violence against women is on the rise. Earlier this month, a debate about how safe China is for women ensued online following the release of a video showing a woman being attacked in a Beijing hotel as onlookers do nothing. The clip went viral on Chinese social media.
Female-only public transport is not a new concept. China's neighbor, Japan, has long had female-only subway carriages, and many other countries, including India and Malaysia, offer similar services.
In a television news segment broadcast on a regional station, many of the women interviewed on the bus said they appreciated the move. One described it as "respectful and offering protection."
Men who were turned away were, for the most part, understanding. But one elderly male yelled at the driver and called the gender-specific bus service discrimination against men, the TV segment showed.
So far, online reaction to the women-only bus has been divided.
Some people are glad such buses will keep out would-be molesters, while others see it as step in the wrong direction.
A commentary by new media platform Women Awakening argued that female-only buses treat the symptoms of sexual harassment but don't address the root cause.
The message was that "preventing crimes is the responsibility of the victims," the commentary said.
Additional reporting by Li You.
(Header image: Passengers on the women-only bus, Zhengzhou, Henan province, April 26, 2016. Aw/VCG)