A live-streamed "product trial" by British condom brand Durex caught the attention of millions, but few were impressed.
The broadcast, which promised to feature 100 people trying out its "Air" series of condoms, kicked off at 9 p.m. on Tuesday and lasted an impressive three hours.
The show featured 50 couples, each on their own bed. Interviews with the couples, exercises, and fruits eaten suggestively took up most of the broadcast. When they finally lay down under the covers, the broadcast ended with a big cloud of smoke being blown across the stage.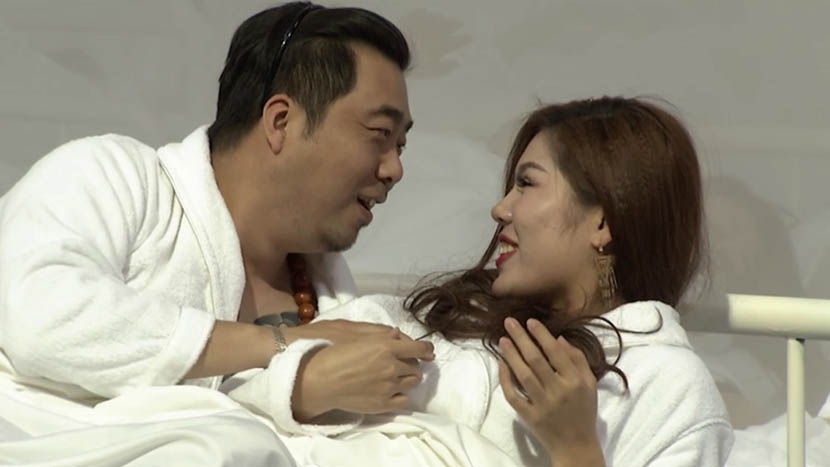 A screenshot of Durex's online show.
News portal QQ.com estimated that a total of 5 million viewers tuned into the six platforms on which the event was streamed.
In China, Durex is known for its racy but creative commercials. But on this occasion, most viewers considered the whole event to be anticlimactic.
Critics didn't hold back. One complained about the length of the broadcast, only for it to end with a "fart."
As of Wednesday evening, the hash tag "resist Durex" had been viewed more than 90,000 times on microblogging platform Weibo. Durex reportedly enjoys a 45 percent market share in China. Okamoto, another big player, holds a 20 percent share.
Durex did not immediately reply to Sixth Tone's request for comment.
The Durex promotional event comes at a time when online live broadcasts are increasingly popular in China. About 3,000 to 4,000 live streams broadcast to up to 3 million people during peak times every day.
Douyu.com, a leading Chinese live-broadcasting website, raised $100 million of funding in March, valuing the company at more than $1 billion.
Earlier this month Douyu.com and other live-broadcasting platforms came under investigation for broadcasting violent or obscene content. The State Anti-Pornography and Anti-Illegal Publications Office reminded everyone on its Weibo account on Wednesday that it "gives the utmost attention to 'vulgar marketing' and 'soft pornography,'" and called for Internet companies to "assume responsibility."
Tuesday's Durex campaign also had an unforeseen commercial consequence: Some upset net users said they would select rival condom brand Okamoto the next time they dive under the sheets themselves.
With contributions from Li You and Wang Lianzhang.
(Header image: A screenshot of Durex's online show.)