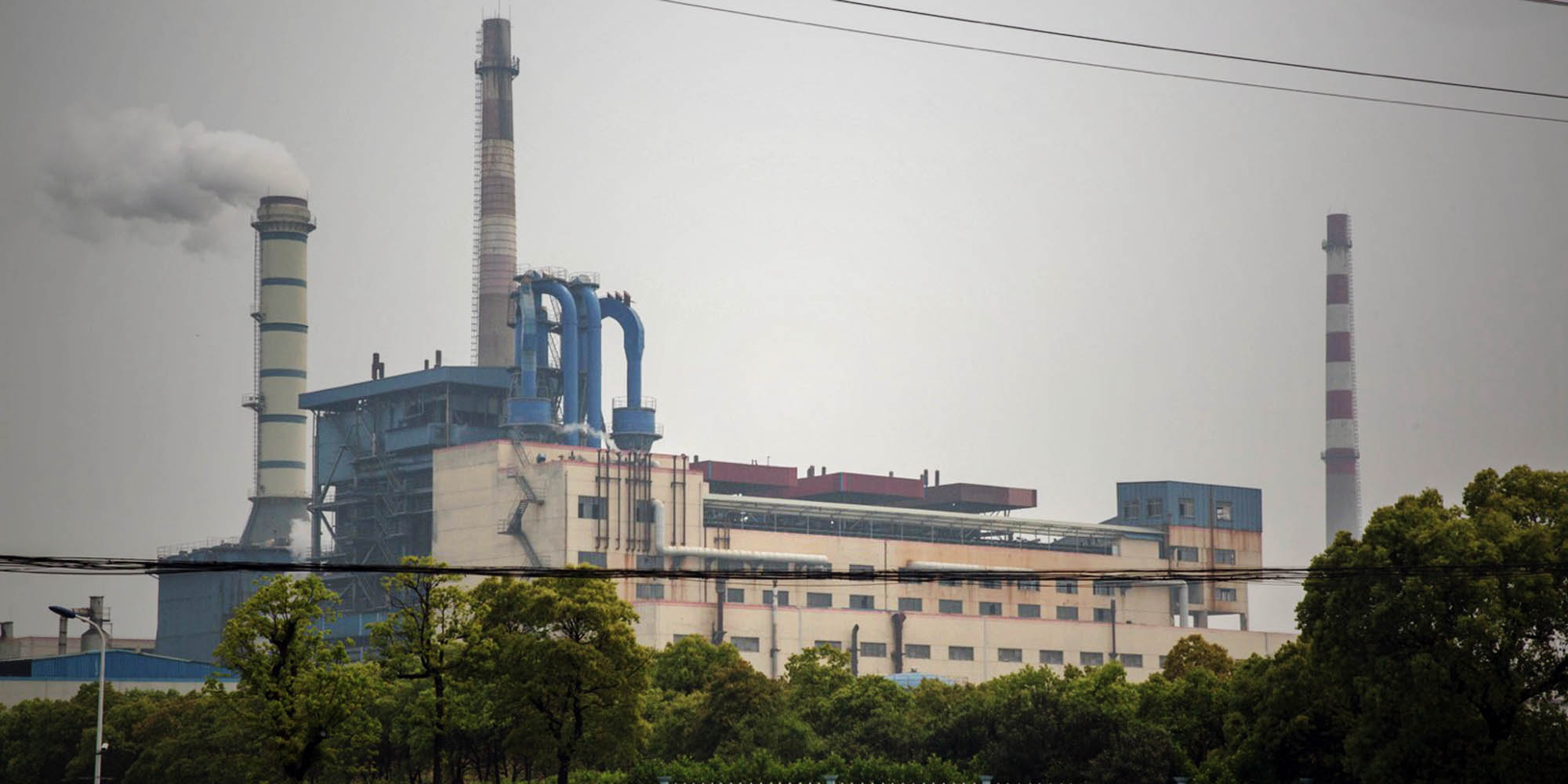 FEATURES
Chemical Company Linked to Toxic School Has Tainted Past
A cavalier attitude to handling dangerous materials comes back to bite China's chemical industry.
Near the banks of the Yangtze River at Changzhou in the eastern Chinese province of Jiangsu, lies a sprawling industrial zone made up of 70 factories that mainly produce chemicals. Jiangsu Changzhou Binjiang Economic Development Zone, or CZBJ, is a drab collection of grey buildings, billowing chimneys, and large tanks, weaved together by a complex system of steel pipes.
It also houses a factory owned by pesticide and agricultural chemical manufacturer Changlong, which has recently been embroiled in a pollution scare at a prestigious school in the city that has been blamed for making hundreds of teenagers sick.
Changlong has a disturbing history of violating environmental laws and regulations.
It moved here in 2010, when it left its old location closer to Changzhou's city center. That earlier site was adjacent to the recently opened campus of Changzhou Foreign Languages School. That school made headlines in recent weeks in China when a report on state television detailed incidents of eczema, bronchitis, headaches, lymphoma, and even leukemia among students.
The school and the municipal government in Changzhou have questioned some of the allegations raised in by the TV report. Changlong on Friday declined an interview request from Sixth Tone.
On a recent afternoon, near the east entrance of Changlong's new factory at CZBJ, a man washed his dirty work gloves in a sink in a small hut, turning the water a deep black. Yang Zhangxing, in his 60s, works at a factory next to Changlong's. He has been working in this industrial park for three years. Yang said that since last March he had begun to notice a distinct odor which he said comes from the Changlong plant. It gives him headaches sometimes, he said.
"When I started working here, there were trees behind our factories, but now they are all dead," Yang said.
Companies like Changlong are moved to locations such as the CZBJ so they are less of a threat to public health and their hazardous materials can be managed more effectively.
Yet Jiangsu Changlong Chemicals Co. Ltd., as the company is called in full, has a poor track record for managing waste, and some of the most serious incidents took place after it relocated from its previous location.
In 2014, a unit of the company was required by a Chinese court to pay more than 80 million yuan ($12.4 million) as part of a settlement aimed at restoring damage to the environment. The company has also been fined for a litany of other violations in recent years. Testimony by one former long-term employee also suggests serious mishandling of hazardous chemicals in the past.
Changlong's story illuminates the serious challenges facing China as it tries to balance economic development and rapid urbanization with the health and safety of its citizens. It also underlines the lack of scrutiny of powerful chemical companies by the public, largely due the limited ability of citizens to access key information on hazardous chemicals and other pollution-related data — something experts say is essential to controlling the number of accidents and incidents of contamination.
Changlong was the largest in terms of registered capital of the three chemical companies implicated in the scandal at CFLS, which is located in the south part of the city's Xinbei District. All three companies have since moved but parents at CFLS say poor waste management by Changlong and the others triggered the illnesses among CFLS students.
Located to the northwest of Shanghai, Jiangsu province is one of the wealthiest provinces in China and a major hub for China's chemical industry.
Rapid urbanization has meant that factories that were once on the outskirts of cities came to be surrounded by residential buildings. In 2006, the local government issued a plan to relocate chemical companies to specially designated industrial parks. By the end of 2011, more than 5,600 chemical factories were shut down or moved. The central government in 2014 also called for polluting industries to move to less populated areas.
One goal of moving such companies to industrial parks was to improve the handling of hazardous materials, thereby minimizing the risk of pollution and accidents.
So far, the drive for better handling of hazardous substances has not been without setbacks. In August 2015, a huge explosion at a logistics company storing chemicals in the northern city of Tianjin underlined the lax supervision of the industry in China. The blast killed 165 people, injured hundreds more, and inflicted damage to property of more than 6.87 billion yuan.
The dearth of information available about what substances were being stored at the time is one factor that made the Tianjin explosion much more serious than it might otherwise have been, experts say. Firefighters called to the scene were at least initially not aware that the fire was chemical in nature, and many had not been adequately trained in methods for extinguishing chemical fires quickly and safely.
But relocating factories to industrial parks won't necessarily solve the problem of hazardous chemicals, analysts say, with Changlong being a case in point.
The company was established in 2000, following the merger of two companies: Changzhou Pesticide Factory and Changzhou Organic Chemicals. In July 2013, Shenzhen Noposion Agrochemicals Co. Ltd., a Shenzhen-listed company, became a major shareholder.
According to Changlong's website, the company specializes in producing agricultural chemicals, especially pesticides. Its main activities are centered in Changzhou and its surrounding areas. The company employs more than 1,300 people.
When it moved, it opened two new locations. Both were in industrial parks — one, CZBJ, in Changzhou, and the other in Taixing, a neighboring city across the Yangtze.
CZBJ, is in Xinbei, the same district as the former plant, but 15 kilometers to the north, about 1 kilometer from the banks of the Yangtze.
The events leading to Changlong having to pay 80 million yuan in compensation include the discharging of more than 12,000 tons of waste acid in 2012 and 2013 into tributaries of the Yangtze by Changlong's Taixing unit.
In February 2015, the same case was cited by the China Securities Regulatory Commission as one of the factors leading it to deny permission to Changlong shareholder Shenzhen Noposion to conduct a private placement of shares.
In a database generated by the Institute of Public & Environmental Affairs which gathers environmental reports from media and the Chinese government, Changlong is mentioned in more than a dozen reports over the last decade. The company has been fined on numerous occasions, for violations such as releasing waste water that did not meet national standards. In 2006 alone, the company was fined more than 450,000 yuan. The most recent report that mentions the company stems from January 2016.
Xu Jianwei, now retired, worked for Changlong for 35 years. "I haven't seen the company dealing with its waste water in a proper way for even one year," he told Sixth Tone in a telephone interview.
Since 2013, he has been tipping off the local authorities in Changzhou that Changlong buried solid toxic waste at the company's former site in southern Xinbei District right before it relocated.
At the end of 2015, an investigation team sent by environmental protection authorities uncovered 30 kilograms of materials, including herbicides, at that site, as well as pollution damage to an area of at least 1,500 square meters.
Xu said that when he worked for Changlong, his supervisor would often ask him to release waste water illicitly into the river every three days, usually a few thousand tons at a time.
Ma Tianbao, a former sales manager for Changlong who left the company in 2010, declined to go into details about his former employer. But speaking about the chemical industry in China in general, he said: "Every chemical plant has its sins."
The industry in China has long been shrouded in a cloud of mystery. Its importance to the overall economic growth story of the country and to the economies of certain provinces, Jiangsu among them, has meant some of the industry's leading companies have adopted a cavalier attitude to regulations, and some companies still don't see discharging waste as a crime.
Environmental group Greenpeace East Asia on Thursday called for an increase in data transparency surrounding the manufacture, storage, and transportation of hazardous materials. Cheng Qian, assistant manager for Greenpeace East Asia's campaign on toxic materials, cited the Toxic Release Inventory program in the U.S. as an example. On its website, the U.S. Environmental Protection Agency described this chemical database as allowing "informed decision-making by communities, government agencies, companies, and others."
Cheng added that while there was some improvement in disclosure procedures in China, a lot of soil data still remains confidential. She said China needs to develop a preventive and sound chemical management system and work to improve regulatory oversight, which she described as being "permissive and fragmented."
Three main government agencies handle issues related to hazardous chemicals: the State Administration of Work Safety (SAWS), the Ministry of Environmental Protection, and Ministry of Industry and Information Technology.
To address the safety of the chemical industry in China, SAWS announced in 2014 a watch list of 60 towns and areas, all with high concentrations of chemical plants, that it said needed supervision in terms of their handling of dangerous chemicals. Of these, 11 locations are in Jiangsu province, including the Xinbei District of Changzhou. The latest data from SAWS showed that 21 people died in 12 accidents in these 60 places in the first six months of last year.
Experts such as Jiang Jianguo, a professor of solid waste management at Tsinghua University in Beijing, said the laws and regulations around waste management in China are both clear and integrated.
For example, the current regulations, implemented in 2013, state that discharging three or more tons of waste — liquid, solid, or gas — could lead to criminal prosecution, and this is something Jiang said sends a clear signal to companies of the seriousness of unlawful discharging.
But the problem, Jiang said, lies with enforcement.
Peng Yingdeng, a researcher at the National Urban Environmental Pollution Control Technology Research Center, said that the importance of the chemical industry means that companies can be quite brazen in their attitude toward violation of regulations. He said that even if a company is fined by, for example, an environmental protection agency, the decision could be overruled by other branches of the government that are more concerned with economic growth than with protecting the environment.
The owner of a small shop near the Changlong factory in CZBJ that sells staple items such as instant noodles and beer is a woman surnamed Chang. She does not allow her 10-year-old child to come to the store because of the strange odors in the area, and sometimes the smell is so bad that they have to close the door.
Calls to CZBJ by Sixth Tone on Friday went unanswered.
Some 3.5 kilometers away lies the village of Weitang, from where the chimney stacks of the the industrial park can be seen.
Huang Guozhang, a doctor at a nearby community medical service center, said some of his patients who work at CZBJ sometimes come to his clinic because they feel dizzy — a condition they often attribute to chemical odors.
At the Weitang Central Elementary School, parents wait to pick up their children in the late afternoon. One father wearing workers' overalls said that while he was aware of the industrial park nearby, he didn't have any other choice but to send his child to this school. He said he had not heard about any pollution risks or related illness in the vicinity.
"My child is very healthy," he said. "There shouldn't be any problem."
Additional reporting by Colum Murphy, Cai Yiwen, and Peng Wei.
(Header image: Exterior view of Changlong's new factory at CZBJ in Changzhou, Jiangsu province, April 22, 2016. Zhou Pinglang/Sixth Tone)