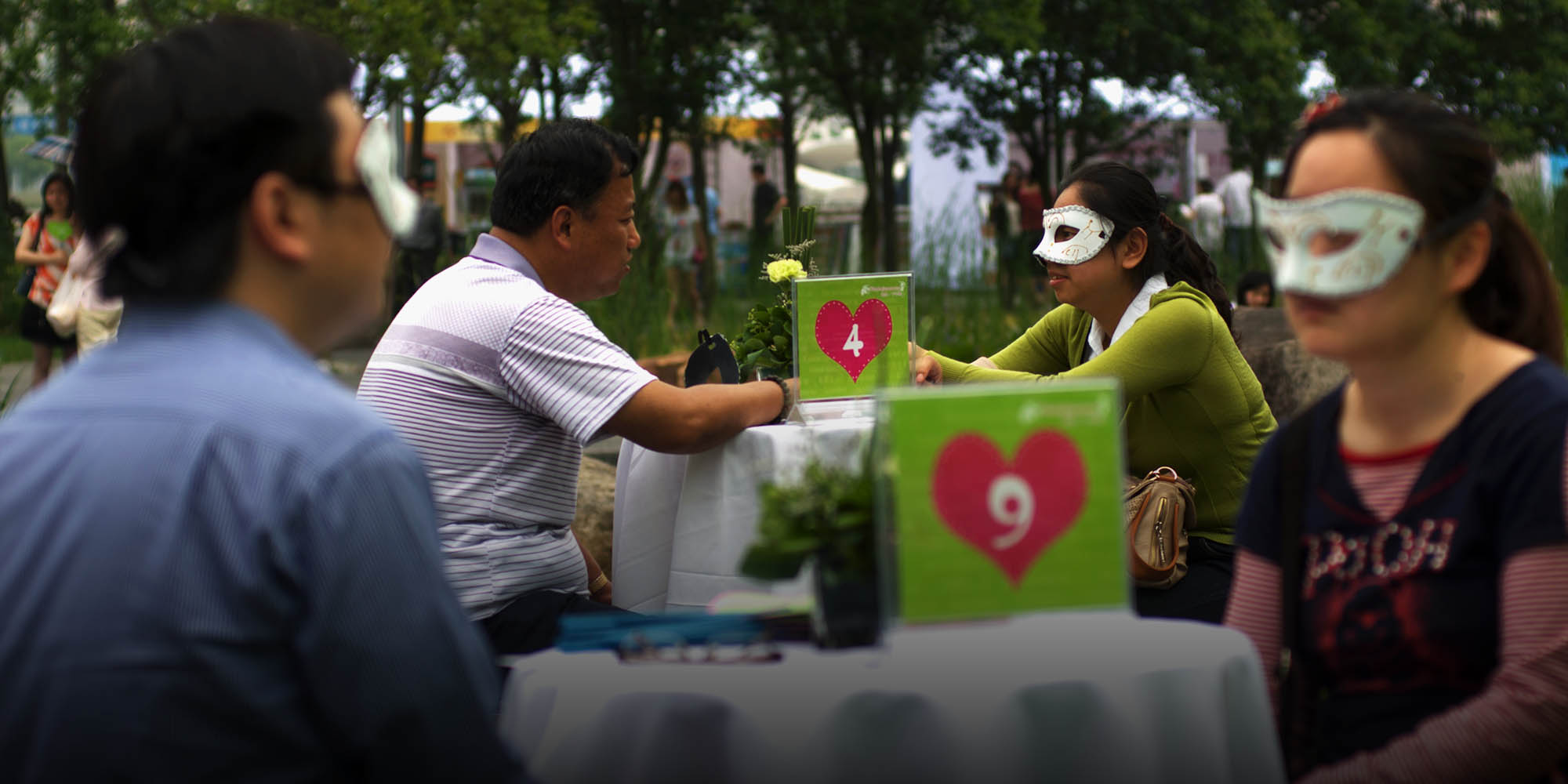 VOICES & OPINION
Searching for Love with No Time to Lose
Speed dating is becoming increasingly popular in large, busy cities like Shanghai, but is it really an efficient way to meet a partner?
Speed dating was invented by a Los Angeles rabbi in the late 1990s as a way for young Jewish singles to meet and mingle. The concept quickly took off. Fast forward two decades, and speed dating is as popular as ever.
Shanghai's White-Collar Speed Dating group attracts a significant number of young professionals. In a fast-paced, competitive city, many people are trapped working long hours, leaving them with limited time to go out and meet potential mates. For workaholics, speed dating is a convenient and relatively safe way to find partners.
This particular group runs several sessions every week and targets specific demographics such as Shanghainese singles, high-income singles, and planning-on-getting-married-within-the-year singles. The organizer even holds events to celebrate different holidays, such as Valentine's Day and Chinese New Year.
Owing to the popularity of the events, the promise to limit attendees to 160 is hard to keep — at least for the two events that I joined. Both attracted around 200 singles, with men and women more or less evenly distributed.
The two events I attended were the Shanghainese session and the high-income session. The first group consisted of those born in Shanghai, who speak Shanghainese, while the latter was restricted to those who earn no less than 120,000 yuan (about $18,500) annually.
[node:field_quote]
After paying the 100-yuan fee upon arrival, I was handed a small paper card on which I was directed to write my nickname, date of birth, and a short self-introduction. Afterwards I had to place the card in front of me, effectively opening my table for business. Instead of the traditional one-on-one, the encounters were usually a three-on-three group date. Three women remained at the table, while three new men sidled over each time a bell was rung.
The snacks and drinks were awful. But luckily, there wasn't time to enjoy either. The intensity of meeting 100 eligible bachelors was an overwhelming ordeal. When not talking, you were listening — constantly prepping a response or formulating a way to change topics.
If the cost of true love were just 100 yuan, most eligible singles would be happy to cough up the cash, endure the unappetizing refreshments, and sit in a stifling room for hours. But sadly, genuine love is harder to come by. When speaking with 100 members of the opposite sex in under four hours, inspired or insightful conversations are all but off the table.
The men's written self-introductions almost always centered around traveling, reading, or video games. Most were so mundane and restated so frequently that I found myself losing the curiosity to ask for elaborations. Still, from time to time I came across an interesting name card. One man's was simply "high ability, high income." He told us that his hobbies were making money and reading books about making money.
I wondered if money-making could really be considered a hobby. Was it something to be proud of? Was it perhaps considered a hobby more often in developing countries with high income disparities? But I kept my mouth shut and flashed the sincerest smile I could manage.
During both events I received a lot of questions about my own introduction: "A brain-damaged traveler writing a screenplay." I was always happy to talk about screenplays and travels, but a few men come with more mundane questions: Where do you live? How tall are you? How much do you earn?
At the end of each round, most of the male attendees would lean forward and ask us ladies to add them to WeChat, China's popular messaging app. I normally agreed. More than a dozen men added me each session, though I deleted some of them immediately afterwards.
Some of the conversations flowed easily and made the time fly by, but others halted halfway through, opening up the floor to awkward silences. As the night dragged on, more and more of these moments occurred. After the halfway mark — 50 men down — everyone in the room felt exhausted. Eyes began wandering to mobile phones, and it seemed that people were just holding their breath waiting for the bell to ring.
Finally, the night was over. I found myself frazzled but happy for the experience.
The following evening, I received a few messages from the WeChat contacts I hadn't yet deleted, but the sheer volume of people I had met meant I was unable to remember any of them. I suddenly became frustrated, believing this to be a terrible way to meet partners. I resolved that being single wasn't so bad after all.
According to Shanghai Civil Affairs Bureau, in Shanghai, the average age of first marriage was 30 for men; and 28 for women in 2014. The national average for China is 25 years old. However, the comparatively older age in Shanghai isn't necessarily because of an interest of in staying single — rather, it is a product outside factors such as more years spent in school and soaring housing prices. In China, many young couples wait to get married until they can afford to buy a house.
Many Chinese parents maintain a strong presence in the dating lives of their adult children. There is a lot of pressure for the younger generation to get married and carry on the family line through children of their own. Marriage in China is more than a declaration of love. It is a way to show filial piety toward your parents.
The mentalities in Shanghai of those who speed date are complicated. By attending these events, the daters are establishing a sense of control over themselves, instead of passively accepting the potential partners arranged by their parents. Although annoyed by the constant nagging of their parents, adult children still feel a sense of duty to them. Speed dating allows them a modicum of freedom in their choice of partners.
In one of the sessions I attended, a man told me that he had added several women from previous speed dating events on WeChat, but that he had never asked them out. Instead, he just kept coming to the White Collar sessions. I wondered if the people who came to these events just kept endlessly holding out, appeasing their parents by outwardly looking for love, waiting for their perfect match. It seemed to me an exhausting way to live.
I guess the happiest members at the speed dating events are the cafe owner and the organizer. The industry is becoming increasingly profitable, and this is especially noticeable in a metropolis overflowing with singles longing for love, who are willing to devote money, heart, and soul to finding their elusive soulmates.
(Header image: Single men and women interview each other during a speed dating event in Shanghai, May 26, 2012. Yang Shenlai/Sixth Tone)