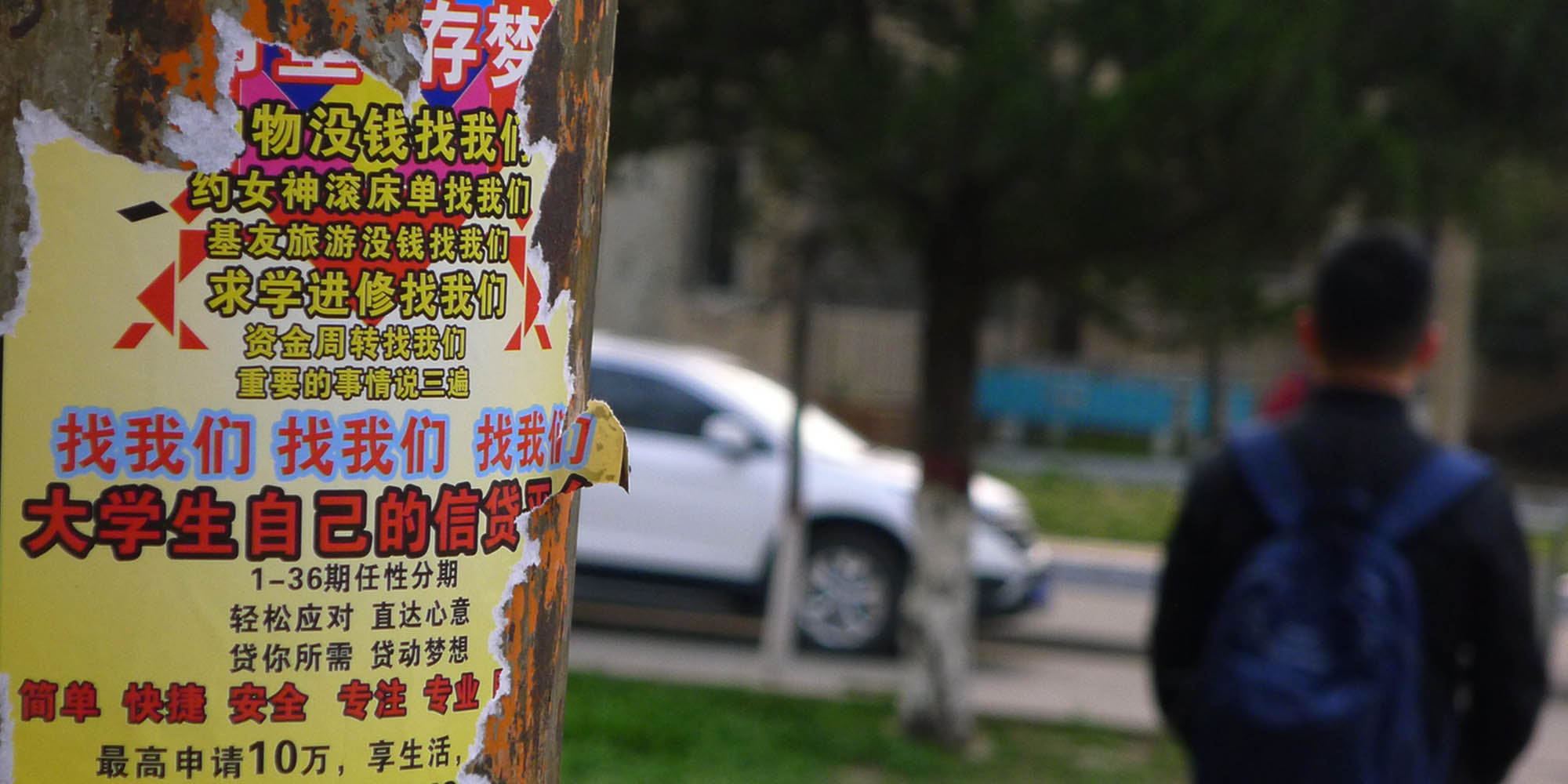 FEATURES
Online Lenders Seduce College Kids
The promise of easy money prompts students to tap high-interest loans, spelling financial ruin for some.
Twenty-one-year-old Li hasn't made payments on his 20,000-yuan ($3,100) student loan in two months, and every few weeks he begs for leniency from his online loan sharks. It never occurred to him that he might fall victim to the tortuous cycle of student debt.
"Don't make me pay back everything at once," Li wrote to his creditor, Uni-lending. "And please don't tell my parents."
To some people a few thousand dollars may not seem like a lot, but in Shanghai, where the annual average income is 49,867 yuan, and where Li's parents make just 10,000 yuan a year, this amount represents a small fortune for the young man.
Li's plight — and that of many others like him — has recently become a topic of note in China. This has been triggered in part by the suicide of a college student at Henan University of Animal Husbandry and Economy who killed himself after struggling to pay off debts of 580,000 yuan. According to The Beijing News, the student had borrowed from several creditors and spent the money gambling on soccer.
China is now facing a new wave of indebted students, largely because of a regulation introduced in 2009 that has made it harder for college students to get credit cards. Filling a void after banks left the university student market, online lenders have flourished on campuses across the country.
Some claim these services take advantage of young students who are drawn in by the promise of easy money, even if interest rates are high. But China's financial regulatory agencies have been a step behind peer-to-peer lenders, whose inherently nebulous online presence has kept them beyond the reach of official scrutiny. It wasn't until recently — after a string of online lending platforms went bankrupt — that the government stepped up regulatory action and began to deal more sternly with the industry.
Li, who asked to be identified by his surname only to avoid detection by lenders, enrolled in Shandong Foreign Languages Vocational College in 2013 to study international trade. In 2014 he took out his first loan with Uni-lending: 8,500 yuan to pay his tuition fees.
Born and raised in a poor family in Rizhao, a sea port at the southern tip of Shandong province, Li entered the college with the conviction that he would not trouble his parents for money. But where else was he going to get it?
China has an official nationwide system that grants loans to help students from poor backgrounds pay tuition fees, accommodation, and living expenses during their years at university, on the condition that they clear the debts within 20 years of graduation. But then there is the matter of an inconvenient quota system that entitles a maximum of 20 percent of undergraduate students to up to 6,000 yuan a year in loans.
Li said that because of this quota, his bid for the government loan was denied, and this is what caused him to seek support from Uni-lending, one of the leading online platforms lending to students.
"Uni-lending was famous among my schoolmates," said Li. The daunting annual interest rates in excess of 10 percent didn't deter him from taking out quick and easy loans from Uni-lending to cover his tuition.
But Li's first application to Uni-lending was rejected because the company preferred clients who were using the money to start businesses rather than paying tuition. Uni-lending public relations manager Jin Kelou told Sixth Tone that loans for personal use account for less than one-tenth of the company's total portfolio.
Desperate for money, Li noticed flyers littering campus promising quick and sizable loans. "They were everywhere — even on bathroom doors," he said.
Li managed to contact one of the Uni-lending brokers, and before long his bank account had received the sorely needed funds.
The company gave a loan of 8,500 yuan to Li, who agreed to pay this amount back within 24 months. That was good news — until Li accounted for interest and the broker's 10 percent commission and realized he would end up paying back a grand total of 12,000 yuan.
Since October 2014, Li has been paying back nearly 600 yuan each month.
In a phone interview with Sixth Tone, a Uni-lending broker who goes by the online moniker "24" confirmed that he targets students for loans.
Applicants, 24 said, need to offer a detailed set of personal information, including their student ID numbers, parents' names, and home addresses.
"I use this information to take out multiple loans from different online lenders," 24 wrote in an online message to Sixth Tone. "That means the student can get loans two or three times greater than from a single platform."
24 said he arranges loans for a commission and doesn't worry about clients being able to pay them back. "Lenders will come after you if you're overdue," he wrote. "Remember, you owe the company, not me."
Eventually Li had to get a part-time job to pay his debts. He considered running a shop selling mobile phone accessories, but he didn't have the capital to get started. So Li opted to borrow more money through his middlemen "because they were very efficient," he said.
But Li's hopes were dashed when the shop went bust after just a short time and his debts ballooned.
This was when Li's nightmare of calling up his brokers every few months began. He quickly found himself trapped in a vicious cycle of paying off old loans with new ones. "Many of my schoolmates are buried deep in debt and desperate to pay it back," Li said. "For us, the time bomb could go off at any minute."
Li said he is "pretty sure" that the person calling him frequently on his phone and harassing him for money is from a debt collection company. "They sound like the mafia," he said, referring to the threatening tone and colorful language.
Zhang Hang, a senior from Wuxi, Jiangsu province, attends Suzhou University of Science and Technology and owes 3,000 yuan to similar online loan platforms. He has also had to plead for deferred payments several times. "They called me first, then they called my teacher and my parents," he said. "Later, they sent a letter threating to sue me." Zhang finally asked his parents to clear the debt.
When students don't pay, lending platforms cry foul, with Uni-lending being among the most vocal. After the Henan University student leapt to his death, it was revealed that Uni-lending was one of his creditors.
As its name suggests, Uni-lending, founded in December 2013, targets university students. On its website Uni-lending advertises loans with 0.99 percent monthly interest rates — or above 10 percent in annual terms. This amount is double the rate of most traditional banks.
According to Jin, more than 800,000 students have taken out loans with Uni-lending as of 2015, with about a quarter of successful applicants using the money to run businesses. "With so many applicants, we have to be very selective," he said.
Jin told Sixth Tone that all applicants are rigorously screened — each is required to record a video disclaimer at the end of the application process to confirm that they are applying for loans for their own use and not acting as proxies for others.
"No matter how carefully we select, there is no guarantee that all of our loans will be responsibly used by the students as promised,"he said.
But independent brokers know all too well how to circumvent rigid application procedures to secure their clients multiple loans from multiple companies. In Li's case, he was asked to record himself and send the clip via email so the broker could finish Uni-lending's credential checkup in Li's name.
When questioned by Sixth Tone about contacts with brokers or other middlemen, Uni-lending said in an email that it had no such ties.
Jin said a student could theoretically apply for loans from different platforms simultaneously, making it hard for lenders to determine which applicants are close to insolvency. "By the time we identify them, it's already too late," he said.
To ensure that clients pay their debts, Uni-lending's call center staff remind them when payments are due. For delinquent clients, the company hires debt collection agencies to handle the situation. "After all, a debt is something you have to pay back one day," Jin said. "Being a student is no excuse."
(Header image: An advertisement for an online lending platform on the campus of Zhengzhou University, Henan province, March 24, 2016. Zhao Xiaofei/VCG)