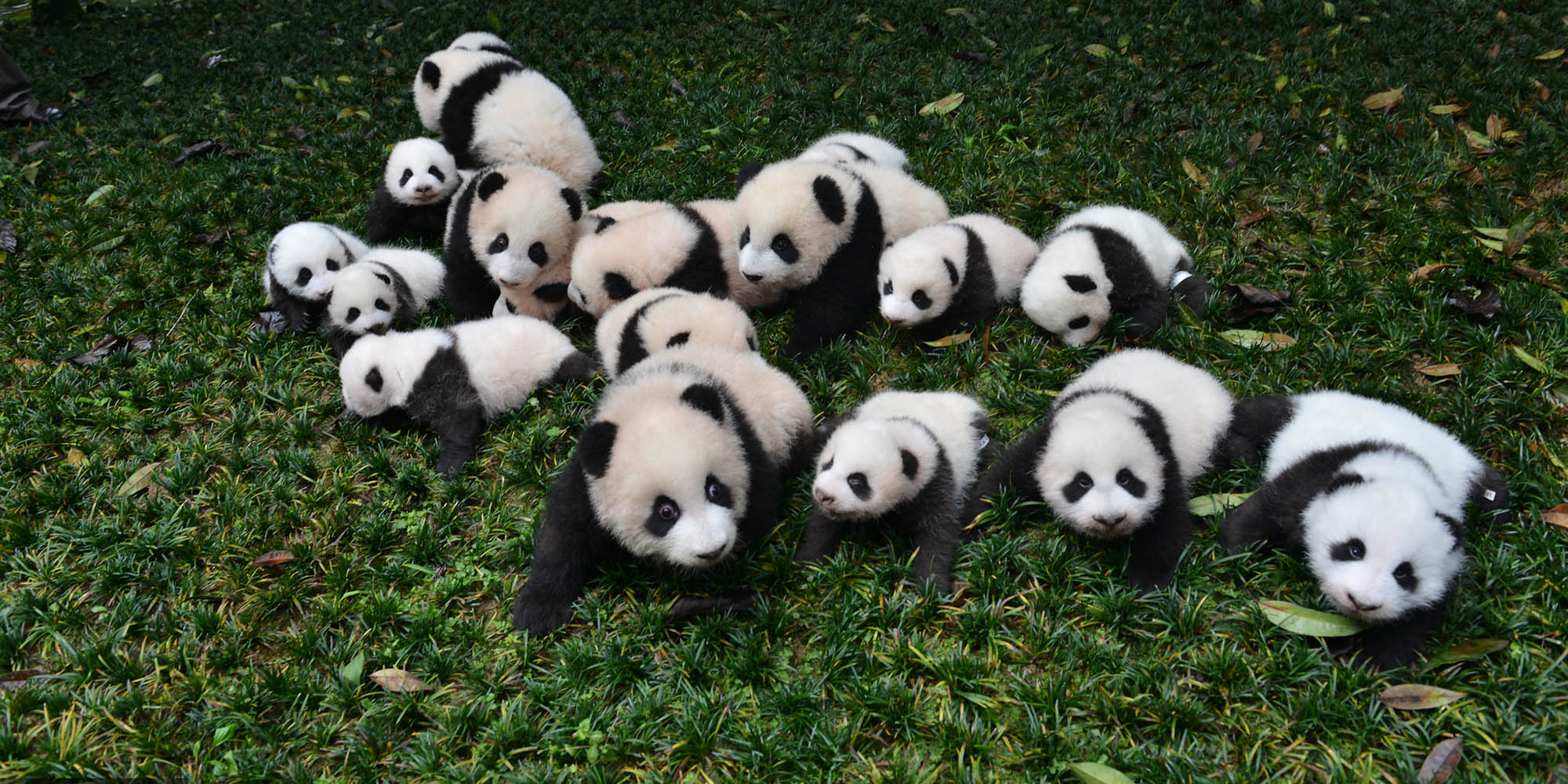 NEWS
50 Shades of Black and White: The Intricacies of Panda Sex
Mating season for the world's favorite bear has the nation in heat.
It's bang in the middle of panda mating season, and Luo Bo, a specialist on giant panda breeding at the China Conservation and Research Center for the Giant Panda (CCRCGP), located in the foggy hills of China's southwestern Sichuan province, is a busy man.
He told Sixth Tone in a telephone interview that he had been trying to get 8-year-old female panda Wenyu to mate with Anan, a male panda of the same age. After a day of inaction, the young adult pandas finally warmed up to each other.
Successful panda mating used to be rare, but after decades of trying to get the world's least romantic animal interested in intercourse, the breeders at the center have panda sex down to a science.
The mating season for female pandas falls between March and May each year. However, female pandas are only in the mood once during that time, for a period lasting up to three days, and the window in which they are most likely to get pregnant — the ideal time for mating — lasts just 12 to 24 hours.
Breeders like Luo have to do around-the-clock checks, including urine and feces testing, observing the skin of the vulva, and keeping an eye out for any behavioral changes, all so they can determine the most opportune mating time.
One of the many things that make panda breeding such a delicate science is the difficulty of sparking desire between two pandas of the opposite sex. Since pandas prefer to live a solitary life, the most likely outcome of placing two pandas in a room together is a fight, even when they are in heat. Over the years, caretakers have tried various techniques to spark panda passion, even resorting to showing videos of other pandas mating, or "panda porn."
"Pandas are animals, so their intimacy depends on their senses of smell, sound, and touch," Luo said. As such, the "dating" method CCRCGP commonly uses nowadays is letting two hopeful lovers live in adjacent rooms, separated by iron railings that allow them to bond but not bite.
The next step is determining whether the two are actually a match. With 12 years of experience in panda breeding, Luo can tell a panda's affection just from their voices. "If they sing like a bird or 'baa' like a sheep, that means they have a crush," Luo told Sixth Tone.
Panda breeding experts aren't the only ones paying attention during mating season. In 2013, the online branch of state-owned broadcasting company China Central Television launched the Weibo microblogging account iPanda, where panda lovers can find footage of pandas eating, bathing, playing, and even sleeping.
Since 2015, iPanda has gone one step further by live broadcasting the mating process. This year, more than 700,000 net users tuned in for a special 72-hour high-definition live feed of panda mating that began on April 2. The highlight of the broadcast was the night of April 4, when pandas Cuicui and Wugang had sex for an unusually long nine minutes — a record, claimed iPanda. "Tender, patient, long-lasting — Wugang is the perfect date!" Weibo user miumiumiu wrote in a comment.
Due to their advanced understanding of panda mating, CCRCGP rarely has to rely on artificial insemination and now favors mating the old-fashioned way. In addition, since they have become adept at predicting when the lovemaking will take place, live broadcasts that can reliably promise a spectacle are possible.
In 2015, 26 pandas were born at the center, increasing the population to more than 200. As a result, the policy has shifted from "breeding as many pandas as possible," to making sure only unrelated pandas that are strong and healthy are allowed to mate.

Still, successful mating is only part of the challenge. After the mating season, almost all female pandas, including those who remained abstinent, will show signs of pregnancy, such as vomiting and loss of appetite. Even the hormone levels in their feces will go up. However, many of these actually turn out to be phantom pregnancies. Ultrasonography cannot confirm the pregnancy until one or two weeks before childbirth, and the due date of a pregnant panda is impossible to predict. Pregnancy in pandas can be as short as 72 days, and as long as 324 days.
"Basically, all the female pandas who have succeeded in mating over the spring will be treated like queens afterward," Luo said. They will be moved to bigger rooms and fed with more nutritious food.
Regardless of when and how many baby pandas will be born, iPanda has already announced they will start live broadcasting births. China is on the edge of its seat.
(Header image: Newborn pandas playing at Ya'an Base at the China Conservation and Research Center for the Giant Panda, Sichuan province, Aug. 21, 2015. Yurenxing/VCG)