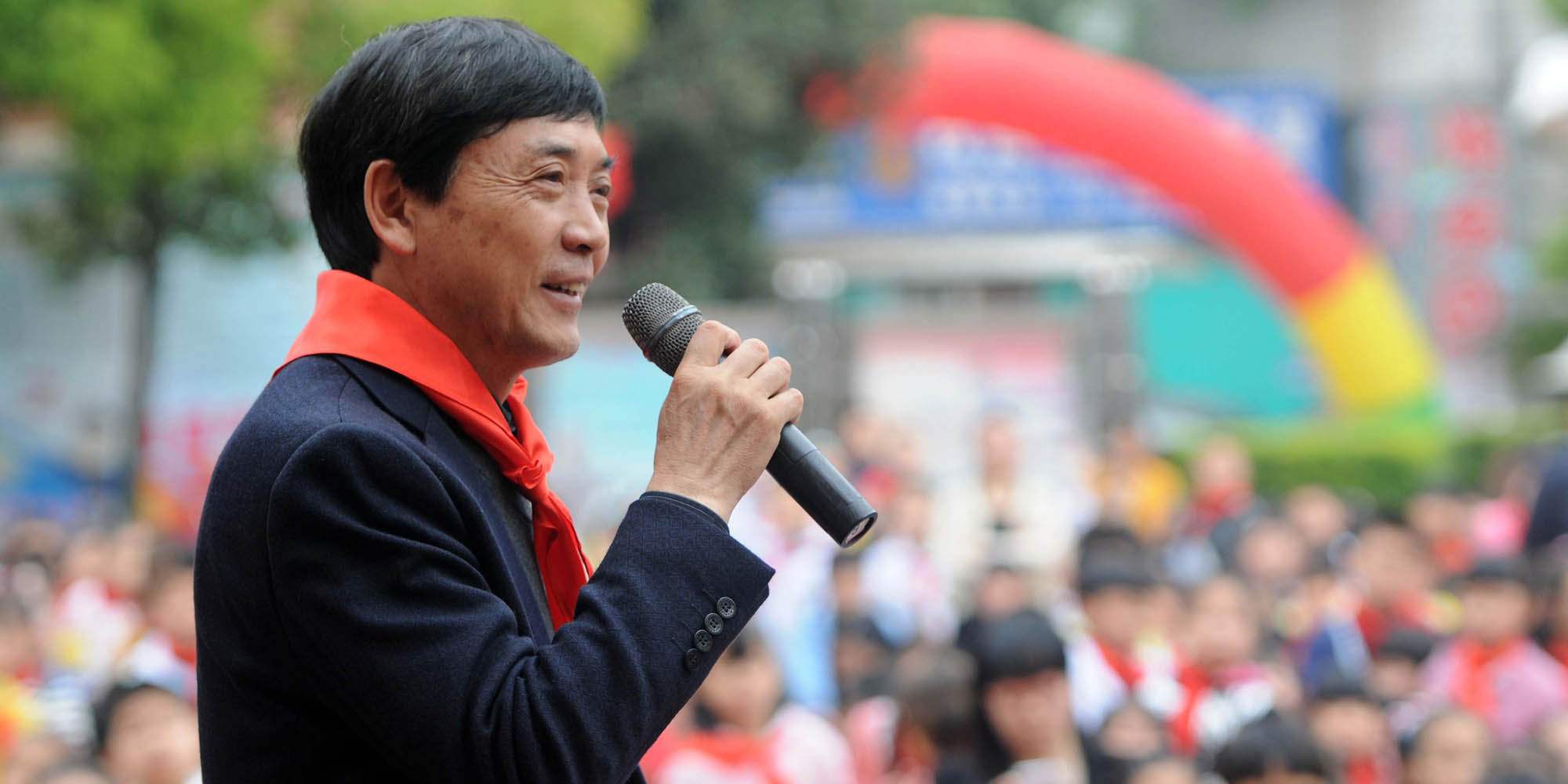 NEWS
Critics Throw Book at Children's Writer
Winner of Hans Christian Andersen prize accused of portraying girls as meek.
Well-known children's literature writer, Cao Wenxuan, was honored earlier this month with the prestigious Hans Christian Andersen Award. News of Cao winning the award, which is sometimes referred to as the "Nobel Prize of children's literature," spawned discussions on how he depicts girls in his stories.
Cao was the unanimous choice of an international judge panel, and won praise for his novel "Bronze and Sunflower," which depicts children under the Cultural Revolution in China, as well as his "Dingding Dangdang" series, which portrays two brothers with Down syndrome. The International Board on Books for Young People, the organization which presents the award, said on April 4, that "Cao writes beautifully about the complex lives of children facing great challenges."

But Cao's critics in China don't necessarily agree. One of them, writing under the pen name "Taniang," questioned his "backward" ideas in an article in The Beijing News Book Review Weekly.
Taniang said that, although moved by Cao's book, "The Grass House," all of the girls in the story are depicted as being too delicate: "Like soap bubbles; beautiful, but indistinct." Taniang pointed to the obvious contrast between the names of Cao's male and female characters — the boy, "Bronze," and the girl, "Sunflower" — and how the names slot the characters into the gendered roles of "protector" and "protected." Taniang claims that the women in Cao's stories are either quiet, gentle girls, or model wives and mothers, always in the service of males.
Some readers agreed with Taniang. One referred to Cao as "straight male cancer" — a popular pejorative used in China to describe misogynistic men. Another commenter praised Taniang's review and wondered, "How many men, and even women themselves, hold unconscious contempt for women without realizing it?" But there were also readers who disagreed. "You can't use the lens of politics or social studies to examine literary works," said one reader.
It's not the first time critics have zoned in on gender in Cao's books. A 2007 academic paper by literary scholar Lin Lin stated that Cao's work always centers on the male gaze, while his heroines are afforded no real inner life. She said that the women in his writing exist only to embody classical feminine beauty. They are pure, lovely, comforting, gentle, and selfless.
When questioned about his views on gender upon his return from the award ceremony in Italy by the Chinese press, Cao replied, "Can you apply feminist ideology to children's literature? Is that appropriate or necessary?" He asked if Hans Christian Andersen's work should also be considered backward, given that characters like the little match girl were also celebrated for their frail tenderness. Defending his own work, he said, "The way I write girl characters doesn't reflect my views on gender — it reflects my understanding of aesthetics."
When contacted for comment Tuesday by Sixth Tone, Cao said he stood by these comments.
But for his critics, aesthetics is precisely the problem. Lin wrote that Cao's female characters seem to exist only to satisfy male aesthetic expectations.
In the past Cao has brushed off similar criticism by saying that gender issues are only something that foreigners care about.
The Beijing News Book Review Weekly reported that back in 2012, Cao participated in a joint project with Helena Willis, a Swedish children's book illustrator. When Willis read Cao's story, she questioned him over a scene where a child's father invites his friends to visit their home. Willis suggested that the friends be introduced as the guests of both parents. At the time, Cao said in a media conference, "This might be important to foreigners, but in China it's hardly an issue."
With contributions from Li You.
(Header image: Cao Wenxuan gives a speech at Jiujiang Primary School, in Jiujiang, Jiangxi province, April 15, 2015. Hu Guolin/VCG)