In China, too, reality TV and the Internet can breathe new life into flagging careers. A once-lampooned military man who recently stumbled upon fresh fame thanks to new media is imploring his young fan base to love China more.
Zhang Zhaozhong, a 64-year-old retired rear admiral with the People's Liberation Army, has enjoyed a long career as a talking head on military matters. Unfortunately for Zhang, his analyses have tended to be not only outlandish, but also frequently wrong.
Known for his hawkish, often anti-American views, Rear Admiral Zhang predicted in 2003 that U.S. military forces would meet strong resistance from the Iraqi Republican Guard in Baghdad. But the Americans entered that city with little resistance. When Libya descended into civil war in 2011, he also stuck his neck out and said, according to magazine China Newsweek, that there was no way Libya's then-leader Muammar Gaddafi was hiding out in Sirte. One day later, Gaddafi was arrested and killed in that very city. These and other misguided statements have led Chinese net users to mockingly refer to Zhang as "chief of the Strategic Fool-You Agency."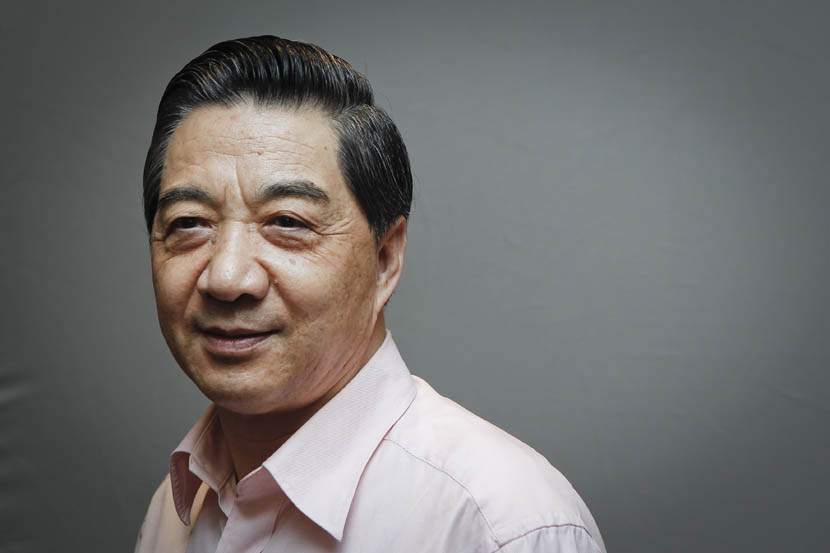 Zhang Zhaozhong poses during an interview with Sixth Tone in Nanjing, Jiangsu province, March 5, 2016. Gao Zheng/Sixth Tone
But on a recent evening in the eastern Chinese city of Nanjing, any hint of mockery toward Zhang seemed to have dissipated. As Zhang left the stage after a recording of a popular television talent show, "The Brain," he was greeted by a frenzy of female cheers, much in the same way a South Korean boy band might be. For these doting girls, mainly in their 20s, Zhang is their ideal masculine but charming bing gege, or "soldier-brother." "I have always wanted to marry someone like him," said 22-year-old Wang Sikai.
No one, including Zhang himself, could have expected such a turn of fortune for a man once considered one of China's most controversial experts on military matters — a field typically dominated by more straight-laced talking heads.
Born in 1952 in China's Hebei province, Zhang came from a modest rural background. He pulled himself up by the bootstraps to secure a spot at the prestigious Peking University, where he studied Arabic. Later he worked as a translator in Iraq, where he became familiar with warfare and an array of advanced weapons. After a stint as a researcher for the Chinese navy, Zhang in 1998 went on to teach military strategy and weaponry at the PLA's National Defense University, China's top university for military studies.
His entry into media circles began in the 1980s when he began to write about advanced military technology for popular military magazines, slowly gaining recognition as a military expert. A decade later, he became a regular fixture on Chinese state broadcaster CCTV, becoming one of the first army advisors to appear on the air. "When I was 30, I was already famous," Zhang told Sixth Tone during a recording of "The Brain" in Nanjing. "I helped increase the viewing audience of every show that invited me on."
Following three months at the Royal Military Academy Sandhurst in the United Kingdom, Zhang returned to China in 2001. The beginning of the Iraq War in 2003 spurred Zhang's media career, providing him with a rare opportunity to spend more time on the national airwaves. China's state-owned CCTV aired live broadcasts of military attacks for the first time, and the station invited Zhang to share his insights with viewers. This was when he made the erroneous prediction about the fate of Saddam Hussein. Still, that on-air misstatement didn't put people off Zhang, and CCTV continued to seek out his services.
On a military show broadcast by the channel in 2013, Zhang told audiences that ropes used to grow kelp could prevent American submarines from entering the Yellow Sea. Following this revelation, images of Zhang clad in kelp and wielding a microphone went viral on the Internet. Zhang and his musings returned the following year, when he took to China's TV screens to declare that smog might be a good defense against American laser weapons.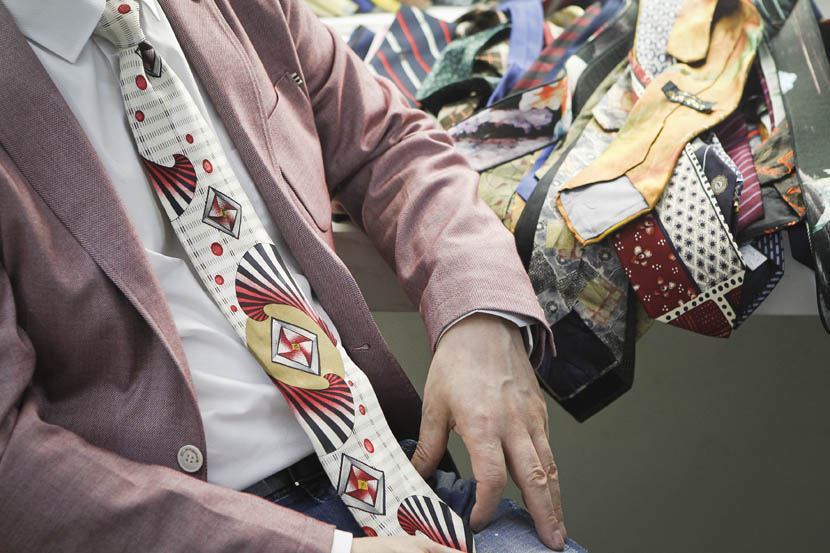 A selection of ties on a dressing table at the studio where 'The Brain' is filmed, March 6, 2016. Zhang Zhaozhong says what he is wearing is the most garish of all the outfits he has ever worn on television. Gao Zheng/Sixth Tone
In July 2015, Zhang retired from his position in the PLA. A month later, Hong Kong-based Phoenix TV approached him for an interview to discuss his military views and his many slips of the tongue throughout his career. A candid video clip that showed Zhang deftly applying powder to his face in a dressing room before the interview went viral. What started out as taunts about Zhang's eccentricities soon gave way to compliments, with some astute net users taking note of the former rear admiral's sharp fashion sense. The brand of Zhang's makeup compact — Armani — only served to underline his newfound appeal.
Zhang has responded to all the attention with a mixture of charm and self-deprecation — traits that seem to have resonated deeply with many of China's digital generation, who have in the past rallied around down-to-earth figures like Zhang.
Bi Feng, editor of the Phoenix TV talk show explains: "Young people don't like experts with condescending attitudes. They like people who can be their friends. For example, Zhang encourages playing video games, saying it's a good way to acquire military knowledge. Young people can relate to this, and it makes them feel that Zhang is from their world."
Zhang concurred, telling Sixth Tone, "Pretentiousness kills conversation."
Zhang's is a life philosophy that appears to be yielding fruit. Soon after the Phoenix TV clip hit the Web, the "chief" — as Zhang sometimes refers to himself — was swimming in a tide of celebrity, with popular websites such as Bilibili, once a source of derision, leading the fanfare. Now, most of the 50 million users of the YouTube-like streaming site, which mainly features animated programming, have done a U-turn, bombarding Zhang with cheers of encouragement along the lines of, "Salute the chief!"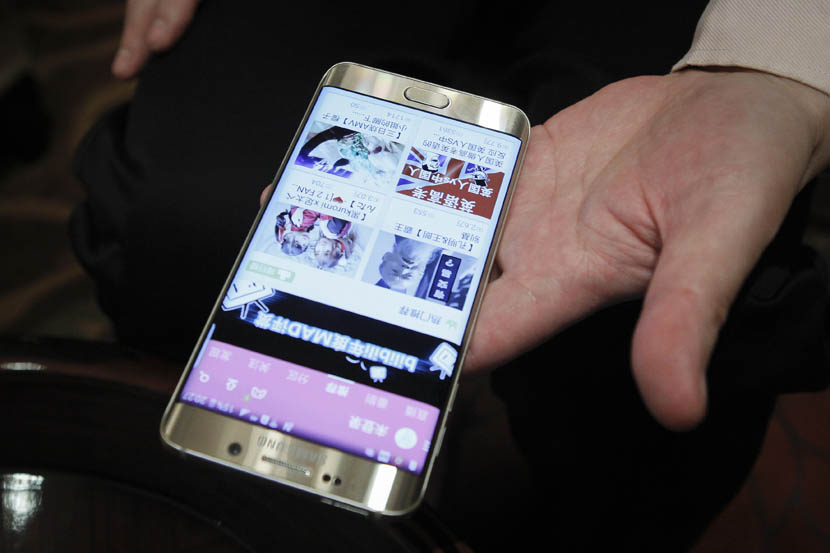 Zhang Zhaozhong using the Bilibili app on his smartphone during an interview with Sixth Tone in Nanjing, Jiangsu province, March 5, 2016. Gao Zheng/Sixth Tone
Tapping into this popular sentiment, Zhang has been making inroads in China's new media landscape. He is the driving forces behind not one but two online military shows. Since their launch last fall, Zhang's audio program on aircraft carriers has been listened to around 95 million times, and his video channel on Japan's wars against other countries has garnered more than 70 million hits, according to his assistant Zhao Na. Meanwhile, as of late March more than 370,000 people have subscribed to Zhang's public account on the social media platform WeChat. Given that his public account on WeChat was only launched at the end of last year, Zhang's rise in fame has been notably swift.
So what's a retired rear admiral to do with such acclaim? Zhang says he wants to foster a stronger sense of patriotism and love of the army among China's younger generations. "Youth are the draft pool for the military, yet few of them would read the People's Daily or follow the news on CCTV," Zhang told Sixth Tone, referring to prominent state-owned media. "The issue is how you reach out to them and convince them of their duty to the nation," he says.
Before Zhang can be persuasive, he needs to know his target audience. "If I want to influence the young people, first I have to know what interests them," he said. Zhang's phone is filled with a wide range of applications and websites popular among young people, including Zhihu, a Chinese equivalent of Quora, and "Serious Gossip," a popular public account on WeChat.
Zhang's online shows about the military are also a way for him to connect with audiences largely made up of younger males. His video program is produced by the makers of popular online military series JunWu, which means "military and weaponry" in English. JunWu focuses on the intersection of online gaming and military affairs. "I cooperate with them because they have sway over young people," said Zhang.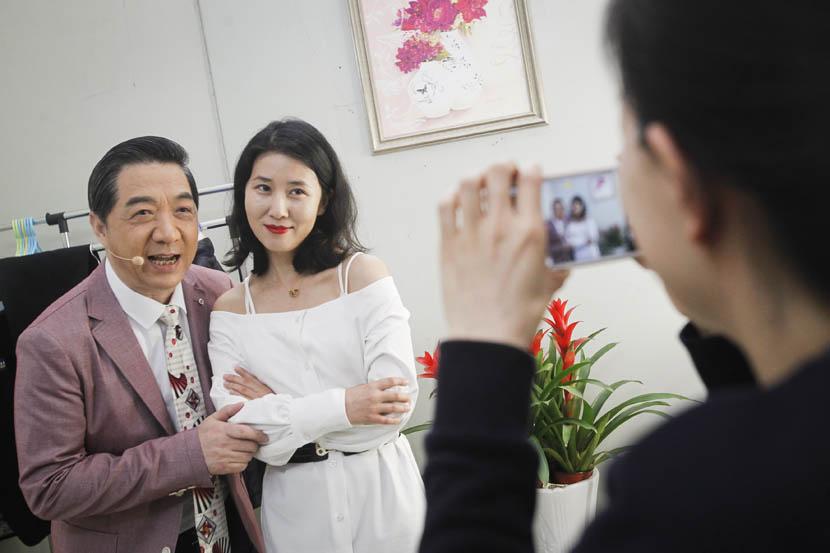 Zhang Zhaozhong takes a photo with a fan in Nanjing, Jiangsu province, March 6, 2016. Gao Zheng/Sixth Tone
Yet there is little evidence to suggest that Zhang is managing to exert any significant influence over fans. At the filming of the television show in Nanjing, 25-year-old Xue Xiaofei stands in line among a group of young women waiting for a selfie with the former rear admiral. "He's tall and handsome," she said. However, when pressed on her knowledge of Zhang's military stance, Xue draws a blank.
On Bilibili, Zhang's musings on life stir passionate response from users, but they fade quickly when he begins to lecture on military history. Once when he asked his fans what they wanted to know about the 16th century Japanese warlord Toyotomi Hideyoshi, his question was greeted with silence.
Even young hardcore military fans don't seem to care about the topics Zhang has been pushing. Zeng Hang, head of JunWu, says many of his website's fans, most of whom are young men between 18 and 30, prefer to gain their military knowledge from online games — they don't like to associate it with politics. "They like a tank in the same way they like football," said Zeng. "They think it's cool, and that's all."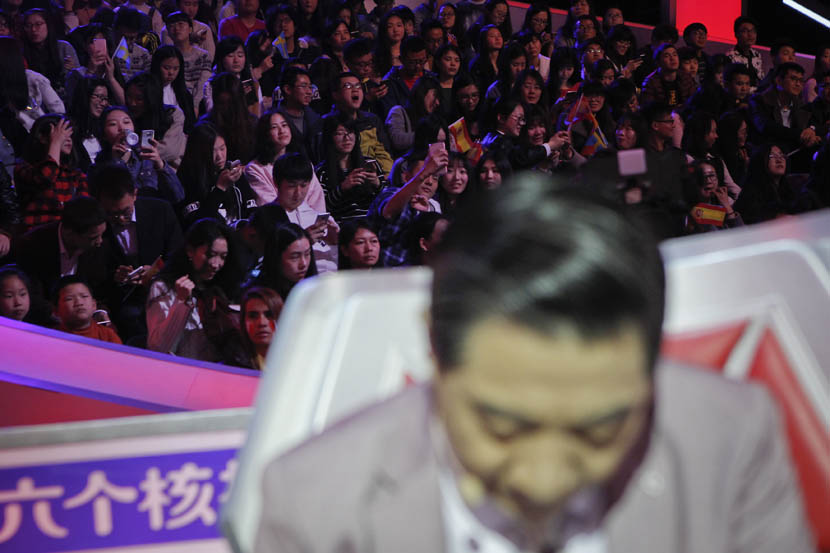 The audience is visible behind Zhang Zhaozhong during filming of 'The Brain,' Nanjing, Jiangsu province, March 6, 2016. Gao Zheng/Sixth Tone
Gai Qi, associate researcher of cultural studies at Capital Normal University in Beijing, said Zhang's rebound in popularity as an amiable, grandfatherly figure also sits well with some young Chinese net users' attitudes toward political issues. "The political agendas they care about are huge but hollow," she said. "They aren't concerned about issues that are closely related to our lives, such as gender equality, smog, and traffic congestion."
Zhang appears determined to effect the ideological change he hopes to see. He recently posted a recruitment notice on his WeChat public account, seeking more people to join his team.
Zhang, who co-translated Tom Clancy's "The Hunt for Red October," considers the American author one of his idols. Clancy's works often feature themes of war and counter-terrorism, and many have been adapted into movies and video games. With similarly themed books and websites flourishing in China, Zhang sees an opportunity: "I hope I can do that, too," he says.
With contributions from Dong Heng and Lu Hongyong.
(Header image: Zhang Zhaozhong straightens his tie before appearing on 'The Brain,' a television show filmed in Nanjing, Jiangsu province, March 6, 2016. Gao Zheng/Sixth Tone)