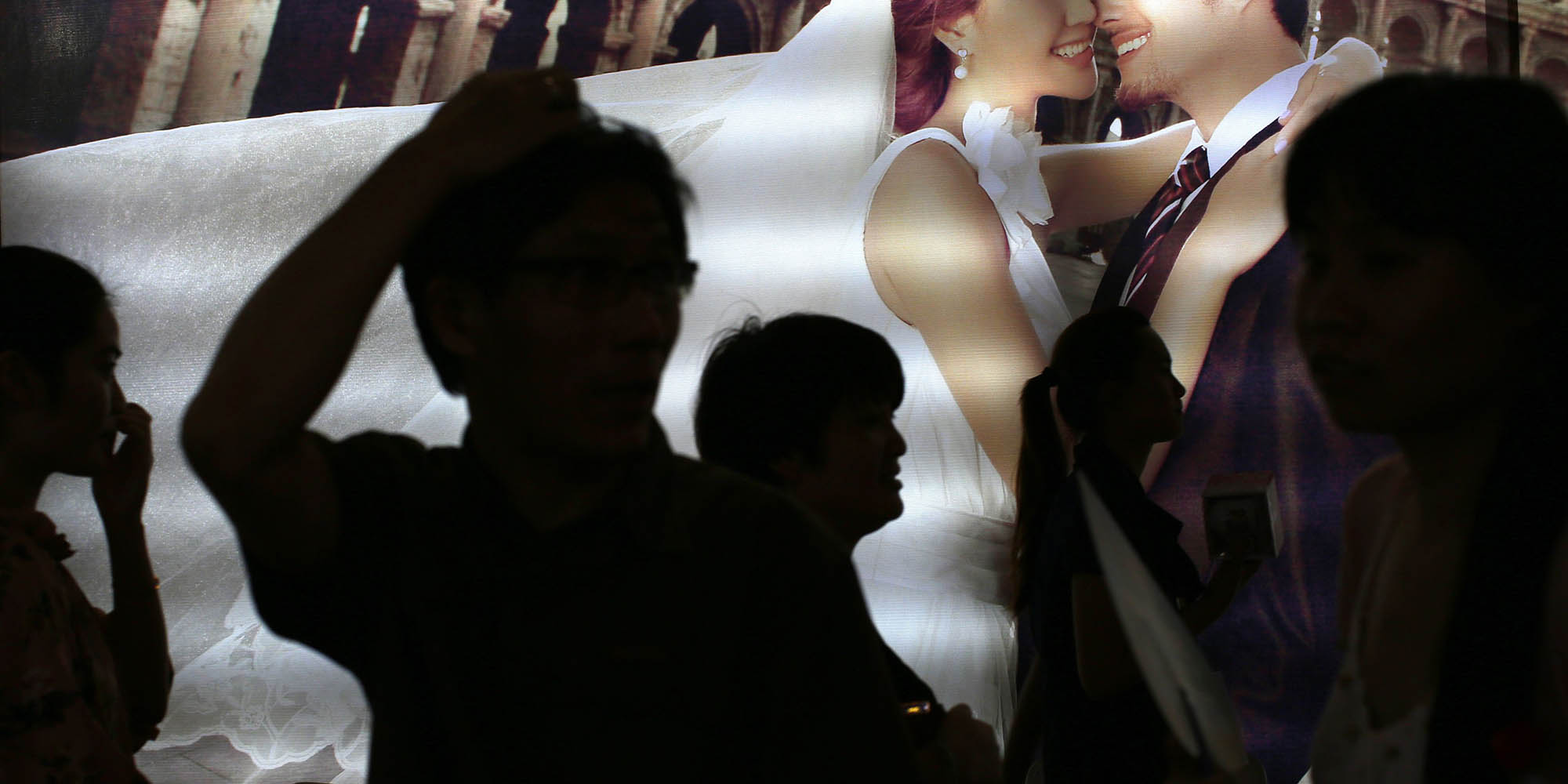 NEWS
Celebrity Bridal Hazing Video Provokes Women's Rights Discussion
Hazing of actress Liu Yan spurs netizen debate on sexual harassment.
A celebrity wedding became a women's rights topic on Chinese social media Friday when a video emerged of the groom and three groomsmen grabbing hold of bridesmaid Liu Yan, a famous actress, and carrying her toward a swimming pool before being stopped by other women.
Initially, the video was shared and reported by entertainment bloggers as a harmless prank and an example of unpretentious celebrities joking around. But once the video had been shared more widely, the conversation turned into a discussion of whether the hazing was disrespectful to women and could even be seen as a form of sexual harassment.
The incident happened at the March 30 wedding of Bao Beier and Bao Wenjing in Bali, Indonesia. Many of the wedding guests were actors and celebrities.
Pranks poking fun at the bridal party are a customary part of Chinese weddings, both within China and abroad. The hazing can vary from small jokes and dares, such as the groom being peer pressured into drinking a foul concoction, to extreme and even criminal behavior.
Over 550 million people viewed the trending video on microblogging platform Weibo, reflecting growing awareness of and interest in women's rights in China. Many netizens reproached the groom and groomsmen for their behavior, saying that they had gone too far. In an unscientific Sina poll about the incident, 78.4 percent of 230,000 respondents indicated they thought such wedding traditions were vulgar and disrespectful toward bridesmaids.
Liu Yan is an actress and singer widely regarded as one of China's sexiest celebrities. She has often appeared on the cover of FHM China, a men's lifestyle magazine. Some commentators speculated that she'd been targeted because of her physique.
Popular women's rights blogger Yi Heng, also known as the "C-Cup Queen," posted on Weibo about the incident: "It's so dull and tasteless to rely on the sexual harassment of women to enliven a wedding atmosphere."
When Yi spoke with Sixth Tone, she said that bridal hazing struck at the heart of women's rights. "It's about bodily autonomy," she said. "Whenever women don't consent, it's a violation of their rights." She added that culture was no defense, especially as bridal hazing is not a traditional custom — rather, the concept of having bridesmaids is a recent import from Western cultures.
Other public figures also weighed in on the issue. Writer Hou Hongbin said that the video shows it's not just poor and ignorant men who disrespect women, but also the wealthy and well-educated. Commentator Luo Beibei said she was taken aback that no man stepped in to stop the incident. "Not one man acted like a gentleman," she wrote.
The incident may have inspired a backlash because of the disrepute "bridal hazing" has gained in China. In recent years, there have been several cases of sexual assault and rape at weddings, leading the public to condemn the practice. One 20-year-old woman committed suicide in May 2009 after being molested while serving as a maid of honor. In another case, a woman was gang-raped by four men at a weddingin in November 2012. And a widely publicized incident in October 2013 involved a 16-year-old bridesmaid being stripped and groped by a group of men, six of whom were later given jail sentences for their actions.
Following the online uproar, Liu Yan has reacted with a tearful video message posted to her Weibo account on Friday evening, saying that she is sorry the incident has overshadowed her friend's joyful wedding. She thanked the public for their concern but said: "There were many games. It was the first time I'd ever been a bridesmaid, so I screamed when they picked me up because I was a little frightened, but I knew I wouldn't really be harmed. We've all been friends for close to 10 years."
Her video message sparked another round of reactions, with many netizens saying Liu did not need to apologize. Women's rights blog Taying reacted strongly to Liu Yan feeling she needed to apologize: "Following this logic, does it mean that we should apologize after being raped: 'Sorry I didn't please you, my technique wasn't very professional.'"
Bao Beier, the groom, wrote a lengthy post on his Weibo late Friday evening. He first apologized to Liu Yan and then explained that he had originally planned another activity, but that the necessary equipment had been seized by customs. Bao said throwing Liu into the water was an on-the-spot improvisation. He said he respects all women and that he himself detests bridal hazing.
The other men involved have not issued statements.
With contributions from Fu Danni.
(Header image: People attend a wedding exhibition in downtown Shanghai, June 16, 2013. Carlos Barria/Reuters)