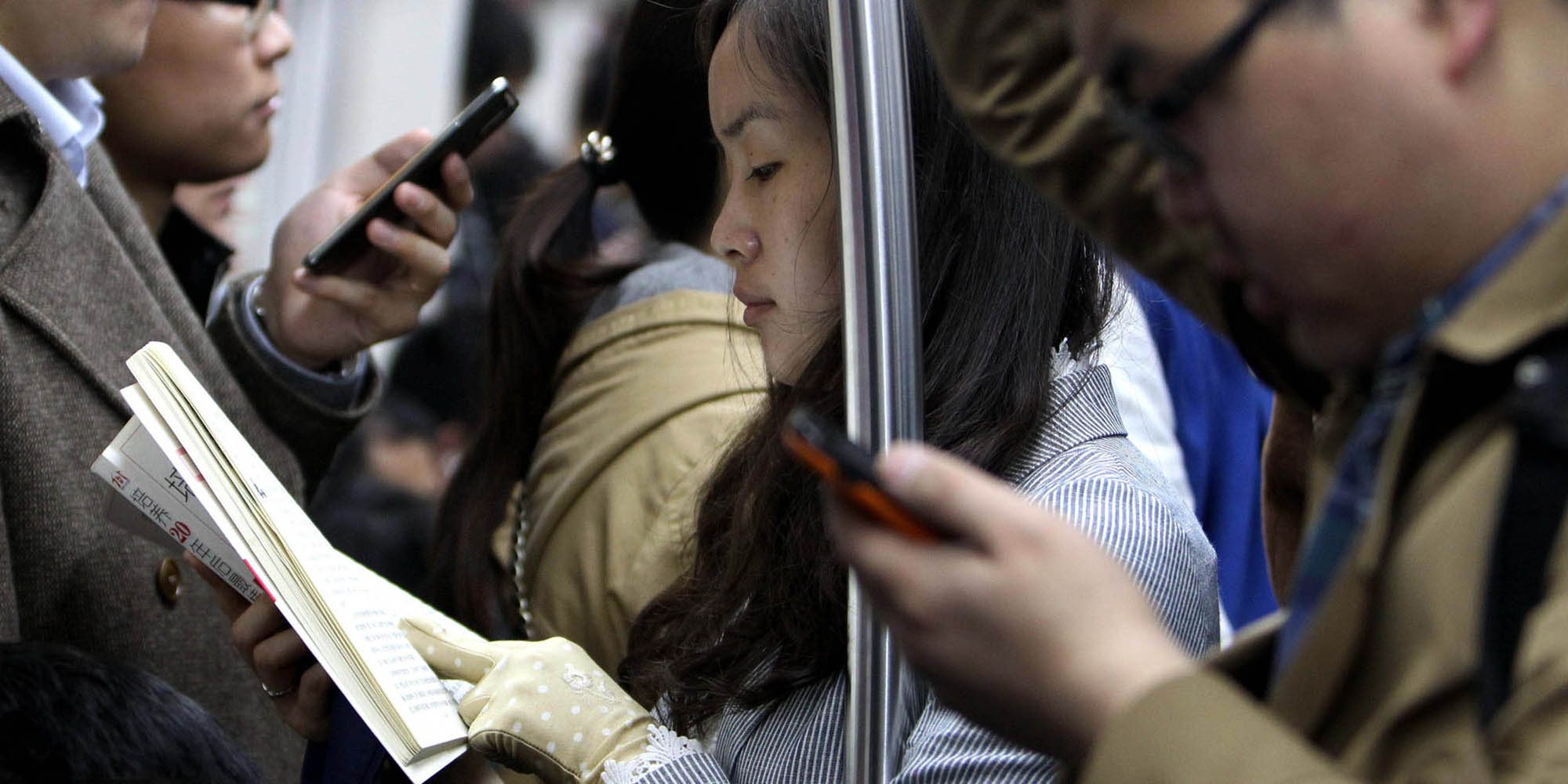 FEATURES
Reality Check: China's Growing Appetite for Nonfiction
A wave of new nonfiction outlets is giving budding writers platforms to tell the human stories of China.
Do you know the story about the 72-year-old watchmaker from Shanghai who is good at making watches?
If you do, chances are you are one of a growing number of readers caught up in a new wave of nonfiction writing currently sweeping through China. Not autobiographies, historiographies, or science books, but long-form feature writing that delves into the real human experiences of modern-day China.
The story of the watchmaker — "The Craftsman of Time" — is one of the most-read articles on NoonStory, an account on China's leading mobile messaging app WeChat, which includes a Facebook-like news feed that allows public accounts to share content with subscribers. It is on digital platforms like WeChat, which enable original content by both professional and amateur writers to reach huge audiences at the push of a button, that the genre is gathering the most momentum.
The trend comes at a time when long-form journalism is becoming increasingly absent from the pages of traditional media, despite the industry's heritage of documentary reporting in the 1980s and investigative reporting in the 1990s. Today, amid declining advertising revenues, conventional outlets are investing less time and money into long-form projects.
As a result, the job of pushing the genre forward is falling into the hands of new media platforms and individual enthusiasts.
Meet Li Fengtao, a 32-year-old writer who gave up her job in business reporting to devote herself to building a community for budding nonfiction writers. In September 2015, Li launched the public account "Horizon Nonfiction" on WeChat.
Li's project is not merely a platform for sharing content from other publications. She knows that writers of the genre — one of the less lucrative strands in China's media fabric — need more than just an outlet. In January of this year, she launched a scheme to offer funding for aspiring writers.
In total, Li received 55 applications from both professional and amateur writers. In a post on April 1 she announced the names of the six successful applicants. Among the non-fiction pieces submitted in support of the winning bids was "Fandom," on the subculture of followers of celebrity accounts on microblogging site Weibo, and "Plotting the Rise of Shamate," a look at the young rural migrants living in major cities and striving to conform to urban fashion conventions in the face of deep-rooted prejudice.
Over the past several months, Li has been meeting with potential sponsors to explain why she wants to build such a platform for writers. "I told them their money is needed because many journalists require support to produce high-quality nonfiction works — and I am one of them," she told Sixth Tone, adding that many of her sponsors are entrepreneurs who want to have a deeper understanding of what is going on in today's China.
Li is not the only one who wants to help. In June 2015, China's first nonfiction-supporting program, Guyu Story, was launched by Internet giant Tencent's news website QQ.com, in collaboration with its charity organization, the Tencent Foundation. Of the more than 300 applications so far, seven writing projects, along with three photography projects, have been awarded grants of 30,000 to 50,000 yuan ($4,600 to $7,700).
For Wei Chuanju, head of the Guyu Story project, the scheme is an attempt to redress the imbalance between the number of works currently being produced and the number of "subjects worth exploring in today's China." As for what makes a subject qualify, Wei believes that any good nonfiction "should help people to understand the pulse of society and to feel the temperature of individual life."
Behind the poeticism of Wei's explanation is the straightforward belief that nonfiction should engage with China's reality on a personal level. Across the many emerging platforms that are publishing or promoting nonfiction writing, grassroots China and the stories of individuals are recurring themes.
"I define nonfiction writing as that which focuses on the people," said Guan Jun, a journalist and head of nonfiction online publication The Livings, in an interview with Sixth Tone. "It should carry the perspectives and emotions of the people." Under Guan's leadership, The Livings has become one of the primary outlets for nonfiction writing in China, and its features from both professional and amateur writers regularly receive thousands of comments from readers. That the platform's backer is one of China's leading Internet technology companies is an indication of the traction that nonfiction writing is gaining. NetEase, Nasdaq-listed since 2000, is considered an early pioneer of online services on China and remains China's largest email provider.
[node:field_quote]
Guo Yujie, an editor and writer at NoonStory, believes that the individual stories of ordinary Chinese people are losing out to the power and appeal of high-profile individuals. "The main story of China today is the story of Jack Ma, along with its millions of variants," she wrote in the foreword to a collection of NoonStory works published in December last year. "If we are to do justice to the rich, changing the China of today, we must bring back to life those who have been forgotten and give our respect to ordinary people."
Others believe that there are more political reasons behind the genre's tendency to focus on individual stories. Li Haipeng, editor of Esquire magazine's Chinese edition, believes that restrictions from the government have driven some writers away from topics too intimately related to current affairs. "If it weren't for restrictions, of course we would focus more on public interests," said Li of Esquire's editorial stance. "We'd be more inclined to write about the issues that speak to readers' empathy or sense of justice, and the stories about individuals would probably come second."
Whatever the origins of nonfiction's focus on individualism may be, the genre appears to have boosted the enthusiasm of ordinary people to pick up their pens. The Livings director Guan said he was surprised to find how many non-professionals like to write. In addition to content produced by a core group of 30 professional writers, The Livings also publishes a significant number of contributions from amateur writers.
Encouraging content from a wide range of sources is a trend that is also reflected in the makeup of applicants for the Guyu Story program. Judges, policemen, and migrant workers are among the applicants who have left strong impressions on Wei. According to him, while some focus on the broad narrative of China, others just want to tell the stories of themselves and their families.
Li of Esquire is skeptical about the value of this "all-people-involved" model. He defines nonfiction as "meaningful stories," which he claims require trained minds. "If anything true is considered nonfiction writing, then the genre will not be taken seriously."
Guan of The Livings, though happy that the genre is attracting grassroots involvement, shares Li's concerns. He is holding out for the return of professionally-trained feature writers who have left journalism, and he believes this can only happen once the problem of inadequate remuneration is resolved. Guan believes that it is hard for nonfiction writers to rely solely on royalties because of the conspicuous absence of a mature business model for freelance writers in China, unlike the United States. "Out of a hundred people who have the skills to write, only five or six will end up putting pen to paper," he said. "And they will be doing it out of passion alone."
Some observers have cited recent plans to make one of Esquire's most popular features into a film as proof that there may in fact be mainstream, commercial mileage in the nonfiction genre. In early March this year, Internet technology company and streaming platform LeTV purchased the film rights to the nonfiction article "Massacre on the Pacific Ocean: A Witness Account."
However, in telling the 5-year-old story of a mutiny on a Chinese fishing vessel that saw 22 of its 33-person crew murdered by their fellow sailors, the piece is still a world away from the focus that has come to define the genre's recent upsurge: ordinary people. As such, it has been viewed by some observers to be an exception to the notion that true stories do not fare well in China's mainstream culture.
The mainstream's penchant for the more dramatic elements of nonfiction writing is also reflected in the announcement of plans to make a screen version of a work by Peter Hessler, a writer and former Beijing correspondent for The New Yorker who enjoys a considerable following in China's nonfiction circles.
While "River Town: Two Years on the Yangtze" is an account of the American's experiences as a college teacher in Sichuan during the mid-1990s, Hessler anticipates that the film adaptation, to be headed by Chinese director Lu Chuan, will pull the work away somewhat from the nonfiction genre. "The movie will be fictionalized, so it's not a documentary," he told Sixth Tone. "I think they will add a love story."
While the adaptation may attempt to make the story more palatable to film audiences, Hessler nevertheless hopes that it will help to inspire young writers, whom he once said in an interview with Guyu Story are in need of "both financial support and the motivation to persevere in the field."
"I hope that one outcome [of the film] is that people are interested in these books and think about how to document and write about life in China," he told Sixth Tone. "I do believe that nonfiction has great potential in China, so I always hope that some readers are inspired to undertake their own research and writing projects."
For now, Horizon Nonfiction's Li Fengtao, whose plans to help nonfiction writers bring their work to a wider audience are still in their infancy, remains tentatively optimistic about the genre.
"We're beginning to see some signs of spring. But as to when that spring arrives, I have no way of knowing."
(Header image: A woman reads a book on the Zhengzhou subway while other passengers stare into their mobile phones, May 12, 2014. VCG)