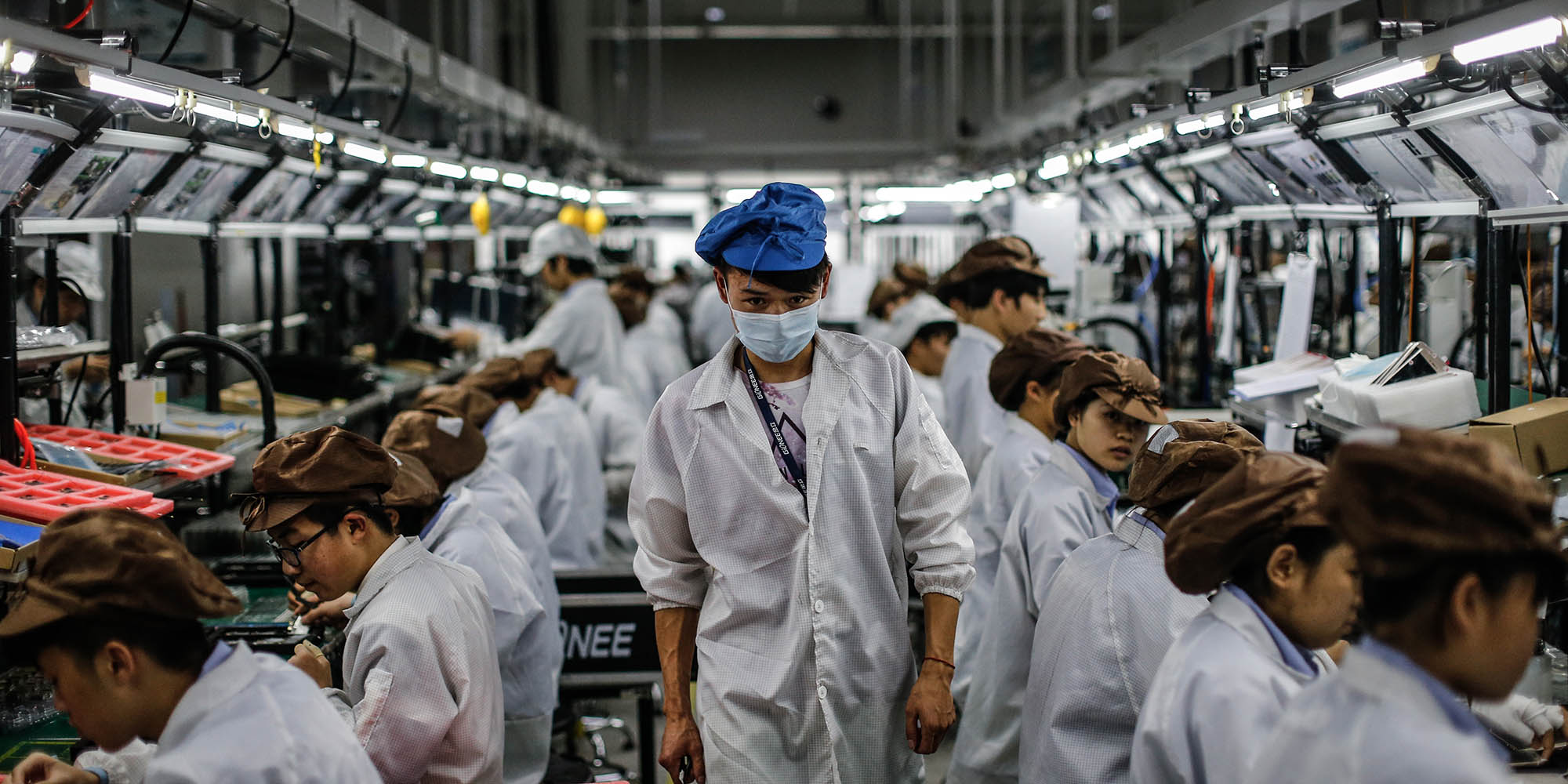 NEWS
The Young Workers of China's Fast-Growing Mobile Phone Industry
Chinese smartphone manufacturers are gaining expertise and market share. Meet the young factory workers who make it all possible.
Sitting along a U-shaped production line, factory workers, each performing their own task, are assembling mobile phones. Chen Zhaorun is in his early 20s and in charge of maintenance. Like so many of his colleagues, Chen is young, skilled, and dreaming big. He went to a vocational school in Guizhou province in southwestern China, and now he works in Dongguan, in the southern province Guangdong, making between 3,000 and 4,000 yuan ($460 to $610) per month assembling phones for Gionee.
Gionee is one of the many Chinese smartphone makers that, in recent years, have been taking away market share from international competitors such as Apple and Samsung. According to Xu Zhiyuan of the China Academy of Telecommunication Research, domestic brands accounted for 88 percent of shipments in China for mobile phones priced between 2,000 and 3,000 yuan at the end of 2015, compared with 28 percent of total shipments in the first quarter of 2014. In 13 years, Gionee has increased its number of workers from 200 to 8,000. And at maximum capacity, the company can now produce 80 million phones per year.
Still, not all is well in the industry. In 2014 and 2015, some 170 smart phone brands closed shop in China. There are still 290 companies left, but with the biggest five brands taking up 63 percent of the total market, more are bound to fail. Ten percent of the world's smartphones are manufactured in Dongguan, and the city has been feeling the industry's changes. In the first half of 2015, Nokia shut its Dongguan factory, and in December the owner of another mobile phone factory simply ran away, leaving 4,000 workers and big debts behind.
In 2014, when Liu Xiuzhen's previous employer had to move its factory because it could no longer afford the rent, she left and started working at Gionee. She now works eight hours per day, inspecting motherboards and picking out the defective ones. She is a mother of two and dreams about opening a small clothing factory of her own. "It's better to have your own business," she says.
On Christmas Eve of 2015, Chen Zhaorun was browsing social media on his smartphone while nibbling on an apple. "Our chief gave us apples as Christmas presents," he said, smiling. "It would be better if he had given us annual bonuses."
(Header image: A young migrant worker walks between assembly lines at Gionee Industrial Park in Dongguan, Dec. 24, 2015. Liu Xingzhe/Sixth Tone)