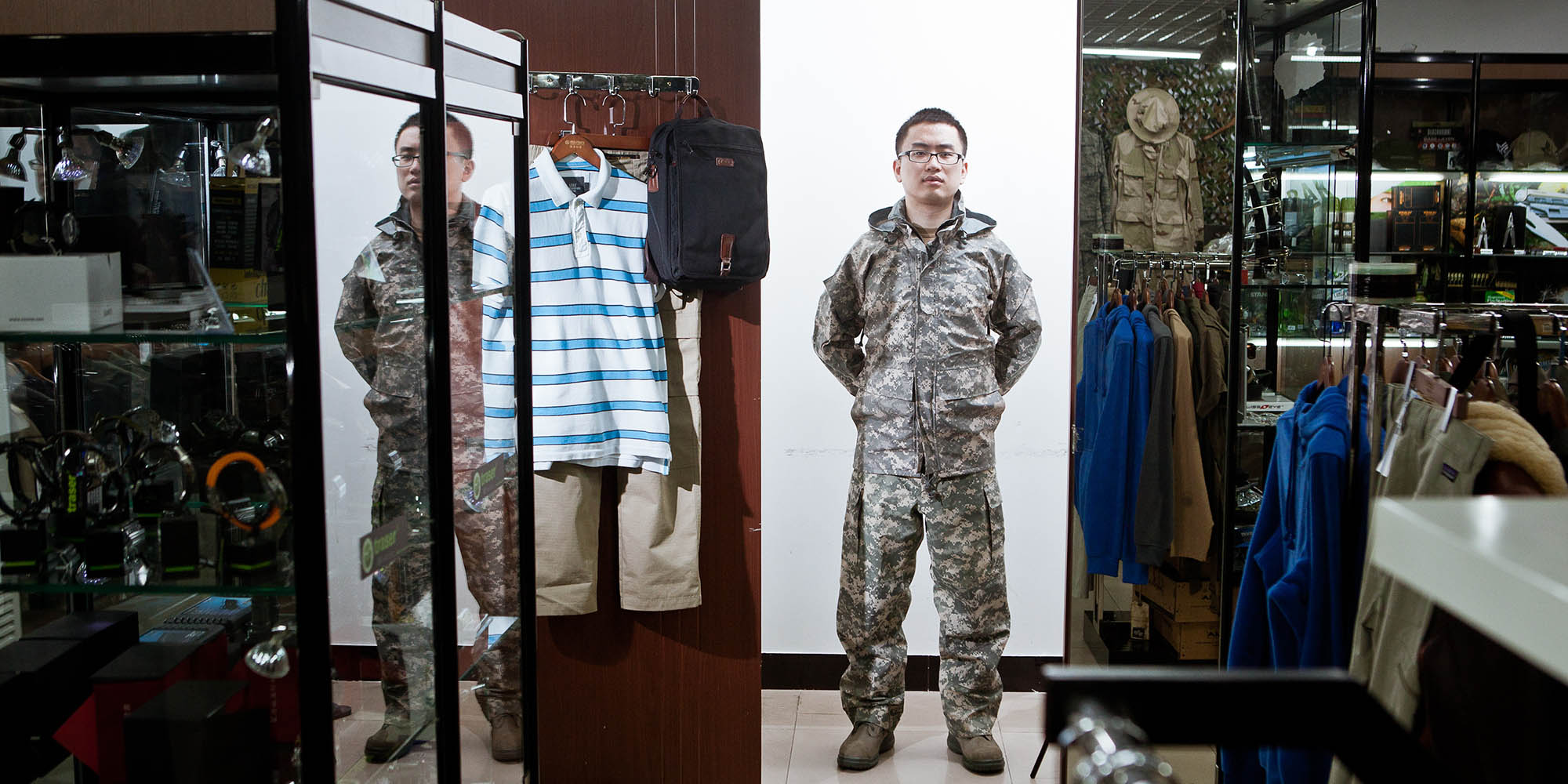 FEATURES
Military Website 'Iron Blood' Cashes in on Chinese Patriotism
An online platform that built its image on users' interest in military affairs finds revival through commercial success.
Just like the once-iconoclastic beatniks of America's 1950s and 1960s who came to embrace materialism with age, some Chinese who were ardent nationalists a decade ago are also mellowing, preferring to shop online for military paraphernalia than to take to the streets or the Internet to vent their passion.
Such changes in the attitudes of China's nationalists over the years are reflected in the evolution of Iron Blood, according to the website's founder Jiang Lei. When it went online more than 15 years ago, Iron Blood was a magnetic hub for hardcore nationalists and military enthusiasts.
While the popularity of other prominent Chinese websites for nationalists has waned over the past decade, Iron Blood has managed to find a solid following from loyal users, forming a unique and stable online community.
Known in Chinese as tiexue.net, Iron Blood features in its logo a red dragon with claws outstretched and poised to grasp its prey — a rare dash of color on a website dominated by text in sober black and grey tones. Next to the logo is the site's mission statement: "Consolidate China's heart, revitalize China's soul."
Jiang, 31, drew inspiration for the website's name from Otto von Bismarck, the 19th-century Prussian statesman who famously said that "the great questions of the time" are decided "by iron and blood." The quote struck a chord with Jiang and the website's users, many of whom were eager to see China develop into a world superpower. Over the years Iron Blood, launched in 2001, has become better known for its provocative posts and commentaries written by users focused on China's military might and history, the country's international standing, and subjects related to terrorism.
[node:field_quote]
Aware of a growing appetite among its aging users for military-style apparel and gadgets, Iron Blood is now going ahead with plans to corner China's online market for niche military products. It has even landed a deal to supply the Chinese army.
The birth of Iron Blood came on the heels of two significant events that stirred up widespread nationalist sentiment around the turn of the century. In May 1999, the Chinese embassy in Belgrade, then part of Yugoslavia, was bombed by United States-led NATO forces. Then in April 2001, a Chinese fighter jet crashed into the South China Sea after a midair collision with a U.S. spy plane.
Iron Blood soon earned a certain reputation for the extreme views expressed in its forums. "Those who liked it loved it," said Jiang. "And those who disliked it hated it." The website developed a strong following among nationalist Chinese youth. Mainly students in their late teens or early 20s, these young people were eager to express their patriotic passion for a strong, unified China. Netizens unsatisfied with China's international status also flocked to the site to criticize the government's foreign policy and condemn the actions of countries they considered to be rivals, such as the U.S. and Japan. Chinese youth who were disillusioned with the establishment in the 1990s gradually splintered into polarizing political groups, according to "Fox," a 46-year-old Iron Blood fan from the southwestern province of Yunnan. Over time, Iron Blood and its users came to represent Chinese leftists, or those who support the socialist system in China. In later years, the site also became known as a hangout for ziganwu — netizens who voluntarily defend China and who often engage in online sparring with critics of the Chinese government.
Today, Iron Blood takes a more moderate stance. One reason for this is that the website's original users are growing older along with the website itself. Its first core of fans are now in their 30s or even 40s. By contrast, people born in the 1990s and 2000s only account for about 20 percent of the site's users. Still, Jiang believes that even among the younger demographic, political sentiment is more moderate than it was a decade ago. Because the current generation has greater access to information via traditional and new media, Jiang believes they are more aware of what it means to be Chinese in an increasingly integrated world. "The current nationalist feelings have a more solid foundation," he said, "while a decade ago Iron Blood users were not so secure in their sense of national pride and identity."

Wang Jun, deputy dean of the Chinese ethnic theory and policy research institute at Beijing's Minzu University of China, said the nationalist sentiment of the current generation is often mixed with consumerism because China's willingness to embrace free-market economic principals in the past two decades has profoundly influenced the average Chinese consumer. Wang points to an episode earlier in the year when an online controversy erupted over Taiwan, and young Chinese nationalists banded together in a campaign to post negative emojis on the social media accounts of people they considered to be enemies of China. This, he said, suggests a less harsh way of admonishing opponents compared to the past, when strongly worded condemnations were the norm.
Reactions to two terror attacks in recent years highlight how attitudes have changed. In November 2015, the responses of Iron Blood users following the terrorist attacks in Paris stood in stark contrast to those generated by the 9/11 attacks in 2001. Jiang remembered vividly that there was an overwhelming sense in the Iron Blood forums that people were happy about the terrorist attacks against the United States. "Osama bin Laden was hailed as a hero, because everything was regarded as correct as long as it was anti-America," said Jiang. "Today's users of Iron Blood will no longer think like that."
When news broke that Paris had been attacked last year, Iron Blood users expressed their sympathies for the victims. Jiang attributed this reaction to users having more respect for human life now compared to a decade ago, when they were too young to understand loss of life. "When we first logged on to Iron Blood, we were young and did not have much life experience," Fox said. "Over the years, we've started our own families and become more mature."
Despite the evolving attitudes of its users, Iron Blood has remained true to its core coverage areas. "It has never changed to topics other than military issues over the years," Fox said. While the website's articles and commentaries may have become less extreme, it is still the biggest military-related website of its kind in China, with more than 10 million users. A recent post to the site hailed the successful research and development of the Taihang aircraft engine, which the author hailed as a milestone for China's emergence as a manufacturing power of aircraft engines. Another post described Hong Kong as a "spoiled brat" for how it acts toward mainland China. Yet another examined the perceived snub of Chinese Foreign Minister Wang Yi by U.S. Secretary of Defense Ashton Carter during a recent official visit by Wang to the U.S., saying Carter's decision to decline a meeting was rooted in America's fear of China rather than a scheduling conflict, as reported.
By contrast, Iron Blood has introduced major adjustments to its operating model, specifically after Jiang noticed the growing appetite of aging users for military-style apparel. This discovery steered Iron Blood toward a stable business model grounded in e-commerce. In recent years, the site has shifted to include a greater focus on sales and marketing, including advertisements for various products such as military gear and footwear, many of which are produced under Iron Blood's own brand, Dragon Tooth. While Iron Blood carries advertisements for its products and other brands, not all sales of these products are generated on the site. Beijing Tiexue Technology AG, the holding company that owns Iron Blood, also owns other Web portals and businesses, including e-commerce website junph.com, which also sell Dragon Tooth apparel.
In 2014 overall sales for Iron Blood and its subsidiaries were 87.1 million yuan ($13.3 million), an increase of 20 percent compared to the previous year. Jiang estimated the total number of potential customers currently in the market to be more than one million. Last year the company successfully bid for a contract from the Chinese army to supply flame-retardant clothing, Jiang said. He declined to disclose the value of the contract.
In November 2015 Tiexue was the first of its peers to go public, listing on China's National Equities Exchange and Quotations, an over-the-counter exchange. As of mid-March, the company's market capitalization was more than 770 million yuan. Iron Blood has also opened offline stores to sell its products, and it now has 15 such locations around China.
At first Iron Blood fans like Fox were skeptical of Jiang's attempt to commercialize the site. Still, he visits the website regularly and likes wearing Dragon Tooth gear from head to toe. "Of course it isn't cheap," he said. "But it sure suits me."
(Header image: Jiang Lei at his office in Beijing, Aug. 8, 2012. Wu Yuchen/VCG)