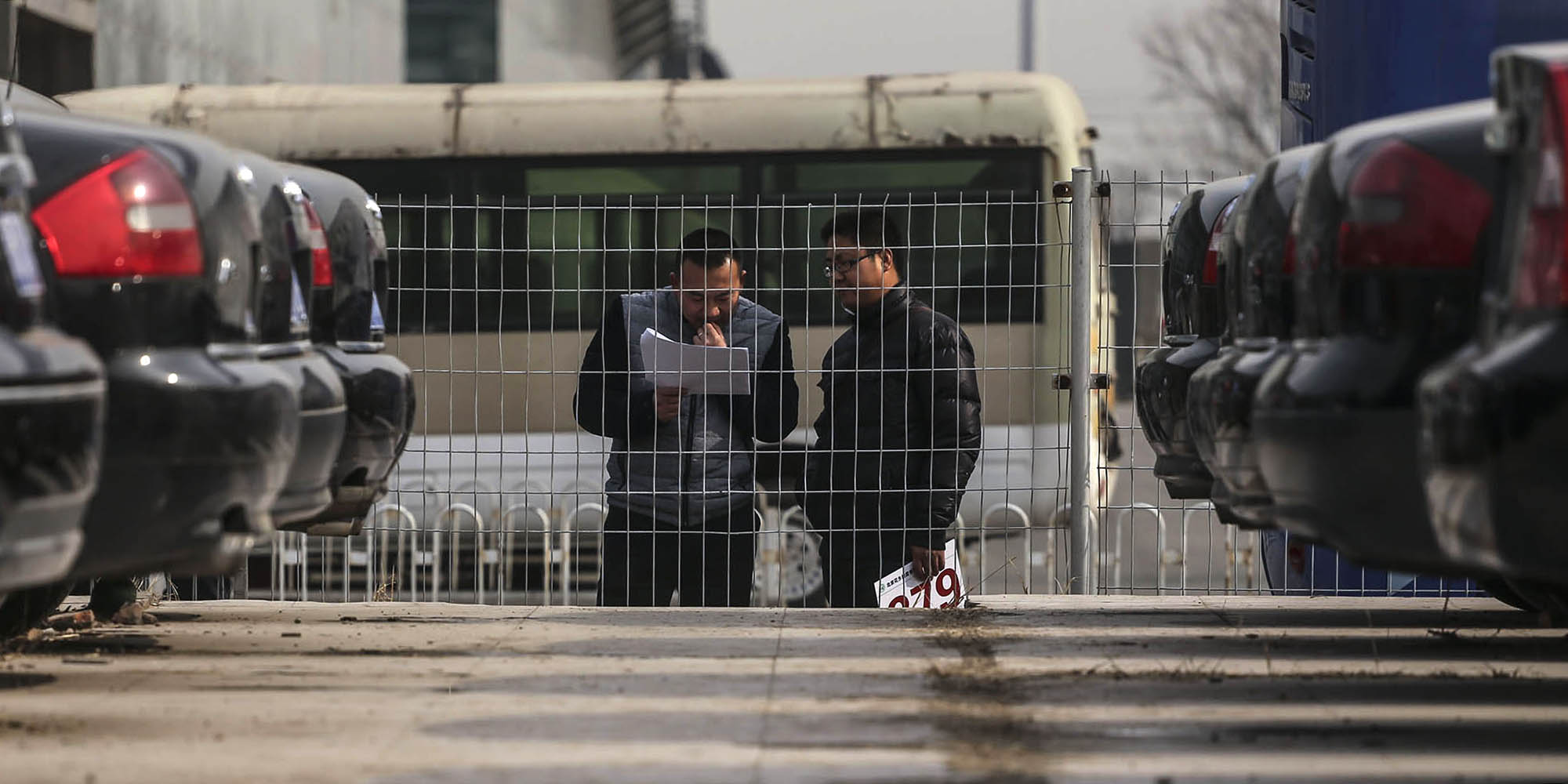 FEATURES
Under the Hammer: Courts Embrace Online Auctions for Transparency
China's judiciary is partnering with Alibaba's e-commerce arm Taobao to take cronyism out of seized-goods auctions.
China's 3-year-old anti-corruption campaign has led to a sales bonanza for e-commerce giant Alibaba, in a downplayed but lucrative story obscured by the daily headlines of bribery, influence peddling, and dishonest public officials.
Amid the outcry against graft, Alibaba has quietly carved out a lucrative niche by facilitating the auction of millions of dollars in goods confiscated by local officials who once might have kept such booty for themselves. But times have changed, and items like seized cars, jewelry, and other desirable items have become high-priced hot potatoes that could easily land their possessors in jail.
In an effort to deflect public speculation and complaints about a lack of transparency in the disposal of confiscated assets, a growing number of local courts have turned to Alibaba's popular Taobao marketplace, China's largest online market of retailers and consumers, to get rid of such assets cleanly and quickly.
What started as a pilot program three years ago at Alibaba headquarters in Hangzhou, Zhejiang province, has now spread nationwide, with — as of the end of last year — more than 1,200 courts in 28 provinces and municipalities opening registered accounts on Taobao to dispose of seized assets. So far nearly 190,000 auctions have been completed, according to a report from Taobao.
Looking for a repossessed luxury car that once belonged to a government official? Taobao just might have one on the auction block, selling for a mere fraction of the vehicle's market value. Other items up for grabs run the gamut from used cell phones to unused land to hundreds of live pigs. The most expensive item auctioned online to date was a tract of land in central Hubei province that fetched 432 million yuan ($66 million) by the time the auctioneer's gavel sealed the deal.
Most criticism of the old system centered on a lack of transparency in the ways courts handled seized assets. Transaction prices, for example, were often far below the actual value of the items being auctioned. Moreover, court employees and auction companies have also been suspected of making under-the-table deals to sway auctions in their favor.
Lu Weixing, head of the division that handles Taobao auctions, described what he considers a typical scenario of what might have happened in the past. Before the recent crackdown, he said, courts might announce an auction using a tiny advertisement in the corner of a newspaper one day before the event. The auction might be hundreds of kilometers from the city, making attendance all but impossible for everyone but resourceful insiders.
And even if a prospective buyer managed to get to the auction site, he might then notice a menacing man dressed in black standing outside the building. "Would you dare go inside?" Lu joked.
Taobao's history dates from 2003, when it was commonly referred to as the eBay of China. But unlike the American site, Taobao's business model didn't let customers bid for used goods. Instead, it brought vendors and customers together to trade in goods at fixed prices.
The idea for an auction site didn't come until much later, when officials from Alibaba's home province approached the company five years ago with a proposal to assist in the disposal of seized assets in a fair, transparent way.
Zhejiang province has long been a center of commerce in China, having a higher proportion of private enterprises to state-owned ones relative to other provinces and autonomous regions. Following the 2008 global economic crisis, which saw a large number of Chinese companies fall into financial turmoil, many in Zhejiang shed assets to stay afloat, while others went bankrupt and had their assets liquidated.
The old system put the bulk of the responsibility on the insolvent companies themselves, and many complained about the added financial burden of the commissions — generally around 5 percent — charged by qualified auctioneers. A majority of failing companies asked for free liquidation services through auctions run by the courts themselves.
The Zhejiang judicial authorities eventually acted on this feedback and built their own auction website, only to realize that it was not attracting users. Then in November 2011, the president of the province's High People's Court contacted Alibaba founder Jack Ma to explore a possible collaborative project.
The two struck a deal. By cooperating with Taobao, the courts wouldn't have to pay anything for the online platform, which Taobao promised to develop and maintain for free. Taobao, meanwhile, stood to gain by attracting more traffic to its site. While it does not charge a commission for the judicial auctions, Taobao takes a small cut from users who come to the site for seized goods but stay to participate in non-judicial auctions as well. The Taobao auction arm covers broader categories such as business-to-consumer auctions and auctions among consumers, while limelight from the judicial sector boosts its chance to attract ordinary bidders and auctioneers.
According to the province's official judicial affairs website, Zhejiang courts auctioned 16,542 items on Taobao in 2015. Of this number 90 percent were successfully sold to bidders. The same website calculated that the Taobao service saved buyers in Zhejiang more than 770 million yuan in commissions in 2015.
The Taobao platform prides itself on transparency, as auction information — such as bidder registration details, payments for deposits, and bid history — is open to the public. Furthermore, during the online auction process, the bidder's identity remains hidden in an effort to curb the bidding collusion that often occurs in traditional auctions.
Josh Gartner, senior director of international communications at JD.com, another online e-commerce platform, said greater transparency hinges not on having the auctions online, but on the platform having sufficient credibilty to deal in the business. "It's not a question of being online or offline, but of whether one is working with companies that have strong track records of providing trustworthy and authentic products," he said. Gartner said in March that JD.com is potentially open to expanding into different kinds of auctions in the future.
Having witnessed Zhejiang's success, courts from other provinces soon began contacting Taobao as well. Lu estimates that more than 90 percent of the judicial auction platform's users have signed up in the period since Xi Jinping's rise to power and the subsequent implementation of an unprecedented anti-corruption campaign.
[node:field_quote]
One major city that has resisted the mass migration to Taobao is Chongqing, one of China's largest municipalities, which has established its own model for judicial auctions. The city requires that all auctions of confiscated goods be conducted by an online, municipally controlled United Assets and Equity Exchange.
The Chongqing model was considered by Zhejiang in 2010. However, Zhejiang thought the online judicial auction could be still more transparent and thorough. Rao Wenjun, commissioner of judicial authentication of the High People's Court of Zhejiang, said that for his province's courts, Taobao's hundreds of millions of users were a big draw.
Taobao's Lu added that his company provided a third-party platform that would allow government officials to steer clear of claims of bias. "Taobao is providing a platform where government officials won't have any opportunity to make political mistakes," he said. Increasing the transparency of the auction process reduces the opportunity for corruption.
Nie Zong, deputy director of Zhejiang Higher People's Court Executive Board, explained how judges have made political mistakes in the past. "For example, the court gave out seized items to a favored auction company, and then the judges split the commission," he said.
While Taobao may have dragged the courts out of a spot of trouble and helped to reduce the possibility of corruption in the judicial auction process, some challenges remain. Chief among these is how to get more ordinary people using and benefitting from the auction platform.
Taobao aims to redouble its efforts to promote its auction platform to a new demographic of consumers in 2016. Commissioner Rao's suggestion is that Taobao strengthen its search function so that buyers can find exactly what they want from the more than 1,100 participating courts.
Despite facing no competition at present, it seems unlikely that Taobao will be able to retain an effective monopoly indefinitely. Commissioners Rao and Nie of the Zhejiang courts also believe it's not a good idea for all the courts in China to join the same online auction platform, and they expect to see more players enter the market in the coming years. "Positive competition motivates all the players to up their game," said Rao.
(Header image: Luxury cars that once belonged to government officials wait to go under the hammer in Beijing, Feb. 1, 2015. Li Kun/Sixth Tone)