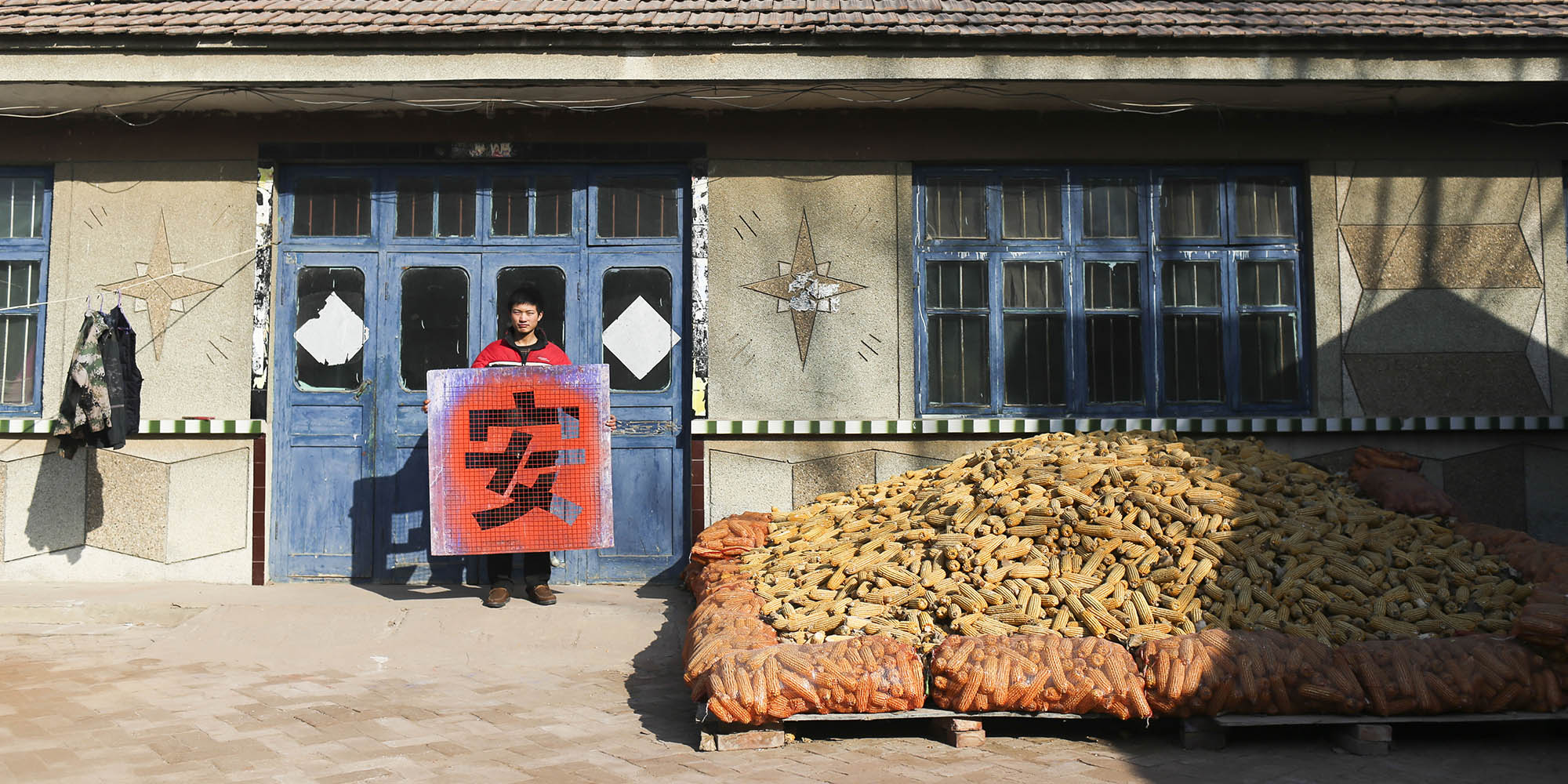 FEATURES
For E-Commerce in Rural China, The Writing Is on the Painted Wall
An online platform is taking cues from China's practice of slogan-painting to inject life into the countryside.
Like the other 19 homes in Xiaoliu village, there is nothing high-tech about the Liu family home. The small bungalow is surrounded by farming equipment and mountains of corn, the local crop. Inside, an enormous coal-fired stone bed — the centerpiece of almost every household across rural northern China — dominates the main living space.
Yet this is the home of Liu Hui, a 21-year-old corn farmer who, back in April 2015, was elected as the local representative of a 320,000-strong national network of village Internet officials.
True to his generation, Liu peppers his text messages with emojis and opts to share his GPS location rather than waste time giving verbal directions to his tiny village, which sits between flat, dry fields in the dusty south of China's northern Hebei province. Yet his job is not to keep up with the latest technological fads, nor is "village Internet official" a title bestowed on him by the local government.
Instead, these "officials" are the "boots on the ground" for China's largest rural e-commerce website and digital services provider, Cuncunle, or "joy in every village" in English. Liu is one of tens of thousands around the country bringing Internet technology to his family's sideline business, and he's doing it by spray-painting advertising slogans on bare walls in the surrounding countryside.
Of course, this is by no means e-commerce's first foray into China's countryside. As consumers, China's rural population has access to online shopping platforms like Taobao and JD.com, albeit not as readily as their urban counterparts. As producers, residents of China's countryside have become huge players in the recent rise of "Taobao villages" — concentrated production centers for China's Amazon-like online marketplace.
Cuncunle is treading on new ground in that it is tapping into agricultural practices — like spray-painting advertisements on village walls — that already exist, with the intent to use Internet technology to streamline such operations and ultimately increase revenue.
In China, painting messages on outdoor walls is big. The practice has its roots in the Red Army, which was slathering political slogans onto walls as early as the 1920s (though many will associate the practice most closely with the aggressive propaganda campaign of the Cultural Revolution in the 60s and 70s). While political slogans — a striking mural on the outskirts of Liu's village reminds locals to "carry out fully the task of bettering the village's image" — live on in more muted language, the vast majority of wall paintings today are advertisements.
Cuncunle has tapped into this countrywide phenomenon, providing an interface that connects clients with rural Internet officials, or "station masters," as they call themselves. A design brief, including size, colors, font, and preferred location, is sent through Cuncunle's website or app to Liu, who then spends his own money on spray paints, stencils (cut in the nearest city, Dezhou), and any rent demanded by the wall's owner. Station masters can either subcontract to local workers or shoulder the assignment themselves, as Liu prefers.
Since becoming his village's station master in 2015, Liu estimates he has painted around 140 walls — most greater than 20 square meters in size — through the scheme. With an average profit of around 50 yuan ($7.50) per wall, Liu can easily make 500 yuan in one day.
Though it might not sound like much, this is a huge amount of money compared to what the family earns from selling the crops grown on their allotted 3 acres of land. In the best-case scenario, the year's crops will bring in 20,000 yuan ($3,000). Liu is especially grateful for the extra income from Cuncunle this year. Citing a market that favors cheaper corn from abroad, Liu says that after five months his family has not yet managed to sell a single cob from the stagnating pile of corn outside the house.
When Cuncunle went online six years ago, founder Hu Wei, now 40, did not envision that it would bring such tangible benefits. From then up until the company entered the rural advertising business last year, the site was little more than a social networking platform built solely for rural netizens. Yet Hu's faith in technology has been a constant throughout the growth of the site. "When those at the very bottom of society are able to understand e-commerce and entrepreneurship, when they can use smartphones and connect with the big world of the Internet, I believe China will be full of vitality and hope," he says with a soft voice that belies his enormous ambitions.
Liu shares similar hopes for the role of technology in his country's future. Explaining his motivation for joining the scheme, he reiterates one of his favorite mantras: "All I want [from Cuncunle] is for ordinary people like us to truly benefit." Yet like all new Internet-based business models, the scheme is not without its problems. The Liu family has only just received full payment four months after completing a 100-wall job that featured a well-known U.S. car brand.
[node:field_quote]
Ru Jianjun, director of operations at Cuncunle, is keen to emphasize that the platform strives to protect the interests of all its users, telling Sixth Tone that a delay in payment would not happen without a good reason. "The quality of the paint job, late completion — these are factors that can contribute to payment issues."
Liu has been kept in the dark about whether his work fell short in any way, and he claims he was never given an explanation for the late payment. It was only after direct contact with CEO Hu that the matter was resolved. The two have kept in regular contact through messaging app WeChat ever since Liu saved Hu's contact information from an article about the entrepreneur.
Despite the trouble Liu has had with late payments, he still holds Hu in high esteem. When Liu was invited last July to attend a conference held for select members of the Cuncunle community, he presented in person a xiangqi, or Chinese chess, set to Hu, along with an explanation of how each chess piece could be seen to represent a particular role in the Cuncunle community. Naturally, Hu was the jiang, or general.
Hu's image among users of Cuncunle is helped in no small part by his own rural background. His office, replete with a mini putting green, oversized glass paperweights, and floor-to-ceiling windows, screams "high-level executive," although he is quick to stress that he sees himself as a villager above all else.
The way Hu's eyes wander and his voice slows as he recalls swimming in ponds and catching birds as a child is almost cinematic. "Villages have lost the sense of purity and simplicity they once had," he says. "When I was little, villagers would all help each other. We'd eat noodles today at my home, dumplings tomorrow at yours."
Hu's nostalgia has political undertones. Despite China's diminishing economic growth, migration to cities from the hinterlands has continued on a colossal scale, leaving behind so-called "hollow villages" in its wake. Amid recent government efforts to counter this drain, the government has started to encourage those away from their hometown to return and pursue local employment opportunities.
As such, the term xiangchou, or nostalgia for one's childhood home, has been woven into political rhetoric, becoming one of Xi Jinping's rural policy buzzwords of 2015. The campaign has manifested in local initiatives across the country, with the city of Chengdu, for example, considering plans to provide interest-free loans of up to 100,000 yuan to all those who return to their hometowns to start businesses.
While Cuncunle self-identifies as a flag bearer of the movement to empower the poorest in rural areas to diversify their sources of income, results have been mixed. Alongside the wall-painting scheme, Cuncunle also offers online channels for users to sell their wares directly to buyers, rather than trading at brick-and-mortar locations. Yet as efforts by digital platforms like Alibaba to do the same have shown, such a model tends to benefit only sellers of local delicacies. It is farmers of dates in Xinjiang or goji berries in Ningxia that benefit, rather than farmers like the Lius, for whom climate and soil type limit crop options to common staples like corn and wheat.
Cuncunle CEO Hu is keen to emphasize that his company doesn't claim to be a panacea, stating that "technology can only be part of the solution to the problems of China's countryside."
For Harvard business professor Michael Chu, however, Cuncunle is pointed firmly in the right direction. A specialist in low-income sectors, Chu is currently incorporating Cuncunle as a case study for MBA students at the Harvard Business School. For Chu, Cuncunle's strength is that its users can be active agents in every transaction, interacting directly with the business world of China in ways they couldn't before. "Cuncunle is connecting companies' products with the villages of China in a way that is much more direct and in a way that skips various stages of the supply chain," says Chu.
Cuncunle's model may not be simple enough for all, however. When it comes to e-commerce, Liu's 58-year-old father Liu Yingxi is more taken by the convenience of online shopping than by the tepid fortunes of their Cuncunle endeavor. "My son buys everything online, and at good value," he says. "You transfer the money, and they deliver to your door. It has really won over common people like us."
China's e-commerce world is referred to by its proponents as the "blue ocean" — an expanse of immediate opportunities for all those brave enough to test its waters. For now, however optimistic Liu may be, he is reluctant to commit himself completely to e-commerce. "Everyone is always going on about this blue ocean," he says. "A lot of the people who have jumped in can't climb their way out."
With contributions from Li You.
(Header image: Liu Hui holds the stencil of the character 'an' — or 'peace' — in front of his house, Jan. 4, 2016. Li Kun/Sixth Tone)