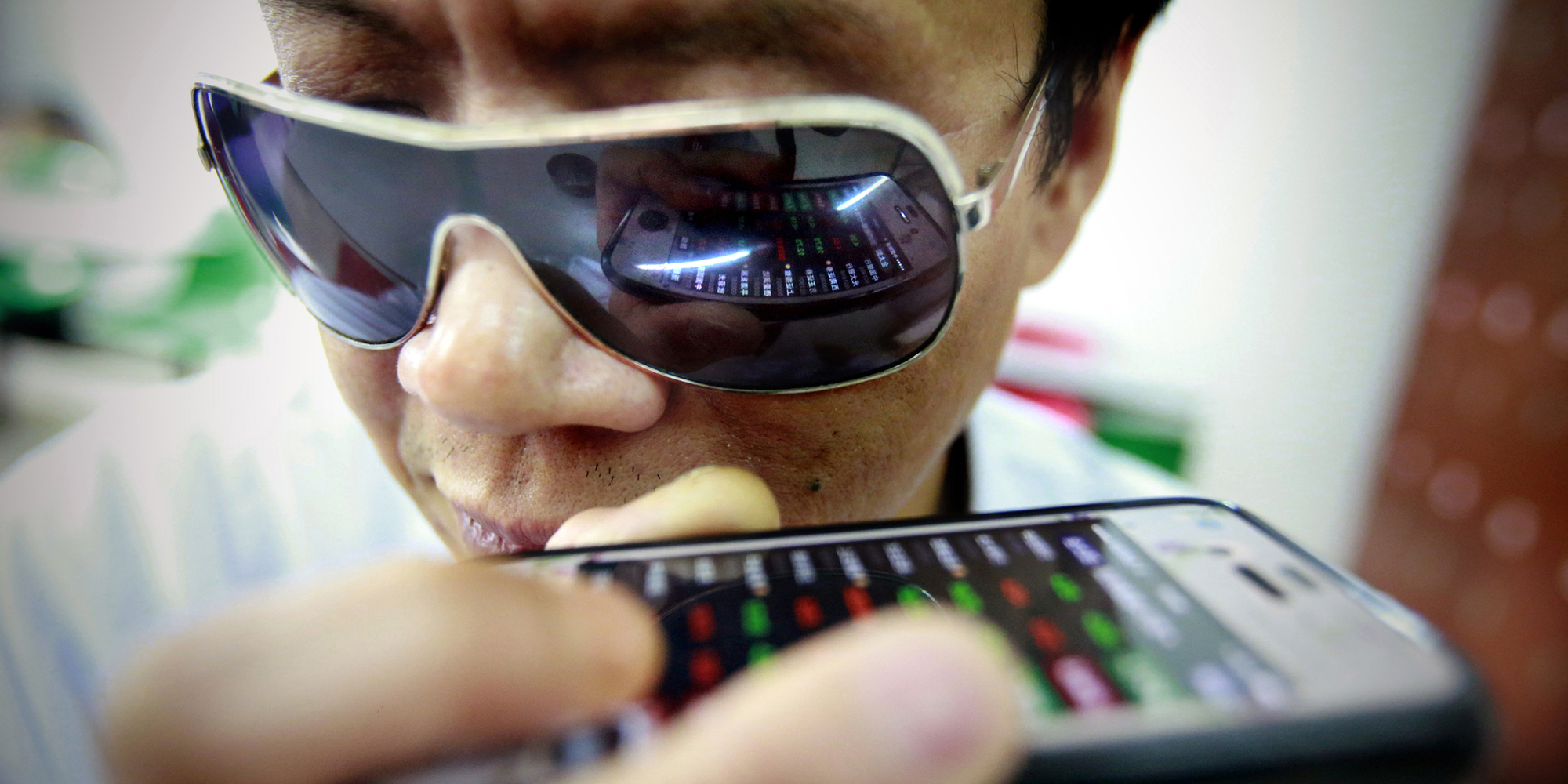 FEATURES
Blind Advocates Share Vision of Smarter Tech
The blind use apps and surf the Web too, but many smartphone tech developers are inadvertently shutting them out.
Smartphones, with their big screens and few buttons, would seem to be designed exclusively for those who can see. However, many of China's estimated 8 million blind people are nonetheless enthusiastic users. Taking advantage of software that turns what's on the screen into spoken text, they can do pretty much anything sighted people can.
"Smartphones are essential," said Chen Yan in an interview with Sixth Tone. Chen, born visually impaired and now completely without vision, is the chairwoman of a local Beijing association for the blind and the author of a book on what it's like to be blind. She relies on screen-reading software, for example, to use the popular Chinese messaging app WeChat. However, many apps she uses don't always work well with screen-reading software, and go silent, or crash.
That's the pitfall for blind people: All too often smartphone producers and app makers overlook their visually impaired users and neglect the functions they need the most. Luckily, tech-savvy watchdogs are making sure developers don't forget about them.
A pioneer of this movement is Gu Linglei. Blind since birth, Gu has turned his disability and enthusiasm for electronics — also lifelong — into something of a mission. Ever since he taught himself how to use a computer, and later a smartphone, Gu has been trying to improve the experience for blind people by writing special software, giving advice, and teaching classes. Also, whenever he runs into an app or a website that cannot be used easily by visually impaired people, Gu tries to convince the developer to make its product more accessible.
Visually impaired people like Gu interact with computers and smartphones by having a voice read out what's on the screen. On a computer they use the keyboard to select a certain element, such as the address bar in a browser or a block of text on a website, which the software then describes out loud. Smartphones work similarly. Gu's iPhone is set to "VoiceOver" mode, which allows him to select elements by swiping left or right anywhere on the screen.
This might sound time-consuming, but the screen reader speaks surprisingly fast. Set at its top speed, Gu's iPhone rattles off five syllables per second. Nonetheless, the visually impaired community is constantly asking Apple to speed it up. Gu's computer, comprehensible only to trained ears, speaks nearly twice as fast.
Screen-reading software such as Apple's VoiceOver relies on programmers properly labeling everything they create, something they often neglect to do. For an example of an app that is inaccessible to blind people, Gu shows a news app that opens with a welcome message and a "Skip" button. But of course, Gu cannot see this. Due to sloppy programming, the screen reader cannot find this button either, and when Gu moves his fingers across the screen, all he hears are error sounds. (The app's developers have promised to address this issue.)
[node:field_video_collection]
When Gu first started using computers, he, like many in China, quickly found himself buying more and more things on Taobao, China's biggest online marketplace. For blind people like Gu, e-commerce is a godsend. "When buying something in a physical store, you have no way to find out what's written on the package," said Gu. "Buying online is much more convenient. Whatever you want to know, you can easily find it online."
Gu eventually got the idea to open his own Taobao shop, selling microphones, sound cards, speakers, and other audio equipment. Gu's shop did well until Taobao updated its website and many functions were suddenly unusable to him. After a fruitless telephone conversation with customer service, Gu had a friend bring him to Taobao's head office in Hangzhou, the prosperous city in eastern China where Gu happens to live. At Taobao an emergency meeting was called, and the company sent a group of programmers to Gu's house. The problem was solved within a day. "They thought the matter was very important," Gu said.
Gu has since come across all kinds of similar problems. When blind friends from abroad told him the iPhone comes with good accessibility features, he bought one too, but ended up disappointed. "My blind friends all said the iPhone was convenient, but I didn't think so at all," he said. Though Gu enjoyed the built-in accessibility functions, most third-party apps were not designed to make use of them. He started contacting the developers of these apps, often seeking out tech employees directly through social media. Apple did not respond to a request for comment by Sixth Tone.
Today Gu collaborates with a handful of friends from all over China, thoroughly testing updated versions of popular Chinese iPhone apps and reporting back to the developers. "I didn't mean for it to become a big part of my life, but it has," Gu said. However, some companies have been more receptive to the feedback than others. Alibaba, the parent company of Taobao, now lets Gu's group test new versions of its apps before releasing them to the public. But the majority of companies ignore Gu. "They think it takes a lot of effort to make their apps blind-friendly, but in fact it doesn't — all they have to do is follow certain guidelines."
One area where China lags behind other countries is legislation. While China's 2008 "Law on the Protection of Persons with Disabilities" does state that the government has a responsibility to provide books in braille, it does not include provisions for computers or smartphones. In the United States and other developed countries, companies and governments are required by law to make their products and services, including websites and apps, accessible to blind people. American organizations for the blind have successfully lobbied companies to make their websites compliant, in some cases even taking the offending party to court.
Some Western companies have an alternative approach to how blind people can use their smartphones. By foregoing an interface designed for people who can see — an unnecessary middle step for blind people — these companies develop apps designed with blind people in mind from the start, letting users converse with their smartphones instead of just listening to a screen reader, for example.
For many Chinese companies, however, screen-reading software is the current challenge. Zhang Hailin, nearly blind due to early-onset glaucoma, an eye disorder that damages the optic nerve, does something similar to Gu Linglei, but for Google's Android platform. Like Apple's iOS, Android comes with a screen-reader feature, "TalkBack." The problem is that smartphone manufacturers customize the Android software to distinguish themselves from competitors. Unfortunately, some Chinese smartphone makers pay little attention to accessibility features in the process. Google did not respond to a request for comment from Sixth Tone.
Recently, Zhang and a group of like-minded people managed to convince Xiaomi, one of China's biggest smartphone makers, to push through some crucial updates. "It's still not perfect, but they have the intention to improve," said Zhang.
[node:field_quote]
Xiaomi has given the accessibility features of its version of Android, called MIUI, renewed attention since November 2015. Various teams have been working on adding the necessary labels throughout MIUI to accommodate screen-reader software. "As it turned out, adding these labels wasn't that complicated," said an employee who declined to be named as he was not authorized to speak on the subject. "Nobody had paid attention to this before." Xiaomi did not respond to a request for official comment from Sixth Tone.
To Zhang, proper access to technology such as websites and smartphone apps is essential to visually impaired people because it allows them to have an online life in which they are just as capable as sighted people. He calls this a human right: "Society sees us as disabled people, but why are disabled people disabled? It is only because there are barriers that keep us from taking part in society like normal people that we are disabled."
In her daily work Chen Yan tunes pianos and uses the Internet to run her business. Chen visits clients by public transport, taking her guide dog Jenny with her. Sometimes this leads to indignant comments. "Why do you take a dog with you during rush hour?" Chen quoted. "Are you trying to show off?" On the Internet, Chen doesn't have to deal with such discrimination. "Online I won't tell anyone that I'm blind," she said. "I just talk to people."
Most of Gu's customers on his online Taobao store don't know he is blind either. Packages are sent straight from the factory, and Gu can manage the whole process from his smartphone. But even though technology has made it possible for Gu to live a rich life without having to leave the house, the best feature of the Internet is the outdoors. "Going outside is much easier now," said Gu. "I can use an app to find a taxi, for example, or a navigation app when I'm walking somewhere."
Despite the bugs and occasional setbacks, Gu remains optimistic, believing that the advent of the Internet has done wonders for the lives of the blind. "It has brought us closer to regular people," he said.
(Header image: Hu Xun, a blind masseur catches up on stock market news using his smartphone in Wuhan, Hubei province, Jan. 13, 2015. VCG)