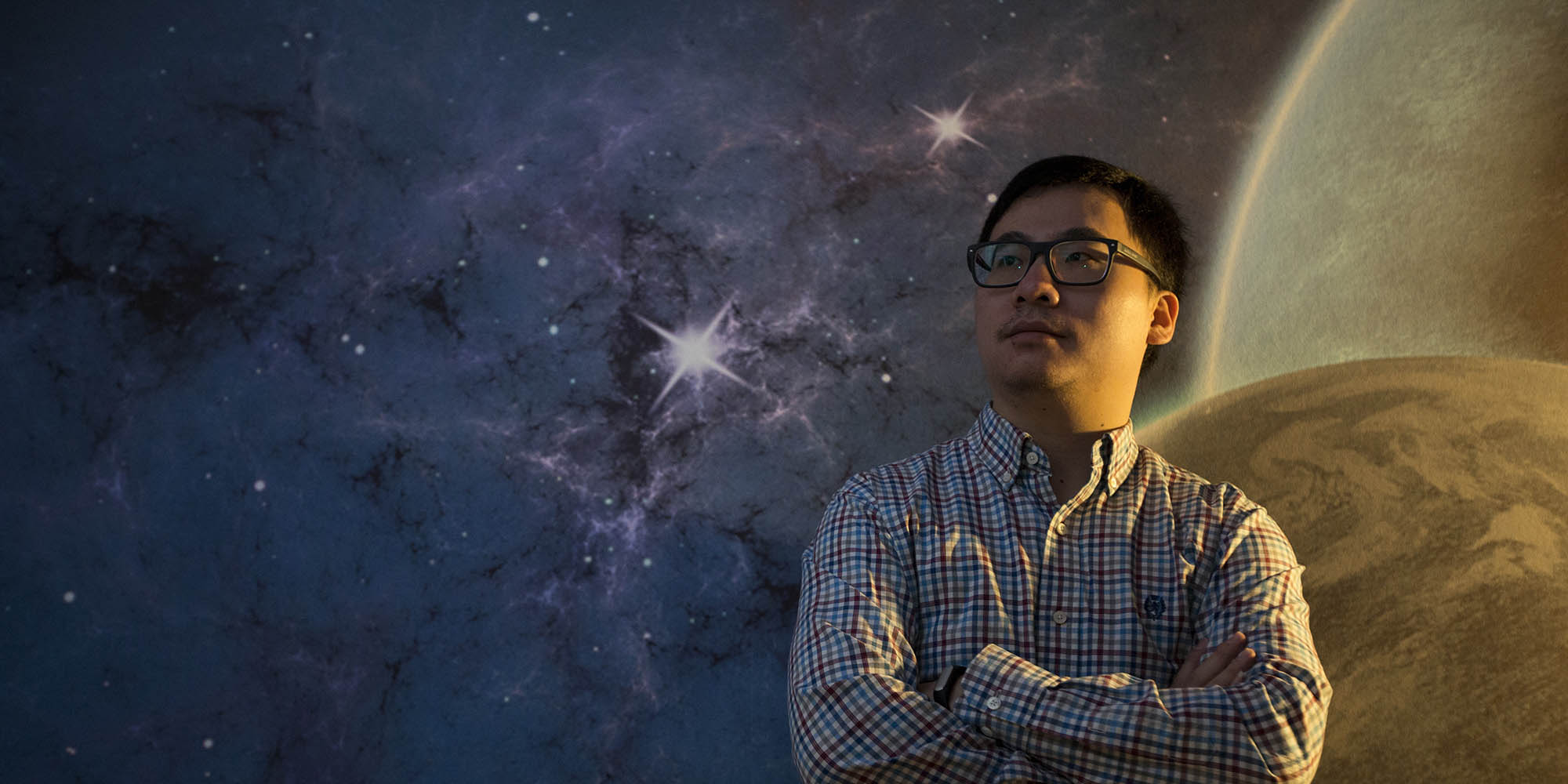 FEATURES
Sci-Fi, He Wrote: The Double Life of Judge Zhao
Judge by day and author by night, Zhao Jun offers online readers a rare look into China's complex legal system.
Aliens are among us, they are maladjusted sociopaths, and they keep running red lights. This is the premise of "Jinling Area 12," a science fiction novella that, after appearing online in late 2014, was quickly shared, reposted, and read by hundreds of thousands of Chinese netizens. The story is full of unexpected turns, but for many readers the greatest plot twist came when they discovered that author Zhao Jun is actually a judge.
In a recent interview with Sixth Tone, Zhao said he can understand people's surprise. "A lot of people think judges are bad, lazy people who do nothing all day and dabble in corruption at night." The reality is different, according to Zhao, who works at a senior-level court in Nanjing. "The vast majority of judges are fair, and the few cases of judges who aren't get blown out of proportion," he said. This disparity between perception and reality inspired Zhao to become a part-time author in an effort to educate readers about all things legal.
Zhao's writing offers a unique window into China's legal system, where discipline is strict and the only information ordinarily available to outsiders — official legal documents — makes for dry reading. Zhang Haoshu, a colleague and fellow judge, put it this way: "Even though there are more than 200,000 judges in China, there are very few people who can put the reality faced by China's judges into writing that's interesting enough to appeal to the public."
[node:field_quote]
Using a pen name, "Gui Gongzi," initially offered Zhao anonymity, but since the success of "Jinling Area 12," and the awards and interviews that followed, many now know who he is. As a result, Zhao has to juggle two identities. "One time I was in the elevator at work and the chief judge stepped in and called me Gui Gongzi," he said. "It was embarrassing." To most people he is "that author who's a judge," but to his colleagues in the legal field he is "that judge who writes."
A big fan of everything science fiction — there is no superhero movie he has not seen — Zhao likes to give his writing a futuristic touch. He wrote "How Would a Judge Survive on Mars?" based on the movie "The Martian," and in "Jinling Area 12" famous Nanjing crime cases are committed by aliens out to destroy society. (Jinling is an old name for Nanjing.)
The story starts with a taxi driver picking up a somewhat peculiar passenger at a subway station. After a while, the passenger starts talking about a mysterious "Area 12" located beneath Nanjing's Olympic stadium. There, the government is working on a secret program involving aliens. The driver is skeptical, naturally, but after a while he does not know what to believe — and neither does the reader.
The original purpose of the story, as with almost everything Zhao writes, was to educate people about the law. "My starting point was that I really hate people who run red lights, so I wrote that they are all aliens," Zhao said. Just like dogs, aliens cannot see colors, one of the characters in the book explains.
Zhao also wrote some well-known Nanjing court cases into the story, such as the "good Samaritan" case. In late 2006, a man named Peng Yu helped an elderly lady after she fell off a bus and even paid for her medical bills. The lady ended up suing Peng, saying he had pushed her. The court agreed. This verdict became an object of public scorn and left many in China with the impression that helping strangers could get one into trouble. However, disclosed court documents later revealed that Peng admitted to pushing the lady, meaning the court had ruled correctly.
In "Jinling Area 12" Zhao weaves fact and fiction together so convincingly that some of his more gullible readers have assumed the whole story is real. "Some people have asked me how I know all this inside information," said Zhao. "I tell them it's all just nonsense, but they say I can't have made up all those details." Several people, already convinced there are aliens among us, saw his story as further proof. Zhao has since received all kinds of photos of what are supposed to be UFOs and crop circles.
Zhao started his writing career by posting essays online, usually commenting on court cases and other topics related to China's legal system. Though "Jinling Area 12" is relatively light reading, his other works have discussed forced demolitions, public influence, and the petition system, as part of Zhao's daily work consists of replying to petition letters of citizens who feel they've been slighted by the legal system.
China's legal system is defined in official parlance as "socialist rule of law with Chinese characteristics." In practice, local governments sometimes influence rulings, and police, public prosecutors, and courts at times collaborate on cases before they go to trial — though both are practices the government has said it is phasing out. Still, the latest figures available from the country's Supreme People's Court show that China's courts convicted 99.9 percent of all criminal defendants nationwide in 2015. Of more than 1.23 million tried, only 1,039 were acquitted.
These and other imperfections in the legal system are mostly blamed on the courts, said Zhao. Judges are the final authorities in the legal process, and any errors made along the way — such as bad police work or confessions made under duress — end up on their plate. "There's a saying in the legal field," said Zhao. "'The police make the food, the prosecutors serve the food, the courts eat the food.'" By the time a case goes to court there is little a judge can do to right any wrongs. "If there is poison in the food, it's the judge who dies."
Another symptom of the legal system's weakness is that it has proven susceptible to public pressure. Many high-profile cases are discussed at length in media and on the Internet. In some instances, wrongful convictions of the past are again brought into focus. At other times, sentences have differed from what the law prescribes, ostensibly due to public pressure for more lenient or severe punishment, depending on the circumstances.
The example Zhao likes to bring up is the case of Zhang Mingbao. In the summer of 2009, Zhang stepped into his car with almost five times the legally allowed amount of alcohol in his blood. He left a trail of destruction through a suburb of Nanjing, killing five, including a pregnant woman, and injuring four. Online, people were calling for his death. Zhao penned an essay on the case, explaining that, according to the law, Zhang was guilty of a serious traffic accident, which carries with it a sentence of up to seven years in prison, and, if this is unjust, then it is the law that should be changed, not the verdict.
Zhao's essay was met with disbelief and anger. Paraphrasing his online critics, he said: "Zhang should have run you over instead! You don't know what you're talking about. If it was you or your family member who was killed, would you still say the same thing?" Zhang was eventually found guilty of harming public safety and sentenced to life in prison — in Zhao's view, a verdict influenced by the loud public outcry.
Zhao uses the case of O.J. Simpson as a counterexample. Although many were convinced beforehand that Simpson was guilty, public opinion did not influence the verdict. "People probably thought justice had not been served, but because they were aware of the rules, they knew the case was closed," he said.
Zhao's experience with the Zhang Mingbao case made him realize that short essays might not be so effective at convincing people. In late 2009 he started working on a novel about the daily life of a judge, showing people how China's courts work from the inside out. He posted the chapters online as he wrote them. Soon publishers were calling to ask if Zhao wanted to publish a book instead. He did. Ten thousand copies of the novel "No Compromises" were printed, which brought Zhao a small following of mainly legal professionals and law students.
Greater success came five years later with the publication of "Jinling Area 12." By now, the novella has been read by almost 400,000 people via Zhao's public account on messaging app WeChat, not to mention the countless individuals who read the book on any of the various message boards to which it was posted without attribution. Though Zhao never thought of himself as a science fiction writer, he nevertheless won two science fiction awards for his novella. A Shanghai company is currently working on turning his story into an Internet television show or possibly even a movie.
Zhao's success as a writer has also resulted in a small financial windfall — and a very welcome one, as his salary of 5,000 yuan per month (around $800) is significantly less than the average income in Nanjing. China's judges jokingly compare themselves to migrant workers: long hours, low pay, and no status. But it's not just a joke, said Zhao's friend Zhu Shunyao: "Migrant workers can also make five or six thousand yuan a month. The only difference is judges dress a little better."
When Zhao had just started working at the court, the low pay and lack of status made him think he perhaps ought to have chosen a different career. His peers also encouraged him to find a better-paying job. Ultimately, though, Zhao's parents convinced him to stay put. Older generations see being a judge as a stable, well-respected job, but younger generations tend to disagree. Zhao's wife, for instance, never refers to him as a judge. Instead she prefers "author," or just, "He works at a company."
To keep grinding away in the courthouse for little money and little recognition means you have to be an idealist, and Zhao, according to his friend Zhu, "is 100 percent an idealist." However, becoming a parent has led some of Zhao's colleagues to leave the courts for more lucrative jobs at law firms, something Zhao said he might consider too if the bills start piling up.
In any case, Zhao will continue writing. "I hope I can prove that people have the wrong impression," he said. "Judges are nice people — people you can be friends with. They're not as bad as you might think."
(Header image: Zhao Jun stands in his newly decorated study in Nanjing, March 20, 2016. Cai Dunhao for Sixth Tone)