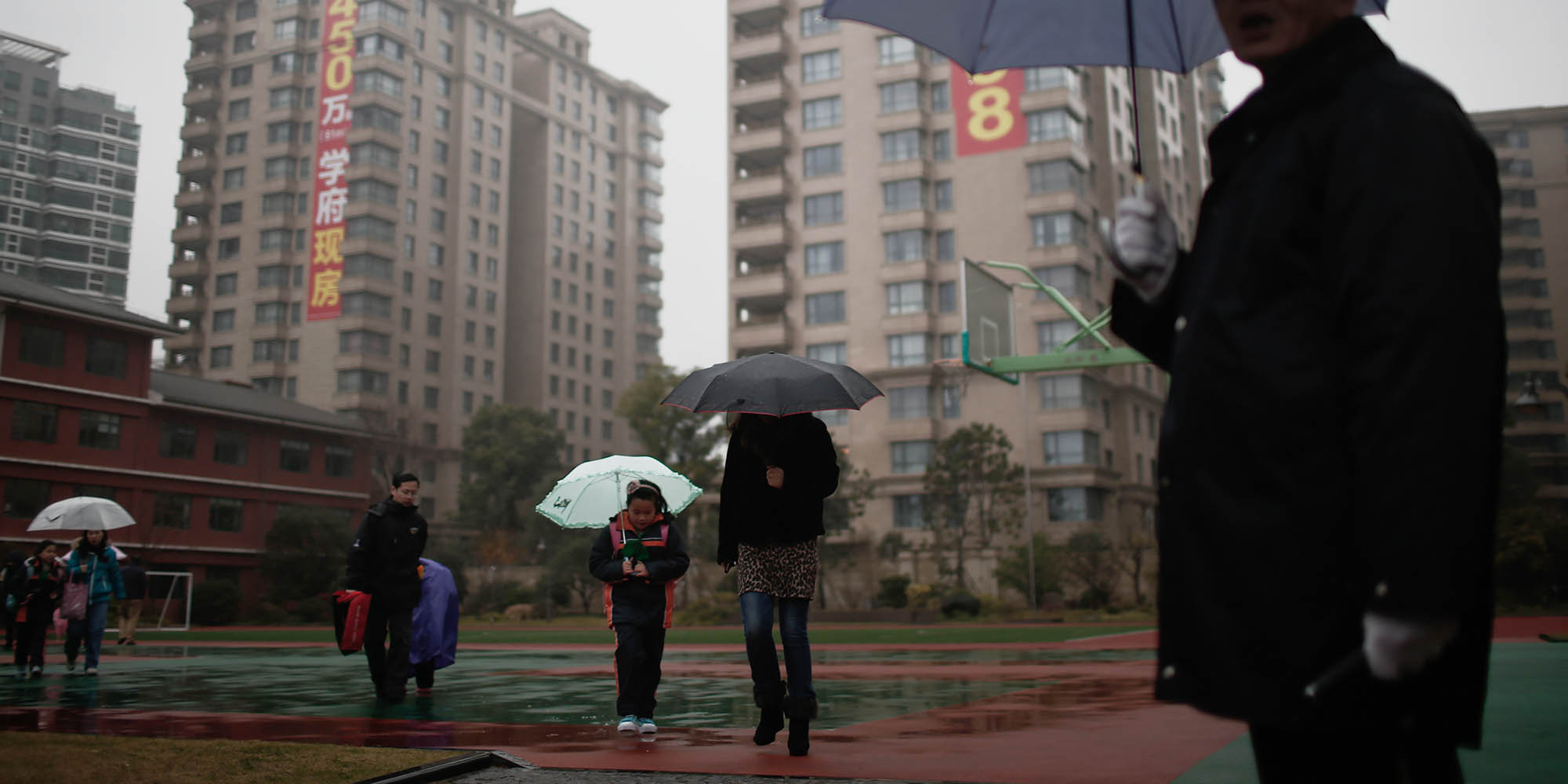 VOICES & OPINION
For Sale: A Room with a View of a Top School
Increased competition for education in Shanghai is driving apartment-price hikes in districts with reputable schools.
It isn't uncommon for young Chinese couples to buy a house for their wedding. Traditionally, young couples would go from living with their parents straight into their new home. A house shows that you're ready to settle down. Thus, I wasn't surprised when I encountered a young, unmarried man searching for an apartment — until I learned he was buying it for a child that didn't even exist yet.
Here's the story:
One night in late December 2015, my wife and I were led into a small conference room above a real estate agency. We had been planning on selling our apartment. One of the buyers — a man with glasses, around 26 or 27 years old — nodded shyly to me. He was young and handsome, but very reserved.
He was one of two buyers that had chased us all day long.
Several days earlier I had put my one-bedroom apartment up for sale. Almost immediately my cellphone was bombarded with calls from hundreds of real estate agents. This was because my property was one of China's "school district apartments." China's system of registration — the hukou — ties residents to their homes. Location is an important consideration for parents when buying property, because their children can only attend the public schools in their local area. Since the quality of public services, such as education, vary from district to district, apartments are more expensive in areas with better established schools. The public schools near our apartment had good reputations, which made my apartment extremely desirable to young couples. A hukou registered at my location would ensure parents a high-quality education for their children.
[node:field_quote]
Now back to the conference room.
The young man sat in front of me. I found out that he and his fiancée wanted to buy the property in consideration of their future child. They weren't even married yet, but were already worrying about the school district issue. Unfortunately, they could only afford a down payment of 30 percent and would have to rely on a mortgage for the rest.
When we were about to leave, my wife and I were accosted by another buyer waiting outside. His agent had been calling us all day. They were a couple around 30, more mature than the young man and his wife, and more determined to get it. The husband had brought 200,000 yuan ($30,650) in cash to lay down as a deposit and offered a one-off payment for the rest.
Their son was only 1 year old, but they wanted his hukou registered in my apartment as soon as possible. Educational registration policies change overnight in China, which means quick action must be taken.
Before this, I didn't realize how frenzied people had been getting over school district apartment hunting. Every family in Shanghai would like to send their children to good schools. However, growth in income and population levels correlate to a greater competition for limited spots at high-ranking educational institutions. Apartments in districts with good public educational facilities are highly sought after, since children are guaranteed a spot at their local school. There are even cases of people buying apartments that they don't live in just to be able to register their hukou in a desirable area.
The Shanghai government has begun taking measures to relieve pressure on educational institutions by gradually restricting school district apartment policies. The quota of entering public schools for each apartment may only be used once every five years, and the apartment must be bought three to five years before the quota can be used.
However, this policy only makes the school district apartments more valuable. Currently, the unit price of first-tier school district apartments is almost 100,000 yuan per square meter, which is almost 17 times higher than the average monthly salary in 2014 of a Shanghai resident. This means that an ordinary resident would have to work one and a half years to be able to afford one square meter of such an apartment. Comparatively, a second-tier school district apartment sells around 60,000 to 70,000 yuan per square meter.
"Since policies change so often, it's a bit of a gamble," the potential buyer told me. "But at least buying an apartment in Xuhui means we can transfer our hukou from Pudong." Xuhui district — the location of my apartment — traditionally has far better educational facilities than Pudong, which means that even if policies change, Xuhui will most likely still be the better location in which to be registered.
Chinese parents, especially from emerging middle class families, make great efforts to ensure their children receive the best education possible. Most middle-class parents have come to Shanghai as migrants from second or third-tier cities. They have worked themselves to the bone to get here and anything less than a first-tier education is simply not good enough.
Shanghai enjoys much better educational resources than other cities. The rate of Shanghai students entering top-ranking universities is much higher than in other parts of the country. There are also many more opportunities and programs for students to study abroad.
But having too many options can be exhausting for parents. Should they send their children to public or private schools? When and where should they send their kids overseas? Parents in China are obsessed with getting the best possible education for their children, and in many instances this just means spending more money.
We chose to sell the apartment to the more mature couple. But the expression of the young man hung in my mind. His insecurity and timid manner reminded me of myself at his age.
(Header image: The high-end "school district apartments" are seen behind an elementary school in Shanghai, 17 February 2014. Yang Yi/Sixth Tone)