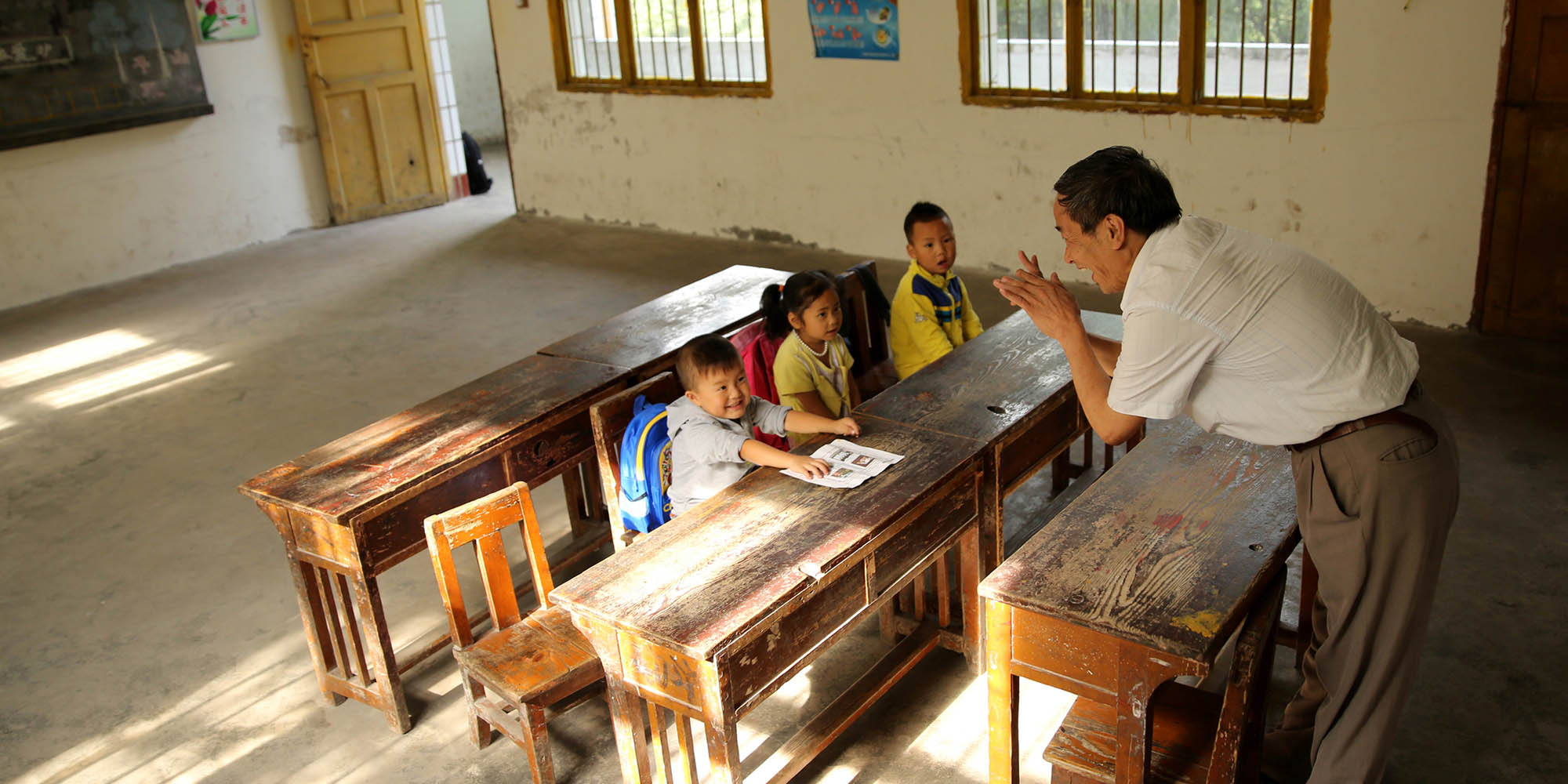 VOICES & OPINION
Sparrow Schools: The Empty Shells of China's Countryside
As many leave China's countryside for cities, schools in rural villages face severe shortages of students and teachers.
After completing the arduous process of obtaining a teaching license, my old school friend was immediately assigned to an elementary school in a small village in the Chinese countryside. As both principal and teacher, he was required to juggle administrative duties with teaching, and his subjects included mathematics, literature, and English. Completely overworked, he hardly had time to make it into the nearby city twice a month, and he seemed noticeably depressed on the rare times that we managed to catch up. The countryside felt suffocating. He had an income, yet nowhere to spend it. He desperately wanted to get out of the village.
With urbanization moving at full speed across the country, schools in rural China are losing their students. It is very common that a village school has only few teachers and barely more than a dozen students. Because of personnel shortages, teachers in these schools are often required to take on administrative duties, as well as teach subjects that fall outside the scope of their professional knowledge. This harms both teacher and student. In a reference to their size, these places have come to be known as "sparrow schools."
There are several factors that have contributed to the growing trend of sparrow schools in rural China. First of all, many teachers prefer positions in the better-equipped city schools instead of the modest facilities of the villages. Second, teachers often don't feel professionally fulfilled — it isn't uncommon, for example, for a physical education teacher to be reassigned to teach literature or mathematics. Third, the curriculum lacks variety, and many students have no access to arts or sports, which means a large number of parents decide to send their children off to the cities for a more comprehensive education. Finally, compulsory attendance in schools isn't as tightly maintained in the countryside as in cities, and many students drop out for a variety of reasons, often financial or familial in nature.
Village schools have found themselves in a vicious cycle of losing both their students and their teaching staff. Whether or not to continue running these empty shells — some of which have less than five students — has become a pressing dilemma for educators.
[node:field_quote]
In 2015, educators in Qin'an County, Gansu province piloted an education reform plan in an attempt to ameliorate the sparrow school problem. An "education station" was established in Longcheng Town, from which elementary school teachers were sent on teaching circuits to students in different villages. Office and residential buildings were built to accommodate the more than 130 teachers. Each day buses would arrive and shuttle teachers around to work at different village schools in the surrounding region. At night, everyone would return to the station and conduct academic research together.
Here at the education station, the teachers live comfortably. I visited some of the apartments where teachers live with their families. One of these was a two-bedroom unit, fully equipped with modern furnishings. The resident teacher admits, "What I'm happiest about is that our living conditions and environment are so much better than before."
There's another important change to note: Teachers no longer work for specific schools, but rather a central system. The education station maintains control over personnel changes and assigns teachers to different locations on a need basis, making full use of limited education resources even in the most remote areas.
At first glance, the plan benefits the teachers more, arguably even further marginalizing the villages and students. However, upon further investigation, it is actually a fair and sustainable system for rural communities as well.
There are 19 elementary schools — over half of them sparrow schools — scattered around the Greater Longcheng Town Area, serving a total of 1,958 students. If the sparrow schools were closed and all of their students and staff reassigned to the larger schools, the commute for many would greatly increase. Providing buses would mean picking up 387 students daily, would require 14 buses, and would amount to a daily total expense of 4,200 yuan ($644). Conversely, keeping all of the schools open, and sending the teachers out from a centralized location would require only three buses, or a daily budget of 900 yuan. In the case of the Greater Longcheng Town Area, the government can save 660,000 yuan per 200-workday calendar year by having the reduced teaching staff commute instead of the students.
Out of the 19 schools in this area, only four are close enough to town to have access to public transportation, making them easily accessible for teachers. The remaining 15 have a total of 60 classes. To provide music, art, and physical education for all of them — 456 class periods in total — would require at least 42 teachers. However, these staff can be rotated, with one teacher going to several schools, resulting in a need for just 21 teachers. The teaching circuit system has alleviated the problem of personnel shortage in the area and maximized the use of education resources.
One of the villages in the Greater Longcheng Town Area is called Shangyuan. At the gate of the village's only school, a sign that reads "Shangyuan Elementary School" still hangs, despite the fact that there are only 19 kids left — three of them pre-school age. In the past, substitute teacher Yang Chunxia served as principal. Nowadays her position is somewhat more complex as she fills in for multiple holes in her faculty, but everyone still addresses her as Principal Yang. She has worked here for 27 years, during which time she has watched countless children grow up, and generations of teachers — many of which stay only for a year — come and go.
However, since the implementation of education stations, things have started looking up in Shangyuan. Principal Yang points out how unthinkable it was in the past to give music lessons, but with the new system of shuttling teachers from a central location, even art courses have been brought to Shangyuan. Yang says, "Students are overjoyed to see more teachers. Our campus is finally filled with laughter." An Rangjin, director of the area's education station, concluded that the biggest effect of Longcheng Town's innovative project — in providing a more comprehensive curriculum for the children and keeping teachers in their specific subject areas — is that "it has eliminated the need for parents to send their kids to the city schools and prevented kids from dropping out. The problem has been solved from its root."
As sparrow schools continue to emerge across the country, local education departments often evacuate the schools or merge facilities together in haste. This doesn't solve the problem and actually only makes it more difficult for students, many of whom end up facing much longer commutes.
Rapid urbanization in China has contributed to a collective loss of faith in rural areas. People believe that leaving the villages is the only way forward. Urbanization is an inevitable trend; however, it is a process that should also be gradual and orderly, answering to the requirements of current socio-economic environments.
How do we solve problems like the sparrow schools? It's a headache both for administrators and educators. Qin'an County has offered a unique approach to balancing developments across urban and rural education systems and created a precedent for other communities to follow. With more and more people turning their backs on China's villages, Qin'an County's accomplishment has ignited a spark of hope challenging the disillusionment towards rural education, reminding us to persevere and hold on to the power of learning.
(Header image: A teacher instructs his class of three junior grade pupils how to count at Hongyan primary school, which is set on a remote mountain in Sichuan province, more than 1,500 meters above sea level. VCG)