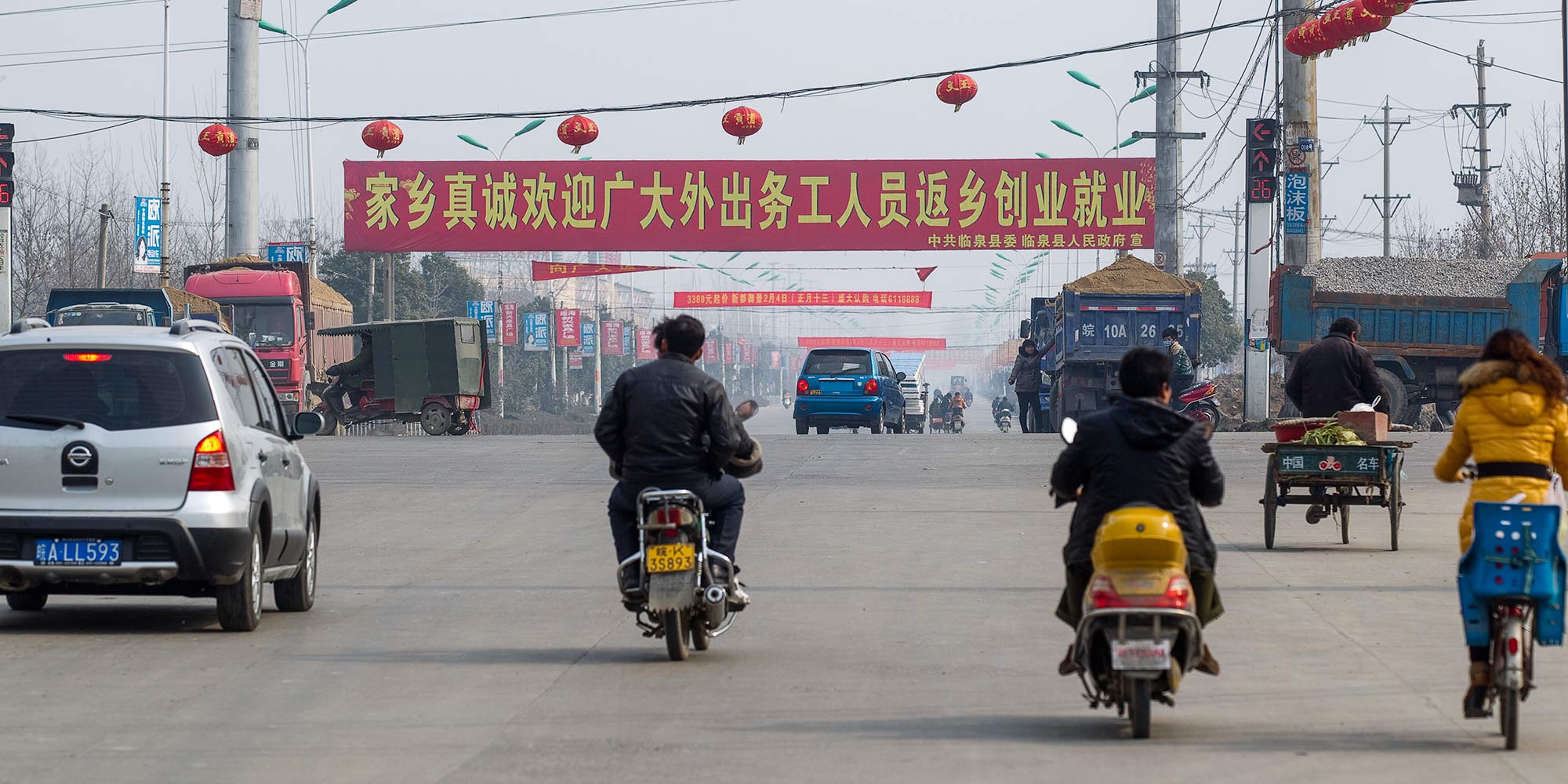 NEWS
One of China's Poorest Counties Caps Housing Prices
Returnee migrants and people flush with compensation money from relocation projects hiked county's housing prices by 28 percent last year.
ANHUI, East China — From big, modern cities to the least developed rural areas, local governments are struggling with escalating housing costs.
Linquan, China's most populous county, recently introduced real estate restrictions to keep houses affordable. The method is a relatively straightforward one: a price cap.
Housing price restrictions introduced on March 23 stipulate that, in principle, the price of "semifinished" apartments — in which rooms are usually little more than bare concrete shells — and "finished" apartments should be no higher than 5,200 yuan and 6,000 yuan ($755 and $870) per square meter, respectively. The caps are measured on average for entire housing estates, meaning that some properties can still be more expensive.
According to official data, the average house in Linquan cost 6,143 yuan per square meter in February, an increase of 28 percent compared with last year.
The local government attributed the "constantly hot" real estate market's high demand to the county's "huge" population of 2.3 million. Linquan is also one of the poorest areas in China. In 2016, more than 146,000 people lived below the poverty line, meaning they earned less than 3,000 yuan per year. Chen Ling, the county official in charge of real estate policy, told Sixth Tone that many people migrate elsewhere to work and save money for a few years, then buy houses when they return.
Another factor behind the rise in prices is that there have been several demolitions in the region over the past few years. Government figures show that 1,490 families were moved out of shantytown-like housing in 2016 alone, and the government plans for 5,000 more families to be relocated this year. When houses are demolished, residents are compensated with 4,500 yuan per square meter, or 300 yuan more if they buy a new house within one year.
"Linquan's pricing restrictions can have an immediate effect in the short term," said Yan Yue, director at E-house China R&D Institute, a real estate research center in Shanghai. "But they will also affect real estate companies' investment and sales strategies; for example, some companies might charge buyers extra 'decoration fees' that make the overall price even higher." He added that Suzhou, in the eastern province of Jiangsu, also released a price-point restriction policy in 2016 that set a limit for overall yearly increase in housing prices at 12 percent.
Linquan's housing price is also expected to go up because of a high-speed rail line from Zhengzhou, capital of central Henan province, to Fuyang, the city that administers Linquan, set to be completed by 2020.
All in all, houses have been quick to sell in the county. "It's so difficult to buy an apartment!" Linquan native Li Na told Sixth Tone. "The houses in the sales offices are all sold-out." Li eventually decided on a 120-square-meter apartment for about 780,000 yuan — a hurried decision she made because she was afraid prices would go up further, she said.
Li is just one of Linquan's 800,000 to 1 million natives who live and work elsewhere. She has a job in e-commerce in Hangzhou, capital of neighboring Zhejiang province, where she earns more than 400,000 yuan per year. "[The house] is both for living and investing," Li said, adding that her parents will live in the apartment.
Another local resident, Han Xueyong, told Sixth Tone that although his family received 572,000 yuan when their old house was demolished, they still could not afford even the cheapest semifinished apartments. "It's expensive," he lamented. Both Han and his wife are middle school teachers making 3,000 to 4,000 yuan a month, which puts them in the county's middle class. But they still feel the pressure: "We have to buy — otherwise we won't have a place to live," Han said.
Real estate researcher Yan said that housing prices have risen faster in Linquan than in some of China's biggest cities, which are usually the most desirable markets. In 2016, housing prices increased by 10 percent in China, while in the biggest cities, they went up by 20 to 30 percent.
With the astronomical housing prices in cities like Beijing, Shanghai, and Shenzhen, municipal governments across the country in March introduced measures to curb prices and deter speculators.
Online response to the new policy has been mixed. Some commenters opined that housing prices should be set by the market and not by the government, while others saw the measure as a gesture of goodwill to China's poorest. "I was moved to tears when I read the headline," wrote one supportive net user. "This is what should be called a government for the people. It doesn't guarantee that everyone will be able to afford a house, but at least it prevents houses from being used as tools to make huge profits."
Editor: Kevin Schoenmakers.
(Header image: Vehicles on a road in Linquan County, Anhui province, Feb. 4, 2012. Xu Haifeng/Sixth Tone)