China's population is aging at an unprecedented rate. By 2050, the number of over-60-year-olds will have risen from today's 200 million to 500 million. The forecast presents many problems, from a shrinking workforce to burdensome pension payments, but the strain on the nation's health care system is one of the main worries.
As the population grows and ages, the government is building more and more hospitals. More than 10 are "super hospitals" — institutions with over 4,000 beds. And yet, the system remains overburdened.
William Haseltine believes he has some of the answers. A former professor at Harvard Medical School, he is best known as a pioneer of genomics, and for his cancer and HIV/AIDS research.
Haseltine is also the founding president of ACCESS Health International, a nonprofit think tank working to reduce health disparities. His work frequently takes him to China, where he advises local governments on reforming the health care system. "We have solutions to many health problems — I would say the majority of them — but we don't have full access to them," he told Sixth Tone. "That's a tragedy. It's a tragedy for medicine, and it's a particular tragedy for families."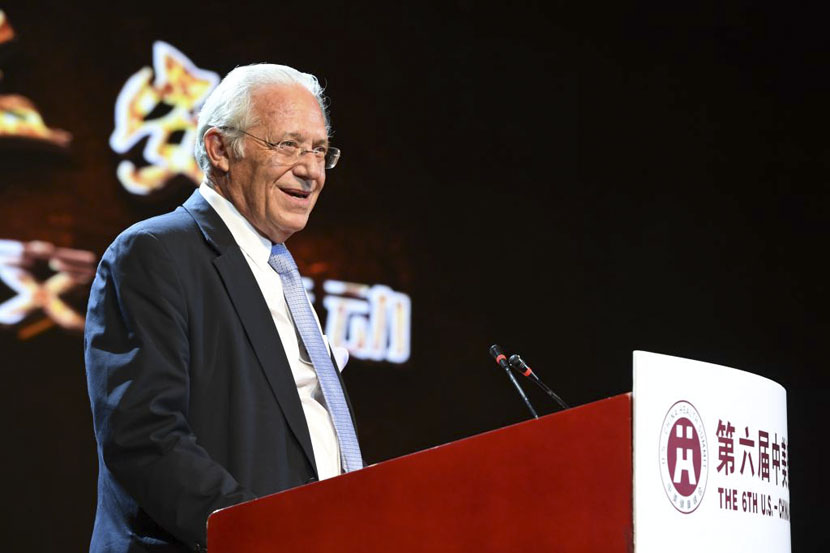 William Haseltine gives a speech at the sixth U.S.-China Health Summit in Xi'an, Shaanxi province, 2016. Courtesy of ACCESS Health China
During a recent visit to China, Haseltine spoke to Sixth Tone about the dangers that supersized hospitals pose, the issue of doctor accountability, and how technology will help solve the aging problem. The interview has been edited for brevity and clarity.
Sixth Tone: Rural patients in China with cancer are twice as likely to die than those in urban areas. Why such a big disparity?
William Haseltine: It is a rule rather than an exception that health disparities exist. That being said, there are some particular problems with China. The tendency here has been to build big metropolitan hospitals. In general, those hospitals are overcrowded, and for people in peri-urban or rural environments, they are very hard to access — in terms of travel, cost, and time. So that's a major problem, and that shows up in the health statistics. It's a fundamental problem that any advanced society like China has to address.
Sixth Tone: How can we begin to tackle this disparity?
William Haseltine: It's not just a matter of building facilities, but how you operate these facilities — and more particularly, how you hold everyone in the system accountable to results.
If there's a major reform that's necessary in China, I'd say it's to provide a very reliable way of measuring outcomes and holding those responsible accountable for those outcomes. That means they are promoted and rewarded when they get good outcomes, and they are given disincentives if the outcomes are poor.
Sixth Tone: At the moment, patients are taking the concept of accountability into their own hands, with many instances of patients physically attacking and even killing their doctors.
William Haseltine: That's a political problem. When people are unhappy enough that they feel that they have to take the situation into their own hands, things need to be changed. And what I've seen from the government, they are aware of that. But these are very complex problems. They need determination and long-term solutions.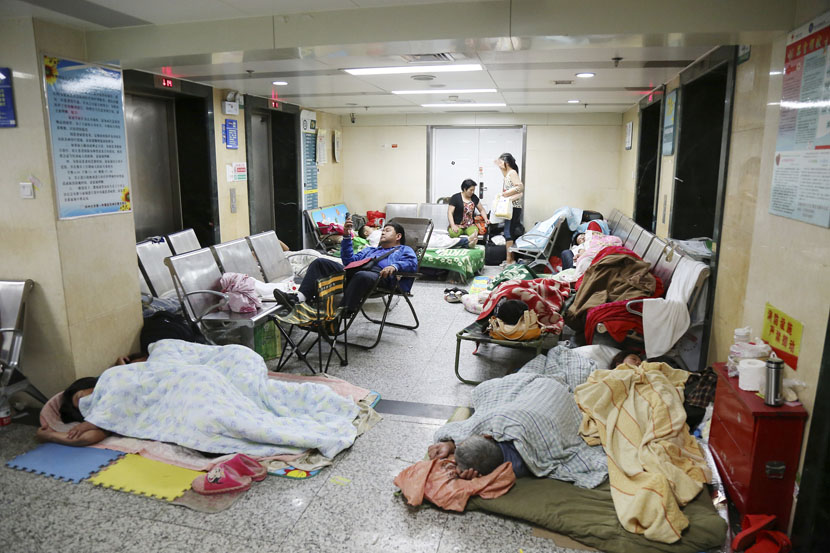 Relatives of patients sleep along the corridor of a 'super hospital,' the First Affiliated Hospital of Zhengzhou University, Henan province, July 3, 2015. Wen Jun/VCG
Fortunately, these solutions are available. Information science allows you to have transparent, real-time, comprehensive information about what's happening in the system. And it allows you to hold people accountable. You can measure results of an individual doctor for an individual operation. Even if you're surveying 2 million people at the same time, you can easily display who's good and who's not — from the janitor, to the nurse, to the doctor, to the hospital administrators.
Some of those systems are available in very tiny places in the world today. They will spread, and I think that is the hope we have of bringing a high quality of health care to all.
Sixth Tone: If all of that technology is available, why isn't it being used yet?
William Haseltine: That's a social question, and a political and economic one. It's the reason that my foundation exists. Much of the technologies exist that would solve problems of many people, but there is uneven distribution within and among countries. This government understands the need and wants to make the changes, and my hope is we can be a small part of this change.
Sixth Tone: China is scaling up the number — and size — of public hospitals. You've said before that you're not very fond of this idea. How could more hospitals be a bad thing?
William Haseltine: I see this as a big mistake, building big hospitals. And I've talked to people here who understand that, but it's a big transition. If you take the current system and multiply it by the need, it's unaffordable even for a rich country like China.
What's the answer? Integrated health care. What is now possible thanks to medical changes in technology is to have serious operations — brain and heart surgeries, hip replacements, gallbladder operations — all these major surgeries can now be done on an outpatient basis. It's sensible because it allows people to go in in the morning and out at night, and it's much less expensive and much safer. If you want to improve quality and safety, you keep people out of hospitals.
Most of the care should take place in homes, in communities, and in what is called outpatient services. And the hospitals should be small. So, if I hear about making 5,000- or 10,000-bed hospitals, I see a model of unsustainable health care cost. New technologies, both medical and information technologies, can lower the costs by at least two-thirds or more, and still deliver better results and higher quality than big hospitals.
Sixth Tone: But China's population is aging rapidly. Will these smaller hospitals be able to provide care for the elderly?
William Haseltine: It's the only way to deal with this problem. Older people require more health care and often have multiple immobilities. But most of them are chronic and don't need acute care.
How do you affordably treat someone with, for example, osteoporosis, diabetes, and dementia? You do as much as you can to keep them in their homes but thoroughly connected to medical centers, outpatient facilities, or — if necessary — short-term inpatient facilities.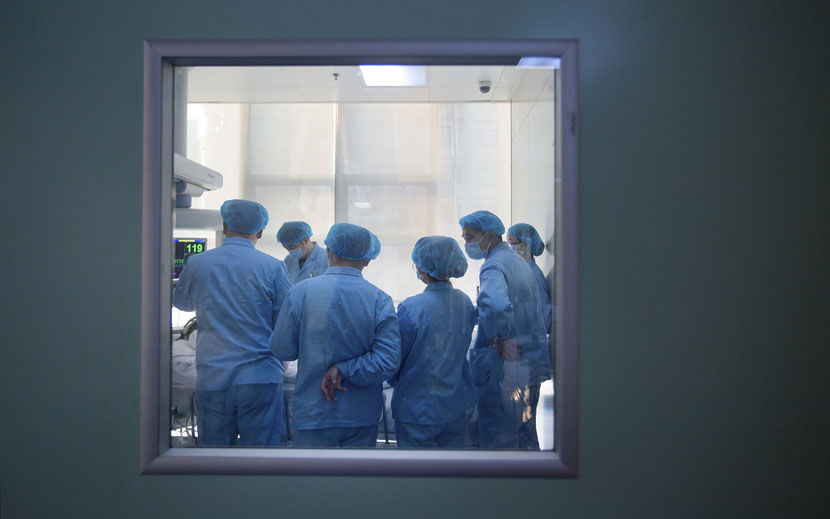 Doctors check on ICU patients in a hospital in Zhengzhou, Henan province, Feb. 7, 2015. VCG
Sixth Tone: What should a day for someone like the person you describe — with osteoporosis, diabetes, and dementia — look like?
William Haseltine: First of all, they are in their own home when they wake up. Then, there's a lot of technology around them. For example, technology so that if they get out of bed and fall, the technology can tell. And that technology exists already. They go do their early morning routine, and there's technology that measures their blood levels, tells them the various medicine they have to take, and measures if they've taken it. This technology will give real-time data on how they are doing.
Then, they go to a facility in their residential building, where they meet people of similar age and a little younger, and even children. So they have an opportunity to interact, because one of the big problems of aging is social isolation. Other people can help them do a little shopping or take them on excursions, and then I would say that's a very good day for them.
Sixth Tone: Hospitals in cities like Hangzhou, in eastern China, have already begun to encourage consultation through popular messaging app WeChat. Is that a good solution?
William Haseltine: I think it's a very good way to use technology for some problems. If you add to that continual monitoring for heart disease, for sugar levels, and a whole number of things, it can be really effective. There are some things it won't be effective for, like broken legs or a big wound.
Whether you're here [in China], or in poor rural areas in India, or in West Texas in the United States, you can correctly diagnose and treat about 80 percent of human malady by telemedicine. That's a huge relief for the whole system.
Editor: Owen Churchill.
(Header image: Patients crowd the First Affiliated Hospital of Zhengzhou University, one of China's 'super hospitals,' in Zhengzhou, Henan province, April 25, 2016. Zhao Longao/VCG)