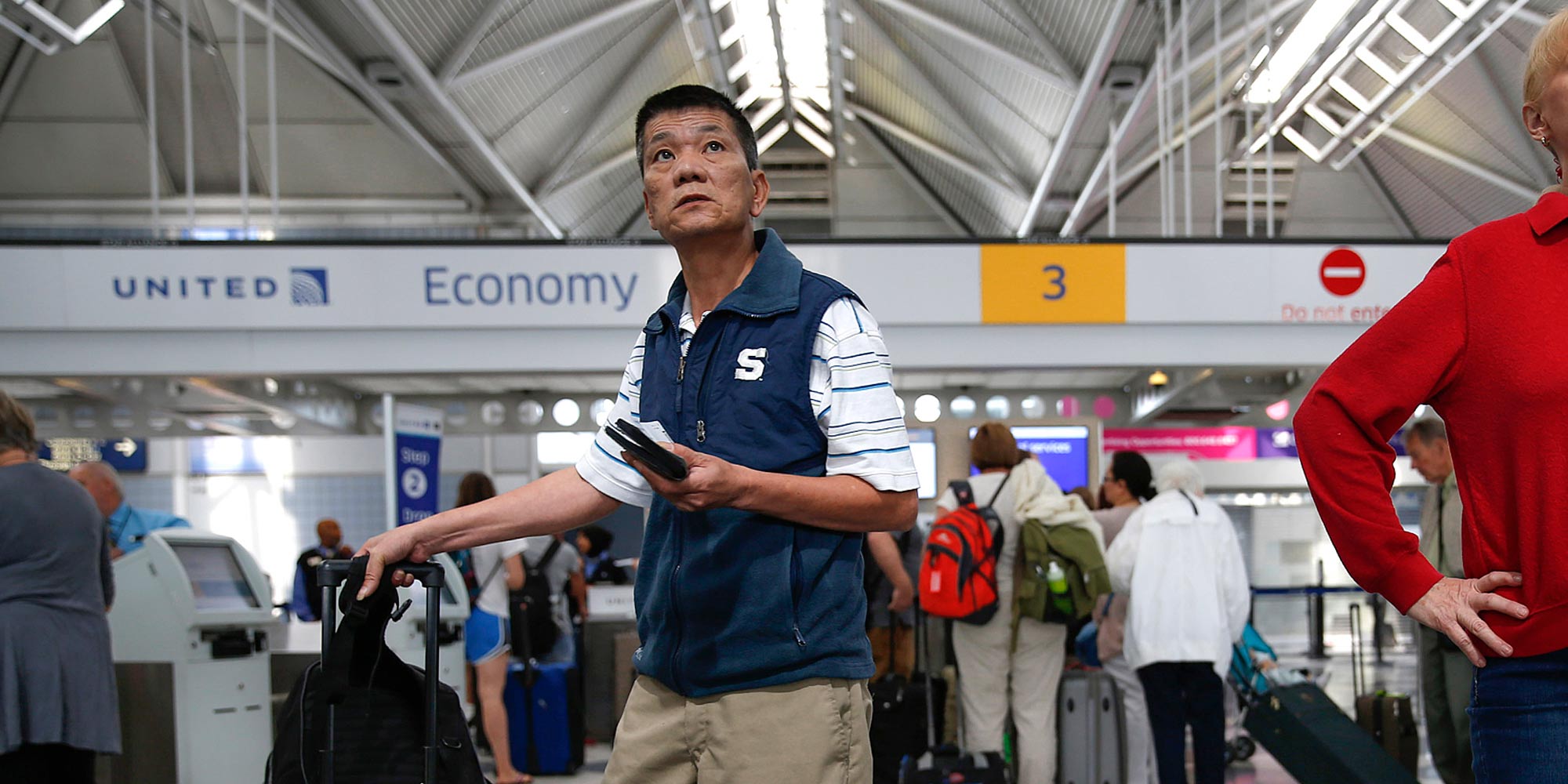 NEWS
Chinese Fury Over United Airlines Passenger Manhandling
Net users in China express outrage, highlight Asian ethnicity of roughed-up traveler.
A video showing a male passenger of Asian heritage being forcibly removed from a United Airlines aircraft in Chicago has sparked anger in China, leading to accusations of racism, boycott threats, and even some humorous memes online.
"Even though I can't help much, I won't fly United Airlines anymore," wrote one user in a Weibo microblog post that received around 3,400 "votes" of support from other users.
The outrage was triggered by an incident that took place on United Express Flight 3411 from Chicago to Louisville, Kentucky on Sunday night.
A video circulating online shows police officers dragging a middle-aged man from a fully booked flight. The airline called for volunteers to give up their seats so that United employees could travel. When no volunteers came forward, the airline picked four passengers to deplane by lottery. The man involved in the incident refused to exit the aircraft, saying he was a doctor and needed to travel on that flight so he could meet with patients the next day.
Some Chinese are voting with their feet, vowing to give their business to other airlines. Li Shuangfu, the co-founder of Lanxiong Sports, a Chinese sports media startup, posted a picture on Weibo showing he had changed his flight from United to competitor American Airlines on Tuesday afternoon. "I support my compatriots by my actions," he wrote, "even though it's more troublesome and expensive."
Liu Qiangdong, the chief executive officer of JD.com, one of China's largest online retailers, reportedly criticized the airline, saying its service was among the worst in the world.
Another Weibo user wrote that it wasn't an issue of race or of the occupation of the passenger, but of the attitude of the police officers who removed the passenger from the aircraft. "It's not about whether he's Chinese or a doctor; the point is that he's a passenger with a ticket," the user added. "This behavior is no different from that of thugs and bullies!"
As of Tuesday late afternoon, China Standard Time, there were almost 25,000 signatories to a petition to the White House in Washington, D.C., calling for an official investigation into the incident. The petitioner, who says he is a Chinese student based in London, signed off on the call for action with the social media hashtag #ChineseLivesMatters.
Fans of the highly popular television drama "In the Name of the People," which has garnered more than a billion views since it premiered at the end of March, were also quick to get in on the United act. In the drama, a corrupt vice mayor, Ding Yizhen, successfully fled China to the U.S. on a United flight.
One internet meme circulating online on Tuesday shows Ding being served a drink by a United flight attendant. "I will have a glass of champagne for not being forced off the flight," the image's caption reads.
Still, Chinese people appear to have stopped short of demanding an all-out boycott of United, similar to the one that Twitter users are calling for using the hashtag #BoycottUnitedAirlines.
United was the first airline to connect the United States with China, according to a post on the website of the Consulate General of China in Chicago in 2016 to mark the 30th anniversary of air service between the two countries. It's the world's fourth-largest airline in terms of passenger traffic, with headquarters in Chicago, Illinois. The airline flies from six cities in greater China, including Beijing, Shanghai, Chengdu, Xi'an, Hangzhou, and Hong Kong, according to a news report by Chinese aviation publication Carnoc.com.
Chinese visitors to the United States spent more than $30 billion in 2015, according to data from the U.S. Department of Commerce, representing an increase of 15 percent from the previous year.
On Monday, United's CEO, Oscar Munoz, issued a statement regarding the incident on Flight 3411, describing it as an "upsetting event" for all at the airline. "I apologize for having to re-accommodate these customers," he said in the statement. "Our team is moving with a sense of urgency to work with the authorities and conduct our own detailed review of what happened."
United in Beijing told Sixth Tone on Tuesday that it would issue a statement in the coming days.
Prominent China-born comedian and performer Joe Wong came out in support of the removed passenger. "I want to give a thumb up to the beaten passenger. A lot of Chinese feel that they've been discriminated against but keep silent due to the issue of face," he wrote in Chinese on his Weibo account.
Contributions: Lin Qiqing.
(Header image: A traveler looks up at a monitor for a United Airlines flight status update near the economy check-in area at O'Hare International Airport in Chicago, July 8, 2015. José M. Osorio/TNS/VCG)