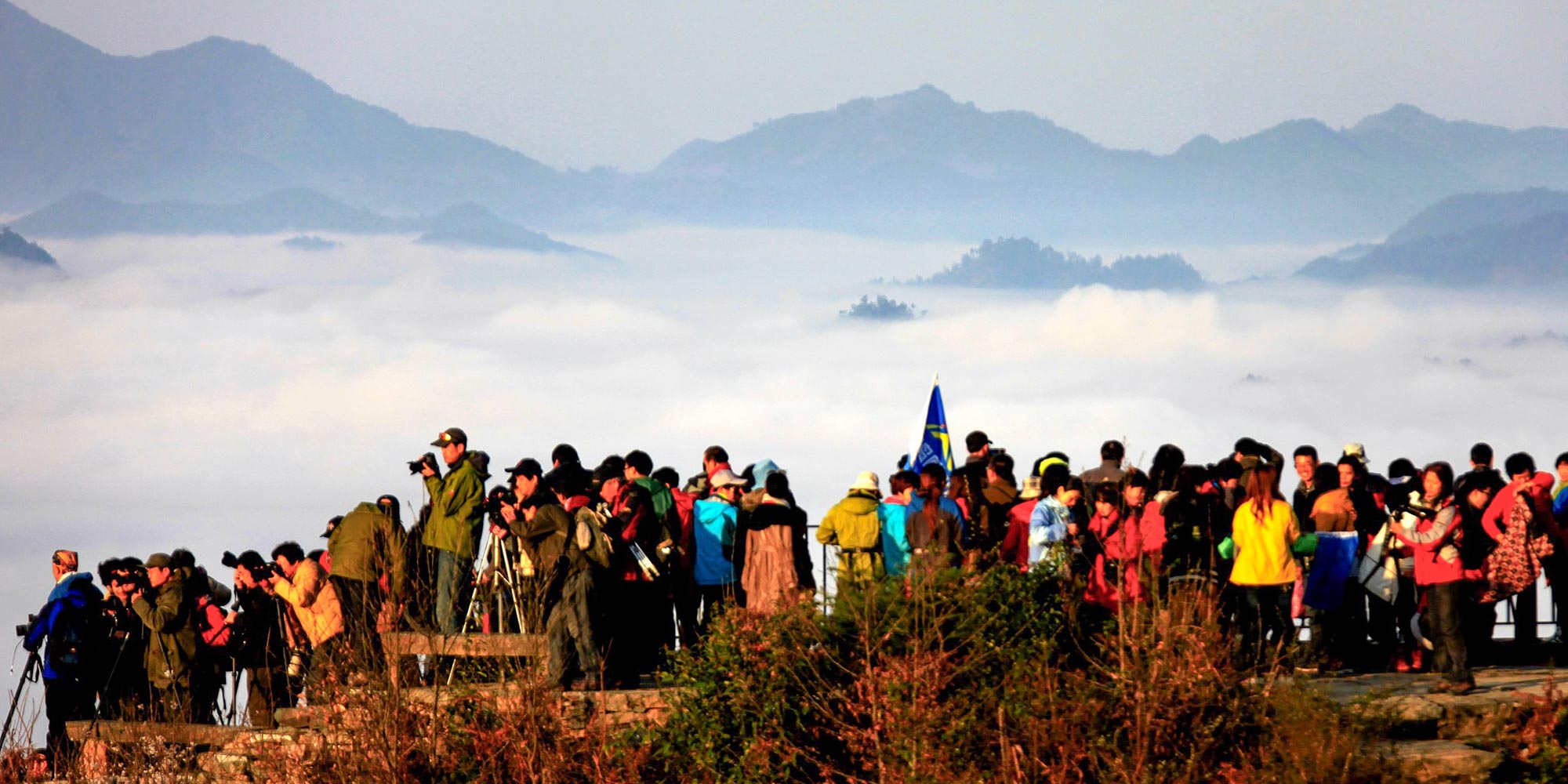 VOICES & OPINION
The Coming Wake-Up Call for China's Tourism Industry
Crowds of visitors to the country's scenic areas have investors taking rash, risky, and unsustainable decisions.
At present, China's tourism industry is enjoying a prolonged boom. Indeed, one reason why the national government is placing such emphasis on tourism is that the industry now serves a consumer market comprised of around 1 billion people. It comes as no surprise, then, that the industry is experiencing an influx of funding.
Tourism in China today is no longer a luxury afforded only by the rich: Vacations are now a staple of middle-class life as well. Even some of the country's low earners now have enough financial power to take regular holidays in a year.
However, although the tourism industry is seemingly experiencing a golden era, industry actors would benefit from a healthy dose of realism. In fact, investment in tourism has already peaked and is in danger of plateauing. What happens when investor interest is exhausted? We simply don't know and are not prepared for it.
In my decades of experience building and managing scenic areas for tourists, I've learned that it helps to remain sensitive to three main misconceptions and mistakes that plague the industry.
First, many people believe that natural scenic areas become profitable quickly. In reality, constructing a scenic area may take 10 years to complete, and only then does it start earning money. Investors have already begun to realize this and are now directing more money into better-planned schemes. At the same time, those out to make a quick buck are gradually withdrawing from the tourism industry, creating a much more professional environment in which to buy, build, and manage tourist areas.
Second, when designing a new scenic area, many people confuse landscape science with garden science. In reality, the latter is ill-suited for use in China's vast natural scenic areas. The gardens of Suzhou in eastern China, for example, are exquisite examples of how humankind can reshape nature to suit its aesthetic tastes. In contrast, natural scenic areas emphasize the untamable power of nature.
Third, plans for certain new scenic areas have aimed to do more harm than good to the natural environment. Overambitious designers have suggested leveling mountains or damming streams, supposedly to create a more attractive landscape for visitors. This is obviously an unhealthy attitude to take. The beauty of mountainous scenic areas — my personal specialty — lies in the interplay of natural forms, in the way the soaring peaks interact with wooded slopes, swirling mist, and babbling streams to create a transcendent sense of levity. These features are to be accentuated, not wantonly destroyed.
Before even beginning the process of creating a mountainous scenic area, you must first observe its overall shape and understand its character, while also avoiding the above misconceptions. During this process, planners must adhere to a number of traditional principles.
First and foremost, we must absorb the wisdom of our ancestors and adopt a method of creation that unites Confucianism and Taoism. A quote from the Zhuangzi, a famous Taoist scripture dating from around the third century B.C., reads: "Heaven and earth have great beauty but do not speak," thereby capturing the ineffable essence of the natural world. Xunzi, a Confucian scholar who lived during the same era, purportedly wrote: "If nature refrains from artifice, then it cannot consider itself beautiful," depicting aesthetic beauty as something external to the intrinsic essence of things. In my opinion, a synthesis of these two ideas allows us to bring through the beauty of scenic areas in order to realize their most sublime aesthetic qualities. Traditional Chinese philosophy can thus teach us the best ways to "polish" our country's natural landscapes.
One thing I have learned in my time designing mountainous scenic areas is that it is essential to treat nature as a living thing, revere it, and direct our creativity toward a harmonious coexistence with it. In practice, this means letting lie any stone, tree, or stream that is not essential to move. At the same time, we must enhance only that which fails to bring out the visual qualities of the local area. The rocks of White Stone Mountain in northern China's Hebei province, for example, lacked the magical quality of pine trees, so we introduced some to its slopes.
Second, we must carefully manage the relationship between humankind and nature. Bringing large numbers of tourists to a site requires all sorts of facilities, such as management buildings, trash cans, and bathrooms. These must be hidden as much as possible so that they do not detract from the splendor of the landscape. If it is not possible to obscure man-made constructions completely, then their existence must improve the splendor of what surrounds them — like the pagoda at White Stone Mountain, which adds a charming touch of vermilion to the mountain's greenery when viewed from any angle.
Many in China have long separated the ideas of sightseeing and leisure. The former was always the primary purpose of leaving the city to visit a mountain, an experience that allowed people to breathe clean air, marvel at the vast sky, and reach out to touch the clouds. The latter was what you did back in town: eating, drinking, and being merry. But it doesn't work like that anymore. More and more consumers are demanding a synthesis of sightseeing and leisure tourism: They want both peacefulness and solitude up on the mountain and also entertainment when they come back down. I foresee that such combinations of sightseeing and leisure will be at the core of the government's plans to develop nationwide tourism moving forward.
While conditions remain favorable for investors in China's tourism industry, the frequency of poorly thought-out new tourist areas should encourage us to step back and take stock of the situation. Moving forward, we must standardize development of scenic areas, discourage the pursuit of short-term profit, and clamp down on potentially damaging human influence on our natural environment. If we fail to do so, we risk leaving stakeholders in the red and our natural environment in ruins.
Translator: Rachel Critelli; editors: Wu Haiyun and Matthew Walsh.
(Header image: Tourists photograph the famous yunhai, or sea of clouds, at Huangshan, Anhui province, March 25, 2012. Shi Guangde/VCG)