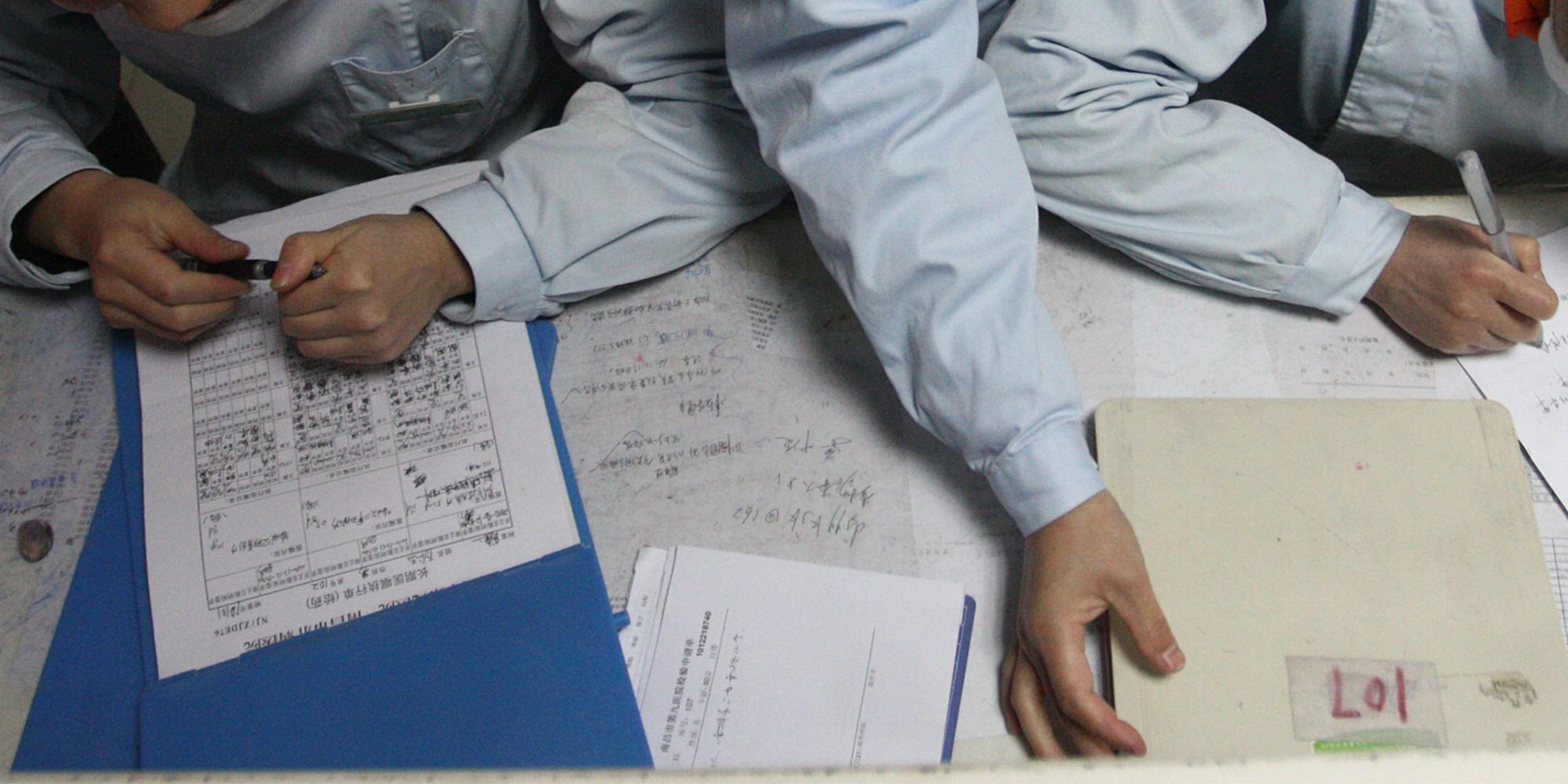 NEWS
Guangzhou Hospital Leaks Surgery Photos of Trans Teenager
Girl says her privacy was breached by hospital that treated her after she tried to remove her own testes.
A 17-year-old trans girl was left distraught after seeking emergency assistance at a hospital in southern China when her own attempt at surgery to remove her testes went wrong. The hospital treated the girl, but then published her story online — including graphic photos — without her consent.
The girl, who goes by the name Ling Xue, visited the Sixth Affiliated Hospital of Sun Yat-sen University in Guangzhou, capital of Guangdong province, on March 31. On April 5, the hospital published a post about Ling's surgery on its public account on messaging app WeChat.
The post used sensationalizing, dated language that the Chinese transgender community considers offensive, as well as graphic images: a pixelated photo of a hospital staff member measuring Ling's swollen scrotum, a photo of Ling lying on the operating table with only her face obscured, and an ultrasound of Ling's reproductive organs. The post also included factual inaccuracies and divulged personal details that Ling had shared in confidence with her attending doctor.
"My spirit is close to collapse," Ling told Sixth Tone on Friday.
Sun Yat-sen Sixth, as the hospital is commonly known, deleted the post at Ling's request just a few hours after publishing it, but the story had already been read more than 8,000 times on the hospital's WeChat account and shared to several other online platforms. Though the hospital referred to her using a pseudonym, Ling said that netizens were able to track her down on social media.
The conflict comes against the backdrop of ongoing tensions surrounding privacy protection and doctor-patient relationships in China. Violations of patient confidentiality have contributed to a distrust of health services in the nation, where tense relationships between doctors and patients are commonplace, at times even escalating into deadly violence. Last July, a telephone scam targeted hundreds of people living with HIV whose contact details had been leaked from government databases.
Ling told Sixth Tone that hospital staff maintain that they have done nothing wrong, though they earlier admitted to not considering how the post might impact Ling. Sun Yat-sen Sixth declined to comment when contacted by Sixth Tone on Friday.
In the meantime, Ling's story and photos have continued to circulate, and major Chinese news outlets — including local Party newspaper Guangzhou Daily — have published reports based on the hospital's post. As of Monday evening, the hashtag for the hospital's story had reached more than 1.28 million views on microblog platform Weibo. Like the hospital's post, the summary page for the Weibo hashtag refers to Ling with masculine pronouns and uses the term zigong, a term for "self-castration" that is associated with martial arts novels and imperial eunuchs, and is considered highly offensive when used in reference to trans women.
"Originally, I just wanted the hospital to undo the influence [of the post], but that's no longer possible," Ling said, "so now I am asking for a public apology and compensation for the psychological damage." She hopes to find legal representation for her case, but lawyers have advised her that taking legal action will be difficult because the hospital was careful to redact her name and conceal her face.
Lawyer Chen Nanshi, a volunteer with the Rainbow Lawyers LGBT legal advice hotline, told Sixth Tone that Ling can file a lawsuit, but that it is unclear whether the case constitutes a violation of privacy. "We don't have enough evidence yet to decide," he said on Friday, though he added that the language of the post is insulting and harms the reputations of both Ling and the trans community at large.
Ling's attempt at home surgery on March 31 coincided with the Transgender Day of Visibility, an occasion that celebrates the accomplishments of trans and gender nonconforming people worldwide and that also aims to raise awareness of remaining community needs. In China, activists have used the day to point to the prevalence of misinformation disseminated by media and medical professionals with regard to trans issues, as well as the barriers to accessing health care.
Though attempting surgery on oneself might seem extreme, Ling felt she had little choice. Not all trans people desire sex realignment surgeries, but for those who do, Chinese government policy demands a host of documentation, including confirmation of a gender identity disorder diagnosis and consent from family members regardless of the patient's age. Ling has neither. Many trans advocates hope to see gender-affirming treatment made more accessible and removed from a context of pathology.
For roughly a year, Ling has been using hormone replacement therapy — anti-androgens, which reduce the effect of testosterone in the body, and estrogen, which helps to create a more feminine body shape and smoother skin — but she worries about the long-term impact on her health. Studies have shown that long-term hormone use for trans people is safe as long as the risks are monitored, but in China, many trans people purchase hormones through the gray market of personal networks and online sellers and avoid seeingdoctors for fear of discrimination or mistreatment.
Guangzhou-based advocacy group Trans Center posted on its public WeChat account on April 6 that the hospital had not only violated Ling's right to confidentiality and consent, but had also published misleading information, such as the assertion that Ling's Adam's apple had disappeared from estrogen use. Estrogen cannot reduce the size of the Adam's apple.
Trans Center's post was taken offline by WeChat administrators on Friday, less than 24 hours after it was published.
Additional reporting: Lin Qiqing; editor: Kevin Schoenmakers.
(Header image: Nurses fill in patients' medical records at a hospital in Nanchang, Jiangxi province, Dec. 21, 2010. Shi Yukun/VCG)