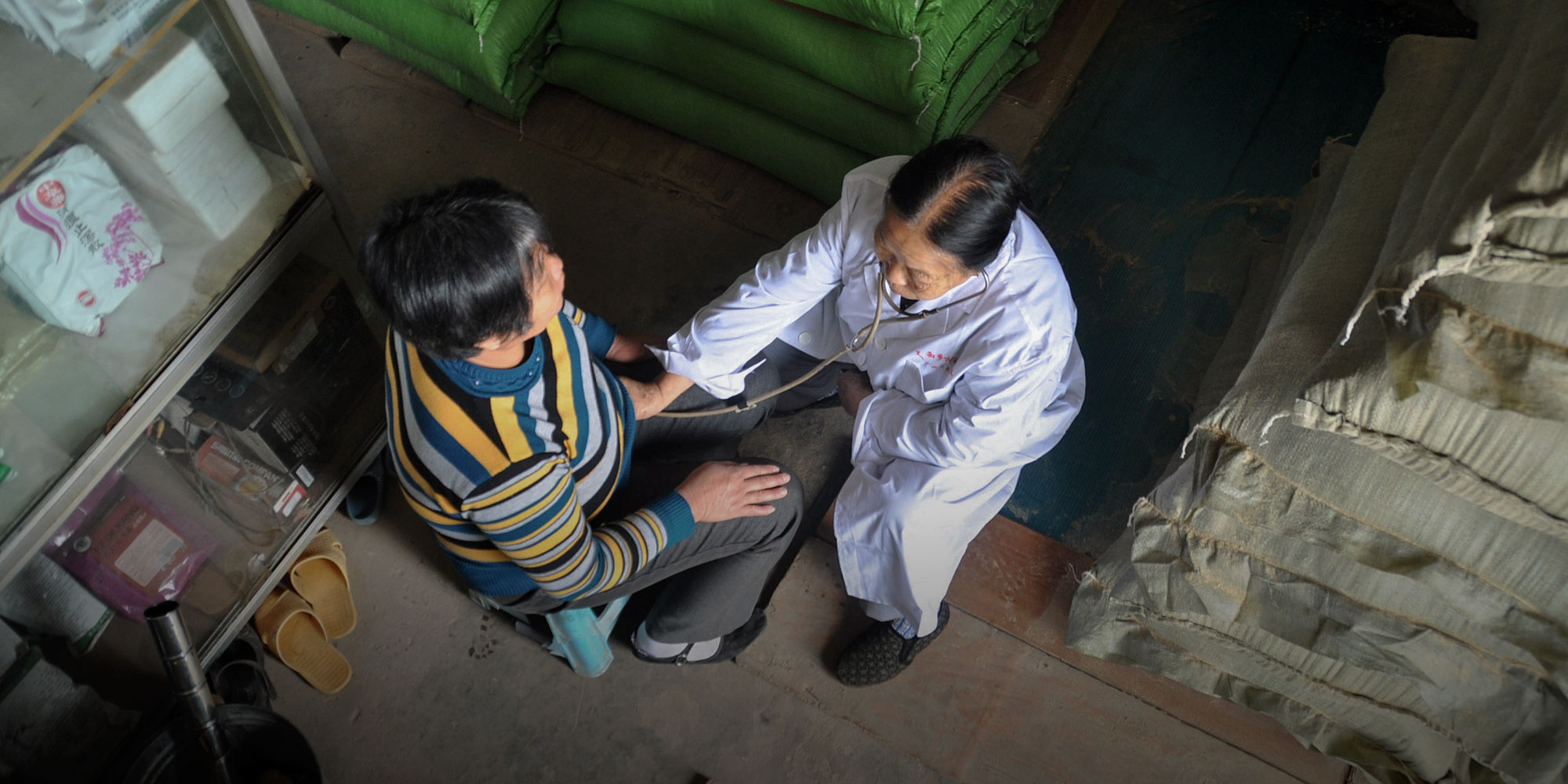 FEATURES
Why China's Modern Barefoot Doctors Are Walking Away
Despite government moves to improve primary care in the countryside, village doctors are under increasing pressure.
GUANGXI, South China — A booming knock woke village doctor Zhang Hong at 6 a.m. When he opened the door, he found a man carrying his own father because the elderly man was too weak to walk. Though Zhang had only slept for four hours, he sprung into action.
"We have to treat patients whenever there is a call or a knock on our door, even if it's in the middle of the night," Zhang said.
Ask villagers what they think of their rural doctors, and they will tell you how vital these medical workers are to the overall health of the community. "Our village doctor has taken care of my family for decades," one elderly woman told Sixth Tone. "We can't thank her enough."
In 2015, village clinics recorded 839 million more visits than all of China's town hospitals. In rural areas, where the nearest hospital is often hours away, clinics are the first place China's rural population turns to for medical attention, a 2013 study found. Hospitals are better equipped, but they are often too far away and, in many cases, unaffordable.
Despite how crucial village doctors are to the more than 600 million rural Chinese they serve, their numbers are steadily declining, and reforms have so far fallen short of properly addressing the problems village doctors face.
In some counties, more than half of the villages do not even have village doctors — it's simply not seen as a desirable job.
With new health care reforms in the works, the government aims to empower these doctors and allocate more financial resources to their clinics, but some policies have been criticized for being out of touch with the doctors' actual needs, and not all of the reforms have been implemented as promised.
Zhang's small clinic has been nestled among Zhengdongbao Village's decaying red brick homes for more than 20 years. The wiry 45-year-old with a shy smile is popular in his community. On a recent rainy day, villager after villager stopped by to chat, whether they were on their way to a wedding or to drop their children off at the local kindergarten.
On average, Zhang receives about 50 patients each day — more than most village doctors. Without a steady salary, doctors like Zhang make money from medical fees and drug sales. "Only if we provide good treatment and service can we attract more patients," Zhang said. The most complex piece of equipment in his clinic is an infrared light used to treat sore muscles, but Zhang is best known for his expertise in traditional Chinese medicine.
Finances are one of the main obstacles to attracting fresh blood to the profession. Though certified by the government to treat patients, the vast majority of village doctors did not finish high school. They don't receive monthly salaries or benefits such as annual leave and pensions. They tend to their patients at small practices and are on call 24/7, yet many have to raise livestock or plant crops to make ends meet. And it's not just acute medical treatment that village doctors offer: They often must take on the additional roles of nurse, caretaker, and health consultant.
Strengthening primary care and providing better health care at the community level have become crucial but challenging goals for China's health care reform. As the nation's life expectancy rises and chronic diseases such as cancer and diabetes become more common, medical expenditures are growing as well — by about 8.4 percent annually, a joint study by the World Bank, the World Health Organization, and several government departments found in 2016.
Bringing hospitalization rates down would lower China's health care costs, the report found. But for that to happen, the primary health care system needs to be improved — through measures like increasing the number of rural doctors — and people's confidence in rural health care needs to be strengthened.
In the 1950s, China realized that medical facilities and professionals were concentrated in urban areas, while the countryside generally lacked the most basic means to address rural residents' medical needs.
To reduce the disparity, the government gave peasants with little education basic medical training. Known as "barefoot doctors," they roamed the countryside treating common illnesses, administering vaccines, and delivering babies. Many of today's village doctors are the original barefoot doctors' children.
When 69-year-old Xu Yueying started working as a barefoot doctor, she spent much of her time hiking through the mountains to reach her patients. She still remembers one winter night in the 1970s when she was called on to treat a woman who was experiencing obstructed labor. Together with the husband, Xu placed the woman in a chair and carried her across a frozen river to the closest hospital. Xu said that in over 40 years of service, she has delivered most of the babies in her village.
"I can't remember how many times my daughter blamed me for not taking care of her when she was sick, but instead going out to treat other patients," Xu said with tears in her eyes.
Though Xu is well past the legal retirement age, she has neither pension nor social or health insurance, and thus continues to work out of the tiny clinic she has set up next to her home. Without the income from her little grocery shop, a small plot of farmland, and her husband's pension as a soldier, she wouldn't be able to make ends meet.
Poverty is a reality that many village doctors face. Most are past the age of 40, and hardly any young people are willing to become village doctors anymore. Without new recruits, rural residents stand to lose their health care guardians.
The government has recognized this predicament and is working to find a solution, Xu Yucai — a medical reform expert who works in the provincial health department of Shaanxi — told Sixth Tone. The State Council, China's cabinet, has decided to subsidize village doctors and recommended that local governments improve these doctors' facilities.
Some provinces have attempted to follow official instructions. The Guangxi Zhuang Autonomous Region, for example, allocated a total of 1.14 billion yuan ($165 million) to establish 14,372 new standardized village clinics. But because they were built too far away from the patients they were meant to serve, village doctors weren't willing to move in. Some of the facilities are now used for storage and are overgrown with weeds.
"They have never asked for our opinions on how to improve our village clinics and local health care services," Zhang said, referring to provincial authorities. "Some so-called new clinics are only old houses that have been renovated. Many clinics started to leak a year after they were built." If the total amount spent on all of the new clinics was divided evenly, each would have cost roughly 80,000 yuan — far too much money for such "poor construction," said Zhang.
The doctors' biggest complaint, however, has to do with the payment of government subsidies. In theory, each village doctor is entitled to an annual subsidy of around 20 yuan per village resident. For a village of around 2,000 people, that would amount to more than 3,300 yuan per month — an incentive that would make the profession much more attractive to rural farmers.

But in many areas across the country, these subsidies have been withheld, medical reform expert Xu Yucai said.
In February, about 300 village doctors in Guangxi's Gongcheng County protested against the local health department for withholding two years' worth of payments. Xu Yueying was among them. As dusk fell, police tried to break up the protest, which resulted in a clash between protesters and police.
"I have lived up to the Communist Party member's standard and diligently served the villagers for my whole life," Xu Yueying said, with a mix of pride and anger in her voice. "I did not expect to be treated like a dog for requesting what I deserve at this age."
When contacted by Sixth Tone, the Gongcheng County health department declined to comment, and several calls to the department director went unanswered. Local police were also unavailable for comment.
Nine doctors involved in the protest ended up in jail and were released without being charged 20 days later. Sixth Tone was present for their release. The local government again refused to pay the subsidies, saying that the village doctors had failed to file the correct administrative documents, including health records, that had been required to help standardize health care, local media reported.
Zhang admitted that doctors generally fail to file all the required paperwork, but he said the government had handed out so many forms that it would be impossible to fill them all in.
There's another source of conflict: The government has said that village doctors overprescribe IV drips, antibiotics, and other drugs. To discourage this behavior, health authorities introduced limits on the types, suppliers, and prices of medications that doctors can prescribe, and implemented a zero-profit drug sales policy. In return, the government promised to provide doctors with a 4-yuan subsidy for each patient they treat.
Yet the approved medications don't cover all of their patients' needs, doctors said, and some of the new suppliers charge more than the price doctors used to pay for the same medication — a financial burden that is passed on to their patients.
Health care experts like Xu Yucai have argued that, instead of limitations on medication types, many village doctors simply need more training. And while such instruction is available in counties like Gongcheng, doctors have complained that the training sessions only cover common medical knowledge.
In addition, Zhang feels that the hospital doctors who administer the training look down on the village doctors. "They do not think of us as real doctors," he said.
Zhang still remembers New Year's Eve of 2015. He was just about to enjoy a big family dinner when a little girl arrived at his house, saying that her grandma had fainted and wasn't waking up. Zhang dropped his chopsticks, rushed to the patient's home, and diagnosed a stroke. With his own car, he took the elderly woman to the nearest hospital and stayed by her side until 1 a.m. — when he suddenly realized he hadn't eaten dinner yet.
What would have happened to the girl's grandma if Zhang hadn't been there? "If village doctors disappear someday, it will leave no one to take care of the health of rural patients," Xu Yucai said. "The rural health care system will be paralyzed."
Working as a village doctor has become more and more difficult and less rewarding, Zhang believes. Younger doctors increasingly focus on their farm work and other businesses they run on the side. For Zhang, it is too late to change careers. Though he has made tremendous contributions to his community, he sees no future for China's rural health care workers. "Maybe raising pigs is better than being a village doctor," he said.
Editor: Denise Hruby.
(Header image: A village doctor examines a patient in Gaoling Village, Nanning, Guangxi Zhuang Autonomous Region, Dec. 7, 2011. Lu Boan/VCG)