SHANGHAI — On a sunny spring day, the hodgepodge of houseboats moored along the willow-lined New Chapu River look almost idyllic.
But their roughly 200 inhabitants face immediate eviction. The boats — about 60 in total — were built without licenses, and the local government plans to start dismantling the illegal lodgings on April 5, according to people familiar with the case.
Li Chaoqing, one of the boat residents, told Sixth Tone he has lived on the New Chapu River, in the city's northwest, for more than 40 years. "Our family doesn't have a house — there's no way with so many kids," said the father of six. "In Shanghai, I can't make enough money in a lifetime. I'm already 53 years old."
Hailing from eastern China's Jiangsu province, Li now calls Shanghai his home. Most of his neighbors on the river originally come from provinces that surround the city. Many are part of Shanghai's underclass — employed in menial jobs as garbage collectors, fruit sellers, or cleaners.
With local authorities planning to dismantle unlicensed houseboats, boat dwellers worry about having nowhere else to go. By Hai Yang and Zhong Changqian/Sixth Tone
On Sunday, Li was cooking dinner, waiting for his wife and daughter to come back from their jobs peeling sweet melons. "I can make any dish, Shanghainese or from elsewhere," he boasted of his kitchen skills — which, going by the impressive pile of dishes, do not include cleaning up. "When I have dinner, I always have a drink," he said. "I don't do the dishes after I've had a drink."
The family's youngest son, 15, is in middle school and barely takes his eyes off his smartphone during dinner. "He likes to eat hamburgers and whatnot at Kentucky Fried Chicken," Li said of his son. "He's a picky eater — such a headache."
Li's boat is his fifth — he has upgraded roughly every decade. His current abode boasts a 55-inch TV, three air conditioning units, two fridges, an electronic mahjong table, a washing machine, and a new computer. His living costs are low, and life on the river has — so far — been relatively carefree. "It is free to live on a boat," said Li, who refused to disclose what he does for a living, "and nobody has tried to drive us out for a long time."
But that time has come to an end. The government says that the boats disturb shipping, and that dwellers pollute the environment by discharging their sewage directly into the river. On Sunday, city officials could be seen patrolling the pathway that runs along the riverbank. A red banner announcing the eviction plans in stark white characters hung among the trees.
The government has recommended that the boat dwellers return to their hometowns, but Li said he left Jiangsu in the 1970s, and that he no longer has land there. During the Spring Festival holiday in February, Li's family all came to Shanghai. They wrapped dumplings and ate steamed eight-treasure rice pudding, a traditional Shanghai dessert that Li had made.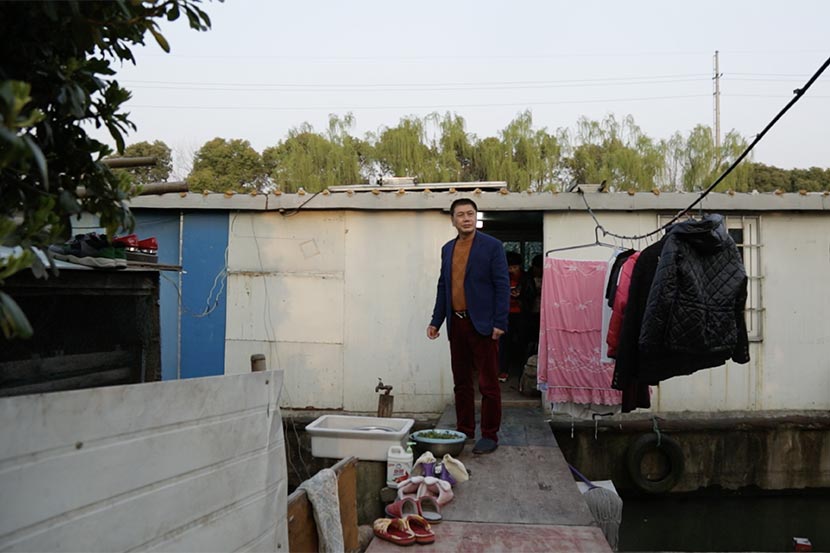 Li Chaoqing stands in front of his boat, Shanghai, March 29, 2017. Hai Yang/Sixth Tone
Li asked the government for compensation of up to 50,000 yuan ($7,250), which he said was the cost of his current boat. The boat dwellers were informed of the government plans in February, and Li complained that he would have liked to know earlier, so he could have waited to buy electrical appliances.
Ding Shengquan, 60, lives on Boat 10. He's originally from Anhui, an inland province in eastern China, and in 2011 moved to this area of Shanghai, where he makes money from collecting garbage. He is more receptive of the plans to clear the river. "As one of the people, I should undoubtedly support the Party," he told Sixth Tone.
Ding's neighbor on Boat 9 is a 78-year-old woman surnamed Wang, also from Anhui. She has lived in Shanghai for more than 10 years, most of the time on a boat. The news that the houseboats will soon be removed has confused her. She asked Sixth Tone. "Where will we move to?"
Additional reporting: Hai Yang; editor: Kevin Schoenmakers.
(Header image: House boats moored at the bank of the New Chapu River in Shanghai, April 2, 2017. Hai Yang/Sixth Tone)