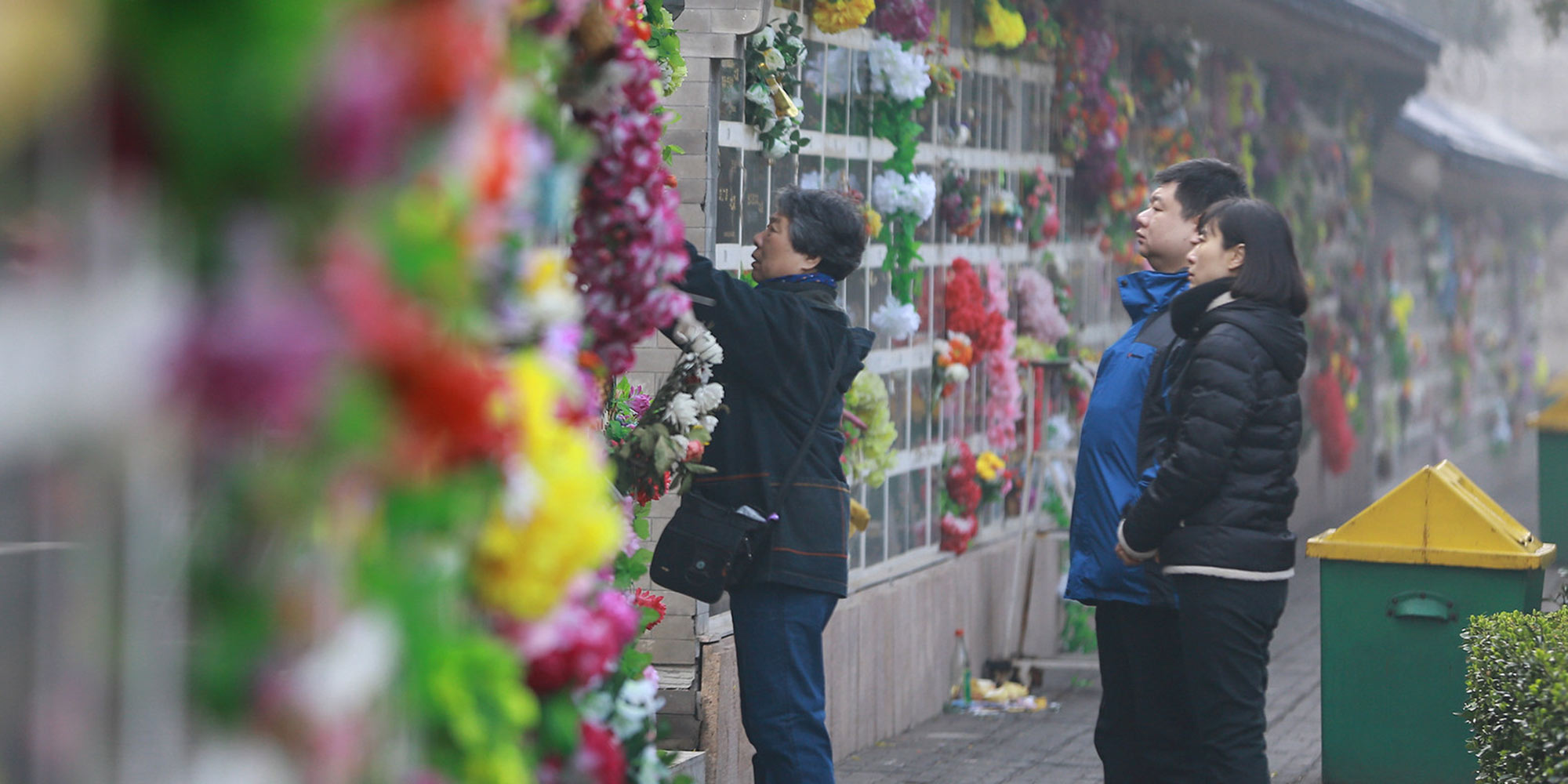 VOICES & OPINION
Swipe Here to Mourn Your Loved Ones
An innovative swipe card system allows mourners at the Laoshan Columbarium access to their loved ones' cremated remains.
Just north of the Beijing subway's Line 1, the Laoshan Columbarium occupies the site of a World War II-era Japanese shrine. After the fighting ended, the shrine was transformed into a columbarium, or a site for cremated remains. Today, the view from its front step is a development complex by commercial property giant Wanda Group. 
Located halfway between the Beijing Shijingshan Amusement Park and the Babaoshan Cemetery, the Laoshan Columbarium is a halfway house for grieving families. For between 550 yuan and 850 yuan (about $80 to $123) per year, families store the deceased's ashes in its memorial walls while funeral arrangements are concluded. They can access the ashes during Laoshan opening hours — using electronic swipe cards.
According to Zhang Jinhu, who has worked at Laoshan for over 30 years, the columbarium was the first in China to introduce electronic swipe cards for its visitors. Using the electronic key card system, the bereaved need only swipe their cards to access their loved ones' ashes in the memorial halls.
On Tomb-Sweeping Day, loved ones visit the deceased to offer sacrifices, honor their memories, and pay respects. The day, which was made an official holiday by the Chinese government in 2008, evokes tradition and continuity. Against that backdrop, some would consider electronic key cards an unwanted technological intrusion. Not Zhang. 
"That's modernization," he explained. "We rode bikes until the car was invented, then everyone drove cars. Why did people ride cars? Because it was faster and better!" The key card system also gives the bereaved a sense of security, he said. 
Laoshan regulations stipulate that the storage is short-term only. "Less than one or two years is no problem," Kang Jikun, Laoshan's director, told state news agency Xinhua in 2011. But ashes are brought here for many reasons, some of which don't accede to a strict schedule. Sometimes a husband passes away before his spouse; his ashes will remain at Laoshan until his wife passes, too. Sometimes a child dies young, before her parents have prepared her final resting place; she remains at Laoshan until the gravesite has been purchased. 
Most move on within the stipulated time frame, but there are exceptions. In 2013, eastern China's Shandong province announced that there were over 2,500 "ownerless" ashes in a columbarium in Jinan. Some had been stored for over 40 years, maintained without storage fees or claimants. They're "lonely," said the columbarium's director.
The Communist Party has waged an on-again, off-again war against traditional burials since before the Party's takeover in 1949. In imperial and republican China, deaths occurred primarily in the home. According to Martin Whyte in "Death in the People's Republic of China," before 1949 there was no great distinction between urban and rural death practices, and neither urban nor rural communities made extensive use of hospitals, funeral parlors, or other public facilities. Even the concept of an urban-rural distinction itself was blurry, since "many urbanites were transported back to their native villages after death."
The Communists viewed traditional funeral rites with suspicion. In 1956, Mao Zedong issued a call to introduce cremation. All central leaders were urged to sign. "It's best to be cremated after death, then tossed into the sea to feed the fish," Mao once told British Field Marshal Bernard Montgomery. "The fish will be forever thankful."
Mao's policy shift in favor of cremation has only been intermittently enforced. According to the latest available data from 2015, the national cremation rate was 47.1 percent. This represents an increase from 33.7 percent in 1996, but a decline from 53 percent in 2005. Cities have higher cremation rates than the countryside. In Beijing, according to the National Bureau of Statistics, the cremation rate was 85.1 percent in 2015. Guangxi, one of China's most rural provinces, had a rate of 24.9 percent.
At the same time, burial costs are rising. To visit loved ones at Laoshan Columbarium, guests must pass a small kiosk outside advertising cemeteries near Beijing. For 38,000 yuan, visitors can purchase a 1-square-meter "Health and Peace" plot at the Badaling Cemetery. For 108,000 yuan, they can purchase a slightly larger "Unrivaled High Position" plot. Beijing residents spend an average of 70,000 yuan on the entire burial process, according to a 2014 report. For comparison, the average annual salary for Beijing residents in 2014 was 77,560 yuan. According to Chinese law, public graveyards may not rent out their plots for more than 20 years at a time.
At 550 yuan per year, Laoshan isn't cheap. But it offers a discount rate for lower-income families, at around 50 yuan per year. All in all, it is a flexible option for families who haven't yet decided where their loved ones will "rutu wei an," a Chinese saying meaning "rest in peace."
The Laoshan Columbarium is reliant on the nearby Babaoshan Crematorium for its supply of ashes. Almost 10 years ago, the Beijing Morning Post reported that the crematorium would move to the Mentougou District in western Beijing. The plans have since been postponed but not scotched. Were this move to occur, Laoshan would lose its nearby source of ashes and would be forced to either transport the ashes from Mentougou or, possibly, close down.
Even if Laoshan were to close, Zhang doesn't worry about his job, saying he would be willing to move to its new location. He insisted that the building, however, could not be repurposed as residential space.
"People would never be willing to live here," he said, "for cultural reasons. Maybe it would become a museum or something."
As Zhang speculated, an older woman approached the gate to inquire whether the columbarium was still open. The building had closed an hour ago. She asked what she needed to bring when she returned.
"Just the card," Zhang replied. The woman, surnamed Chen, pulled out her electronic swipe card. "Just this card?" she asked incredulously. "Just the card," he replied. "Nothing else?" she asked. "Nothing else."
"Oh, that's so easy," she said, before thanking him and replacing the swipe card in her wallet. She headed back down the stairs. Across the street, the Wanda Plaza building loomed over her retreating figure.
Editors: Wu Haiyun and Matthew Walsh.
(Header image: People hold a memorial ceremony for lost relatives in Beijing, March 25, 2017. Wang Bin/IC)