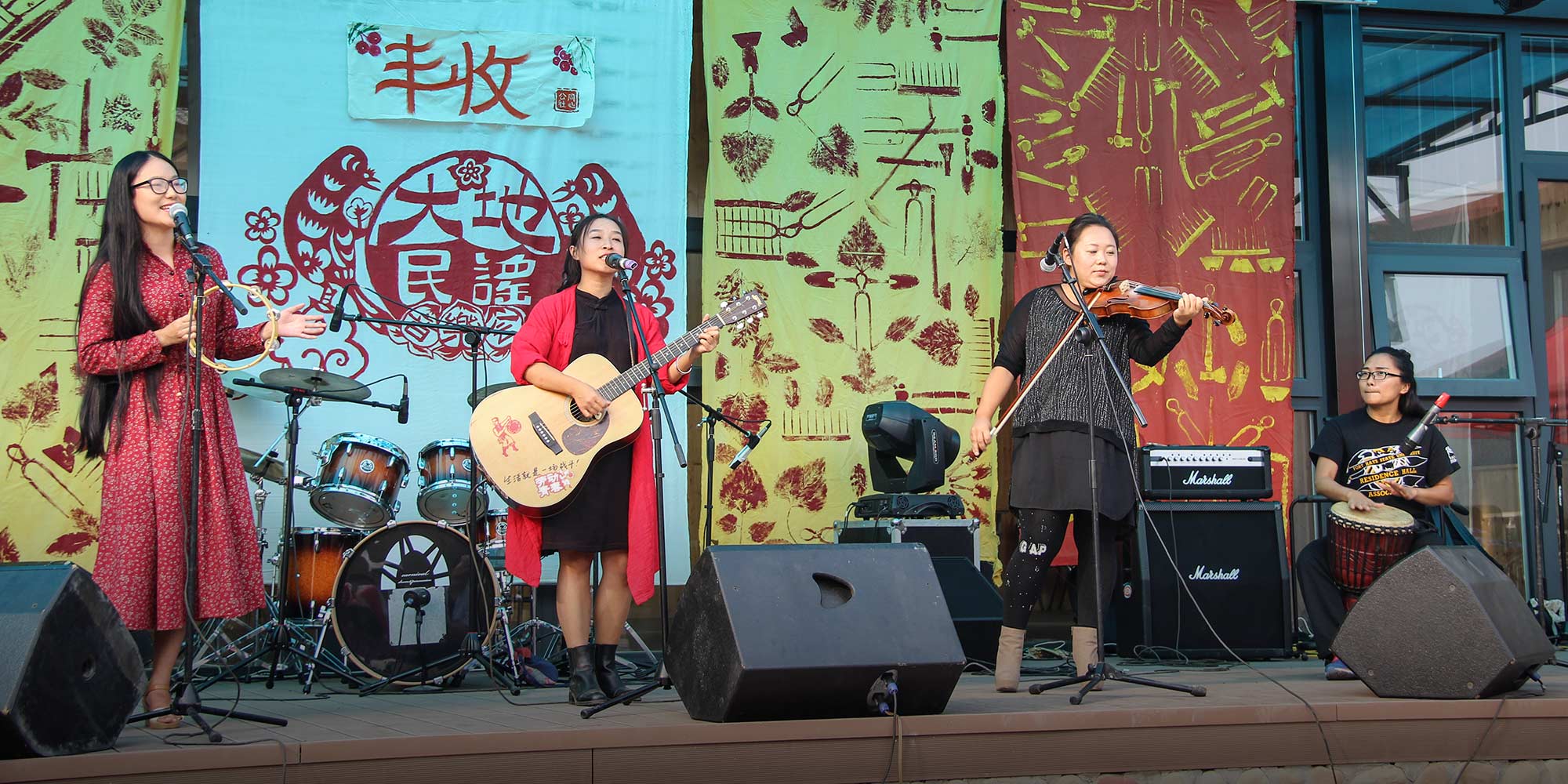 FEATURES
Feminist Folk Quartet Gives Voice to China's Migrant Workers
Beijing-based band Jiu Ye travels the country performing songs written hand in hand with female migrant laborers.
BEIJING — Performing for an audience of female migrant workers at an International Women's Day concert in the southern Chinese city of Shenzhen, feminist folk band Jiu Ye launched into "Bread and Roses," a song associated with the 1912 strikes of Massachusetts textile workers demanding better pay and conditions. 
For a band that seek to depict the plight of migrant workers in today's China, it was an odd choice of music. But like the other numbers in the Beijing-based quartet's growing repertoire, the song resonates with generations of women both young and old who feel that the country's fixation on economic development has left them few opportunities to make their voices heard. 
Literally meaning "nine wildernesses," folk outfit Jiu Ye takes its name from a heavenly realm in Chinese mythology governed by a goddess who stands for justice and power. In China, the band stand out in a genre that — unlike its Western counterpart, associated with spirited political sentiment — remains largely dominated by male singers whining about unrequited crushes on girls. 
Instead, Jiu Ye is taking folk back to its etymological roots, turning the microphone toward the people. As the group tour the country performing at charity gigs for little to no remuneration, they take the time to meet with women in workshop settings to gather material for their songs.
The band see their performances and discussion-based workshops as a way to advocate for gender equality and the protection of children's rights, says Jiu Ye's tambourine player and backing singer Xiong Ying in their rehearsal space in Beijing, a narrow violin shop barely a few meters across. "Hand in hand with women, shoulder to shoulder with men, we look up to the skies with our music and work the earth with our actions."
Joining Xiong on this mission is lead vocalist and guitarist Duan Yu, violinist Ma Wei, and percussionist Ren Juan — who plays the African djembe, among other drums.  
The band's eclectic instrumentation is rivaled only by the four members' varied backgrounds. Duan, 32, and Ma, 33, both come from northeastern China's Liaoning province and have both drifted among scores of menial jobs in Beijing for years. Xiong, 26, and Ren, 30, are full-time Ph.D. candidates at the Chinese Academy of Social Sciences, one of the country's top academic institutions. 
Jiu Ye has existed for just over a year, but for Duan — who co-founded the band with Ma — her experience of the harsh realities facing young migrant women began years ago.
In 2004, Duan left her hometown of Haicheng behind and found her way to Beijing in search of work. With her vocational degree in preschool education, Duan could not find work in any of Haicheng's public kindergartens, in part, she says, due to her family's lack of guanxi — connections among the local education authorities. 
Low wages, tedious work, and cramped living quarters awaited her, as they do millions of other migrant workers who continue to flock to urban centers around the country. A job as a clerk in a relative's auto repair shop left her clothes smelling of mechanical oil and filled her pockets once a month with a meager 400 yuan (around $58). Increasingly restless, she found distraction in the form of a cheap classical guitar she bought with one month's salary, teaching herself to play with a little basic knowledge she had gained in vocational school.
After a period of hopping from job to job, Duan found inspiration for the words that would soon come to accompany her simple armory of guitar chords. A friend introduced her to an art collective that organized musical events for migrant workers, and she began working at a primary school that the troupe had set up for migrant workers' children, or — as she often calls them in her songs — "drifters." 
"A Little Wish," the first song Duan ever wrote and a number that Jiu Ye continues to perform, marked the beginning of many tunes depicting the pain of those uprooted from the village and marginalized by the city:
I live in a village, but it isn't my home.
I've drifted with my parents from a young age.
I've got nothing to eat and no shelter to live under.
With bright eyes, I long endlessly.
The children's plight struck a personal note with Duan, and she continued to volunteer with the troupe despite having to leave her position at the school for better-paid work. A string of odd jobs — working as a sales clerk and then as a consultant for an educational institute, among others — carried her through to 2011, when she married her husband and relocated to where he worked in eastern China's Zhejiang province.
It was another migration. Duan could not find suitable work in Zhejiang, and before long, her life was besieged with the monotony of housework and the pressures of being a new mother. Domestic trivialities made up the bulk of her day and her conversations with her husband. 
Duan had a mental breakdown and withdrew from the world. "A friend once told me he thought Duan Yu was dead," she recalls, referring to herself in the third person. She eventually recovered and drew on her experience in her artistry, penning a poem called "If a Woman Doesn't Call You, She Is Either Dead or Busy Looking After Her Newborn." After she moved back to Beijing with her husband and daughter in 2016, Duan attended a workshop for mothers and, with the help of fellow participants, wrote "Imperfect Mother," a song that challenges society's conception of the ideal matriarch:
Oh, mama is just one of your many identities,
Not a lifetime label.
Women can choose to not be mothers,
To glow and shine in work.
Like Duan, Jiu Ye's violinist and co-founder Ma came to Beijing in search of work. She delivered gas cans, waited tables, and packaged napkins on factory assembly lines. But when she became pregnant in 2006, she uprooted herself once again and returned to her hometown in Liaoning province with her husband for the well-being of the baby.
During her nine years there, Ma worked her way through scores of factory jobs, nearly all of which ended with her either quitting or being fired due to disputes with managers over the treatment of her female colleagues. They would not speak out, she says, so she took it upon herself to stand up and demand that employees not be forced to work overtime against their wills.  
The experience is echoed in the words of Jiu Ye's song "I Am a Girl," which laments the many hazards of being female in China: disappointment for the family, lower pay in the workplace, and a higher chance of dropping out of school early on:
My entire family looked forward to my birth,
But my arrival brought no hope.
It wasn't until later that I found out
They'd been hoping for a boy.
Busy among the smells and sounds of the auto shop,
Why is it so many of us work overtime?
It wasn't until later that I found out
Factories have always treated [us] cheaply. 
Songs like "I Am a Girl" tackle issues that permeate Chinese society but rarely get airtime in mainstream music. "The performance of songs that represent the value of labor and the rights of female migrant workers is so important," says social worker Lü Tu, who authored a book series called "Chinese New Workers" that addresses issues facing migrant laborers. "There are so many songs today, but how many popular songs are about workers?" asks Lü.  
The band may not have their sights set on widespread recognition, but their workshop-cum-performance model of touring has gathered its share of fans — a live stream of an interview and performance in October garnered close to 500,000 views. 
Ding Li is the founder of Shenzhen's Green Rose Social Work Service Center, the labor NGO that hosted Jiu Ye's Women's Day performance. Ding lauded the event as a triumph in building solidarity and awareness among workers. "They can stand before the public and, through the medium of dialogue, speak of their experiences and stories," Ding tells Sixth Tone. "They're breaking down the stereotypes surrounding female workers."
But the band face a practical problem: The four members, occupied by work, families, and Ph.D. theses, have little free time to rehearse together. When they do find the time, it takes the four of them — who all live in the suburbs — hours to reach the cramped downtown violin store where Ma works as a sales assistant.
Then there is the question of money. On the road — their tours have taken them as far afield as Taipei — they rely on donations from nongovernmental organizations, online crowdfunding, and contributions from event organizers to cover their expenses, never charging audiences or workshop participants fees to attend. Half jokingly, Ma says the band may resort to corporate gigs like playing at weddings. But it's hard to imagine a more incongruous sight than a feminist folk quartet serenading a bride down the aisle — and anyway, says Duan, the market is far too saturated. 
But, a decade after she first began strumming her budget guitar in the cramped dormitory provided by the auto repair shop, Duan's hopes remain far more modest than making a profit or selling out concert halls. "We are still in the fledgling stage," she says. "I just hope Jiu Ye can survive."
Editor: Owen Churchill.
(Header image: Jiu Ye performs at a concert in Beijing, Oct. 1, 2016. Courtesy of Jiu Ye)