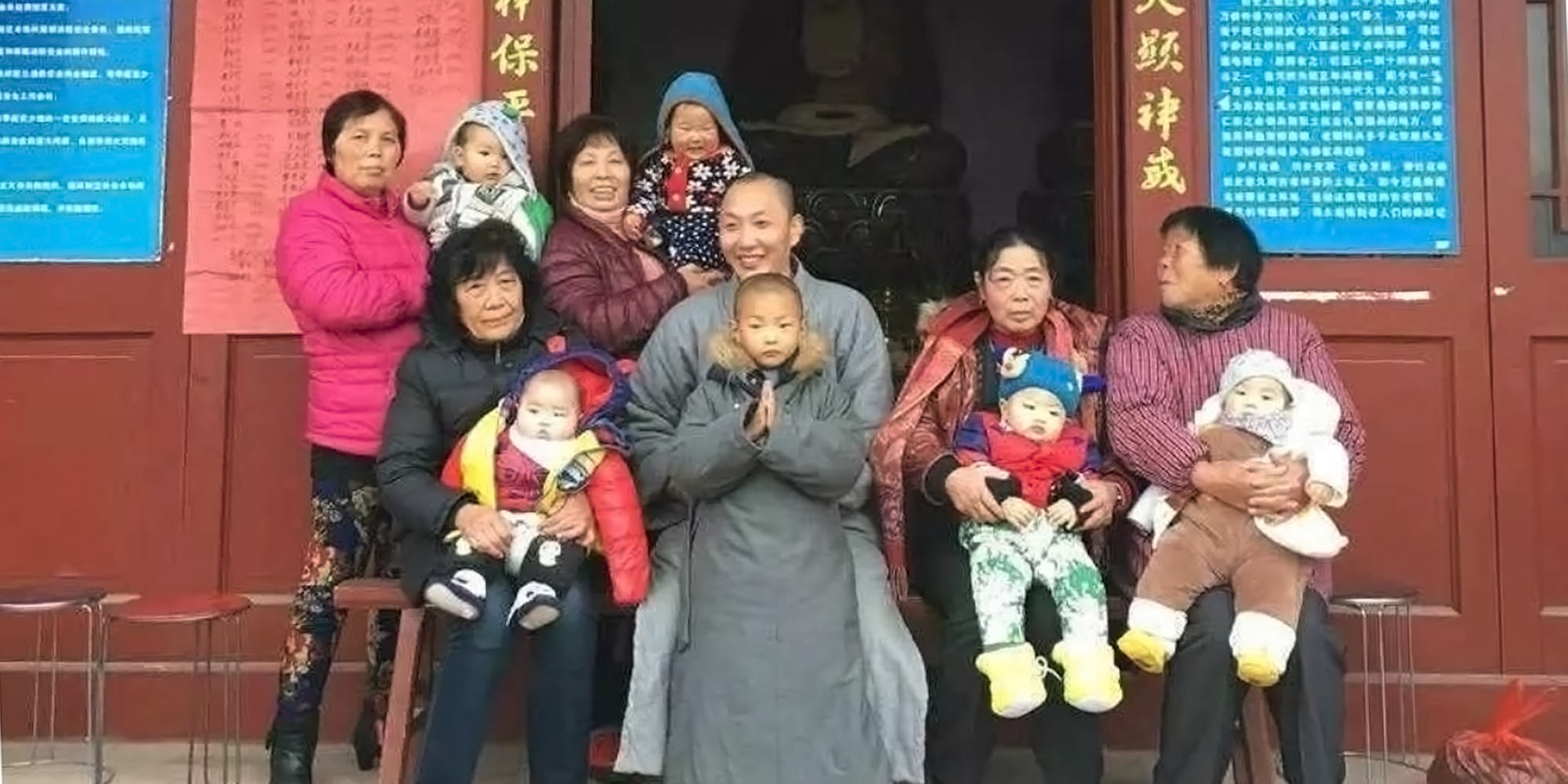 FEATURES
Businessman-Turned-Monk Adopts China's Unwanted Babies
Red tape keeps Dao Lu from becoming children's registered guardian, throwing many obstacles in his path to legal foster fatherhood.
Buddhist tradition dictates that monk Dao Lu cannot become a parent. He is nevertheless a father of 21, all unwanted children that he adopted at his home and temple in eastern China.
For several years now, Dao, 40, has taken it upon himself to provide refuge for pregnant women who need a place to give birth that's away from the eyes of disapproving relatives — or, in some cases, where they can leave their children behind in his care.
To the mothers, Dao's benevolence is a godsend, but for the government, he's a headache. Dao cannot legally adopt, meaning none of the children can be officially registered and go to school. To make matters worse, the place where Dao serves — Wanshan Temple in Nantong, a city in Jiangsu province — has been designated an "illegal structure."
Among the women who have sought refuge with Dao is Wang Jing, who lives in Beijing. In 2014, she was pregnant with a girl who had been diagnosed with a heart disease that would require costly surgeries. Her husband tried to convince Wang, then 7 months pregnant, to undergo an illegal procedure that would guarantee a stillbirth.
Wang, an ardent Buddhist, refused.
"Even today, many people still tell me that getting rid of the baby would have been the right decision," Wang told Sixth Tone. "They assume that keeping the child means I will lose both her life and my money, and that I will suffer a lot."
Wang, then 36, decided she would keep her baby. From another Buddhist she heard about a monk in Nantong who helped pregnant women in need by providing shelter and paying for medical treatment.
Dao, whose monastic name, Changdeng, roughly translates as "a light that is always burning," used to work in international trade. The work brought Dao material wealth, but only superficial satisfaction. In 2012, he became a monk. Based on his beliefs that fetuses are life and that what is alive may not be killed, he made it his duty to save unborn children.
Dao sent two fellow Buddhists on the 12-hour trip to Beijing to meet Wang and accompany her back to the temple. Wang, who said she already felt a strong bond with her unborn child, seized what she saw as her last chance.
"I told her that we don't have the right to deprive her child of life," Dao told Sixth Tone. "I told her if she doesn't want the child, she could give it to me. I told her I will keep it company, whether it lives one day or ten days."
"Some people may have concerns about whether he is a swindler," Wang said of Dao. "But I believe that in this world, there are still some people who are kind and merciful." She gave birth to a girl, Ruru, and mother and daughter were given shelter in Dao's spacious house, which he has dubbed husheng xiaoju, or "cabin that protects lives."
Since 2013, Dao has helped more than 140 mothers give birth in the "cabin." The women came to him for different reasons — some were too young to have a child, some didn't want a second child before the two-child policy came into effect in early 2016, and some couldn't bear the social pressure of being single mothers.
"When a child was trapped in an abandoned well, efforts were made from all corners of society to save him," Dao said, referring to a widely reported incident from 2016 in which dozens of excavators worked around the clock to dig out a boy who had fallen down a well. "The children of these mothers will become living beings in a few days — why should they be aborted?"
While most of the mothers eventually decided to raise their children themselves, 21 children were left or abandoned in Dao's care. They now live in Dao's home, at the temple, or have been taken in by neighboring families and volunteers.
"I promised the mothers that until they were fully able to take care of the children, I would help bring them up," Dao said. He hopes that the mothers will visit their children at least once a year, and pay a small amount of money — around 1,000 yuan ($145) annually — to shoulder some of the responsibility.
But Dao's selflessness is not universally appreciated. Some of his critics say he makes it easier for parents to give up their children, and Dao himself has heard rumors claiming he is secretly the children's biological father, or that he makes shady deals with human traffickers.
Dao is also criticized because he cannot legally adopt the children. Zhang Zhiwei, a lawyer who specializes in child abduction and abandonment cases, told Sixth Tone that Dao's adoptions of the children are illegal. For one thing, China's adoption laws state that in most cases a person can only adopt one child.
"People need to acquire qualifications in order to do many things, but being a parent requires no test," Zhang said. "These people are too vulnerable and panic-stricken to shoulder the responsibility themselves." He added that China's welfare system does not provide for young parents in financial need, for example for single parents.
Dao attributes part of the problem to social factors, such as traditional, conservative values and a lack of proper sexual education. Most of the women who come to Dao for help are relatively young. "Young girls get pregnant without any idea about sex," he said. "Even if they have a condom, they don't know how to use it."
According to a report by state news agency Xinhua in 2015, roughly 100,000 children are abandoned each year, up from around 5,000 in the 1980s and 50,000 in the 1990s. At the same time, China sees at least 6 million abortions each year. Research conducted by China's National Health and Family Planning Commission and other organizations shows that nearly half of Chinese women who opt for an abortion are under 25 years old.
Because it's impossible for Dao to adopt, he has run into more bureaucratic trouble. Current policies for China's household registration — or hukou — system make it impossible for the children in Dao's care to obtain legal identities because he is not their legal guardian, a spokeswoman from the Nantong police department told Sixth Tone.
"He raises these children out of benevolence," the spokeswoman said, adding that she could sympathize with his kindness. However, in the eyes of the law, the mothers should be responsible for taking care of their own children, she added.
The abbot of Puxian Temple, where Dao lived previously, urged him not to take the children into his care, as doing so violated both the law and the temple's own rules. Eventually, Dao was asked to leave Puxian Temple, so he moved to Wanshan, where he lives now.
But despite its long history, Wanshan is not officially recognized as a temple. According to a 2014 document released by the Ministry of Civil Affairs and the State Administration for Religious Affairs, only officially registered temples can accept abandoned children and orphans. Moreover, the Nantong government announced in 2015 that high-level officials, led by the deputy secretary of the municipal Party committee and the director of the local religious affairs bureau, had inspected Wanshan Temple and concluded that it was an illegal structure.
"Because I saved lives, I was not accepted by the authorities, and was expelled from the official system," Dao said. "It's a pity, but you can't make an omelet without breaking some eggs."
But Dao vows that he and his fellows will continue to protect as many mothers as they can. Facing legal obstacles to enroll the nearly-school-age children in public institutions, he said his next step is to establish his own kindergarten.
To Dao, each time he hears one of the children call out "Daddy" makes it all worthwhile, and he loves to hear good news from women like Wang who decided to give birth and raise their children themselves.
Ruru, now 2 years old, is doing well. "Her favorite color is pink," Wang said, showing photos of her daughter. "She likes sunshine and playing outside. She's just as healthy as the other children. She runs faster than anyone else."
Contributions: Qiu Haihong; editor: Kevin Schoenmakers.
(Header image: Dao Lu (middle) and volunteers hold abandoned children at the gate of Wanshan Temple in Nantong, Jiangsu province. From WeChat public account Umalotus)