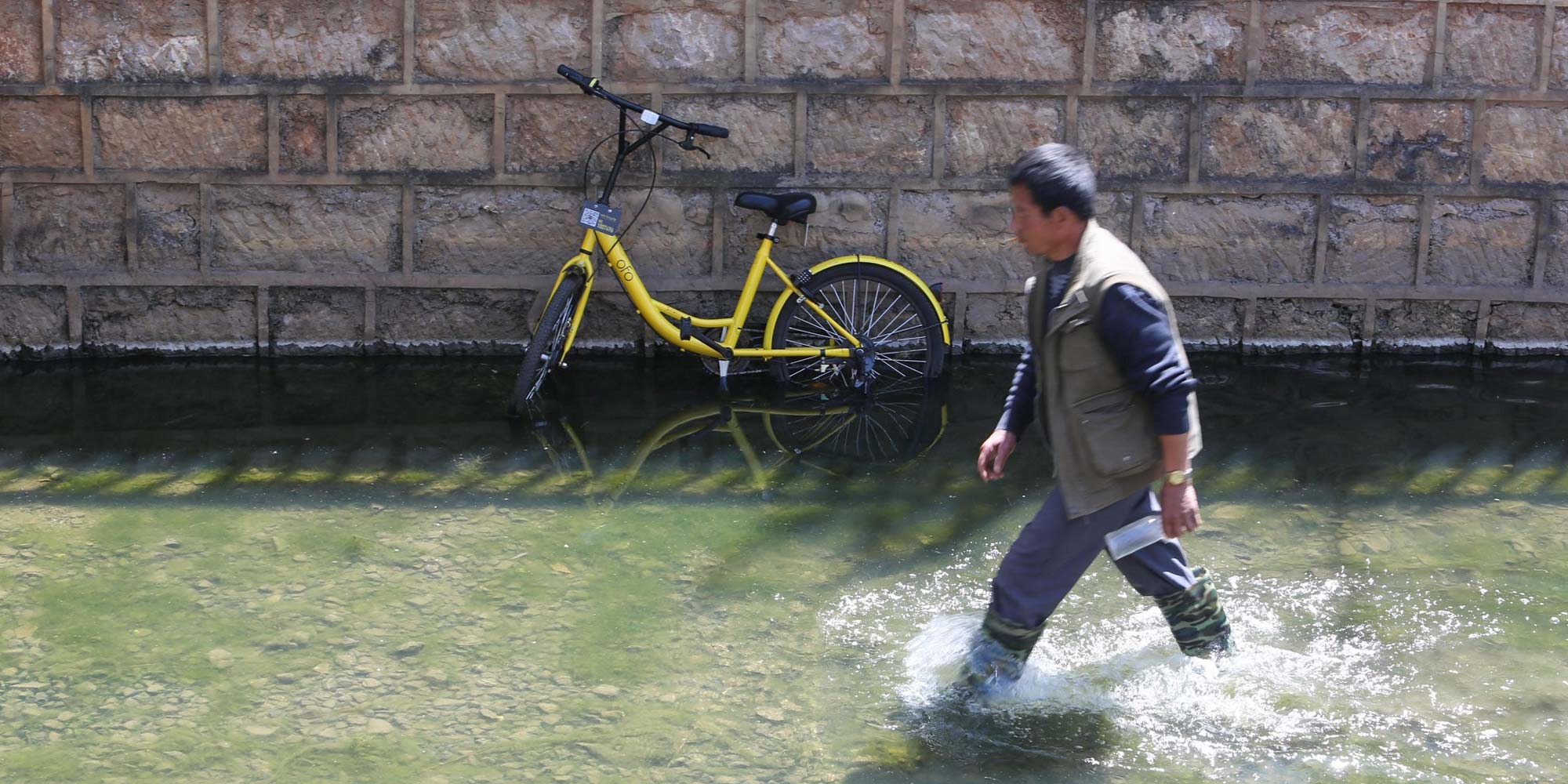 VOICES & OPINION
Why Bike-Sharing in China Is a Myth
Sharing is the last priority of companies like Mobike and Ofo, which are driven solely by amassing vast customer deposits.
China's bike-sharing services are currently in the midst of an all-out war for market share. Even as pictures of abandoned, destroyed, and dismembered bikes have flooded Chinese social media, the two best-known bike-sharing services, Mobike and Ofo, are putting their reserves of capital to use by offering users free rides.
Last week, the Shanghai Municipal Transportation Commission invited representatives of several bike-sharing services to its offices for talks. It informed those present that over 30 bike-sharing companies were currently operating in the city, with over 450,000 bikes available for use in the downtown area alone. Arguing that the market was saturated, officials requested that the companies consider expanding their bike fleets away from the city center.
Meanwhile, bike-sharing companies' business models have been called into question, with some saying it is just a way to accumulate financial capital. Take Mobike, for instance. Currently, there is as much as 900 million yuan ($130 million) effectively locked in user accounts.
In 2016, bike-sharing was the technology, media, and telecommunications sector's lone bright spot. These days, however, its earlier success seems like nothing more than a cruel joke.
When Mobike and Ofo first burst onto the scene, they seemed to herald a bike-sharing revolution. As it turned out, however, their business model has nothing to do with the concept of sharing. Not only do these services fail to properly reallocate resources across society, but they've also failed to capitalize on social media sites — an essential step in maximizing value in the sharing economy. Rather than allow users to connect with one another and share their own bikes, they burn money to produce their own bikes in an attempt to dominate the market.
One of the core competition models of the digital economy relies on recognizing market leadership and ecosystem monopolies. This fight for market dominance is why Chinese companies such as Meituan, and Didi Chuxing spend huge amounts of money on marketing, providing customers with coupons, discounts, and other offers designed to install themselves as their industry's foremost player. However, not only is it impossible to monopolize the bike market on a national level, but the industry's low barriers to entry also make it more likely that the competitive order of the market will simply break down.
As I flipped through images of destroyed bikes online, my first thought wasn't to roll my eyes at the vandals responsible. Instead, I had a nagging feeling that the destruction had been the work of rival companies. Given that bloody fights for dominance have raged in the household appliance, food and beverage, and internet café markets for the past 30 years, I would hardly be surprised if one day I came across bike-sharing service employees battling in the streets or slinging insults at each other.
These companies are on an even more concerning trajectory. Public bike-sharing services originated in Europe. My hometown, the city of Hangzhou in eastern China's Zhejiang province, was the first city to introduce bike-sharing to China, running it as a nonprofit public service. Soon, however, greedy venture capitalists latched onto the idea. With the industry's original altruistic basis corrupted and its operational model fundamentally changed, bike-sharing became unsalvageable.
A little more than six months ago, a well-known investor, who wishes to remain anonymous, excitedly explained the industry's profit model to me. At the time, he had just successfully won the chance to invest in a bike-sharing company. He told me that by releasing a single bike into the streets, a company can convert 10 people into new customers and earn 2,000 yuan ($290) in deposits alone. From a financial perspective, as production costs drop, these companies have found themselves running a business with vast cash flows. If these figures hold true across the entire industry, then each bike a company puts into the market is in reality a mobile deposit-taking machine. Sooner or later, bike-sharing companies will pivot toward becoming financial leasing companies, hiring out their equipment to consumers in exchange for a fixed fee.
Last month, I invited a venture capitalist with a stake in Mobike onto my video blog to explain the bike-sharing model. In his opinion, Mobike was actually a hardware company, and the fight for market dominance would be decided by production costs and technology. According to this investor's calculations, the most important numbers to look at are production costs, maintenance costs, daily ridership, number of users who have paid a deposit, and the limits imposed by market saturation.
More important to the current development of the industry, however, are external factors such as overproduction, low barriers to market entry, and the lack of any shared code of ethics among competitors. Bike-sharing services have proven they are unable to control uncertainty, which has left them trapped in an industrial quagmire from which they are unable to escape.
The only path forward is for local governments to formulate a policy that will allow them to enter the system, restore competitive order, and work toward finding a sustainable, symbiotic method for industry growth. Of course, this will cause the reemergence of policy rent-seeking as market actors attempt to curry favor with policymakers. The expansion of governmental intervention in industry, meanwhile, may also affect efficiency. Even if the government does adopt this approach, the industry's profit model remains a significant issue.
The rise and fall of the bike-sharing industry seems to bode ill for innovative digital commerce models as a whole. As digital tools become free to use and increasingly ubiquitous, innovative models that lack core content and technical support are already starting to struggle. Bike-sharing companies need to identify their core business advantages, strengthen them through new technologies, and finally use them to achieve supremacy in the ongoing war of capital.
Translator: Kilian O'Donnell; editors: Yang Xiaozhou and Matthew Walsh.
(Header image: An Ofo shared bicycle lies in a river in Kunming, Yunnan province, March 24, 2017. IC)