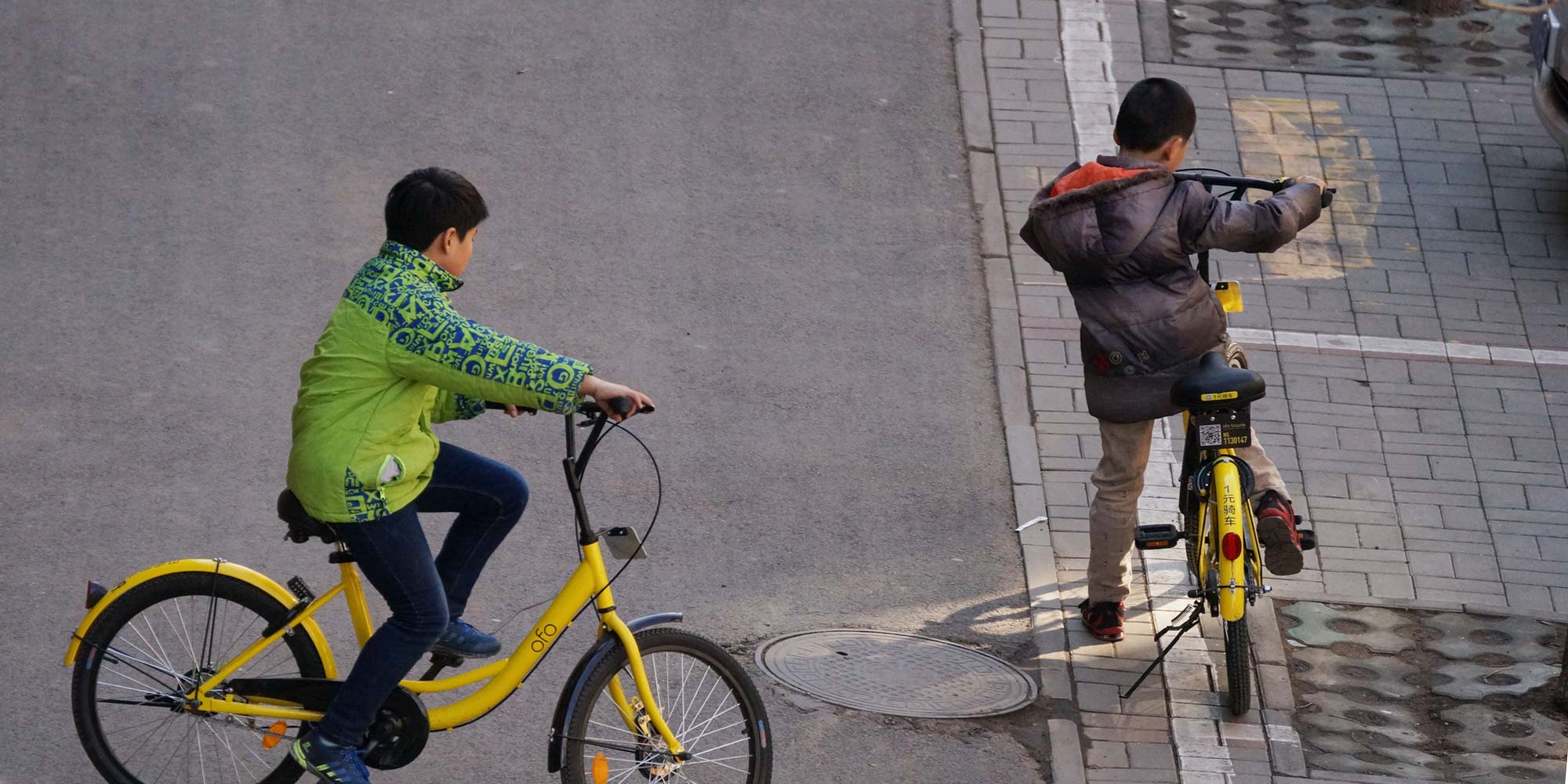 NEWS
Child's Death Reveals Growing Pains of Bike Sharing
Children too young to legally ride are still using Ofo bicycles due to technical loopholes and lack of oversight.
A fatal accident on the streets of Shanghai has underscored the difficulties of regulating the free-wheeling world of shared bikes.
On Sunday afternoon, a fourth-grader cycling on an Ofo shared bike was run over by a bus and later died. The intersection where the incident happened was adjacent to a construction site whose fencing forced the child into the motor-vehicle lane and may have obstructed the child's view, Sixth Tone's sister publication The Paper reported.
The young victim was not accompanied by his parents and was about 10 years old — two years younger than the legal cycling age in China. The same restriction was included in draft regulations for shared bikes that Shanghai unveiled earlier this month.
Shanghai was one of the first cities to be gripped by shared-bike fever. The bicycles, which registered users can ride for a small fee and park just about anywhere, are hugely popular and can now be found all over the city. Shanghai is also the first city to attempt to regulate the industry in order to deal with safety concerns and problems such as congested sidewalks.
Among Shanghai's draft regulations are rules saying that only people aged between 12 and 70 are eligible to ride shared bikes, and that users should be between 1.45 and 1.95 meters (4'9" and 6'5") tall.
However, these rules are already proving difficult to enforce. According to Ou Jing, Ofo's manager in Shanghai, the company in February banned children under 12 from registering new accounts. Existing users who failed to meet the age requirement were refunded their deposits and had their accounts canceled.
But children still manage to get access to Ofo bikes even without the help of other users. Compared to the company's competitors — such as local market leader Mobike, which uses automated, electronic locks — Ofo's bicycles are unlocked manually. If the previous user did not lock their bike properly, anyone can hop on and cycle away. Ou told Sixth Tone that the company has developed electronic locks and will start to replace its manual locks later this month. "But that will take a certain period of time," he said. "At the moment, there are 200,000 Ofo bikes in Shanghai."
As for the recent accident, Ou said the company deeply regrets the tragedy and is cooperating with authorities as they investigate the case. The local traffic police declined to comment on the accident.
Shanghai-based lawyer Ma Yuxiao, who specializes in traffic accidents, said that who is held responsible for the boy's death will depend heavily on the police's conclusion on the nature of the accident. "For accidents that involve a motor vehicle and a bike, the motor vehicle will typically bear most of the responsibility," Ma told Sixth Tone. "For this case involving a shared bike, the platform providing the bike is also partly guilty. But it's more likely that it will only have to accept a minor degree of responsibility."
Shared bikes have taken off in cities across China, and other municipal governments, too, are deliberating over regulations. Traffic authorities in Beijing said on Sunday that they are working on a set of rules for shared bikes in the capital.
Editor: Kevin Schoenmakers.
(Header image: Two children ride Ofo shared bicycles in Tianjin, Feb. 25, 2017. Li Shengli/IC)