Until a few years ago, skiing was a sport confined to China's three northeastern provinces. Recently, however, it has enjoyed a period of explosive development that has left onlookers, including myself, astounded.
Last month, real estate conglomerate Vanke released a white paper on dominant trends in the ski industry. The report showed that 78 new ski resorts had been built in the country in 2016, increasing the total to 646. As of last year, 122 of these were concentrated in Heilongjiang, China's most northeasterly province. The country's slopes had been visited by 15.1 million people in 2016, a rise of more than 20 percent from the year before. 
The successful bid by the northern cities of Beijing and Zhangjiakou to host the 2022 Winter Olympics has so far been an effective catalyst for the development of China's ski industry, bringing unprecedented enthusiasm for public participation in skiing activities. The nationwide popularization of winter sports looks certain to become a real moneymaker for the companies involved.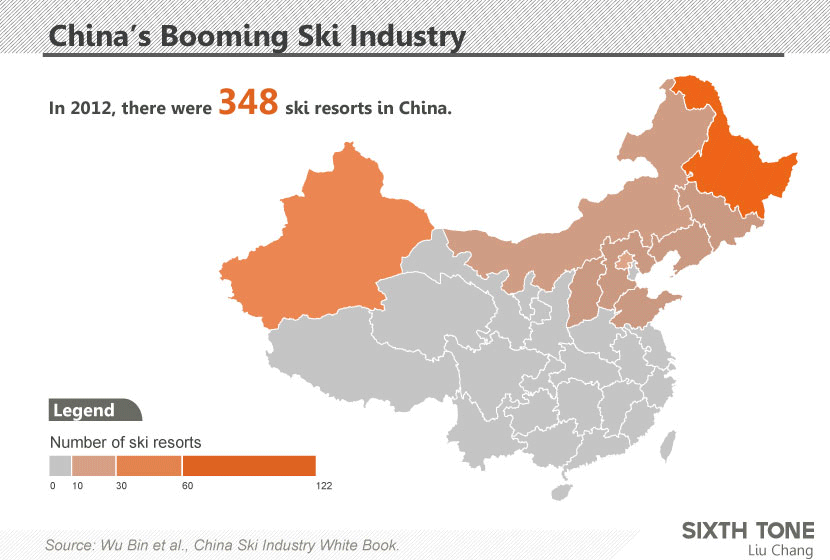 More broadly, China is entering a "leisure era." The country's growing middle class is starting to spend more and more money on leisure activities, much of which goes toward tourism. As consumer purchasing power has increased, skiing has become a relatively affordable sport. A few years ago, the sport was still considered a niche activity, but today it is a major winter recreation option for the general public, suitable for families and people of all ages. The sheer variety of skiing activities is a testament to its growing popularity: Parents can take their children on cross-country skiing routes; elderly participants can try skiing on slower, safer flat slopes; and young people looking for excitement might consider freestyle skiing, which combines techniques from ice skating and cross-country.
The experiences of developed nations show that once gross domestic product per capita exceeds $5,000, consumer demand for sports activities becomes more prominent. A sharp rise in demand for winter sports usually occurs once the figure tops $8,000. This is the sum that China is now nearing, and as expected, the country is drawing closer to an explosive interest in skiing. Media reports have predicted that, based on the average number of people who take up skiing in developed countries, China's winter resorts will soon play host to more than 100 million skiers per year. 
The government is, predictably, looking to cash in on the country's skiing boom. In November, four major departments jointly issued a national winter sports development plan. The document estimates that by 2025, the number of Chinese participants in winter sports for the purposes of competition, fitness, and leisure will exceed 50 million, and will "spur indirect participation in winter sports by a further 300 million people." The plan also estimates that the total value of the winter sports industry will reach 600 billion yuan ($87 billion) by 2020 and surpass 1 trillion yuan by 2025.
Policy-based support, in turn, has a host of investors sniffing around the winter sports industry. According to media reports, by the middle of October 2016, at least 13 A-share-listed companies — those listed on domestic stock exchanges outside Hong Kong — had begun preparations to cash in on the Winter Olympics and the winter sports industry in general. Some have developed "ice and snow" resorts, created intellectual property for film and television, or thrown their weight behind infrastructural development projects. In particular, Vanke has invested more than 40 billion yuan in the Songhua Lake Ski Resort in northeastern China's Jilin province, while outdoor equipment manufacturer Toread has sunk 350 million yuan into a resort in central China's Henan province.
Two sectors of the "ice and snow" supply chain in particular have been touted by securities analysts as potential cash cows. The first involves content-driven companies with "ice and snow" resources. The second covers manufacturers of winter athletic and outdoor equipment. Hosting the Winter Olympics will draw more attention to Chinese winter sports, and companies manufacturing equipment or organizing winter athletic competitions will see significant opportunities for growth.
Meanwhile, tourism companies are gearing up for ever larger influxes of visitors to China's ski resorts. Caissa, one of the country's premier international tourism service providers, is making an ambitious foray into the ski industry and is working with the Swiss National Tourist Office to publish China's first skiing guide. Domestic tourism company Lümama, meanwhile, has signed strategic agreements with world-class ski resorts and now charters flights out of Guangzhou to encourage residents of southern China to visit northern ski resorts.
Despite the Chinese ski industry's rapid growth, there are still challenges to overcome. The vast amount of capital required to build and operate a large-scale ski resort means that profit margins remain small, and companies make little money in the short term. Wanlong Ski Resort, near Beijing, moved into the black in 2015 for the first time since its establishment 11 years prior, yet its profits totaled less than a measly 10 percent of the facility's operating costs.
A further fly in the ointment is the lack of regulation governing official policy and the industry as a whole. The rush to claim a piece of the pie has, in some places, led to lax supervision of the slopes, resulting in injuries and even deaths. To realize the industry's full potential, major players need to strengthen the skills of China's skiers, improve protection measures, and ensure that safety information is clearly displayed. Failing to do so could pose risks to the reputation of the nascent industry.
Translator: Brian Bies; editors: Wu Haiyun and Matthew Walsh.
(Header image: Skiers take to the slopes in Chongli, Hebei province, Feb. 10, 2017. Ma Wenxiao/VCG)