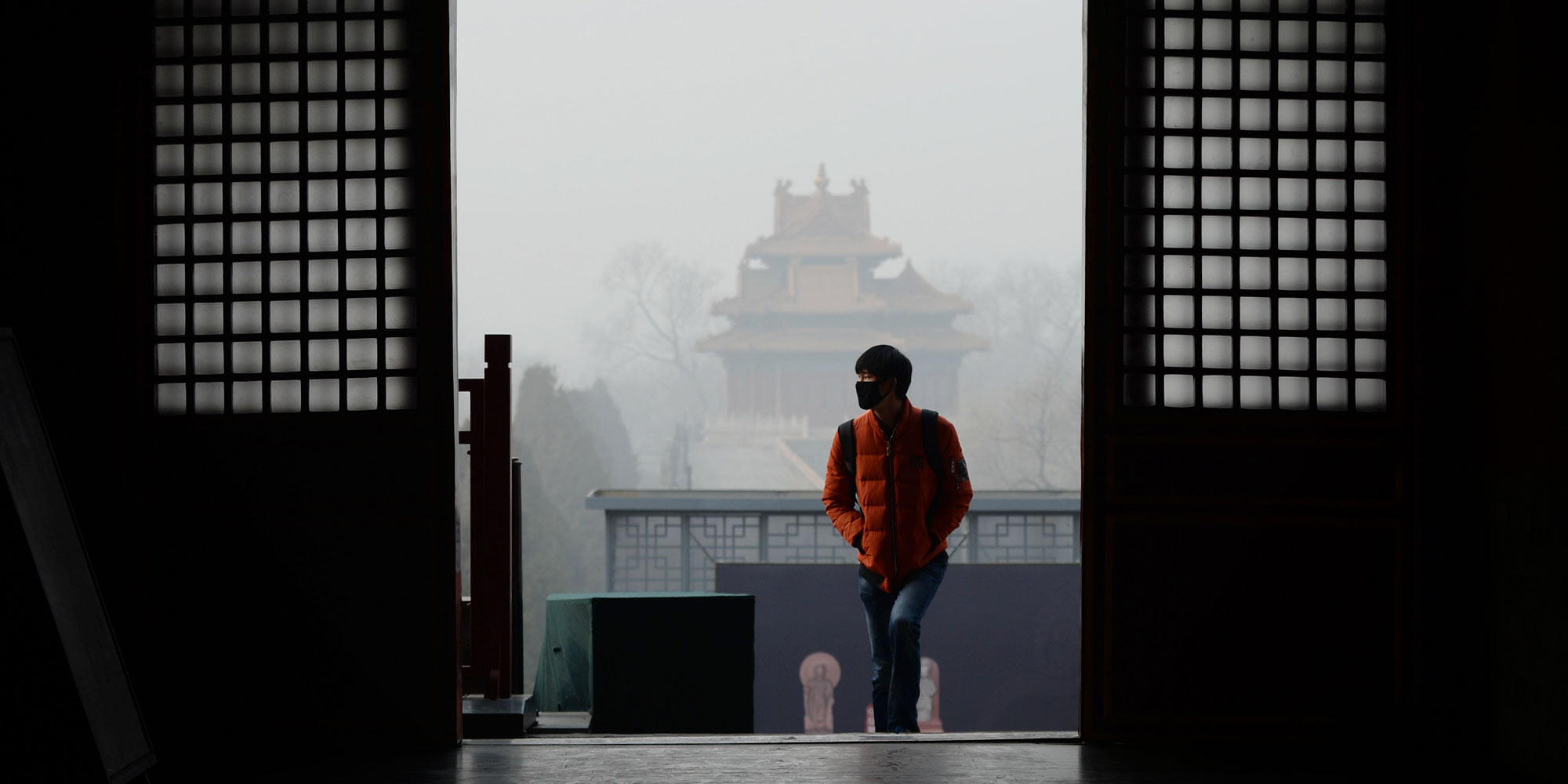 NEWS
Beijing Smog to Worsen With Global Warming, Study Says
Chinese researchers warn that climate change will offset current measures to combat air pollution.
Beijing's winters are likely to become smoggier still, according to a study published Tuesday in scientific journal Nature Climate Change. The culprit is a familiar one: global warming.
Climate change-induced weather patterns will more often blanket China's capital with stagnant air, resulting in conditions that are favorable to smog, the study's authors said. They concluded that weather conducive to "severe haze events" — defined as concentrations of PM 2.5, or especially harmful particles in the air, over 150 micrograms per cubic meter — will occur more often in the future.
Using 15 different climate models, the researchers — all of whom were Chinese — found that compared with the 33-year period from 1948 to 1981, instances of severe haze events increased by 10 percent during the next 33 years, from 1982 to 2015. They predict that this trend will hold true for the 21st century, and that severe smog will occur more often and for longer periods of time.
The reasons for Beijing's more stagnant air are varied — including a weaker monsoon in East Asia and a faster warming of the troposphere, the lowest region of the earth's atmosphere — but are ultimately all symptoms of climate change.
For the past several years, Beijing has taken increasingly strict measures to clean its air. On Saturday, for example, the city closed its last coal-fired power plant. But the air is still being polluted by a fast-growing fleet of cars — now the biggest polluter in China's large cities — as well as other sources of pollution from surrounding regions.
The capital's air is still far from breathable on an average day. According to the Beijing Environmental Protection Bureau, the average PM 2.5 concentration was 73 micrograms per cubic meter last year, or seven times more than what the World Health Organization defines as healthy.
Liao Hong, one of the study's researchers and dean of the School of Environmental Science and Engineering at Nanjing University of Information Science and Technology, in eastern China's Jiangsu province, told Sixth Tone that efforts by the capital to reduce air pollution will offset significantly by climate change.
"As a result, we will need even stricter measures and law enforcement," Liao said.
Editor: Kevin Schoenmakers.
(Header image: A man wearing a pollution mask visits the Forbidden City in Beijing, Dec. 21, 2016. Wang Zhao/AFP/VCG)