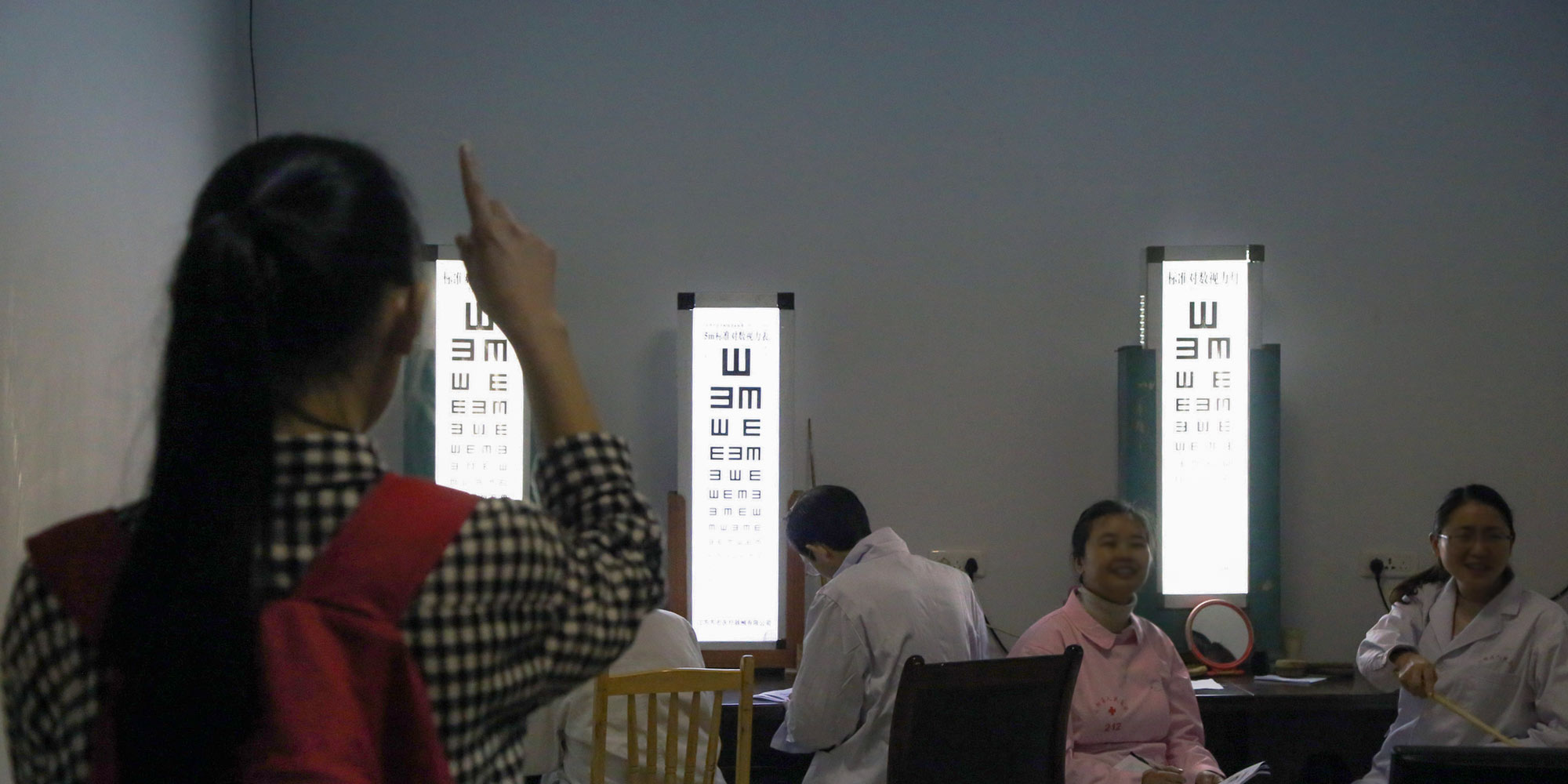 NEWS
Eyewear Company Accused of Scamming Nearsighted Students
Zhengzhou business closes after being called out on CCTV's '315 Evening Gala.'
An optometry company has shut down after it was called out on national television for illegally canvassing schools and prescribing corrective lenses that could further damage children's eyes, state broadcaster China Central Television reported Thursday.
Using the medical certification of a local private hospital, which took a 15 percent cut of the examination fees, K.S. Light Technology convinced public school students in central China's Henan province to fill out registration forms, indicate possible eyesight issues, and provide their parents' contact information.
The company then followed up with students to schedule vision tests and, invariably, prescribe Ortho-k contact lenses, which cost between 5,800 and 13,800 yuan ($840 to $2,000) and can be harmful to one's eyes if not prescribed properly.
K.S. Light Technology was featured on "315 Evening Gala," a CCTV show broadcast annually on March 15, World Consumer Rights Day, that publicly names and shames businesses that wrong their customers. This year, the most notable companies criticized by the show were Japanese lifestyle brand Muji and American sports apparel brand Nike.
It remains unclear exactly how the company, which illegally performed work under the domain of public medical institutions, gained access to the schools. The company has closed and could not be reached, and both the Zhengzhou education bureau and the city's school health center declined interview requests from Sixth Tone. The education bureau did say that it has begun an investigation into the matter.
The prescription of orthokeratology lenses, branded as Ortho-k, is further regulated by the National Health and Family Planning Commission. The technology first arrived in China in the late 1990s and for years was touted as a cure-all until 2001, after dozens of eye infections and ulcerations caused by unregulated prescriptions came to light.
"The lens directly changes the shape of the cornea. It's not suitable for all people to wear them," Mao Xinjie, head of the optometry center at Wenzhou Eye Hospital, told Sixth Tone. The lenses can be particularly dangerous for children under the age of 8 and those whose degree of myopia is greater than -6.00. K.S. Light Technology's records indicated that customers as young as 6 and with myopia far outside the presciption limits — -13.00 in one case — were putting their faith in Ortho-k.
Euclid Trading, the Shanghai-based branch of American company Euclid Systems Corporation, issued a statement the day after the "315 Evening Gala" aired to announce it would stop providing products for K.S. Light Technology. The statement also reminded franchisees to re-evaluate their own sales practices.
"Not until the last five years has the technology been accepted again," Mao explained. Having worked in ophthalmology since 1998, he said most complications arising from Ortho-k lenses stem from unregulated prescription and misuse.
"This kind of scare-tactic marketing is more serious in smaller and more remote areas," said Zhang Weizhong, an eyewear shop owner in Beijing who has manufactured glasses for more than two decades. "Usually, shop owners have 'good relations' with schools or the local education department," he said, using an euphemism for being well-connected to decision makers.
It's not uncommon for optometry companies to target students with poor eyesight in China, and Henan — one of the country's poorest and most populated regions — has been hit particularly hard by malpractice, Zhang said. Targeting schools is a profitable tactic. When he volunteered for an NGO-led campaign to perform vision tests in schools for children of rural migrants, he found that more than half of the kids suffered from vision problems.
In 1970, less than a third of 16- to 18-year-olds in China were nearsighted, compared to more than 70 percent of high school and university students today, the highest rate in the world. More than 450 million people in the country are nearsighted.
People with nearsightedness, an irreversible condition, are often targeted by snake oil salesmen, particularly in rural areas where parents are more likely to subscribe to the misconception that wearing glasses will only allow the eyes to get weaker.
"It's difficult for a lot of Chinese parents to accept that their kid is nearsighted," Jin Xin, a third-generation optometrist in eastern China's Anhui province, told Sixth Tone. A father once told Jin that he felt he was "losing face" by admitting his son was nearsighted. The boy's mother, who also suffered from myopia, felt guilty for having "passed on the defect." For years, they tried to correct the boy's eyesight with unregulated goggles that moved red and blue dots across a screen and did nothing to cure nearsightedness.
"Many Chinese parents feel it's their own fault that they didn't look after their kids well enough," Jin said, making them more vulnerable to false promises and ill-prescribed panaceas.
Editor: August Rick.
(Header image: A high school student tests her eyesight in Chongqing, March 21, 2015. Liu Xingmin/VCG)