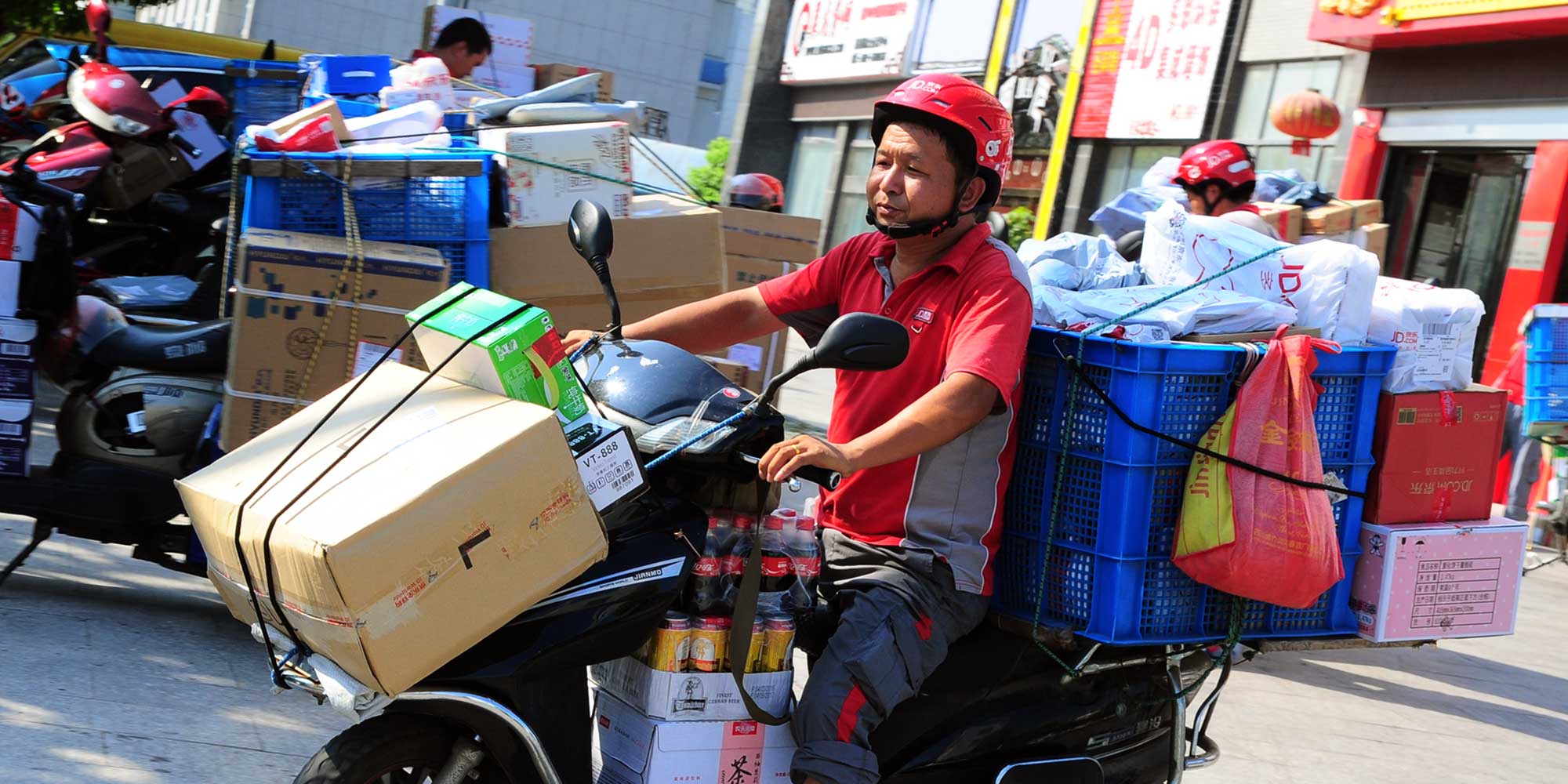 VOICES & OPINION
How Franchising Has China's Couriers Going Postal
Low wages, intense competition, and heavy fines are pushing frontline delivery workers out of the industry.
Back in February, news broke that a key Chinese courier company may have to shut down its operations in Beijing. Parcels piled up at YTO Express depots, customers complained about late deliveries, and couriers refused to work following the end of the Chinese New Year holiday.
For its part, YTO dismissed the notion that its tumbling share prices reflected a company in peril. Investors were overreacting, it claimed, and the problem at YTO's Beijing outlet had already been resolved. As of July 2016, YTO operated over 51,000 express delivery outlets across China out of an estimated 210,000 across the industry as a whole. The company boasts the country's largest delivery network, having expanded its operations by a factor of 20 since 2008.
YTO, like the other delivery chains that make up China's "Big Five" — STO, ZTO, Yunda, and SF — has built up its nationwide coverage by aggressively franchising its operations to local contractors. These contractors, in turn, agree on a commission rate and market themselves under the company's name. Most operate out of low-rent, back-alley commercial spaces; some specialize in express delivery, and others do not.
Lax franchise management and inadequate training mean that customer satisfaction with China's courier services remains low. In a survey conducted by the State Post Bureau last March, customers said they were dissatisfied with more than 30 percent of franchise stores. For stores operated directly by companies, this number fell to less than 5 percent. Yet YTO operates only around 15 percent of the thousands of stores that bear its name.
To get a closer look at how franchise stores operate, I visited Hu Tao, who used to run a delivery service in Shanghai under the name of GTO Express, a smaller private express chain. In 2015, his store went bust; Hu lost 96,000 yuan (around $14,000) and was forced to become a deliveryman himself.
Hu says that GTO draws up "turf boundaries" around the groups of local communities in which each franchise operates. Believing that the turf he was offered would remain profitable for a few more years, in 2015 Hu invested in the franchise. Soon, however, competitors moved into the area. The only way to check their advances was to beat their prices.
Alongside the rapid proliferation of delivery networks, courier service prices dropped by 45 percent between 2010 and 2015. This, in turn, put a squeeze on profit margins across the industry, which declined from around 30 percent in 2005 to around 4 percent today. Having driven prices lower and lower, couriers can no longer undercut each other without slipping into the red.
A further battle in the escalating price war has been fought between delivery services and digital sellers. The billions of orders coming out of China's booming e-commerce sector have effectively taken couriers hostage, with each of the Big Five sourcing at least 70 percent of their business from online clients. In an effort to pander to key online retailers, delivery services have driven shipment prices down so low that they earn less than 1 yuan in profit from shipments weighing under 5 kilograms. Couriers are caught between a rock and a hard place: Either hike up prices and lose business, or go low and struggle to break even.
The picture is further complicated by pressure from delivery workers themselves. Currently, 35 to 40 percent of a courier company's costs go toward labor — an increase of around 20 percent since 2007 . Door-to-door service — whereby an employee collects a package directly from the seller and delivers it to the end user — earns the average delivery worker a paltry 1.50 yuan each time. The work is exhausting and demands that frontline couriers put in extra hours practically every day, seven days a week. In China's bigger cities, more and more deliver workers are quitting their jobs at franchise stores to work for larger chains or food delivery services, whose labor conditions are considered better.
Zi Xiaoli, the owner and operator of another Shanghai-based GTO franchise, told me he has offered his eight-man delivery team everything from free room and board, to pay raises, to shares in the business after a certain period of time. Nothing has worked. He still has trouble retaining employees, let alone recruiting new staff. Zi has done everything in his power to keep costs down, even enforcing strict rules to limit the use of receipts, envelopes, and plastic bags. Last year, when police moved clear the roads of large numbers of electric bicycles — the preferred mode of transportation for delivery workers — from Chinese cities, Zi's franchise nearly went up in smoke.
Operating along the finest of margins inevitably takes a toll on customer satisfaction. When GTO's franchises fail to meet expected service standards, the company's head office imposes a penalty on them. To Zi and Hu, this practice is yet another means of undermining their businesses: In addition to collecting royalty payments, they say, GTO has cynically come to see penalty fines as a useful source of extra income. The only way around the fines is to weave an ever more tangled web of contractor rules between franchisor and franchisee, rendering customer complaints practically impossible. But the head office is wise to this technique and is constantly imposing new or updated rules on its franchisees.
China has the largest and fastest-growing delivery market in the world, delivering over 30 billion parcels last year alone — an increase of over 50 percent from the year before. But behind the industry's success stories lie tales of exploitative labor and franchise agreements. Zi's ailing business — squeezed so tightly by the labor exodus, a single-digit profit margin, and the ever more extortionate demands of the head office — is laboring toward its eventual demise.
But Hu and Zi are merely boots on the ground. For the delivery industry's big players, business is booming. Current growth — fueled by urbanization, increased consumer spending, and the burgeoning popularity of mobile apps — should swell industry revenues by at least 30 percent to 800 billion yuan by 2020. Neither has the industry reached maturity yet, a reality that leaves room for greater economies of scale, efficiency savings, and ultimately, higher profit margins. In the years to come, we can expect two or three major players to emerge among the country's courier companies.
This new era won't mean less competition, just new ways of doing it. The delivery services of the future will not grow by moving into new communities, but by introducing innovative technologies and business models. For this, companies will need funding, a necessity that drove all of the Big Five to list themselves on the stock exchange by the end of last year. The next few years will see a showdown as these firms struggle to establish themselves as China's answer to UPS or FedEx.
And what of China's legions of delivery workers? While many remain tied to informal contracts without social security, the casual nature of the work leaves them relatively free to change jobs at will. The recent walkouts by those working at the end of the supply chain may hint at a coming labor shortage that, in turn, may give both franchisees and employees more leverage to push for better conditions. Given the immense stress suffered by GTO's frontline workers, one would hope this comes sooner rather than later.
Editor: Matthew Walsh.
(Header image: A deliveryman rides an eletric bicycle heavily loaded with packages, Taicang, Jiangsu province, July 22, 2016. Ji Haixin/VCG)