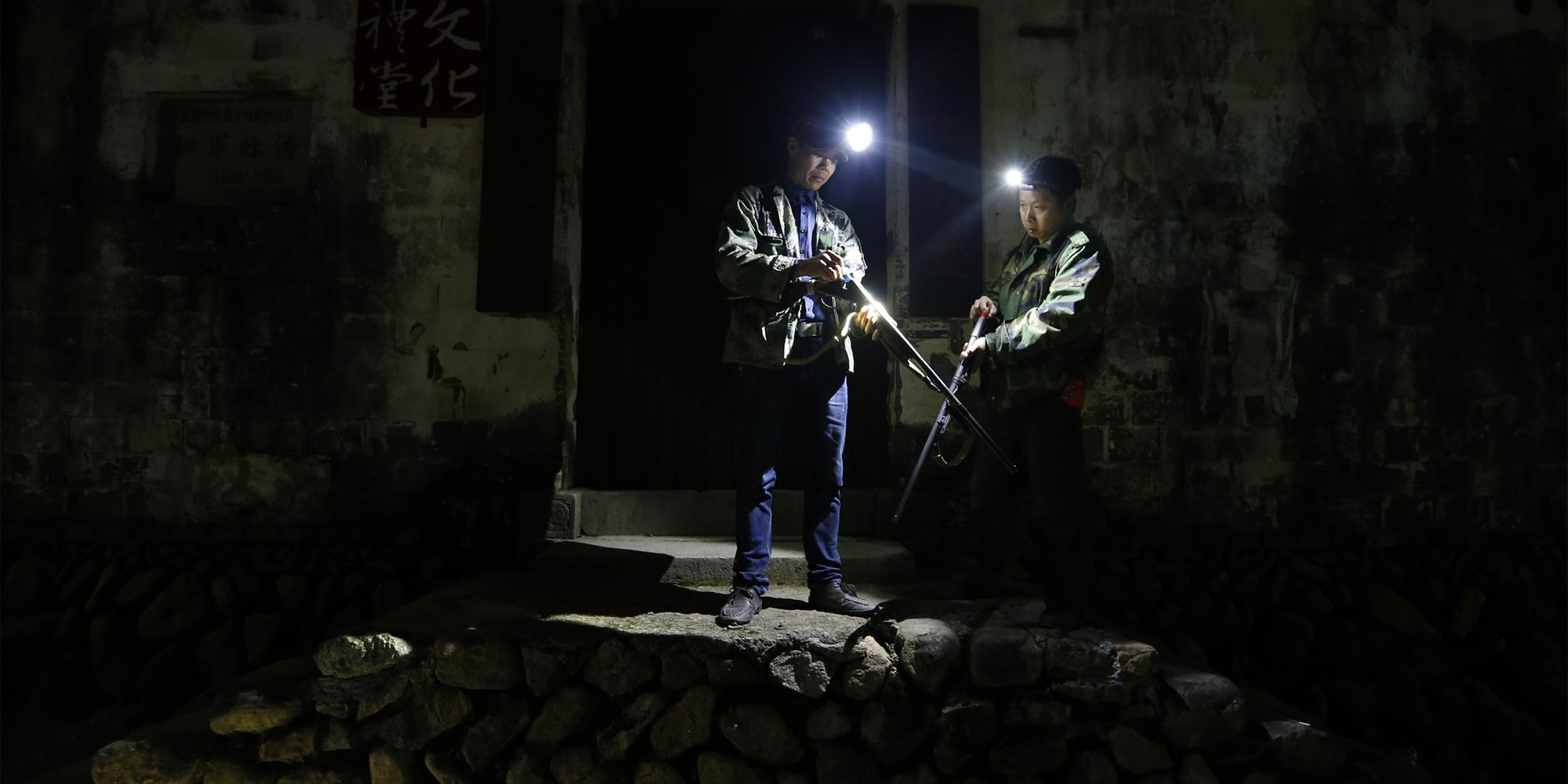 NEWS
Government Targets China's Online Wildlife Hunters
Live-streamers who broadcast the illegal capture of protected animals will no longer be tolerated, says national body.
China's officials are cracking down on websites that broadcast videos of people illegally hunting protected animals. Live streams of people trapping rats, birds, rabbits, and snakes have attracted thousands of viewers in recent years, even though many of the species involved are protected by law.
On Saturday, it became clear that the illegal behavior had ruffled the authorities' feathers one too many times. On its official account on microblogging platform Weibo, China's State Forestry Administration (SFA) called for a severe crackdown on the practice.
Earlier this month, two vloggers showed viewers how to hunt bamboo rats, a species that is nationally protected for its ecological, scientific, and social research value. The three-hour live stream was hosted on Huya, one of China's most influential live-streaming websites, reported The Beijing News on one of its social media accounts on Saturday.
Equipped with shovels and cages, the vloggers used sticks, socks, and shoes as bait to capture the bamboo rats and provoke them into a fight. On Huya, the two-person vlogging team go by the name Cuihuajiucai and have more than 370,000 subscribers, and their broadcasts attract an average audience of 10,000. According to their Weibo account, they have also live-streamed instructions for catching cobras.
Wildlife hunting live streams are not limited to one platform. On March 6, vloggers on Douyu broadcast a video that showed them collecting dead animals from traps. As they gathered the birds, which had been mauled by other animals, the vloggers made bets with the audience on the size of their final haul. And the audience played along, calling them the "Carcass Collectors."
According to an employee at China's national call center for reporting illegal internet activity, it's unlawful to live-stream the hunting of protected animals. The employee, who asked to remain anonymous as he was not speaking as a representative of his department, said that net users could still complain about videos showing unprotected species being hunted under the criterion that such material is "unhealthy," which roughly translates as inappropriate and distasteful. He suggested that netizens submit screenshots to document internet videos deemed unsuitable for public viewing.
"We don't have the right to prosecute people," he said. "The only thing we can do is stop a live stream after verifying complaints." He added that severe cases would be handed over to the police.
Lawyer Li Weimin of the Beijing Weibo Law Firm told Sixth Tone that filming the hunting of protected animals is illegal. "It's also illegal for live-streaming platforms to broadcast this criminal behavior," he said. "It should be punished and supervised."
Yang Han, a volunteer from the environmental nongovernmental organization Let Birds Fly, told Sixth Tone that he first noticed videos of wildlife hunting surfacing online in July last year. "Whether they are protected or not, animals shouldn't be played with by humans," Yang said. "They are not toys, and they are not tools to attract audiences and make money."
Yang said he reported such videos to several websites but did not receive any positive responses. One live-streaming platform's regulations stated that users broadcasting the trapping of unprotected animals must have the proper hunting licenses, making the content legal. "It's breaking the law when they hunt protected animals," Yang said. "But for ordinary animals, we can only condemn their lack of morals."
Following Cuihuajiucai's rat-trapping broadcast on March 1, the vloggers' account was blocked. A message on the site states that the account is being checked for "suspected irregularities." An employee from Huya told Sixth Tone that according to the website's regulations, content creators are forbidden from live-streaming violent material such as animal abuse and the capture and killing of protected species. "Currently, all the accounts that relate to wildlife hunting have been blocked, and the videos have been removed," she said, refusing to disclose the exact number of accounts involved.
But live-streamers don't want to stop. Yang said that he has joined several group chats started by vloggers in which so-called heroes continue to share bloody hunting pictures with their fans. "For a short time, they dare not live-stream wildlife hunting," Yang said. "But though they are quiet, they still haven't closed the groups. They all dream of continuing to live-stream in the future."
"It illustrates that there are tons of cases where people hurt wild animals. Live-streaming just exposed an existing phenomenon," commented one net user under an article on the subject by The Paper, Sixth Tone's sister publication.
In February, an animal trainer at a zoo in southwestern China's Guizhou province live-streamed himself harassing a tiger on video app Kuaishou. That same month, net users were outraged by an old post about government officials inviting businessmen to their workplace for dinner and serving them pangolins, a protected animal.
On Sunday, during China's "two sessions" — the annual meeting of the nation's top legislative and advisory bodies in Beijing — SFA director Zhang Jianlong said that recent cases involving wild animal protection have exposed the loopholes in the current law. He added that this year, the SFA plans to improve China's wild animal protection law and strengthen its crackdown on illegal behavior. The SFA will also improve public education to prevent violations of the law due to ignorance.
Editor: Sarah O'Meara.
(Header image: Two hunters load their rifles in a village in Jiangshan, Zhejiang province, Oct. 28, 2015. Yan Zhi/VCG)