Public hospitals are to stop relying on medicine sales to balance their books, China's central government announced Saturday.
"All drug price addition will be canceled," Wang Hesheng, deputy director of the ministry-level National Health and Family Planning Commission, said at a press conference during the annual plenary session of the National People's Congress in Beijing. "This will save patients 60 to 70 billion yuan [$8.7 to $10.1 billion] in drug expenses."
After the upcoming reforms, public hospitals will generate revenue from higher subsidies and an increase in consultation and treatment fees — which Wang said will "reflect the value of the skills and work of medical personnel." Chinese doctors often complain that they are overworked and underpaid, but trial reforms that could increase doctors' salaries as a consequence of increased doctors' fees are currently underway.
Government data, meanwhile, shows that drug sales are already responsible for a diminishing proportion of public hospitals' total medical revenue, from 46.6 percent in 2011 to 40.9 percent in 2015. These figures exclude income from subsidies.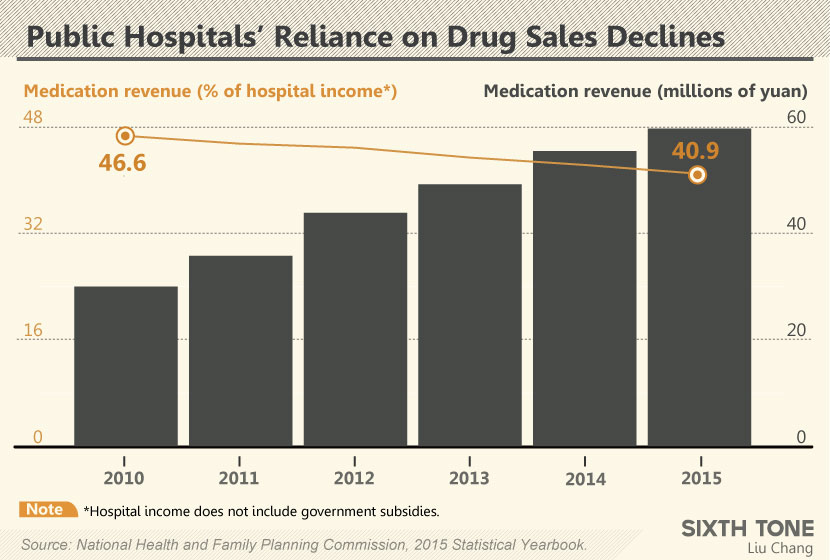 Hospitals are legally allowed to mark up their drug prices, owing to policies carried over from the 1950s, when the government was not able to provide enough financial support to close the gaps. Public hospitals are currently allowed to add 15 percent of the manufacturer's price to their own retail price, according to a 2006 regulation — although many hospitals have nevertheless found ways to increase drug prices above that limit. An investigation in 2011 by state broadcaster CCTV found that public hospitals sold more than 20 kinds of drugs for at least 500 times the wholesale price.
In November 2016, after several years of trial reforms in a select number of cities and counties, the State Council, China's cabinet, issued multiple measures to cut drug prices and restructure the income of public hospitals, including outlawing drug price markups. A similar, previous experiment in five Beijing hospitals resulted in a decrease of 20 to 30 percent in average drug prices.
In Nanjing, capital of eastern China's Jiangsu province, such pilot reforms have made drugs cheaper but also led to treatment fees being increased by 70 percent. The new policies still benefit patients, as medical insurance covers a majority of treatment fees. Total expenses have decreased by one-tenth, according to local media reports.
However, the trial reforms have also resulted in some hospitals dipping into the red. As the drop in income resulting from cheaper drugs had yet to be offset by higher treatment fees and subsidies, several public hospitals reported at the end of last year that they were running a deficit.
Editor: Kevin Schoenmakers.
(Header image: Pharmacists inventory medicine at a hospital in Qingdao, Shandong province, March 31, 2014. Yu Fanping/VCG)